iTunes 9.2.1 Update For iOS 4 and iPhone 4 Users
What's New in the iTunes 9.2.1 Update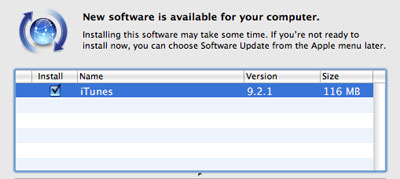 If you've set your Apple updates to "automatic," you may have already seen the iTunes 9.2.1 update pop up on your screens. If not, now's the time to check for it — not only does it fix some outstanding bugs, but it also helps out new iPhone 4 owners with their syncing abilities. What's new in 9.2.1? Check it out below!


Speedy sync support for iPhone 4
Fixes some sync problems we saw with 9.2 — like blurry photos and missing music and podcasts
Increased stability and performance with iBooks
Addresses issues with upgrading your iOS 4 iPhones and iPod Touches that have encrypted backups
Fixes issues you may have been seeing when dragging-and-dropping items
But that's not all — see what updates have come to the iBooks app after the break.
The iBooks app has also received an update! You can expect:


Double tap to zoom
Performance enhancements for PDF viewing
Dictionary search within books for English (when no language is specified)
Fixes bug that downloaded incomplete books