iTunes Preparing to Announce The Beatles For Sale in iTunes
Rumor: Is The Beatles Collection Coming to iTunes Tomorrow?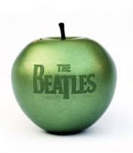 Apple placed a teaser ad on its website this morning, which promises an iTunes announcement we won't forget at 10 a.m. EST tomorrow, and now, The Wall Street Journal is reporting that Apple has finally secured rights to sell The Beatles in the online music store according to "sources familiar with the situation."
There has been a long battle between The Beatles and Apple over trademark scuffles, which has prevented the store from selling the band's content. Have the two finally buried the hatchet? I guess we'll see tomorrow!
Leave your guesses and opinions — what do you think the exciting announcement from Apple will be?