iTunes Store For Beginners
Teach Your Mom Tech: iTunes Store
The iTunes store offers lots of content, but with the separate pages for movies, TV, apps, and books, it can be a pain for a casual user like Mom to navigate. This Mother's Day, help Mom make the most of her digital media with a walk-through of the iTunes Store's most important functions.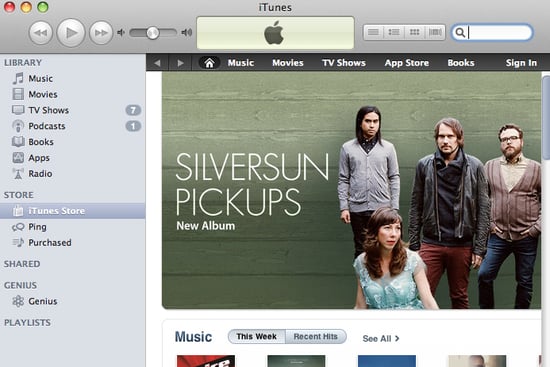 Update Mom's iTunes: If Mom's still running on 6.0, the first step is updating the program to its current version. She's less likely to run into bugs, plus she'll have the most current store features.
Teach how to redeem a gift card: Save Mom the future phone call to you by showing her how to redeem an iTunes gift card. Select the "Quick Links" bar on the right hand side of the iTunes Store home page, then "Redeem" to enter the gift card code and begin purchasing. Remind her to take this step any time she wants to use the gift card, otherwise iTunes will automatically charge the credit card associated with the iTunes account.
Test out the search bar: Mom likely knows what she wants to purchase ahead of time, so help her search for items via the search bar on the upper right-hand corner of the title bar. The results aren't always clear, so make sure she's selecting the right items for purchase (The Girl With the Dragon Tattoo book rather than the movie).
Explore each option on the navigation bar: Music, movies, TV shows, apps, and books: these are just a few items on the top navigation bar that Mom should explore to see what's new and what's popular.
Dive deep into each section: Each media content page breaks down into series of categories. View the list of categories by holding down the content page name on the navigation bar, or look to the "Quick Links" section on the right-hand side of the page. That way, Mom can search for types of movies, books, and music she prefers.