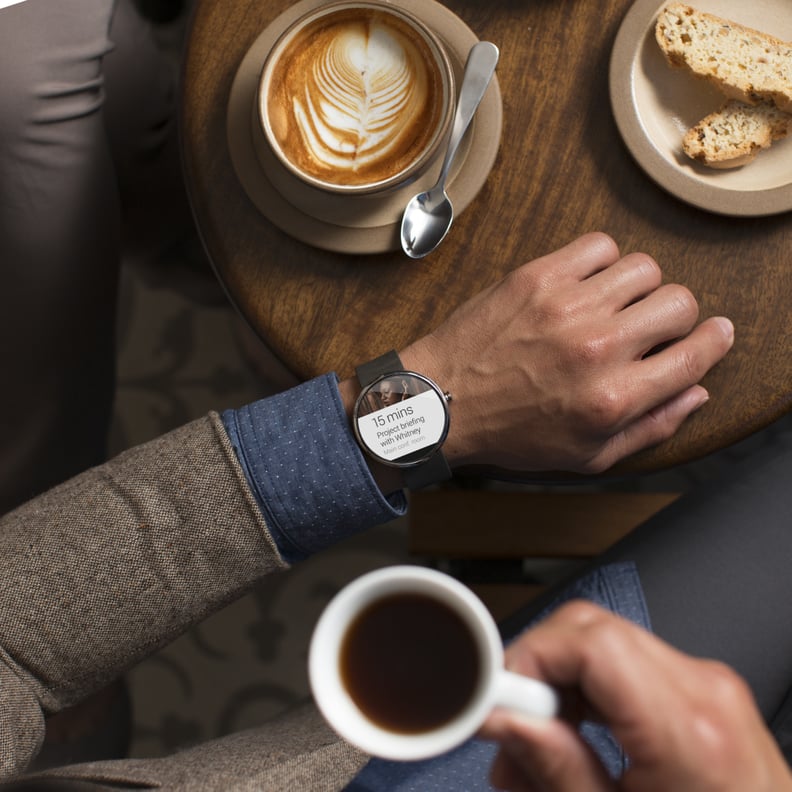 Google's first smartwatch is definitely, probably, making its debut during Google I/O, which kicks off June 25 in San Francisco, CA. We're expecting major wearable tech announcements at the company's annual developers conference. The Moto 360 looks like a classic timepiece but works like a smartphone powered by the Android operating system. It's round-faced, it's surprisingly chic, and, unlike other smartwatches, we could actually see it on a female wrist!
New FCC documents point to a wireless charger using Qi technology for the Moto 360, and we're kind of thrilled about not being tied down to more cables.
When it's available this Summer, the Moto 360 will ship with Android Wear, a version of the Android platform that's tailored for wearable devices. The interface uses "Ok Glass" voice activation like Google Glass and looks like Google Now, the hyperpersonalized, location-based software built into Google Search. It will suggest info like local weather, pull up your plane ticket's QR code at the airport, show you how long your commute will take, and more.
Google also said that Android Wear will be compatible with streaming music services, social media apps, messaging clients, shopping notifications, and news services. In response to the growing fitness tech trend, the platform is making room for health and fitness, with sensors that calculate real-time speed, distance, calories burned, and heart rate. We also expect integration with Google Chromecast, where the watch works as a TV remote.
At SXSW 2014, Google's head of Android and Chrome, Sundar Pichai, announced that a developer SDK for Android Wear was on its way. The software development kit, which will let developers create custom interfaces, send data to an external device, take advantage of control sensors, and utilize voice actions, is due to arrive soon. Sign up for a developer preview for early access to an Android Wear emulator, new Android Wear notification APIs, and more. Stay tuned for more announcements this week!
Would you rock the Moto 360? Scroll to see it up close, and let us know if this smartwatch is up to your style standards.
Android Developer Emulator