Why Everyone's Going Crazy Over the New Pebble Smartwatch
Pebble, the popular smartwatch maker, just announced a new product called Time. Aside from its obvious features, what makes Time stand out from competitors is that it's launching through a Kickstarter campaign. You may remember that back in 2012, Pebble got its start via one of the largest Kickstarter campaigns ever. So far, it's already raised more than $3.8 million dollars of its $500,000 goal, and the campaign just went up this morning. Wowza.
So what features does Pebble Time offer? For one, a new interface that displays info like notifications, news, and weather chronologically through a timeline. "Instead of having to open an app, everything is at-a-glance, helping you accomplish more throughout your day," Pebble said in a news release. Companies like the Weather Channel, Evernote, and Pandora have signed up to partner with Pebble for the OS. Then there's a color epaper display and a new microphone that lets you respond to notifications. It's also 20 percent thinner than the original Pebble. Plus, it's got the battery life that lasts up to seven days and the water resistance you're used to from other Pebbles.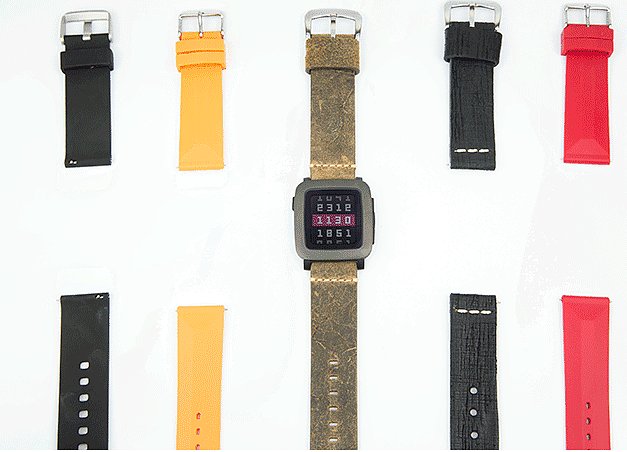 Pebble Time will be available in three colors for $159 exclusively on Kickstarter and will start shipping in May. Later in the year, it will sell for $199 on getpebble.com and in stores worldwide. Check out the viral campaign now.