A new geek convention is in town, and it might just top them all. Brainchild of Apple cofounder Steve Wozniak and Marvel Comics' Stan Lee, Silicon Valley Comic-Con (SVCC) is opening this weekend from March 18 to March 20 at the San Jose Convention Center. And based on what Wozniak — also known as "Woz" — told us, it's going to be great.
The core of SVCC is almost a mirror representation of its two creators: technology and comics. But in addition, it's where pop culture, consumer electronics, and entertainment meet. When Wozniak and Lee met a few years ago and instantly hit it off, they knew they wanted to create something together. The idea of SVCC seemed to be a natural fit for Silicon Valley, the hub of tech and innovation.
"There's so many people in this area that are interested in pop culture, especially the science-fiction, superhero, comic side of things — they go hand in hand," said Wozniak. "There's a lot of tech-y types that like that world and participate in it and follow it, so it added up to 'why isn't there one here?'"
The guest lineup isn't too shabby either. The Avengers's Jeremy Renner, Myth Busters's Adam Savage, author of The Martian Andy Weir, and Captain Kirk himself, William Shatner, are just a few among the list of 60-plus celebrities, authors, artists, cosplayers, and big names in science and tech.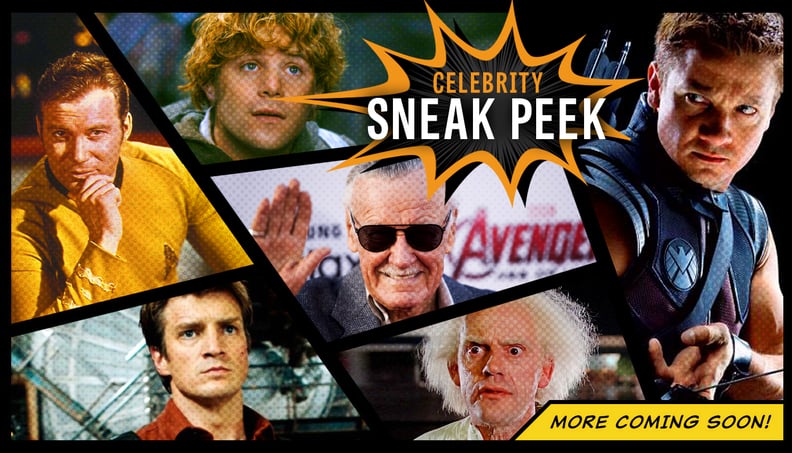 Although Wozniak will be presenting several times throughout the weekend — including at a panel with Palmer Luckey, cofounder of Oculus virtual reality — he plans to enjoy the event as an attendee as much as he can. One of the events he's particularly excited for is Superbabies vs. AI, which will be led by Astro Teller of Alphabet's X, the experimental lab of Google's parent company. Astro's wife, Danielle Teller, will be presenting alongside, and together they'll debate whether artificial intelligence or pre-programmed babies are the biggest threat to mankind.
It may be SVCC's inaugural event, but there's no denying it's opening with a bang. Read ahead to find out why you'll love it and prepare to grab some tickets after.
1. The event has something for everyone.
The packed weekend schedule caters to every interest, featuring: cosplay 101, a Back to the Future reunion, an astrophysics panel, a comedy presentation by Napoleon Dynamite's Jon Heder, YA writing, a Stan Lee museum, and a Madame Tussauds Wax Museum.
Wozniak is especially excited for a virtual reality zone, a space he believes is a key part of SVCC. "If you think about it, Comic-Con is sort of based upon a lot of the comic heroes and superheroes, and the visual effects and all, and that's really presenting a dramatic visual image — it sucks you into a world," said Wozniak. "Virtual reality just sucks you into a world so much more than a computer screen. I mean, you are just a part of it — it's so incredible. You just come out of it and can't believe you're back on Earth."
Even those who aren't fans of all things geek will be able to find something.
2. You won't find anything like it anywhere else.
According to Wozniak, SVCC isn't just a hybrid between Comic-Con and CES. "I don't want to look at it that way," said Wozniak. "We're primarily a Comic-Con and we're not bringing in technology as a technology show — anybody's welcome — but really we're focusing on technologies that are related to popular culture, to movies, to comic heroes, and bringing the imaginary world to life for people."
Although you'll see components that are true to Comic-Con, like fandoms and cosplay, the blend of pop culture, science, and electronics contrasts other tech conventions that tend to be more for industry professionals.
3. It's all about "entertainment and inspiration."
Fun lies at the center of SVCC, but attendees can also expect to get schooled. "We're not just doing panels, we are going to teach you science," said Wozniak. "We are going to expose it to you, like The Martian, in ways that are very entertaining."
Above all, Wozniak hopes attendees leave feeling inspired and that SVCC will open their mind to a world of possibilites and ideas. The convention's marriage of science fiction and tech is built upon the realities of what was once thought impossible.
"Science fiction is so closely related; think about every superhero that can fly and see through walls and burn lasers out their eyes," said Wozniak. "These are all nonexistent; they're fantasy, and so is science fiction. We look at science fiction and say, 'I wonder if we can build a device like that.' A lot of the inspiration we get for great products comes from science fiction itself, including little computers you can ask a question to and it talks back to you."
What's the main reason Wozniak thinks you should go to SVCC? It's a haven to proudly let your geek flag fly. "It's like a special day like Halloween; you can dress up and play the role, see things you wouldn't on other days — that's kind of geek-ish," said Wozniak. "The geek wants to do something a little out of the ordinary." So go ahead, celebrate your inner (or outer) geek — and don't look back.