uDraw Tablet For Nintendo Wii
Wii Gets Wacom-Like Drawing Tablet This Holiday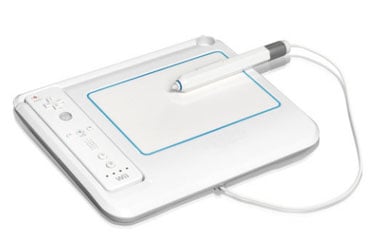 The Nintendo Wii is getting an exclusive game and peripheral later this year from games maker THQ that will bring Wacom-like drawing to the console. Called the uDraw Game tablet this accessory will come bundled with uDraw Studio, which allows you to draw pictures, color, and play art-based video games with the included stylus and 4x6 tablet surface.
Find out more about the uDraw Tablet and Studio, why it's perfect for your little ones, and a demo video after the break.
Not only can your kids (or nieces and nephews!) draw with a multitude of digital paint colors, textures, and brushes, and play games like Pictionary, but they can print out their best work to hang on the wall or fridge with the help of an SD card. Not only can parents rest easy knowing that there will be no more marker stains on their carpets and walls, but you'll save money on art supplies now that it's gone digital!