Adventure Girl Interview With Stefanie Michaels
In Her Shoes: Stefanie Michaels, Adventure Girl and America's Tweetheart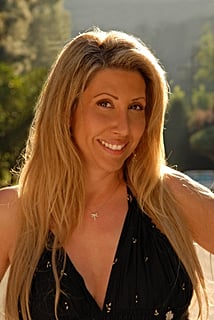 With a name like Adventure Girl, you know she's rockin' a dream job. She's a daring traveling expert, and has left footprints in places like safaris in Africa and ice hotels in Iceland. She's not just your average travel guru — Stefanie Michaels, has been dubbed by Vanity Fair as "America's Tweetheart," for her huge Twitter following on @adventuregirl . . . about 1.5 million followers and growing.
SavvySugar: Tell me about your favorite day on the job.
Stefanie Michaels: The first time I saw a lion in the wild. That was really spiritual. For the four days we had been looking, because we heard that there was this pride of lions that had a series of babies over the past months and we couldn't find them. All of a sudden, our tracker said something to the driver and we made a U-turn to a different direction and we came around these boulders to see the pride. There was one male and there had to have been maybe six females all different ages, and the babies. There had to have been about nine to 10 babies and they were all rolling around, playing, hissing and growling, and we just sat there still, quiet in the truck. We watched the babies play and the mothers lick them, and it was almost like we shouldn't have been there but we got this view. I just pinched myself. I couldn't believe that we were sitting there watching this. The driver turned around to us later and said did you understand how rare this is. It was magical it was one of the most incredible experiences that I've ever had.
SS: Where do you want to go to next?
SM: Antarctica is on my shortlist, I've been trying to get there for a long time there's always some kind of roadblock. But I feel like I want to get there faster, because of what's going on with global warming. It may not be there to see so I'd really like to get there.
For more about Stefanie's adventures, read on!
SS: Antarctica doesn't sound like a very cushy place. What kind of elements do you look for in a travel destination?
SM: For me it's about learning about something different than our cushy life in the USA. You're humbled when you go to these poor tribes where they do everything by hand and there are no creature comforts or ones that Americans consider creature comforts. We come back to the USA and you realize we're spoiled. My god, I push the button and I get coffee! So for me, I seek perspective. I really seek being humbled and to learn about other cultures and other people in the world, but then again that's why they call me Adventure Girl. Literally, my dream was to be a war correspondent, covering war stories in an embattlement situation and although it didn't actually work out that way, I still have that piece of me that [yearns to] get down on the ground on my belly.
SS: How did you build up your Twitter?
SM: Well I was a really early adapter to the service, and basically I was the only travel person besides Jet Blue on there so that's the first thing. I had already a fan base from AdventureGirl.com so when I did an email blast out into cyberspace, I basically said hey I'm on this really cool new service, It's called Twitter, it's 140 characters, and within about three weeks I had 175,000 followers. And Twitter basically put me on the SUL — the suggested user list, and that helped, but it's also one of the cases where you can have the address of someone's house, but if it doesn't look friendly, you don't want to walk in. Getting followers is one thing, keeping them is another. Even though it might've given me a leg up initially, it's really been about living it 24/7. Even if you don't see me active on the actual feed itself — you'll maybe see a tweet here and a tweet there — I'm actually emailing people back from their queries on the website, just making sure that I'm constantly in touch with people. So you have to live it. You really, really have to live it to build a fan base and a following.
SS: Do you have any Twitter tips?
SM: Just engage and really ask questions. Twitter is one of those amazing things like other social media networks where you can really reach out to people and question and be involved with them and it's not creepy. They have a search bar so you can search for people who are like-minded, so you type in travel and you find people talking about travel. You can reach out to them and ask them hey where did you go, what did you do? And it's so immediate, you get a response back. I always say this in all my interviews, but I thank the founders every day. I thank Biz and Evan and Jack for creating a piece of communication that has literally changed our world and how we operate.
SS: What are your thoughts on travel romance?
SM: I'm not the right person to ask this because I'm married! But I say go for it. I love European men, I think they are amazing. Croatian men are just fantastic. They are just so romantic and so sweet. You know I kept saying to them, I've got single girlfriends back in the US! The world is almost like a candy store for someone who is single.
SS: Any last words you want to share?
SM: If someone asks you on an adventure, go for it, don't turn it down. Say yes, just go, live it. And you can even find an adventure in your own backyard. Sometimes if you're a tourist in your own town, you kind of learn something you might not have known about, so just go for it. Start small and dream big.
Want to join in the dream-job fun? Read more from my In Her Shoes series and submit the types of careers you want featured in the comments below.