Away We Go: How to Travel (Better) With Friends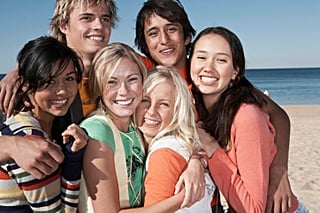 We're thrilled to present this smart LearnVest story here on Savvy!
You love your friends, imperfections and all, so the only thing better than a trip to Ibiza might be a trip to Ibiza … with them. After all, group travel affords you freedom to do the activities you want, with zero worries about loneliness: Someone will always be game to ski that double black diamond run or dance the night away at that tiki club.
But while traveling with a group can be fun, it can also be fraught. The little differences that might seem small at first—like extra-long showers or reckless spontaneity—can get blown out of proportion after a few days of being together 24/7. Remember that time you tried to split the hotel bill to account for your BFF's room service? ("But you totally ate some of my calamari!" "Not $20 worth!") What a headache.
But you can leave the Advil at home, ladies. With our tips on organizing a successful and stress-free group getaway, you'll come home with both your friendships and your budget intact.
Know Thyself (And Your Friends)
No two friends travel alike, as one woman's "high standards" can be another friend's "being difficult."
You might enjoy getting a manicure with your diva friend, but think twice about inviting her camping. Likewise, if you don't enjoy drinking, be wary about inviting the party girl on your getaway. Small differences can blow up when deciding how to spend a whole week together.
So, think strategically when planning your trip: Suggest a weekend in Vegas with your diva girlfriend, plan a camping trip with your high school buddies and save up vacation days for that European getaway with your bilingual best friend.
Read on for more travel tips.
Pick A Number
Sure, we know you always rent that same beach house with your twelve closest college friends, but you've also had years to work out the kinks. All we're saying is, when you're planning a group trip, more isn't always merrier. If possible, keep the number of friends you invite to three or four; any more than that and you'll find the group much harder to manage.
Once you've decided who would enjoy which kind of trip most, sit down at the beginning of the year and check to see if you've penciled in all of the pals you want to feel appreciated. (This is also a great way to make sure you don't blow your budget.)
Call it friendship insurance: That way, when one girlfriend sees pictures of you in the Cayman Islands, all you have to say is, "It was fun, but I can't wait for you to come up to my lake house!"
Follow The Leader
Now that you've gathered your perfect group, choose a trip leader to arbitrate disagreements and make decisions when the group is undecided. You can ask for suggestions from the group at large, or if no one volunteers a leader, nominate one yourself.
Pick someone who keeps her cool during conflict and avoids gossiping; she should be able to listen to a group member's concerns without bad-mouthing her to someone else.
As the itinerary begins to take shape, everyone can send their concerns and needs to the group leader privately. It will be helpful for the leader to know who despises red-eye flights and to document any allergies or dietary restrictions. She can then assure each traveler that individual concerns are accommodated, without announcing them to the entire group.
If you are making an annual trip, make sure the leader rotates every year. It's a hard job to balance everyone's needs, so at the end of the trip, treat her to a dinner from the group or a special spa treatment to show her how much you appreciate her planning.
Divide And Conquer
Once you've chosen your leader, she should delegate trip-specific tasks that fit with each of your interests and schedules. This will keep the load off of one high-achiever's back and get everyone involved and excited.
Just make sure to ask before delegating especially involved tasks. If it's busy season for your accountant friend, the last thing she wants to do is scour Expedia for deals—instead, put her in charge of activities once you're there.
When And How
It's likely you'll all be excited about this trip and will want to immediately decide where to go. Not so fast! First, you need to decide these factors, which will help lead you to a destination.
Factor in everyone's vacation days and other engagements. How much you are willing to spend will determine if you can practice yoga at that exclusive retreat in Thailand or lounge in your bikinis at a Florida beach. Aim to accommodate the person with the tightest budget.
Decide The Destination
Now we're ready for the exciting part: where to go!
You could organize a group lunch or coffee break to hash out the other details in person, but if you're scattered across the U.S. or just plain busy, the web is there to make things run smoothly (and we are not talking about byzantine email chains).
If you're short on destination inspiration, check out Wanderfly, a site that churns out custom travel itineraries based on the location, budget and interests you input. (History and nightlife in Madrid for $1,500? Yes, please!)
Another good site is Travelstormer, which offers a smart tool called Brainstorms that enables you to ask questions, post links and share information. We like the feature that lets you vote on everyone's suggestions to make sure each person has an equal voice.
Search For Deals
If you go big when it comes to trips (you've got 11 first cousins, after all), most of the major airlines offer group discounts or special services like free name changes, priority check-in or reduced-rate rental cars to groups of ten or more flying from the same airport. (To find cheap airline tickets, check out our tips here, but watch out for the eight annoying things airlines are doing to you.)
There are also deals out there for smaller groups. We like Girlfriend Getaways, where you can find package deals for you and your friends on five-star hotels, or find out where you can participate in Spa Week 2011.
Pool Your Resources
You only need so many big bottles of sunscreen. If your group is open to sharing, everyone can cut down on their packing lists and avoid baggage fees.
Think about sharing bulky and heavy things like novels and magazines, sunscreen, hair dryers, travel guides, shampoo and conditioner, and iPod speakers.
If you've meted out different tasks to your group, we recommend the accommodations person arrange this, as she can check to see what the hotel provides versus what belongs on your group's checklist.
Spend Time Apart
They may be some of your favorite people on Earth, but you will get sick of each other if you're together every second of the trip. Make a point to schedule free time in the itinerary, when each of you can split off and pursue your own interests for a few hours.
If you're worried about finding each other again after splitting up while on domestic trips, your group could try out Dopplr on the iPhone or iPod touch. It allows members to follow each others' movements on a map, as well as contact each other. Or try GroupMe, a free app which provides group messaging and allows group members to share their location on a map. Unlike Dopplr, it works on every phone.
Believe us, you'll appreciate these features when your tipsy friend stops answering her phone at two in the morning.
Now . . . Relax
You can plan, plan, plan your trip, but once you arrive, it's time to let it all go. If a flight gets delayed or a car breaks down in the middle of the French countryside, it may seem frustrating, but at least you're in good company. (Also, you're in the middle of the French countryside. It can't be that bad.)
Above all, remember that your friendship is more important than being right on time for your dinner reservation. So resist the blame game and take lots of pictures, because if The Hangover taught us anything, it's that the best stories happen when you least expect them.