Bus Travel Tips
Have You Gone the Distance Via Bus?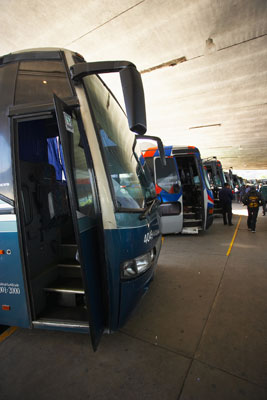 While definitely not the most luxurious method of transportation, traveling longer distances via bus is very wallet-friendly. There are increased bonuses to choosing this form with more and more Greyhound buses offering free Wi-Fi or even tourist discounts at your destination with MegaBus.
Added in to this are perks not found with air travel, like fewer checked baggage charges and the ability to (legally) make an emergency call if necessary. It's as quick or quicker than driving yourself — for those routes with just a few stops — but without the behind-the-wheel responsibility and more time to sleep or chat. I've had a perfectly pleasant experience riding between NYC and DC via a Chinatown bus during my college years, but am I the only one?