Fitness Activities to Do on a Tropical Vacation
Come Back Looking Better Than You Left: Fit Activities to Do in the Tropics
As far as I'm concerned, summertime equals beach time — and the more exotic the locale, the better. If you've got a beach vacation coming up, take advantage of your surroundings by doing a few of these tropical-specific fit activities. And don't worry, even after you sweat it out in the surf and sand, there will still be plenty of time to lounge!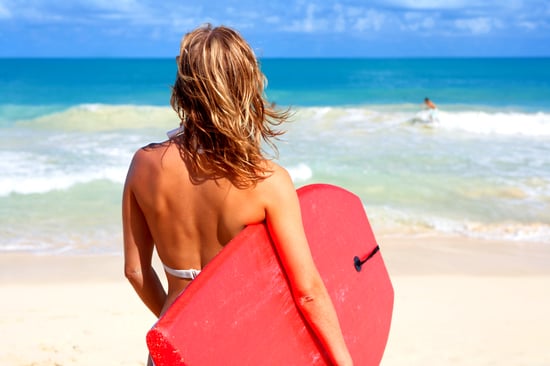 Take your Sun Salutations outdoors: With more and more studios bringing their practices outdoors, beach yoga is no longer reserved for immersion retreats. If you're lucky enough to be staying at a beachside hotel, check with the concierge — it's likely they offer morning yoga as part of the room rate (or for a nominal fee). Popular vacation destinations like Hawaii, Mexico, and Florida make beach yoga a priority, so if your hotel doesn't offer it, research local studios before you go. If practicing outside is new to you, here are some tips for doing yoga outdoors.
Get lost in the jungle: It may be hard to pry yourself away from the beach, but when you do, you're likely to find mountains filled with lush tropical valleys, rainforests, and jungle terrain. While you may want to go the insider route, a safe bet is to opt for trails popular amongst the tourist set. These hikes are usually safe and well-defined and are popular for a reason — expect a big payoff in the end, like a waterfall, a lagoon, or an amazing birds-eye view of the surrounding landscape.
Go beyond the float: OK, even I admit that there's nothing like the back and forth of lying out, beer in hand, while floating motionless in the ocean. But if you don't want to let your bikini bootcamp efforts go to waste, alternate your lounge time with some calorie-burning water activities: take a surf or stand-up paddleboard lesson, rent a kayak, or get your swim on while snorkeling.
Make the sand work for you: Walking barefoot in the sand is already a glimpse into how this surface makes your legs work just a little bit harder. In fact, walking in the sand burns 30 percent more calories than walking on a flat, even surface. Really make the sand work for you by doing one of these total-body beach workouts — one even incorporates the ocean!