Fitness Offerings at Hotel
Seeking a Fit Stay at Your Hotel? Important Questions to Ask Before Booking
When you lead an active lifestyle, it makes sense that you want to keep the momentum going when traveling. But being away from the comforts of home, the gym, or your favorite yoga studio can make a regular fitness regimen hard to maintain. But the right hotel can make staying fit a breeze. From complimentary personal training sessions to yoga on the beach, find out what amenities to ask about before making any hotel booking.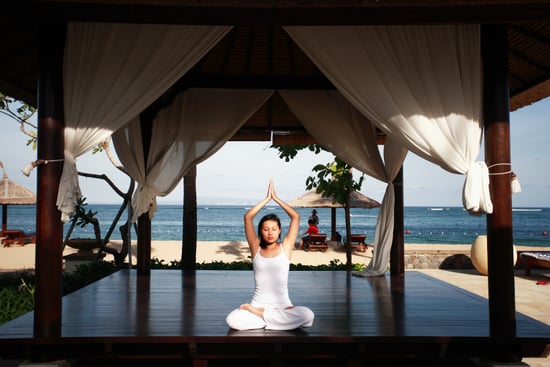 Is There an On-Site Gym?
While it may seem like a no-brainer, many hotels do not have a fitness center. Or, the ones they do have are subpar. Beyond asking if there is a gym on premises, ask if there is an extra fee to use the facilities and what its operating hours are. While some hotels offer free 24-hour access, other hotel gyms may charge for the extra amenity or close in the early evening. If there isn't a description online, then ask about the gym's equipment, too. You'd be surprised how many places consider a fitness center to be a single treadmill shoved in a stuffy room.
Are There Any Fitness Classes?
More and more hotels and resorts — especially in the four-star accommodations and above — offer fitness classes to its guests. Yoga is an ever-popular choice, but I've recently seen more Pilates, water aerobics, and boot camp-style workouts popping up on many hotels' activity rosters. Make sure to ask if the classes are included in your daily rate or if there will be an extra fee to participate. Most places will require you to sign up for a class in advance, and if there aren't enough students registered, then there is a chance that the class may be canceled. I have been lucky enough, however, to get a one-on-one yoga instruction at the Pueblo Bonito Pacifica Resort & Spa because I was the only hotel guest to sign up for class that day.
Free personal-training sessions, a running concierge, and more — after the break!
Is There a Personal Trainer Available?
When you start getting fancy, so do the fitness perks. Many five-star accommodations and resorts can arrange for a personal trainer to work with you on your stay. And if the place is really focused on the wellness of its guests, then personal training sessions are often included as a free amenity in your daily room rate (Le Blanc Spa Resort in Cancun is one place that comes to mind).
Are There Any Nearby Trails?
Location, location, location. If you're serious about running, hiking, or cycling, then you may be needing a fix while you're away. Before booking your room, ask your hotel's concierge if there are any nearby trails designated for running, cycling, or hiking. Some hotels even take it a step further by organizing hikes for guests, and Westin Hotels even have a running concierge on staff.
Is There a Pool?
Whether it's with a round of water aerobics or laps, a pool is an easy way to stay fit on vacation. Find out if your hotel has one, but most importantly, ask if it's conducive to swimming laps. If it's mostly a kiddie pool or relatively small, then it'll probably be an annoyance to both you and other guests to bust out your breast stroke during peak hours. Ask if they have designated lap hours, or opt for an early-morning or late-night swim instead.
What Extra Fitness Amenities Do You Offer?
Whether it's the free bikes at the h2hotel Healdsburg or surf lessons from The Royal Hawaiian, ask what extra perks your hotel might offer. Depending on the destination, these additions may be guest passes to a nearby gym or yoga studio, specially designed healthy menus, or wellness clinics.