Healthy Date Ideas When Vacationing With a Friend
How to Sneak Fitness Into the Most Relaxing of Vacations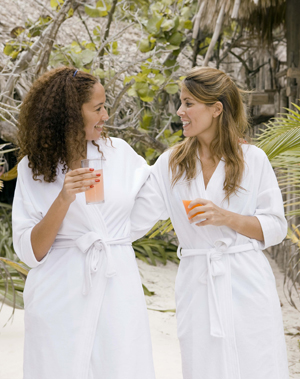 "Vacations are not meant for fitness." This quote is from a dear friend of mine; the two of us are driving down the coast for Labor Day. While it's true that I usually don't plan my vacations around fitness, I like being active — even when away from home! But I get it, it's Labor Day, the last hurrah before Summer ends, and my friend wants nothing but fun in the sun.
Since she's doing all the driving, I'm definitely not going to suggest a yoga session on the beach. But that's because I have something even better in mind. Instead of framing activities in terms of fitness and exercise, I've got a few fun suggestions that will keep her smiling, and me active.
Let's go ride a bike. Riding bikes in the Summer sun can't be beat, especially when it's along a beach boardwalk. Once we hit Los Angeles, I'm looking forward to renting a couple of bikes and cruising along the Santa Monica beach boardwalk.
Book a spa date. A visit to the spa is not only an indulgent way to hang with a girlfriend, it's also a great way to relax. Schedule a massage to de-stress, relieve sore muscles, and boost immunity levels.

See how we'll be spending our nights when you read more.

Dance the night away. A night out at the club can be super fun, and dancing is a great way to burn calories. Just make sure to keep everything in moderation so you don't spend the next day nursing a hangover.
Make a healthy meal feel indulgent. Before we go, I am researching great spots to dine out that also have a reputation for being healthy or offering local, organic food. My friend will feel like we're having a decadent meal out, and I'll still be able to find something on the menu that suits my healthy diet.