How to Stay Healthy While Traveling
How to Stay Healthy and Fit on the Road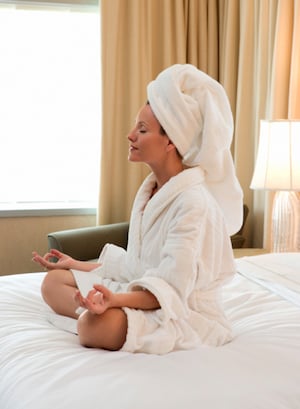 Sometimes I feel like I live out of my suitcase more than my house! When traveling for pleasure, it's liberating to step away from my structured daily routine and just let the days unfold naturally. But being away from my schedule can often throw a huge wrench in my fitness regime — "Why yes I'd love to go to the beach rather than spend an hour on the treadmill!"
Thankfully for the state of my overall health and well-being, I no longer use the "can't exercise because I'm traveling excuse." Rather than try to replicate workouts — which is impossible to do — I get creative and use what's around me. . . whether that's a tennis court, a pool, or rental bikes. On Fit, we want to give you lots of options for staying healthy while traveling, so here are some noteworthy articles to keep as a handy reference.
8 Do-Anywhere Exercises: If you find yourself in a situation when you want a full-body workout but are limited by locale, try these eight exercises including seated sweeping leg lift and standing booty kicks. Your heart will be pumping, muscles worked, and all without the use of any equipment!
Here are some more ideas to check out.
Sightrunning: Going to a cool new city? Why not combine the tourist and runner in you and go sightrunning instead?
The Best Hotel Room Workout: Stuck in a hotel for business? No problem at all. This video will show you five easy moves that will work out your arms, legs, and fanny.
Keep an Exercise Routine, Wherever You Are: Follow these steps to help you stick with your normal fitness routine even when you're visiting the in-laws.