Japan Resort For Love Plus Players and Virtual Girlfriends
Japanese Resort Town Targets Men and Their Virtual Girlfriends
From robots officiating wedding ceremonies to humans marrying inanimate objects and animated characters, we've seen plenty of crossover love over the past year. Now a fading Japanese hot-spring town is rebranding itself as the vacation destination for young men and their virtual girlfriends.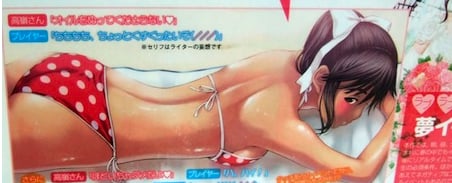 Love Plus, a dating simulation game that allows men to pretend they're high school boys dating teenage girls, is what men are playing when they arrive in Atami, a coastal town 60 miles outside Tokyo. There are 13 romantic locations in Atami where suitors can bring their two-dimensional bar codes and augment them into real-life girlfriends. One hotel features two futon beds, one of which allows men to visualize girlfriends in a "flattering Summer kimono" while laying down.
None of this sounds sane to my old-fashioned wish to fall in love with a real, live human, but the company behind the game, Konami, argues it's teaching men how to be in relationships. Where other dating games have focused on wooing and winning the girl, Love Plus requires players to build long-term relationships. To get points, players must make the girl happy by paying attention to her (i.e. playing often). So maybe the only harm it's actually doing is spreading sexist ideas about what women want?