Miranda Kerr Wears Phillip Lim Sweatpants
If We Traveled Like Miranda Kerr . . . We'd Wear Sweatpants on the Plane Too
It seems like Miranda Kerr is always in an airport, zipping between New York, LA, and Australia as if they were a few miles away from each other and not thousands of miles, and one of her many skills is looking snappy when she's fresh off the plane. Most of the time she's in Nobody denim and a sharp blazer, but this time, we caught her in sweatpants. In fact, she looks fantastic wearing sweatpants, but these aren't any sweatpants — they're 3.1 Phillip Lim sweatpants that are perfectly slouchy and thin, and she paired them with an oversized denim shirt, low booties, and a printed silk scarf. It's a brilliantly casual outfit that is totally comfy. Here are some notes: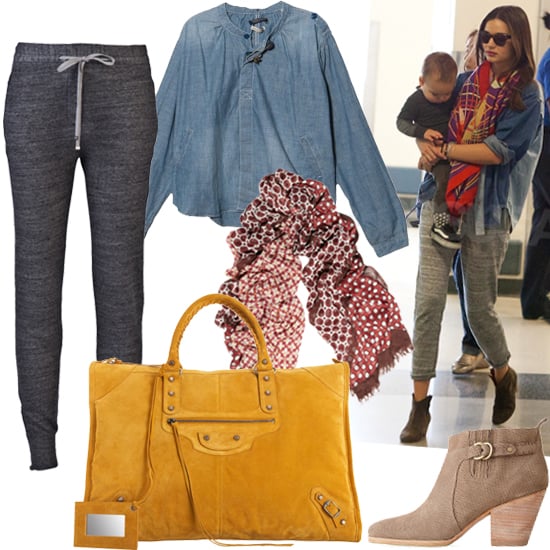 She cuffed her sweatpants and wore them slightly loose. Sweatpants should never be too tight. Ever.
A bright, printed scarf added color and a bit of sophistication and saved the outfit from looking like it belonged on the couch, in front of the TV, with a bag of Fritos.
She wore her token Isabel Marant booties, which is a little cooler than, say, a pair of sneakers.
While she is carrying her incredibly adorable son Flynn, we think she would carry something lux like a Balenciaga weekender bag ($1,745) in deep yellow suede.
That said, we're putting ourselves in Miranda's booties and imagining a travel wardrobe full of luxurious basics. Shop our widget to get your own.