Pack a Swim Cap and Goggles When You Travel
Fit Tip: Pack a Cap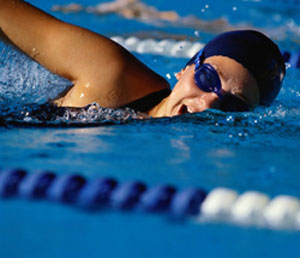 Whether you're traveling for business or pleasure, sticking to your fitness routine on the road can be a challenge. I like to mix up my routine while traveling by renting a bike or taking a walking tour. You can also pack your workout clothes and equipment to hit the hotel gym or go for a run.
However, if you're trying to pack light, your best bet may be a swim cap and goggles. Long ago, I vowed never to travel without a swimsuit. Too many times, I ended up at hotels I didn't know would have pools and cursed myself for not bringing a swimsuit, which takes up minimal suitcase space. Same goes for a swim cap and goggles, which are also lightweight and small. Now, whether I'm camping somewhere with freshwater swimming or staying an elevator ride from a lap pool, I can always get some exercise.
Do you pack swim gear when you travel?