Pictures of Carrie Underwood in a Bikini With Her Shirtless Husband Mike Fisher in Tahiti
Carrie Underwood Breaks Out Her Bikini For a Dip With Her New, Shirtless Husband!
Carrie Underwood and Mike Fisher were among the trio of celebrity couples to tie the knot over the weekend with their ceremony at a resort in Georgia! They were spotted on Sunday heading off to their honeymoon from LAX, showing off their brand-new wedding bands before going through security. The newlyweds arrived yesterday in Tahiti, and it didn't take long before he went shirtless and she put on her sparkly bikini to take a dip together. Carrie looks incredible in her two piece suit, and she's entered the second round of our Summer Bikini Bracket — she's facing stiff competition in her match-up against Blake Lively, so make sure to pick your favorites and enter to win an iPhone 4!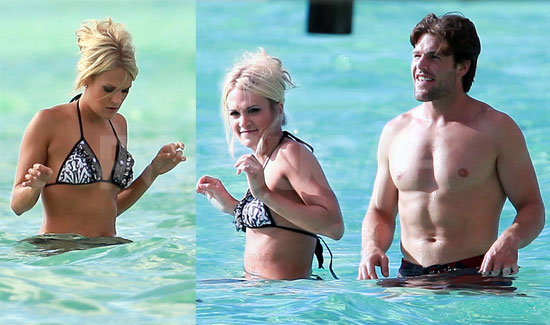 To see more photos of Carrie and Mike on their honeymoon, just read more.