Saudi Arabia Texts Mahrams When Women Leave Country
Saudi Arabia Is Using Technology Against Women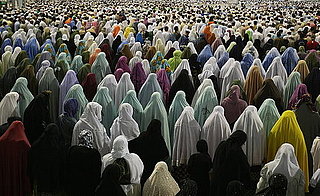 It's bad enough women have male guardians — mahrams, usually husbands, fathers, or male relatives — to report to in Saudi Arabia, but now the government is making it easier than ever for them to track their charges. The foreign ministry will now send a text message to a woman's guardian when she leaves the country.
Considering mahrams already have to give written permission for a woman to pass immigration at the airport, the latest alert seems redundant and its intention is not going unquestioned.
Nesrine Malik imagines the worst-case scenario in the Guardian. Could it be a precursor to a more sophisticated technology? One that allows the government to track women in their daily lives? Possibly. It wouldn't be a first for a country that's long been technologically ahead, particularly when putting it to sinister use.
For now the only silver lining is in what the text forgets to say: where the woman is going.