Seat Strategies on Southwest
5 Tips For Getting the Best Seat on Southwest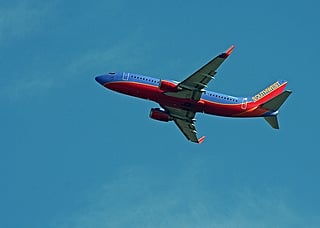 Southwest may not be the most luxurious flying experience in the world, but it's a bare-bones way to get from city to city. We're not sure how ticket prices will be affected by its acquisition of AirTran, but for now Southwest is my Savvy choice for short trips on a budget. I use the airline all the time to see friends and family in LA, and I love its great customer service, no cancel or change fees, and a baggage policy that's better than many. What do I hate? The unglamorous cattle call to claim a seat that won't make you miserable for the whole flight. But from my years of shuttling to and fro on this friendly bus of the skies, I've learned a few tricks for navigating the unassigned seating arrangement. Here are some tips for getting the best seat in the cabin.
As soon as you book your flight, set a reminder on your phone to go off 24 hours before you fly and add your confirmation number to the notes section. That way, you can check in at the earliest possible time on your smartphone no matter where you are and claim your A status.
If you've checked in on your phone, you'll need to reprint your boarding pass at the airport. If you're not going to check any luggage, find a kiosk that isn't at the ticket counter so you don't have to wait in line. At many airports, airlines tuck away some of these boarding-pass-only kiosks close to the security line.
Read more of my tips on claiming the best Southwest seat after the break.
I use my Rapid Rewards number to check in; if you do too, program the number in your phone's contacts so you can quickly pull it up at the kiosk. This saves you from trying to find your membership card in your wallet. If you use your confirmation email, make sure you've saved it on your phone so it won't be erased.
Don't line up right when the gate agent tells you to. Now that everyone has assigned numbers you already have a spot in line, and it can be some time before you actually start boarding. If you are in the A group, you'll still need to wait for any preboarders, and B-groupers will need to wait for the family boarding period that happens after the last A-lister boards. Stay seated for a little while longer, be attentive and courteous, and shorten your time standing in line.
If you board in an A or B group, you probably have your pick of aisle and window seats. Find a row with someone already in the other seat and strike up a short, friendly conversation. If the plane isn't going to be completely full, you're much more likely to have a free middle seat, because no one wants to interrupt you and your new seat buddy!
Using these tips has helped me have a relaxing flight. Do you have any go-to tips for getting the most out of Southwest's unassigned seats?
Source: Flickr User Monika Thorpe