Things You Should Buy Online
5 Goodies You Should Buy Online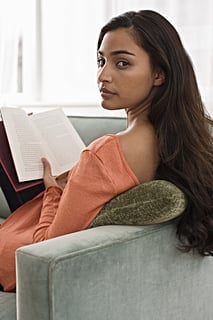 Shopping on the web seems a lot more pleasant than carrying heavy shopping bags back home and running in and out of stores. It was recently reported that more people are shopping online than ever. In fact, consumers spent $32.1 billion online in the last three months, which is nine percent higher in the same time period last year. Shopping online definitely saves a lot more time and makes it easier to comparison shop. Here are five items you should buy online:
Books: The collection at an online bookstore like Amazon, will surpass your neighborhood bookshop. Amazon even offers book recommendations, which I find very helpful as well. You also have the options of buying used books at steep discounts. eBooks (for the most part) tend to be cheaper than their paper counterparts. Not only that, but I download my Kindle books onto my laptop and my eBook reader, so it's like buying two books for the price of one! Further, Kindle has announced plans to roll out lending capabilities for users, a service that the Nook, the Barnes and Noble eBook reader, already provides for customers.
Romance: Subscribing to online dating services such as match.com and eHarmony.com, has a lot more benefits than buying tickets to a speed dating event or hiring a matchmaker. You'll have a larger pool of daters to pick from (match.com reportedly has about 20 million users), and you'll be able to quickly vet dates by looking at their profiles instead of wasting time on small talk. If you're shy about rejecting people, it's easier to ignore somebody on the web than a stranger in real life.
For three more things you should buy online, read more.
Travel: There are travel aggregator sites like Bing travel and kayak.com that do the comparison shopping for you. Not only that, booking trips online is a lot faster than waiting on a travel agent to get back to you. A nifty feature travel sites have now is memorizing the data you entered the last time you visited the site. It's great because I can check out deals several times throughout the week without having to input the details every time. Bing travel also has a fare predictor that's helpful if you're flexible with traveling dates.
Used Goods: The bonus of buying used goods online is you'll have a larger selection to choose from than at the thrift stores. I notice many of the stores that sell secondhand items are pretty cramped, and less organized than the ones on the web. Check out this list of best used goods to buy.
Electronics: I love buying electronics online, because I don't have to lug them home and I can quickly browse through the product specs if I open them up in different tabs. Electronics are usually cheaper online because online shops generally have less business operating costs. However, be aware of ordering fragile electronics, and make sure you check out the shop's return policy before buying.