Tips For Traveling With a Cold
Flying With a Cold? Survival Tips While in the Air
I started the New Year with a cold that has knocked me right off my feet. I was fine staying home for the midnight countdown, but what I'm not looking forward to is having to board a plane with this bad bug — traveling when you're sick is the worst! If you need to fly and are suffering from a cold, here are some survival tips to help alleviate the annoying symptoms associated with being sick.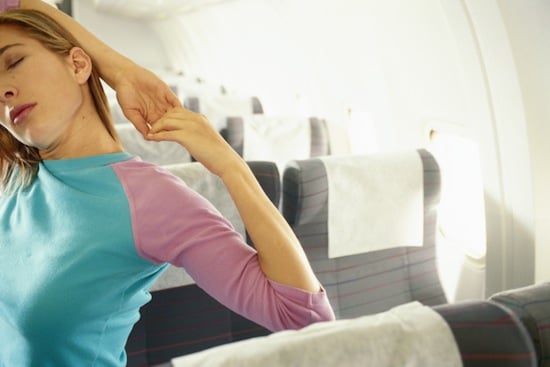 Sore throat: Before you get to the airport, gargle with warm salt water using 1/2 teaspoon of salt in one cup of warm water. Once you get to the airport, sip on hot tea or warm water sweetened with honey, which can help soothe an irritated throat. While on the plane, drink plenty of liquids and come prepared with hard candies or throat lozenges, which can be very soothing since they increase saliva production and help keep the throat moist.
Keep reading for more tips.
Sinus congestion: Decongestants can do wonders to help minimize sinus congestion — take these on the day that you're flying. Thirty minutes before takeoff and again during landing, nasal saline sprays can be used to help ease congestion and moisten the nasal passages. A natural remedy you can try on the plane is take a warm, moist towel and place it on your forehead to relieve sinus pressure. This will also help soothe itchy eyes.
Ear pain: While in the air, ear pain often occurs as a related symptom of sinus congestion. Symptoms can range from mild pain to severe ear damage depending on the severity of the pressure change and the duration of the flight. Before you fly, it's important to clear your ears during takeoff and landing to equalize this pressure. To do this, try yawning or gently blowing out with your nose plugged and mouth closed.
Pain relief: For fevers and headaches, try over-the-counter pain medications, such as acetaminophen to help dull the pain. Medicines that combine pseudoephedrine with naproxen, act as strong anti-inflammatory pain reducers as well.
Dry air fixes: While on the plane, make sure you keep drinking lots of water, herbal teas, or juices (not sodas and coffee) because if you're battling any kind of congestion, the dry air on the plane will only make you feel worse. You can also try dabbing some pure shea butter inside each nostril to help keep the nasal membranes moist and nasal passages clear. And a tiny bit of Vicks VapoRub on your chest can also help with breathing as well.