Tips For Traveling to a Marathon
How to Travel to a Destination Race With Success
Competing in a race is already a challenge in itself; add to that a bit of travel, and you've got a new set of factors to consider. To find out how to achieve race-day success when traveling across the country — or world — we went straight to the expert, Thom Gilligan, founder of Marathon Tours, a specialized travel agency for runners that provides travel packages to destination marathons. Here are Thom's tips to ensure traveling won't prevent you from having a successful race day, whether you're doing a 10K or a marathon.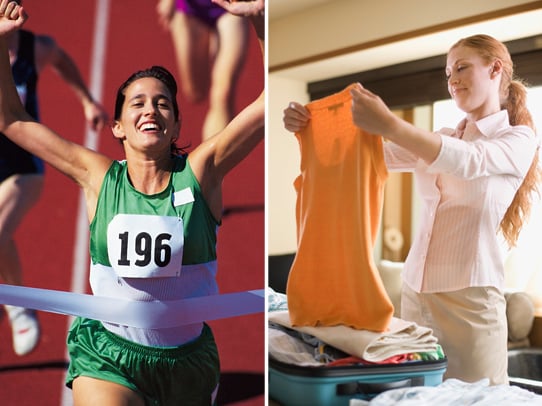 Pack race-day gear in your carry-on: Airlines lose luggage — it just happens. "Take precaution by packing all race gear in your carry-on," Thom says. The last thing you need is to be without your running shoes or outfit on the day of the race. Sure, you can buy new gear, but as any expert will tell you, running in new sneakers or clothing on the day of a race is bad all around. You don't want unexpected factors like chafing, pulling, or rubbing to prevent you from having a good day or causing bad form.
Arrive before the day of the race: Jet leg and tight muscles from a cramped airline seat are not a good look when it comes to race day. To feel alert on the day of the race, try to get there as far in advance as possible. Thom says the rule of thumb is to "arrive one day earlier for every hour you may be gaining or losing." But even he knows how impractical this sounds. Ideally give yourself two to three days to acclimate to your new surroundings, he says. The most important thing, Thom says, is adapting your sleep patterns to the current time zone. Fight urges to nap during the day or stay up late at night. Instead, go to sleep at the general bedtime hour of wherever you might be; this will help reset your circadian rhythm to the local sleep-wake cycle. Here are more tips on preventing jet lag.
See more tips for destination races after the break!
Skip the booze until after the race: Being in a new city is exciting, especially with so many bars and restaurants to try. As tempted as you may be to have a big night out on the town, remember that drinking alcohol is dehydrating to the body, which is the exact opposite of what you want come race day. If you do decide to drink, limit yourself to one a night, and go completely sober the day before the race. Once you cross the finish line? Bottoms up! Believe it or not, beer is the recovery drink of choice among many athletes.
Don't go overboard when it comes to sightseeing: Before the day of the race, you really want to be relaxing, Thom says. "Don't plan a structured day of sightseeing that involves a lot of walking," he adds. Tour the city during the early part of your trip or plan to stay a few days after the race. But the day before, kick those feet up and take it easy.