Train Apps
Public Transit Apps For Budget Travelers and City Dwellers
Public transportation isn't just the most affordable way to get around — oftentimes, it's the fastest, most effective mode of transit too. Figuring out metro lines and travel times can be a huge pain, which is why city dwellers and weary travelers should turn to their magical technology boxes (ahem, phones and tablets) for the most up-to-date transit information.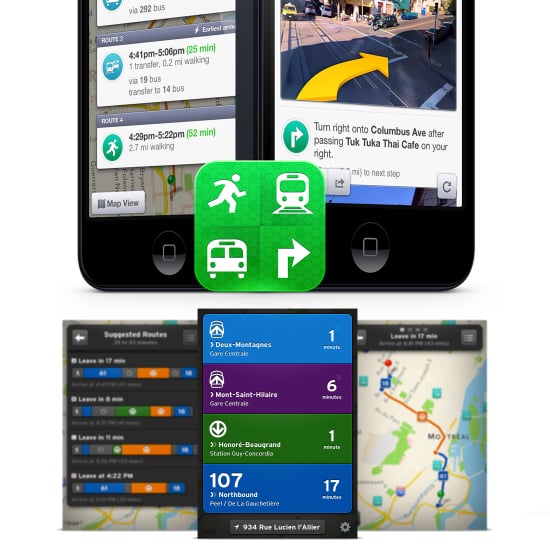 Whether you're planning on taking the bus, train, metro, subway, or ferry, these tried-and-tested mobile applications will serve as your transit guide.
The Transit App (free) — This beautifully designed iOS app is a team favorite. Transit App, which works in 37 different US cities, automatically displays subway, bus, and metro lines nearest to the current location. Quickly swipe to change route direction, press and hold to see upcoming arrivals, and tap to view real-time vehicle locations. Users can also enter a starting address and a destination to find out the best transit line and travel time for any route.
City Maps by Lumatic (free) — Because of its detailed, visual directions, Lumatic is best suited for city newcomers. The iOS app provides photo-driven, step-by-step walking, bus, and metro instructions in major US metropolitan areas. Lumatic pulls in useful business and landmark information from Foursquare, Yelp, and more to create its info.
More bus, train, and metro apps for Android and Windows Phone to get you moving after the break.
Moovit (free) for iOS and Android — The app uses members of the Moovit community in major US, European, and South American cities, plus Australia and New Zealand, to show you the least-crowded route based on real-time data. The trip planner offers several alternatives with freshly updated estimated transit times and crowdsourced reports.
HopStop (free with in-app upgrades) for iOS, Android, and Windows Phone — With subway, bus, train, taxi, walking and biking directions for over 600 cities in North America, Australia, and Europe, this app is ideal for road trippers and backpackers. Users can submit photos and report transit delays, so you know you're getting the most up-to-date information.
Rome2Rio (free) — The rail, air, road, and sea search platform is best for country-hopping travelers. Enter any destination and Rome2Rio will display all of your options and how long it'll take you to get there. It's great for comparing different modes long-distance travel.