Tripbirds Travel Discovery Social Network
Website of the Day: Tripbirds, the Social Travel Site
Planning for a vacation is a mix of travel book perusal and asking strangers on the bus the best ways to avoid tourist trap restaurants in the heart of Rome. New website Tripbirds synthesizes the travel activities recommendation hunt as a, what else, social, crowd-sourced site. Connect with friends via Facebook, Foursquare, and Instagram to discover new destinations and gather recommendations on future trips.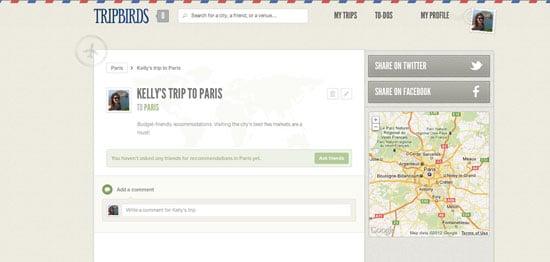 Tripbirds takes note of where friends have checked in or posted photos from on their other social profiles and lists the hot spots in one place. Scroll the Tripbirds newsfeed to discover who it is you should be talking to about trekking through the Mayan ruins in Mexico.
Plus, pay the travel karma forward by recommending affordable hotels, mouthwatering restaurants, and memorable day trips to friends visiting your past vacation locations. Finally an excuse to show off, I mean, share every last detail of your Southeast Asia backpacking trip!