What to Pack to Stay Fit on Vacation
5 Fit Travel Essentials From Pros Erica Hosseini and Jenny Fletcher
Pro surfer Erica Hosseini and pro triathlete Jenny Fletcher know a lot about staying fit while on the go. The Oakley Perform Beautifully athletes balance intense workout schedules with around-the-world travel; both shared their fitness traveling essentials at a recent Oakley event in Napa, CA. Here's what these fit women can't leave home without.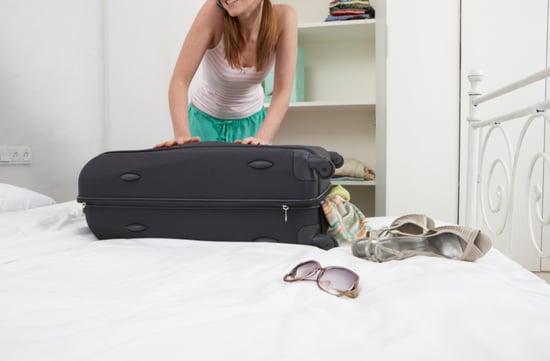 Jump rope: "I always throw a jump rope in my bag," Erica says. Jumping rope is a great cardio option while you're on vacation, especially if it's too hot for a run outside. Here are nine simple jump rope exercises you can do anywhere.
Foam roller: Erica also never leaves home without a mini foam roller (like this 12-inch foam roller, $11) in her travel bag, a habit she's cultivated after "years of sitting on long flights for 12-plus hours or car rides once you get there for six-plus hours," she says. Erica uses her mini foam roller to roll out her IT bands after travel or as support while she's sitting. "There're a million different things [you can do to] get your muscles reactivated," she says.
TRX straps: Jenny recommends taking TRX straps ($200 for the TRX Pro Kit, which includes a travel pack and door anchor) on your next trip. They hook up easily to any hotel door, and once attached, "you can at least do your core and your strength training," Jenny says.
Swimming gear: If you're a swimmer like Jenny, don't forget your bathing suit, swimming cap, and goggles ("You never know," Jenny explains).
Running shoes: Both Erica and Jenny believe that running shoes are essential. "I'm a big fan of just running wherever you are; it's a great way to see the world," Erica says. "It's something you can do anywhere; you don't need a gym, you don't need a pool to swim laps. You just need shoes." Jenny adds that sneakers "are the easiest things to travel with." We love minimalist shoes like the New Balance 890s because they're light and don't take up too much space in your bag.