What If You Were Born Somewhere Else?
When I read the book A Thousand Splendid Suns, which followed the lives of women in modern Afghanistan, I thought: what would I be like if I were born there? The site If It Were My Home can help me find the answer. If I were born in Afghanistan, I'd likely have kids, use hardly any electricity, and have a life expectancy more than three decades shorter than it is now. The site is pretty amazing. Not only does it let you compare vital statistics from different countries, but it also offers reading recommendations that will help you learn more about the places you weren't born. And in response to disasters like the BP oil spill and the floods in Pakistan, it also lets you visualize what the damage would like if these disasters hit your area.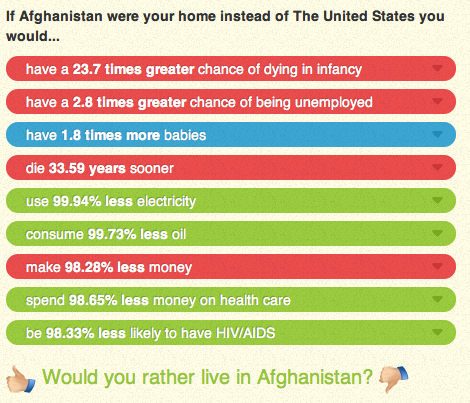 Want to compare life in the US to another country? To see what it would be like if you were born in France — hint, more free time — read more!