Last night, Jay Leno [1] said goodbye to The Tonight Show for a second time. Watch his tearful goodbye above, and check out all the celebrities who joined him on his last show [2].
Philip Seymour Hoffman may be digitally re-created [3] for some scenes for Mockingjay: Part 1. The actor still had seven days left of filming before he passed away.
Leonard Nimoy has been diagnosed [4] with chronic lung disease.
">The Pitch Perfect sequel [5] is a go, with Anna Kendrick [6] and Rebel Wilson both confirmed. The movie will be released on May 15, 2015. Mark your calendars!
The thing that you didn't know you need but now you kinda want it: here's "Timber" without Pitbull:
Trending on Google: Piers Morgan angered many LGBT activists when he demanded that author Janet Mock apologize to him [7] for being offended by a previous interview he had done with her.
Dylan Farrow has spoken out again [8] about the backlash to her op-ed, saying that she was not brainwashed by her mother, as her brother, Moses, has claimed.
Watch New Yorkers get freaked out by fake zombies in a new Walking Dead viral ad.
The State Department is blaming Russia for leaking a phone conversation between US diplomats and the Ukranian government [9]. The tapes are causing controversy because Assistant Secretary of State Victoria Nuland is caught saying "f*ck the European Union" during the conversation.
Did you notice something weird going on with NBC Olympic reporter Bob Costas's eye [10] last night? Well, he knows it, and he wants you to know it's just an infection.
Trending on Facebook: examples of the most oblivious people in the world [11], including people who post their credit cards on Instagram.
Your daily dose of cute: this dog is ready for bed.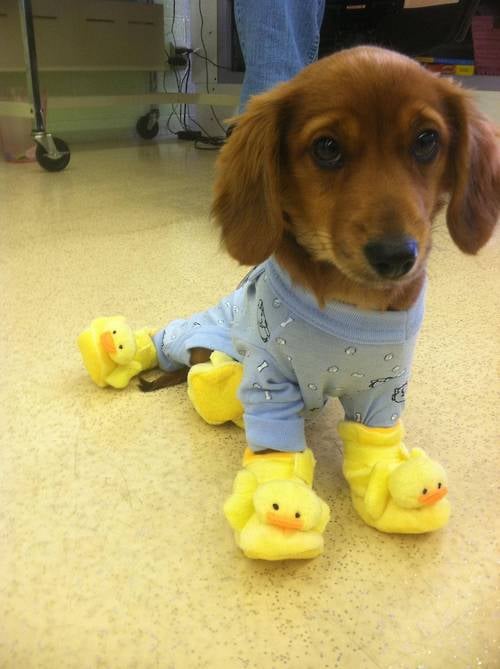 Source: Imgur [12]
Front Page Image Source: NBC [13]