In our Better-Body Challenge [1], it's time to get specific and target a couple of body parts that rarely see the sun: the abs and glutes. This workout only takes about 20 minutes from warmup to cooldown, so it should be a breeze to fit into your day. In the first circuit we recommend using 10-pound weights, but these moves will still be effective with lighter weights or no weights at all. Here's a printable version of the workout [2] so you can do it just about anywhere.
Directions: After warming up with light cardio for three minutes, repeat each three-exercise circuit twice. Stretch for three minutes to cool down.
Circuit One: Side Lunge to Curtsy Squat
Reps: 10 each side
Holding a 10-pound dumbbell at your chest, step your left leg wide to the left coming into a lateral lunge, bending your left knee. Keep your chest lifted and your weight in your left heel.
Push off with your left foot, and cross the left leg behind your right coming into a curtsy, bending both knees. This completes one rep.
Step out to the left returning to your side lunge; continue alternating between these two moves for a total of 10 reps. On the last rep hold the curtsy and pulse up and down in a one-inch range 10 times to work the glutes even more. Then repeat on the other side.
Combining these two moves will work your butt from multiple angles to help lift and sculpt your backside.
Circuit One: Woodchop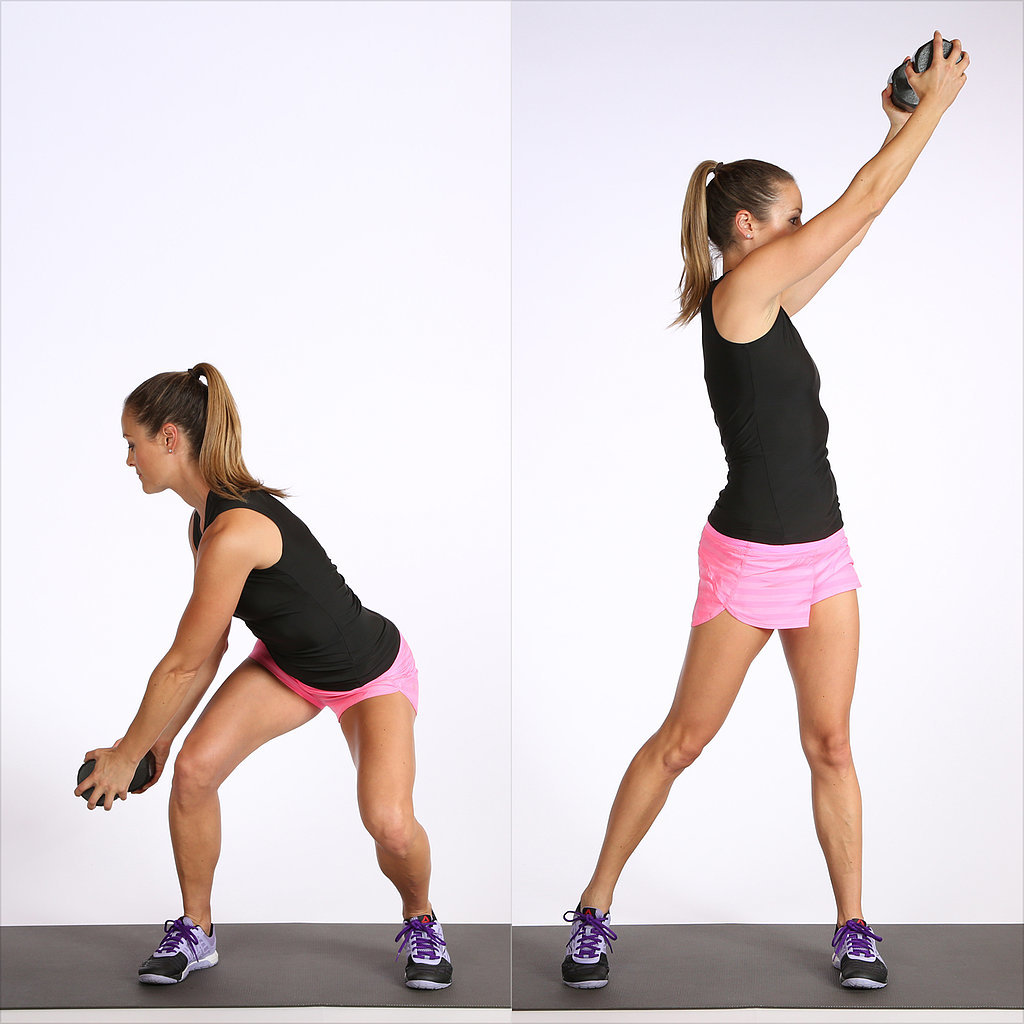 Reps: 12 each side
Stand with your feet slightly wider than hip-width holding a 10-pound dumbbell.
Squat and twist to the right, bringing the weight to the outside of your right knee.
Exhale and twist to the left while raising your arms overhead, pivoting on your right foot. This completes one rep.
Do 12 reps on each side.
We love a full-body ab exercise for functional fitness, and this move works the entire middle of your body, firming the muffin-top area.
Circuit One: Single-Leg Touch
Reps: 12 each side
Holding a 10-pound dumbbell in your right hand, stand on your left leg with your right foot lifted.
Keeping your back flat, bend your left knee while bending forward at your hips to lightly touch the dumbbell to the ground. Keep your right knee bent and your right leg close to your body.
Push through your left heel and return to the starting position to complete one rep; try to keep your right foot off the ground as you complete all your reps.
Do 12 reps each leg.
This exercise fires up your booty through a large range of motion while working your entire lower body too.
Circuit Two: Sumo Squat Series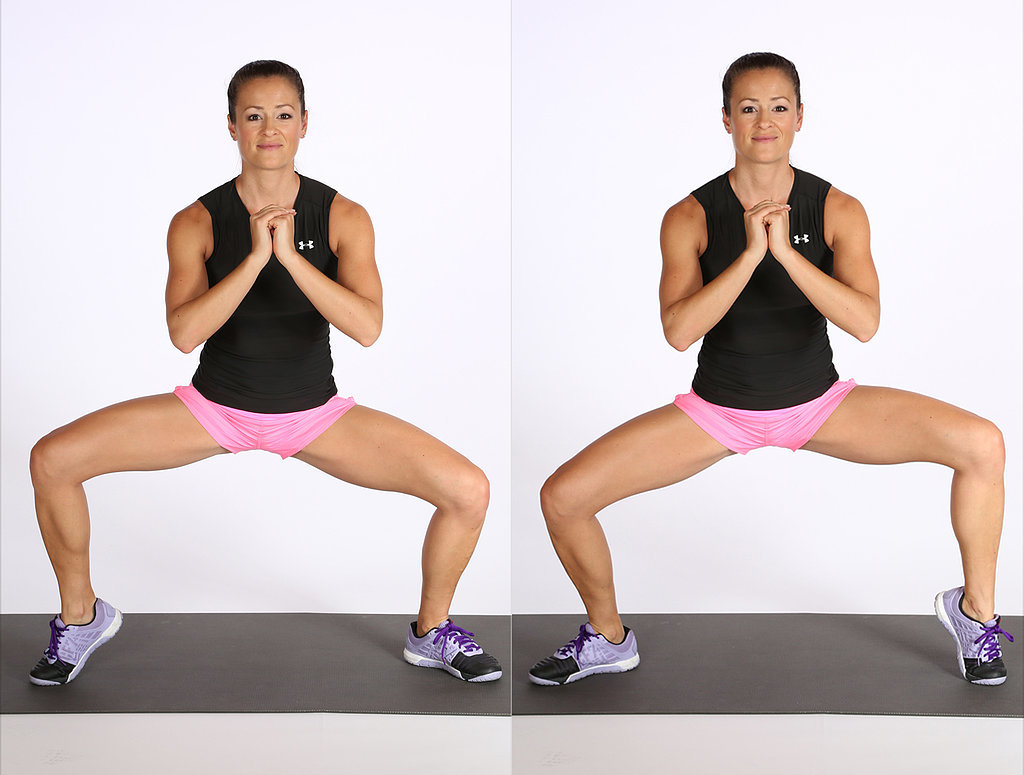 Reps: 10 squats, 10 pulses, 10 pulses knees back, 10 pulses with heel up
Begin in a wide stance with your legs turned out and your toes pointed outward. With your hands at your chest, perform 10 squats in this position, making sure your bent knees do not move beyond your toes.
Hold your last squat and slowly pulse up and down in a one-inch range 10 times.
Maintain your squat and press your knees slightly back 10 times feeling your glutes engage with each slow pulse back.
Still holding your squat lift your right heel, and pulse up and down in a one-inch range 10 times before switching sides.
Also known as a wide squat, this position targets the lower glutes as well as the inner thighs — and that's why we love it so.
Circuit Two: Elbow Plank With Alternating Arm Reach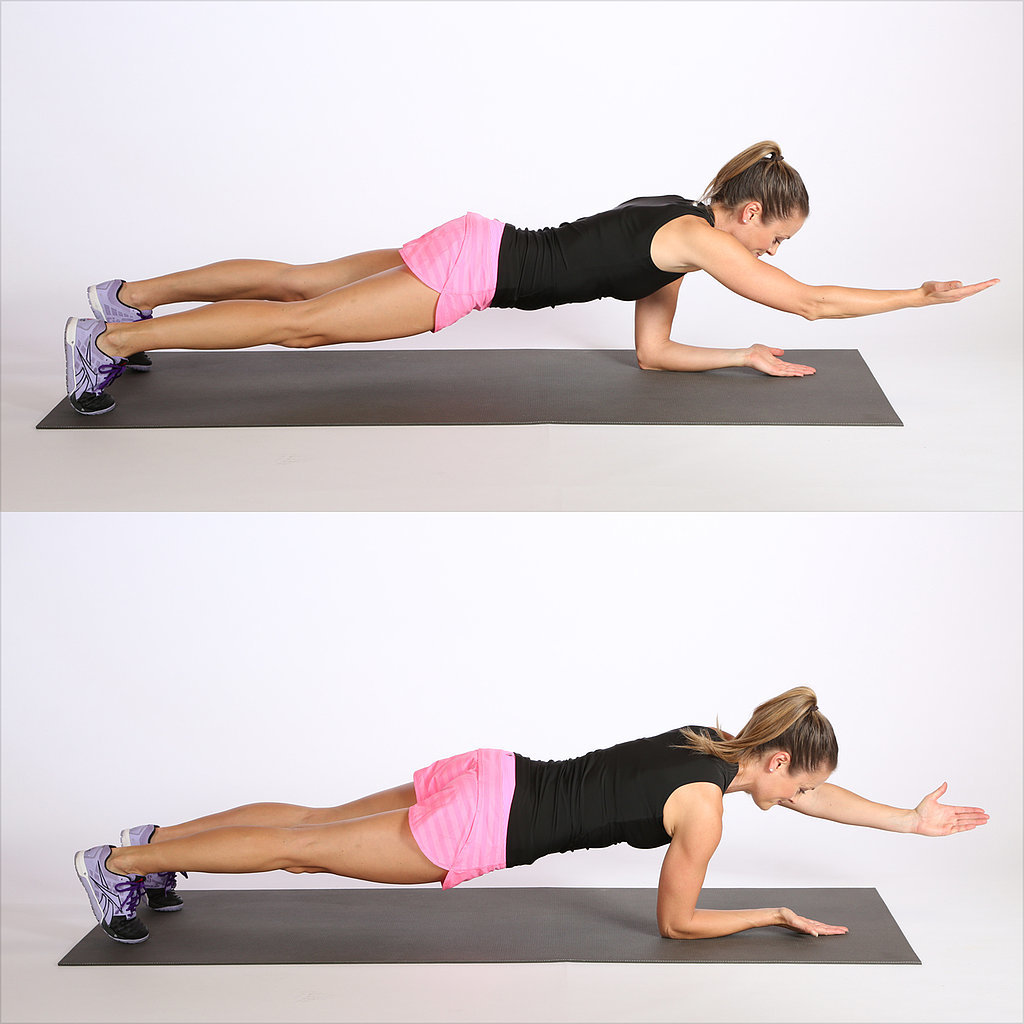 Reps: 20 reps, alternating sides
Start in an elbow plank with your palms facing up.
With your abs pulled toward your spine, reach your right arm forward keeping your torso as still as possible. Bring your elbow back to the mat. This completes one rep.
Repeat on the other side and continue alternating sides for 20 reps total.
Elbow planks work the entire front of the body, but adding the arm reach forces your abs to kick into high gear to stabilize your torso.
Circuit Two: Crunchy Frog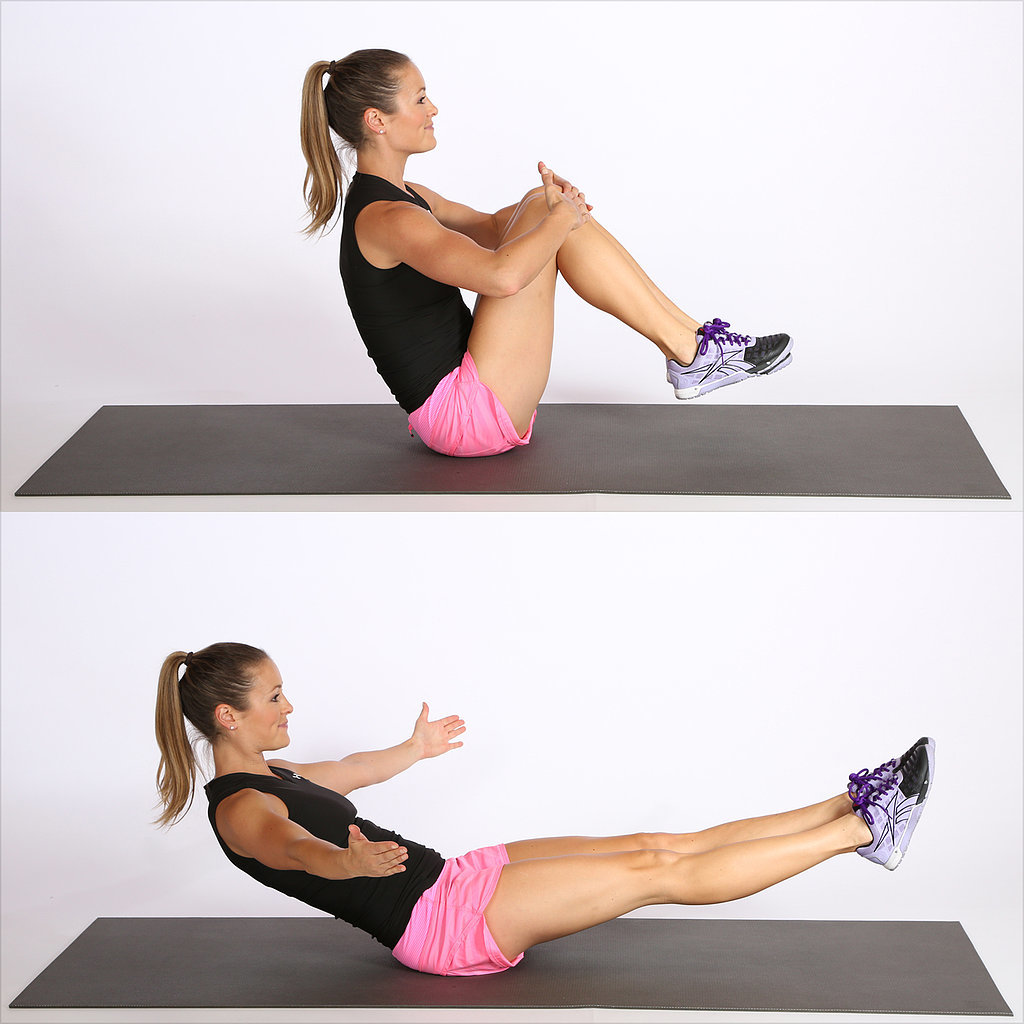 Reps: 20
Begin sitting, balanced just behind your sits bones, rock back slightly to lift your feet off the floor; gently pull your knees to your chest.
Exhale, pull your navel to your spine, and lean back slightly as you open your arms to the sides and straighten your legs.
Inhale and return to the starting position to complete one rep.
Do 20 reps.
This exercise strengthens and tones the entire abdominal wall, and with a fun name, what's not to love?
Circuit Three: Half Banana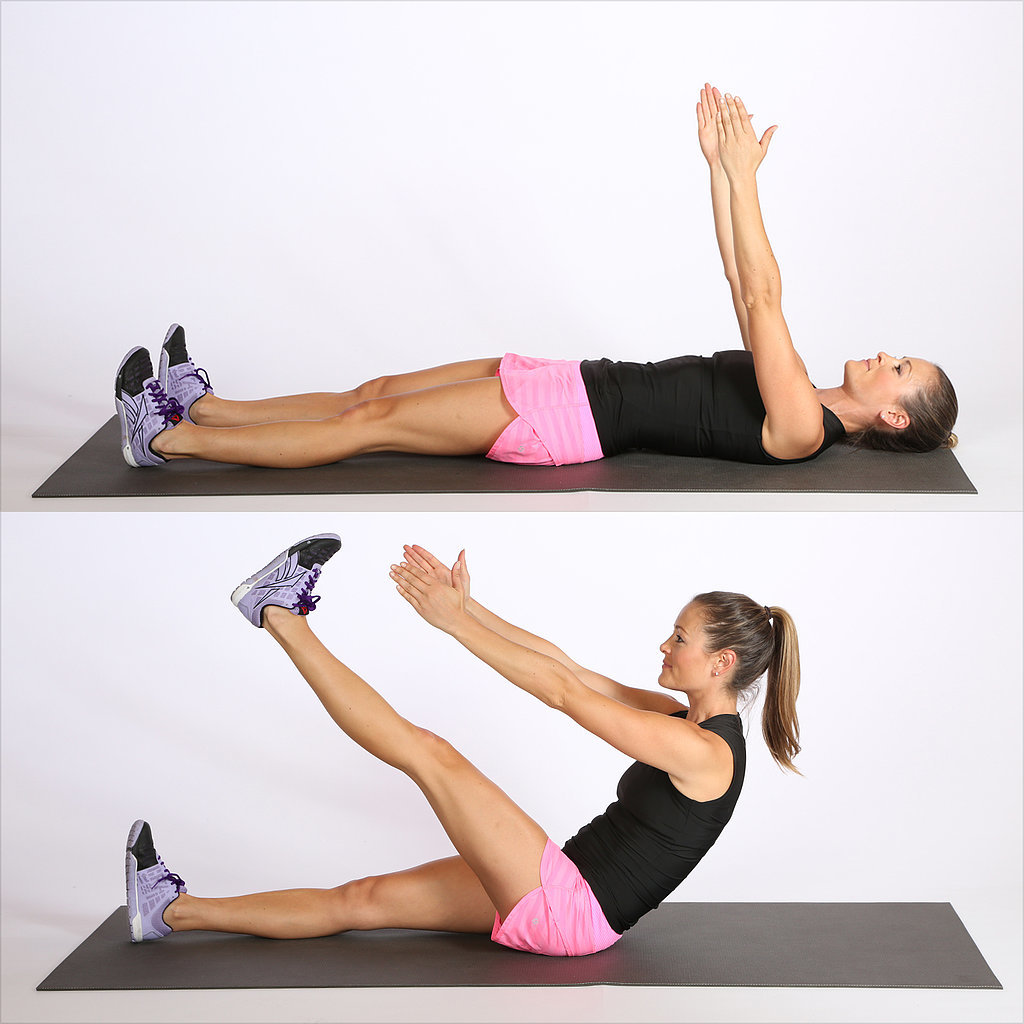 Reps: 20, alternating sides
Start lying on your back with your arms reaching toward the ceiling.
Exhale and roll up toward sitting while lifting your left leg up. Pause at the top and reach for your toes before rolling down slowly back to the mat. This completes one rep.
Repeat, lifting the right leg as you roll up toward sitting.
Continue alternating sides for a total of 20 reps.
Why do a whole banana when a half is just as good? This variation effectively works the abs but is still gentle on the lower back.
Circuit Three: Donkey Kick Pulses Series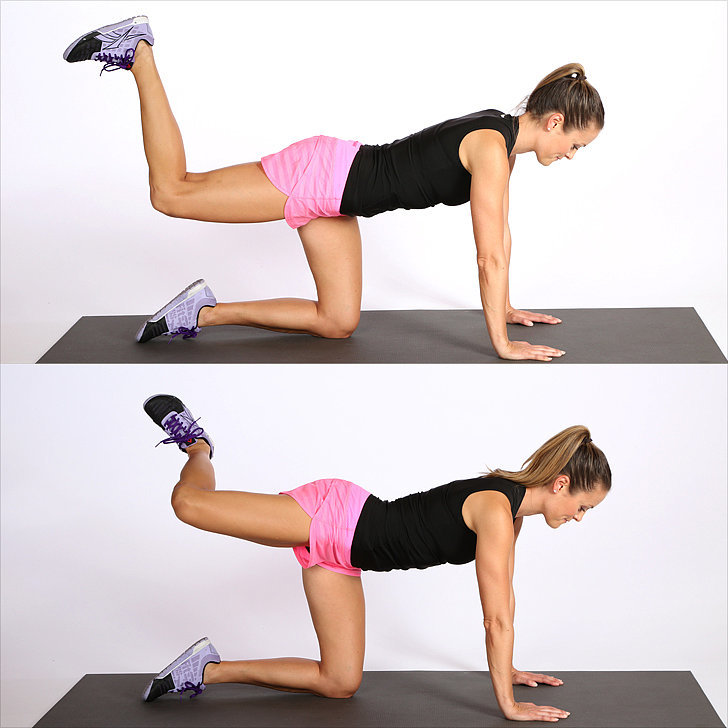 Reps: 30 pulses leg in parallel, 30 with knee out
Begin on all fours and lift your right leg off the floor until your knee is in line with your hip.
Flex your foot and squeeze your glute to raise your heel an inch toward the ceiling. Continue these small, concentrated pulses for 30 reps.
Open your right knee out to the side, keeping your foot flexed, and pulse your leg one inch to the left. You are not trying to lift the knee up, but try to keep it level as it moves behind you. You should feel your glutes firing away for all 30 pulses.
Repeat on the other side to complete a set.
Isolate the glutes from a couple of angles in this quick butt-sculpting series on all fours.
Circuit Three: Pilates Swimming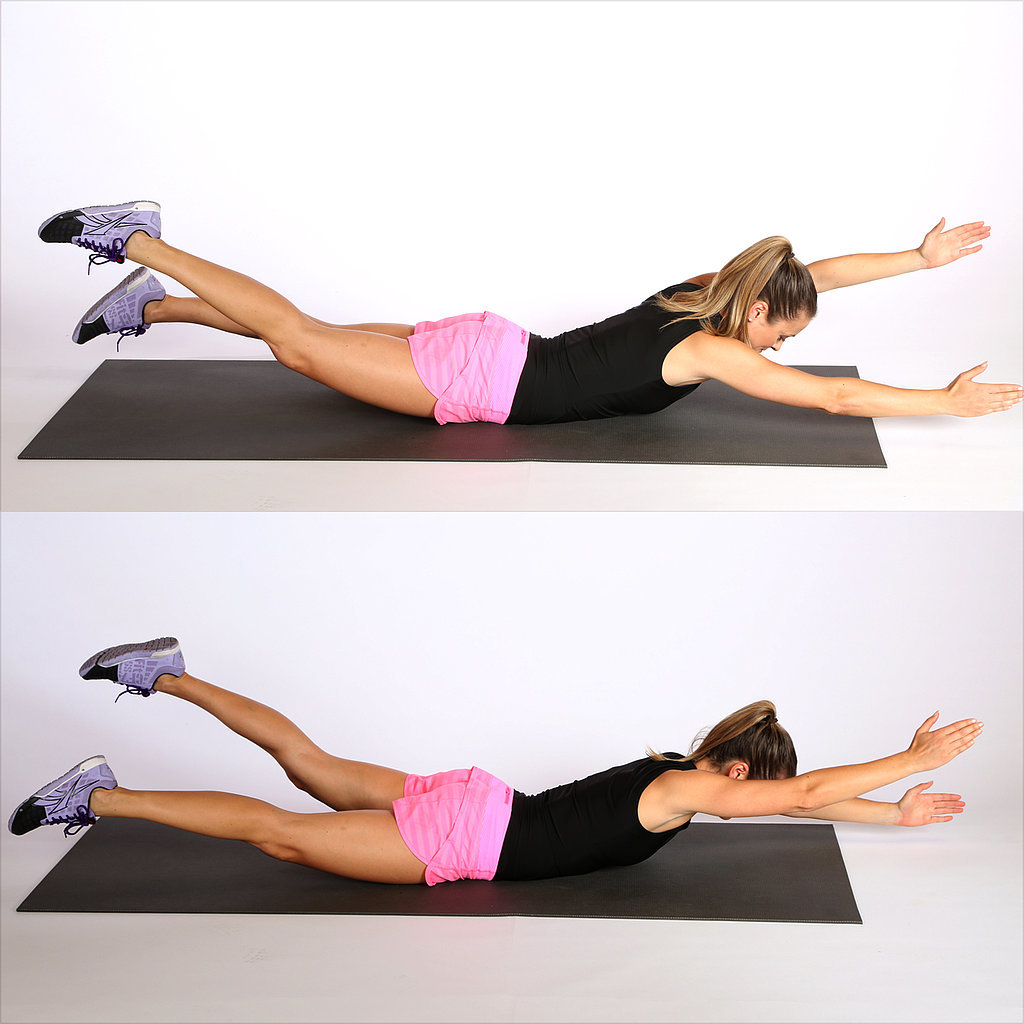 Reps: 20, alternating sides
Lie on your stomach with your arms reaching overhead, pulling your abs away from the floor to protect and lengthen your lower back. Lift your legs, arms, and head off the mat.
Keeping your knees straight, lift your entire right leg and left arm a few inches away from the floor. As you lower your right leg and left arm, lift your left leg and right arm away from the mat to complete one rep.
Continue alternating sides in a slow controlled manner, keeping your torso stable, for a total of 20 reps.
Strengthening your back makes for a strong core and stunning posture. This move also targets the upper fibers of the glute max to give your butt a little extra shape.