From Anna Monette Roberts, POPSUGAR Food
Cake Batter Ice Cream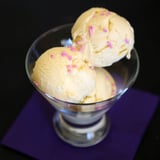 Ingredients
4 large egg yolks
1/4 cup superfine granulated sugar
1/8 teaspoon salt
2 cups heavy cream
1 cup whole milk
1 teaspoon vanilla extract
1 to 1 1/2 cups yellow cake mix
Sprinkles, for topping (optional)
Directions
In the bowl of a stand mixer, fitted with the whisk attachment, beat egg yolks, sugar, and salt on high speed for about 3 minutes, or until yolks lighten in color and hold a ribbon on the surface for 2 seconds.
In a large bowl, whisk together egg yolk mixture, heavy cream, and whole milk. Set over a double boiler, and cook mixture until a thermometer reads 180ºF and the mixture is thick enough to coat the back of a wooden spoon, about 5 to 7 minutes.
Meanwhile, prepare an ice water bath. When mixture comes to 180ºF, strain it in a fine mesh sieve over another clean bowl. Set bowl in ice water bath. Let it cool completely. Once it has cooled, whisk in vanilla extract and cake mix.
Freeze cream in an ice cream maker, following the manufacturer's instructions. Serve ice cream immediately or transfer to an airtight container and place in the freezer for up to 2 to 3 weeks. When serving, garnish with sprinkles.
Information
Category

Desserts, Ice cream

Cuisine

North American

Yield

About 5 cups of ice cream