Bookworm brides, you'll want to see this! We're not ashamed to admit we have a nerdy side, and we think book- and library-inspired details would make any engagement party, bridal shower, or wedding [1] that much more of a page-turner. So if you're a bookworm like us, dive into these ideas for adding literary charm to your big-day celebrations.
Chapter by Chapter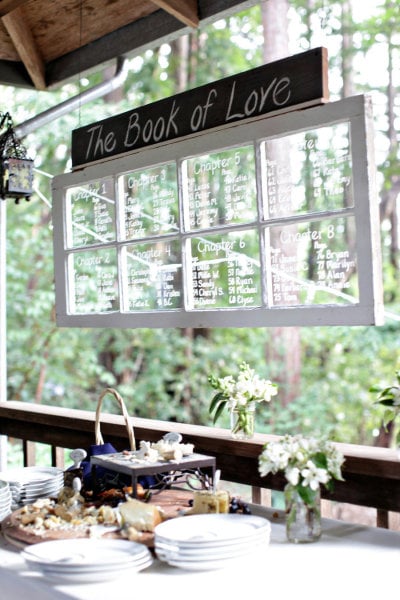 Have each table be a different chapter with a decorative index showing the seat assignments.
Soft Focus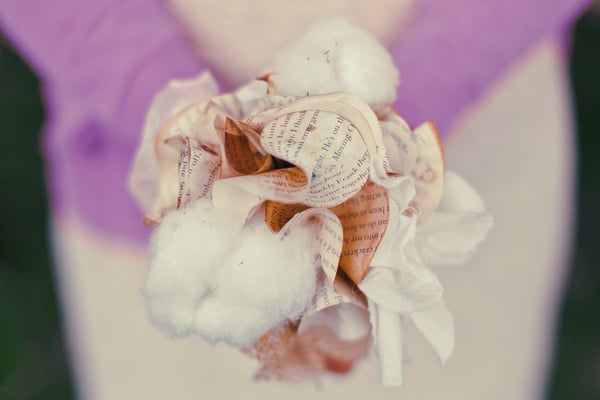 A blend of cotton and book pages make for a dreamy and unusual bouquet alternative.
Romantic Reading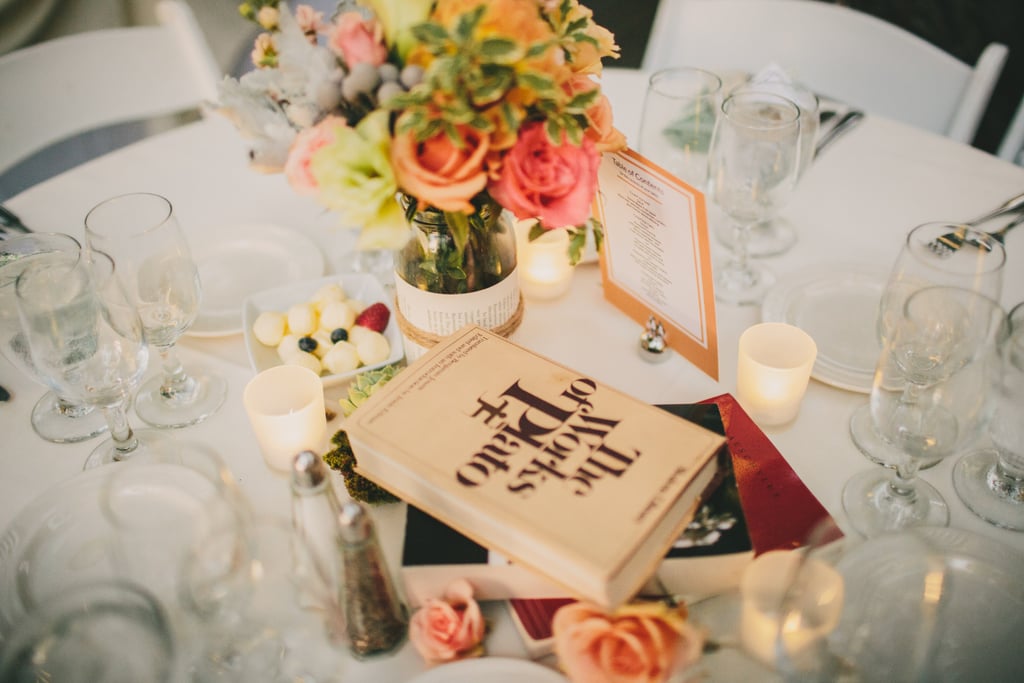 Add flowers and candles to a book centerpiece for a romantic setting.
Plan of Attack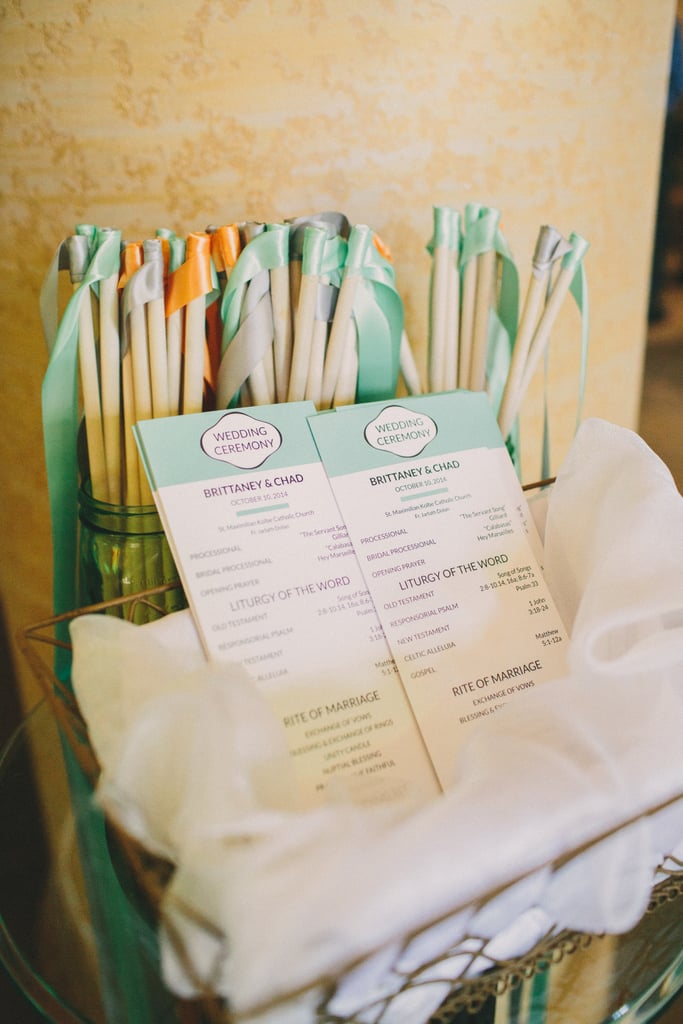 Use a Penguin book style for your ceremony programs.
Archway
Books make for an unexpected archway for either the ceremony or reception.
Cutting Corners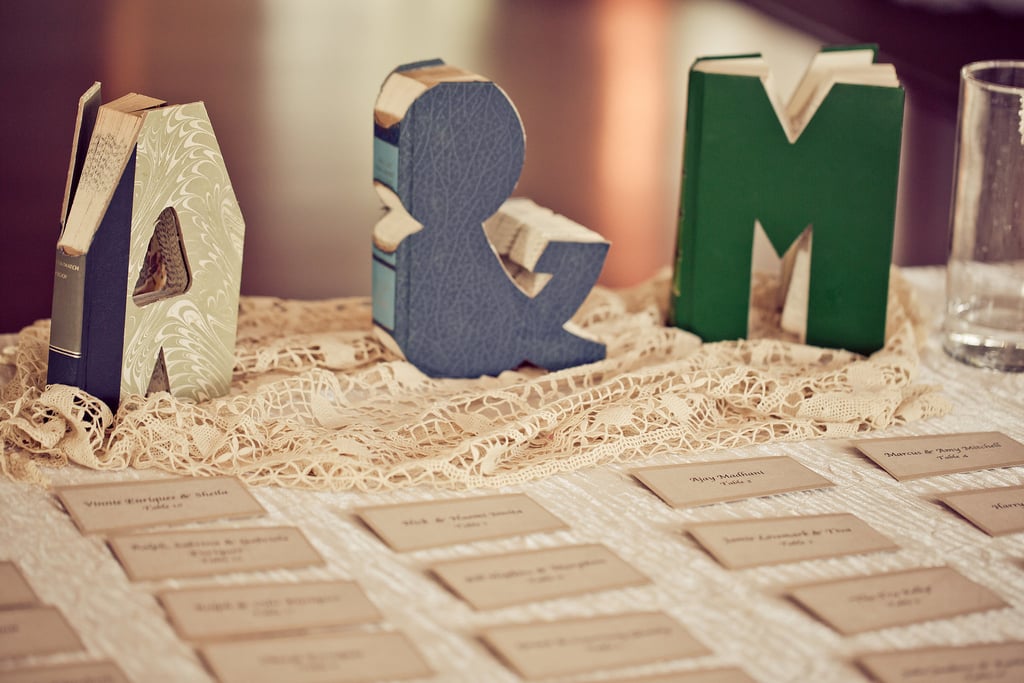 Enlist an artist's help to carve out letters from old books.
Framed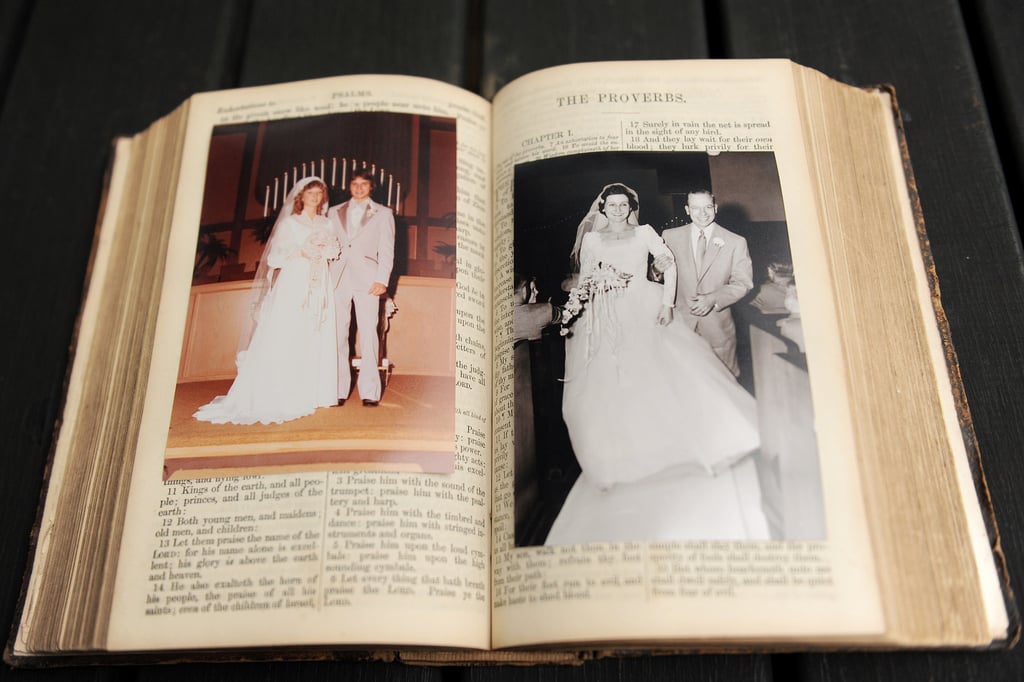 Use old books as creative frames for pics of you and your love or of couples in the two families.
Bookmarked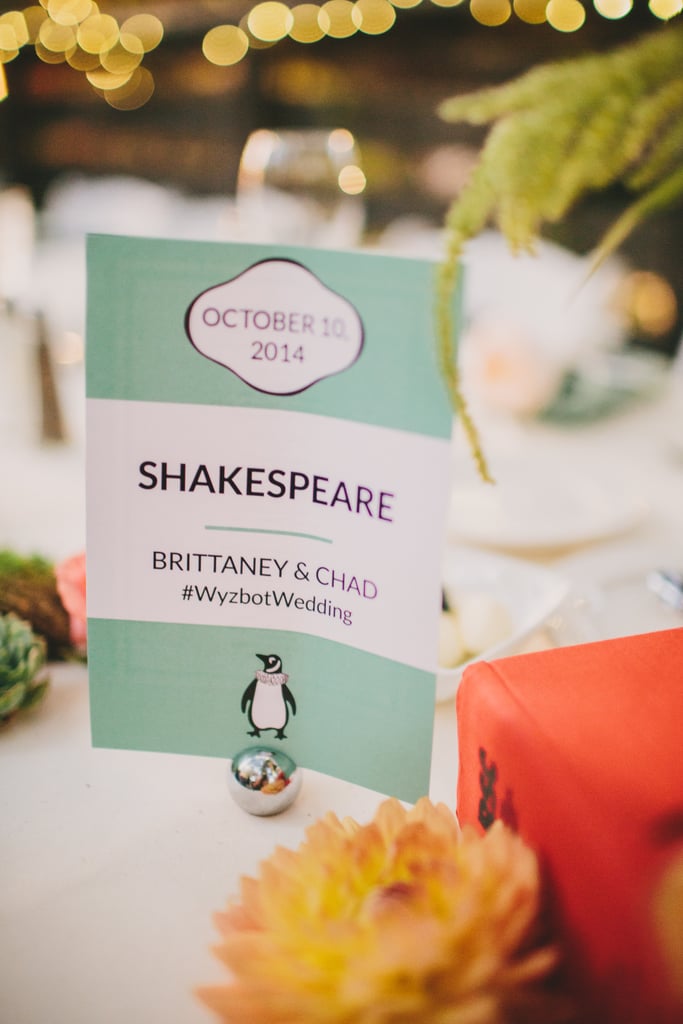 Use faux book covers as table numbers named after famous authors.
Guest Book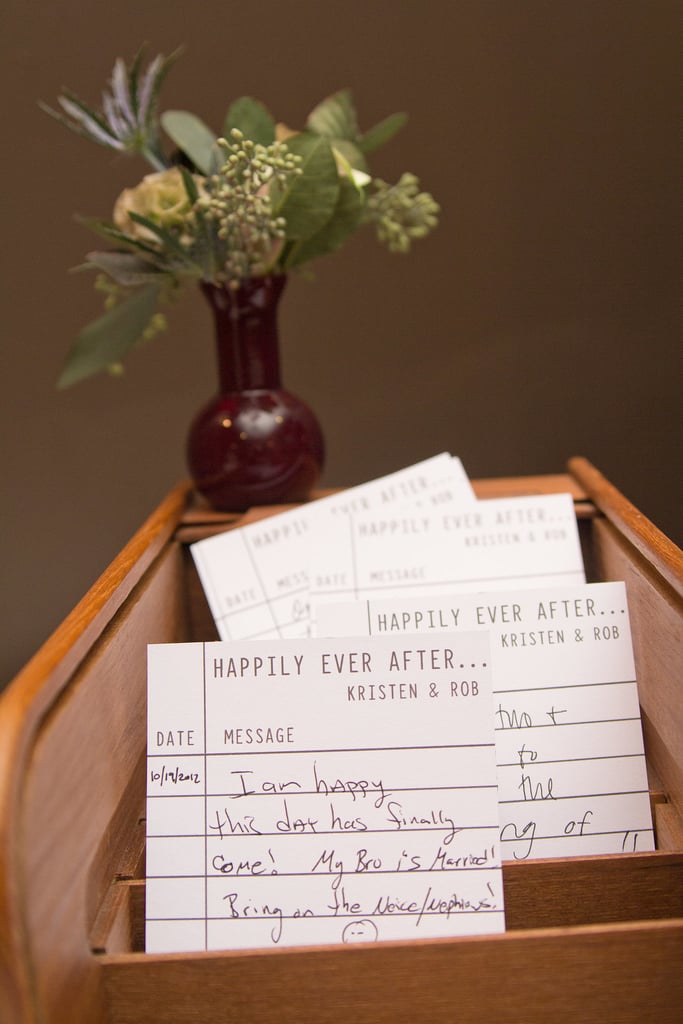 Use library cards for guests to write notes.
Filed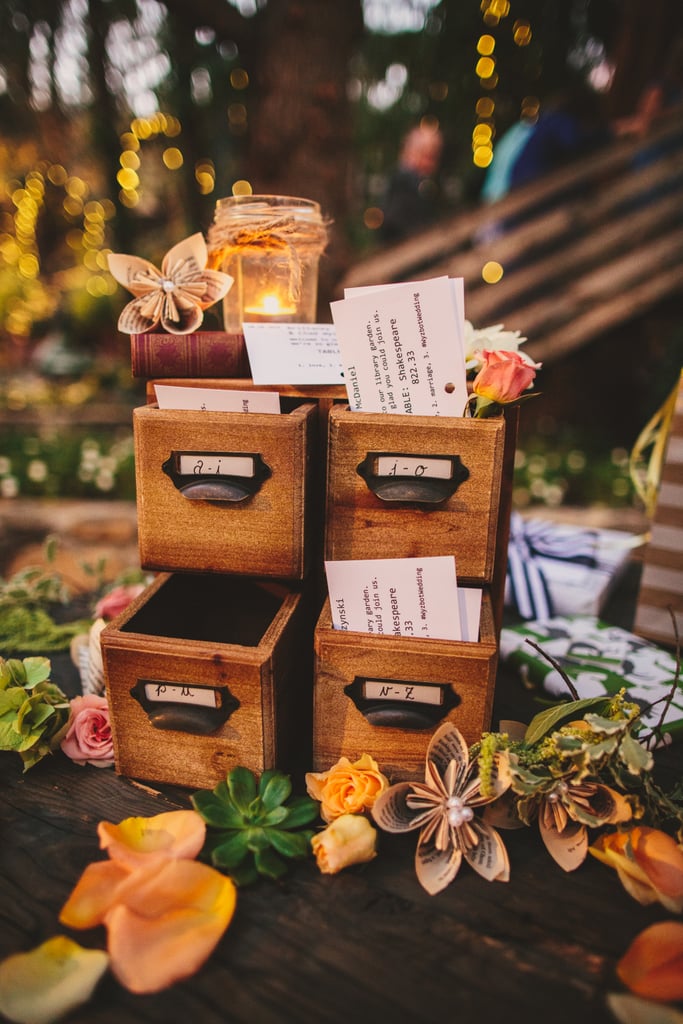 Use vintage library filing cards for your guests' seating assignments.
Take a Break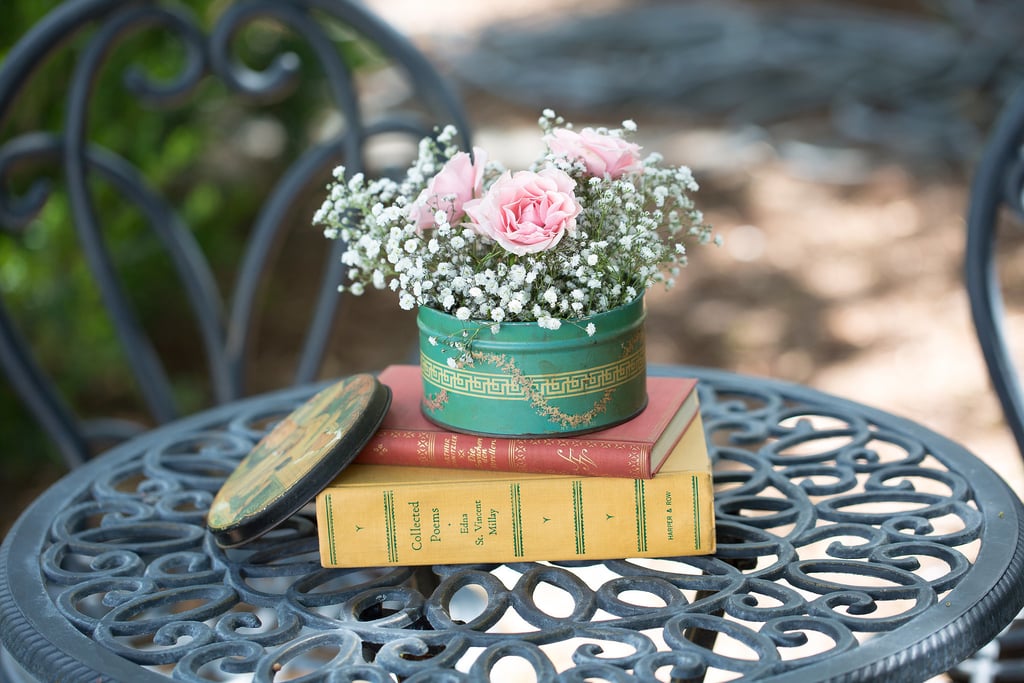 Give your guests something to read during the downtime between the ceremony and the reception.
Well-Read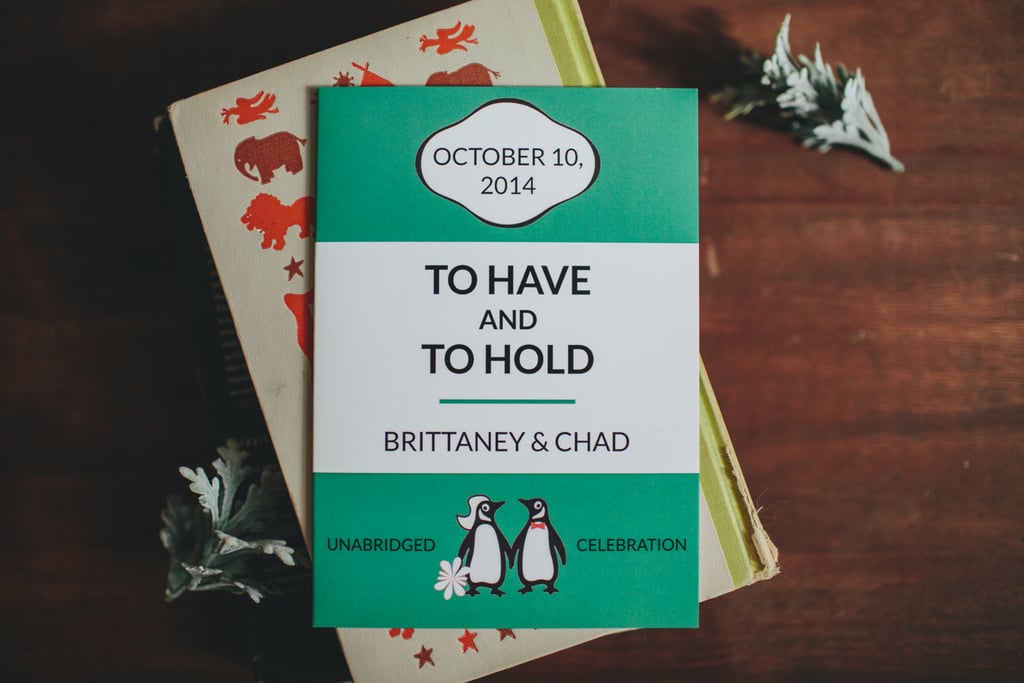 Use Penguin books to inspire booklets for your guests with details about the couple.
Grand Entrance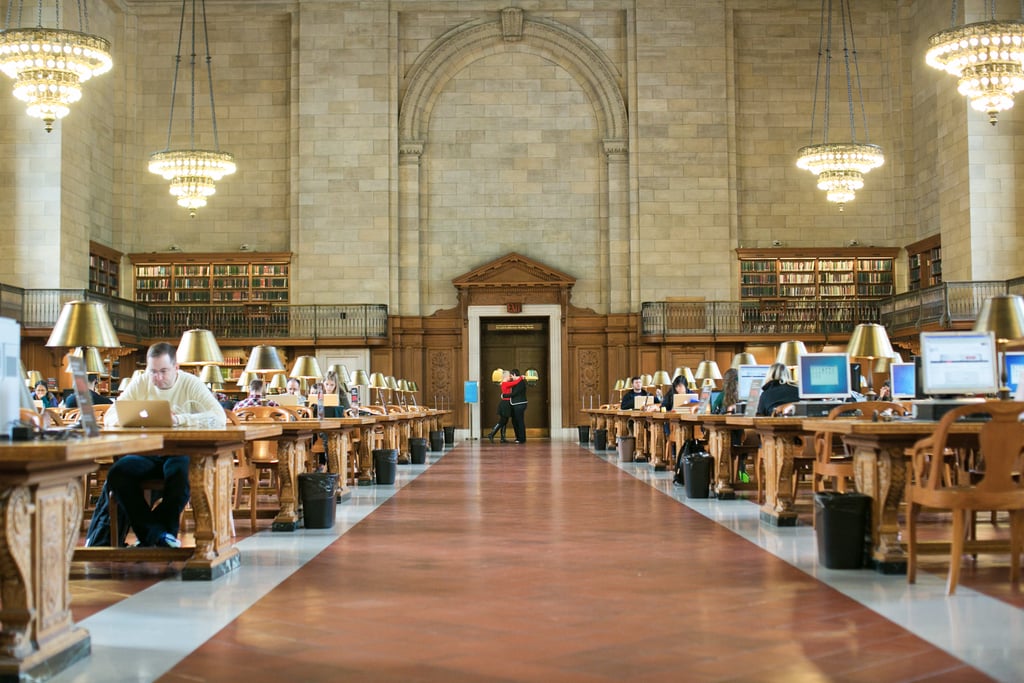 Have the party in an actual library to really wow your friends and family.
Check Out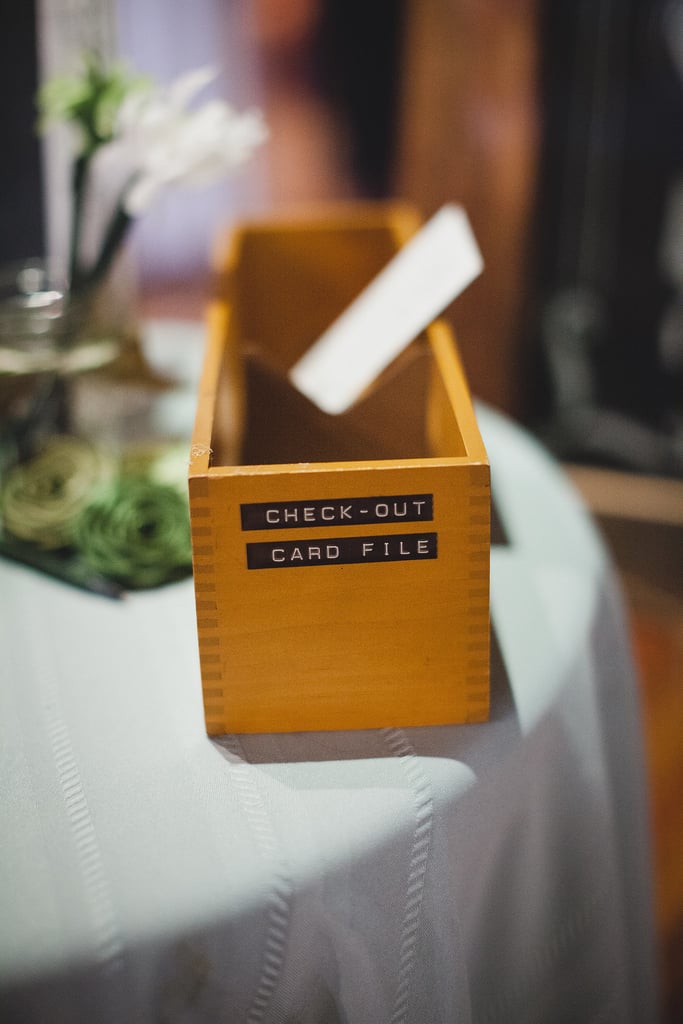 Use vintage library card files to hold cards from guests.
Set the Scene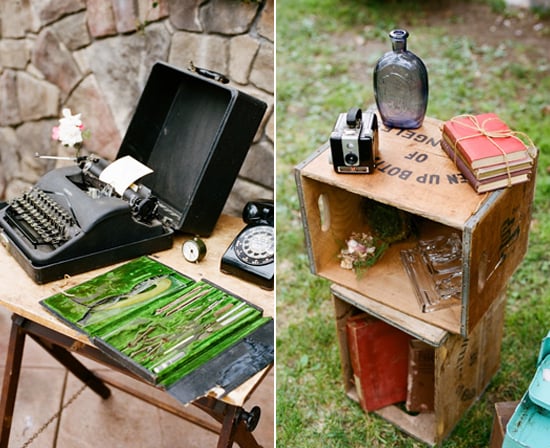 Use vintage crates to hold piles of books as decor for a backyard soiree.
A Rose Is a Rose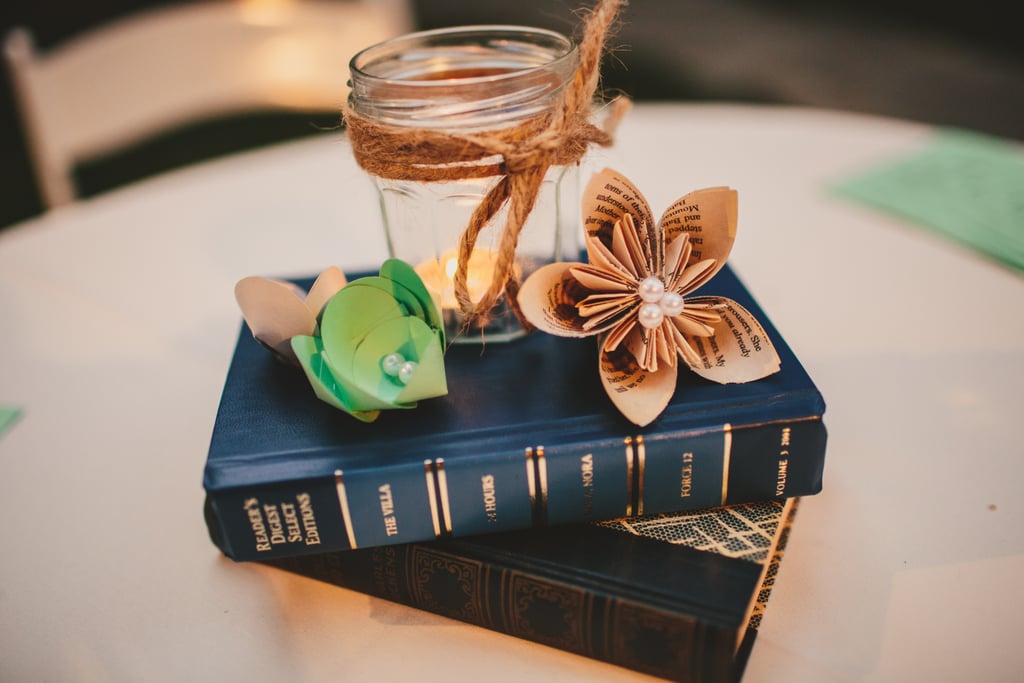 Incorporate paper flowers made from book pages in the floral centerpieces.
Retro Reads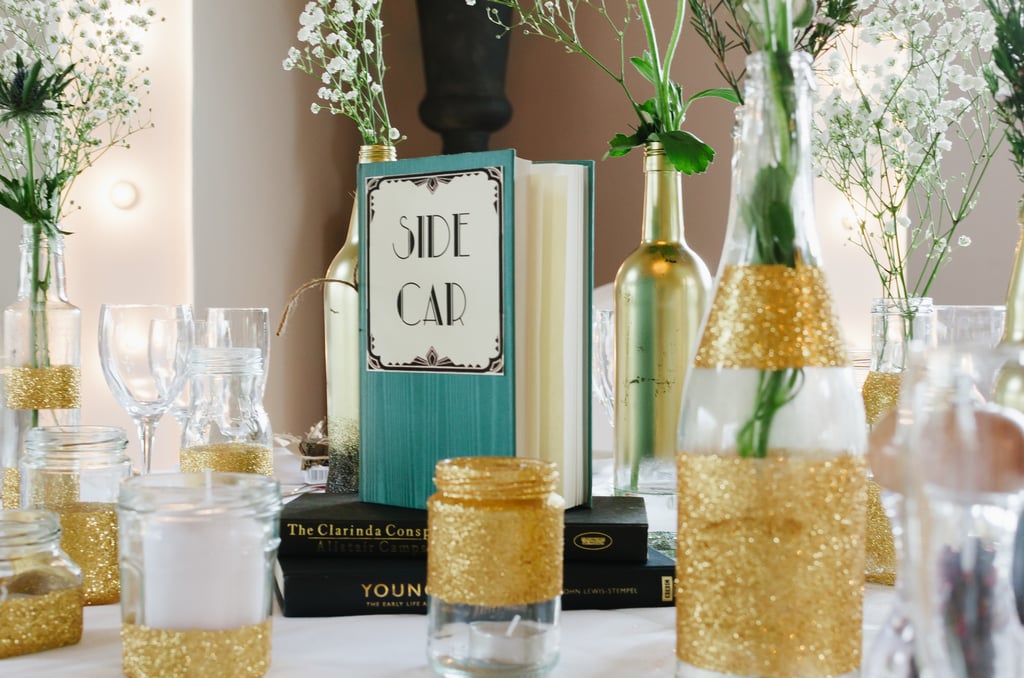 Hardcover books with retro lettering make for perfect table signs for a 1920s-themed wedding [2].
Pick a Card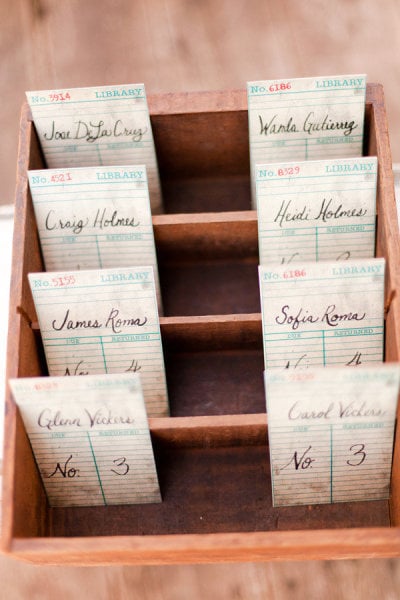 Purchase vintage library cards from Etsy or eBay for seating assignments.
Page by Number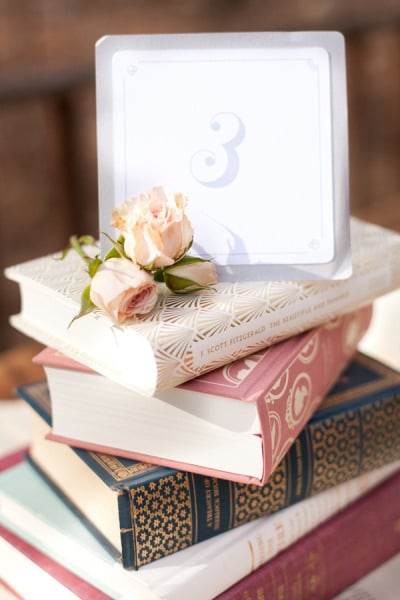 Stack pretty books as easy centerpieces with the table numbers on top.
Sweet Topper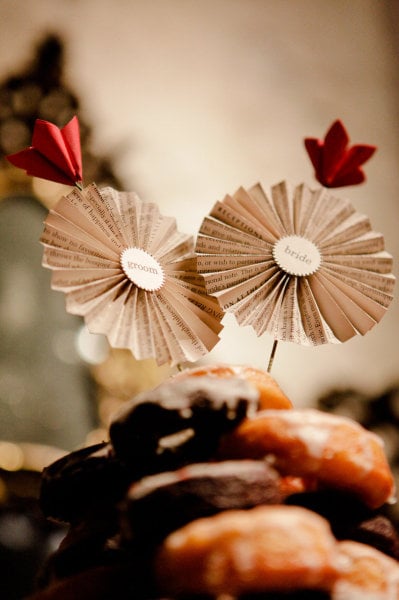 Make fans out of book pages to decorate your dessert table.
Favorite Reads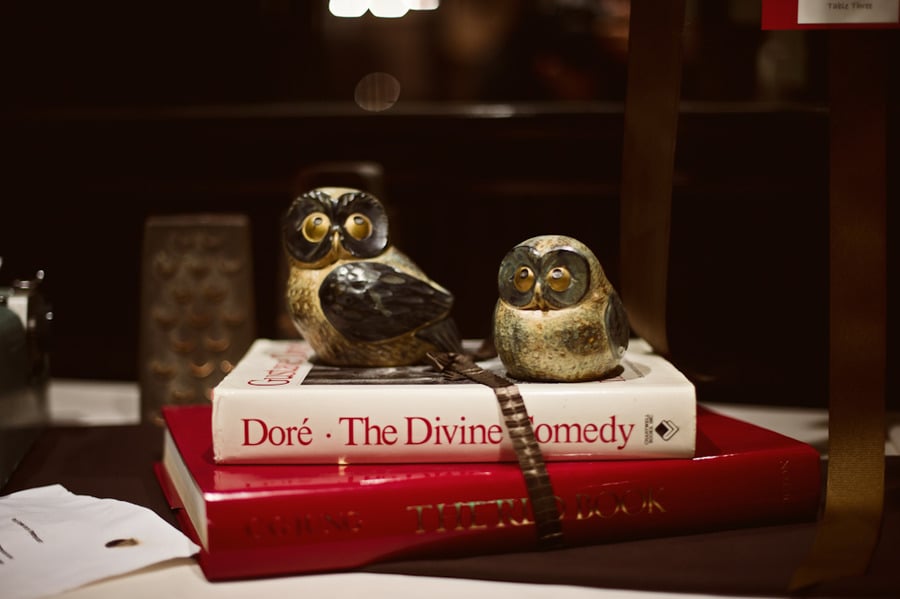 Use you and your man's favorite books for personalized table decor.
Sweet Detail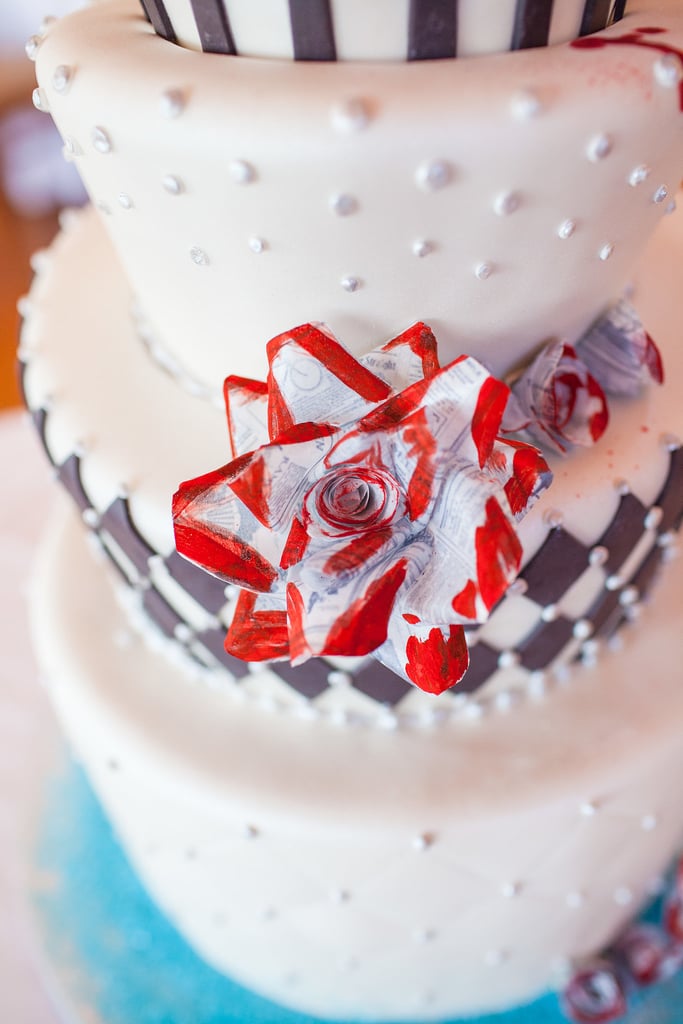 Use book pages for paper roses to decorate your cake.
Cone-y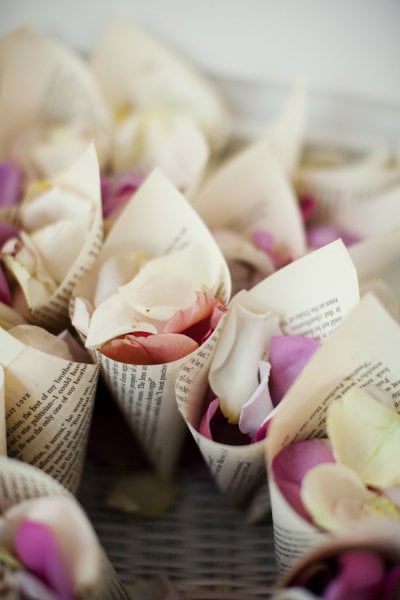 Book pages make fun cones to hold candy or other goodies at the party.
Flowering Words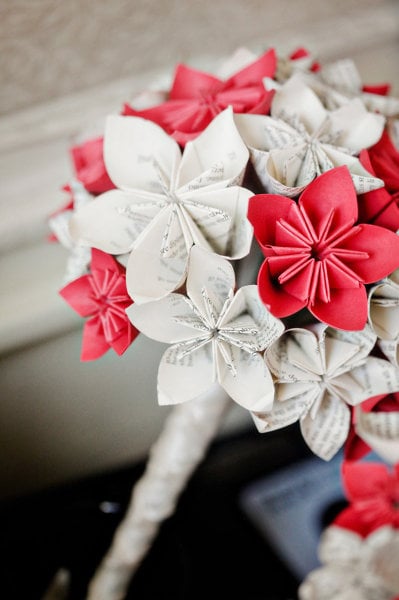 Have someone crafty make a paper-flower bouquet for the bride-to-be.
Dewey Details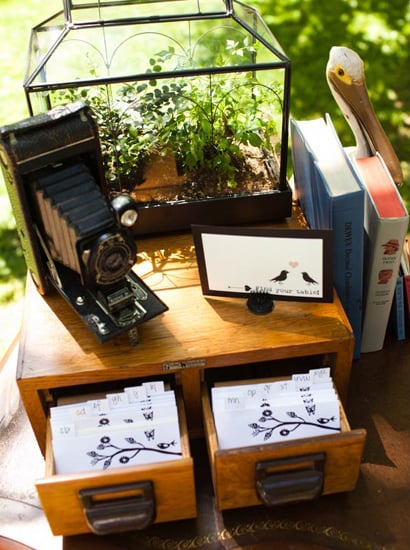 A vintage library card filing cabinet is the perfect party decoration.
Stacked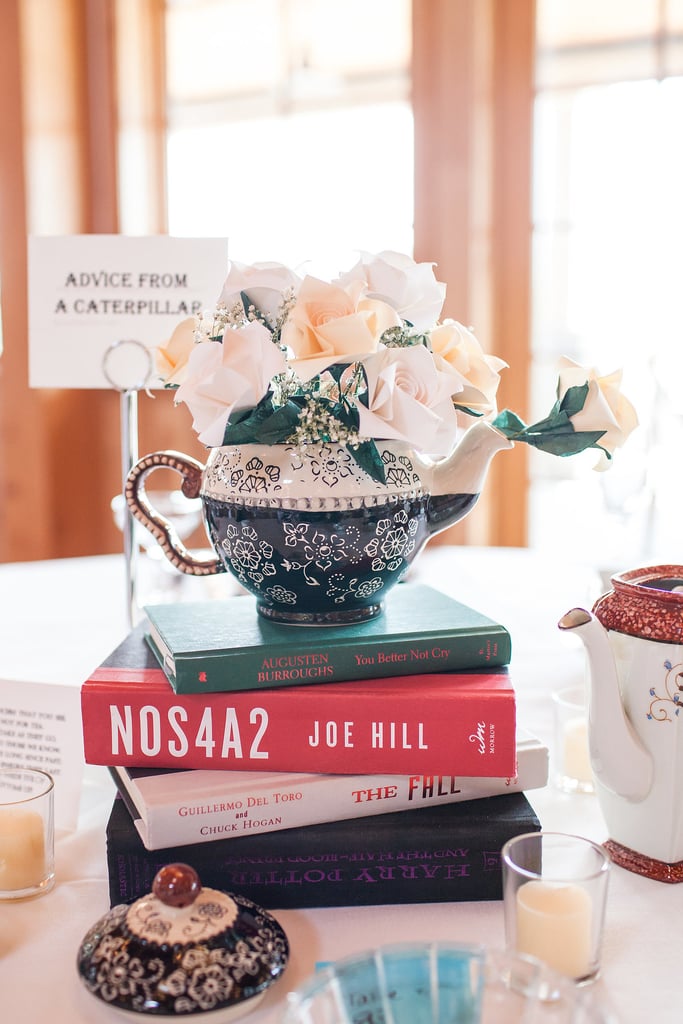 Books as centerpieces do double duty — they're pretty and your guests can always read if there's downtime in between the ceremony and the reception.
Shelved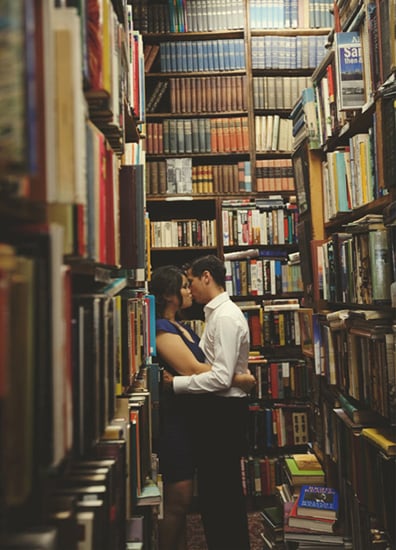 If the party is small, have it in a bookstore for a sweet book-filled setting.
Skip to My Loo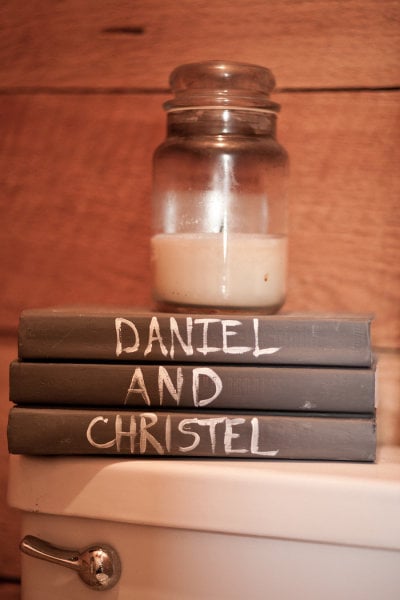 Don't forget about the bathrooms at your wedding [3] — add some minimal decor with some personalized books.
Take a Bow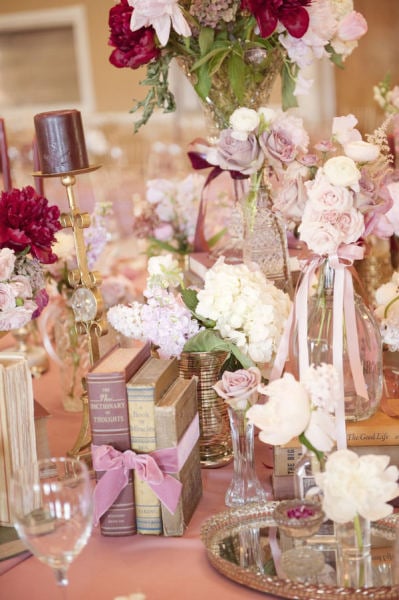 Use a cluster of books tied with a ribbon for centerpiece decor.
Need a Lift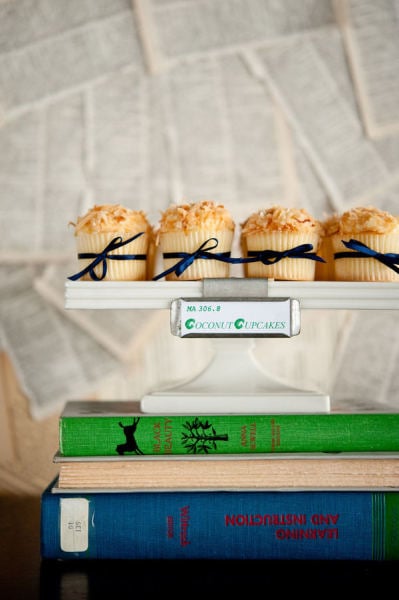 Stack books on your dessert table to give your sweet treats some height.
Hand Picked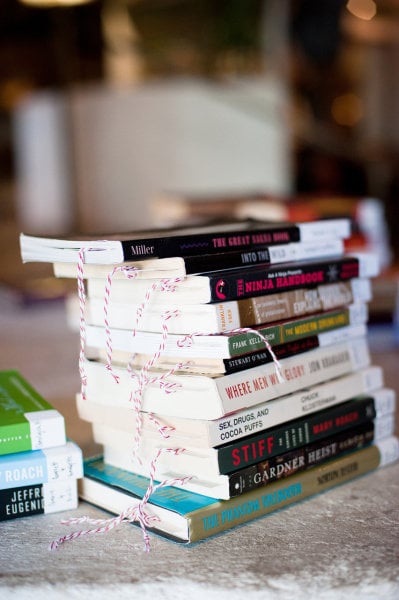 Collect used books at a flea market or swap meet for a cheap and personalized favor idea. Give books hand-picked for each guest.
It's a Sign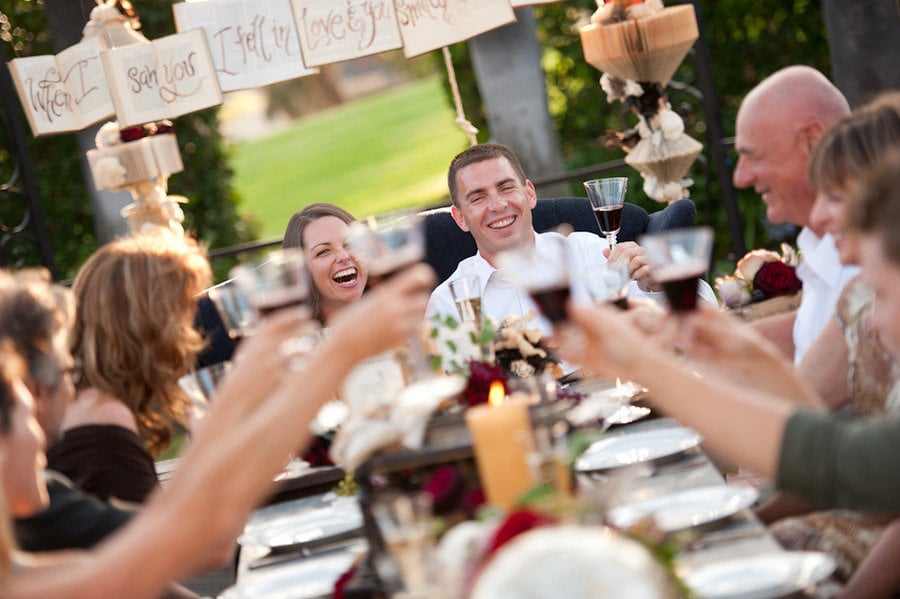 Paint a phrase or you and your fiancé's names on hanging used books for a sign that makes a statement.
On a Roll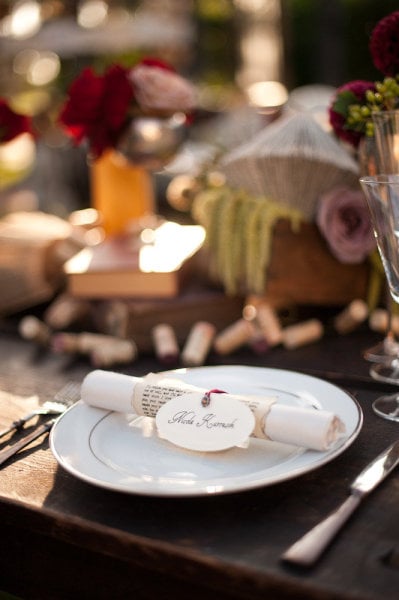 Wrap book pages around the napkins with the names of the guests.
Spined Seating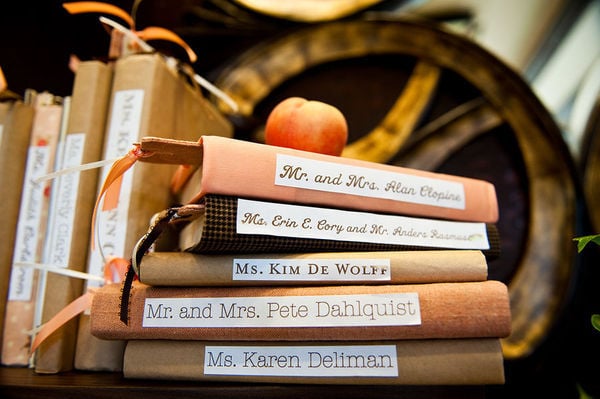 Write the names of your guests on book spines for clever and decorative seating assignments.
Paint by Number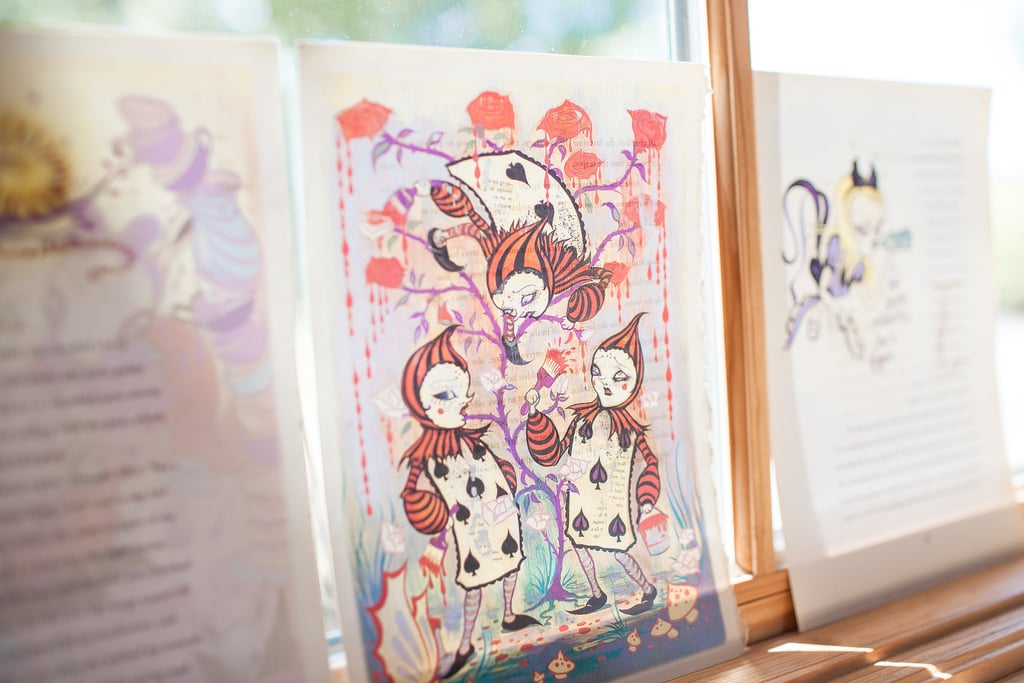 Have pretty book illustrations up as reception decor.
Page Turner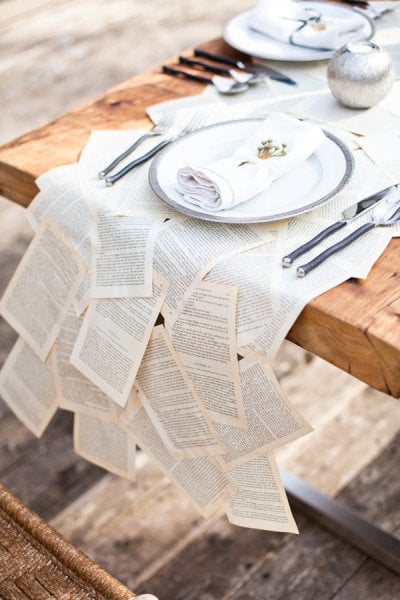 Scattered book pages make a gorgeous cascading table runner.
Color Coded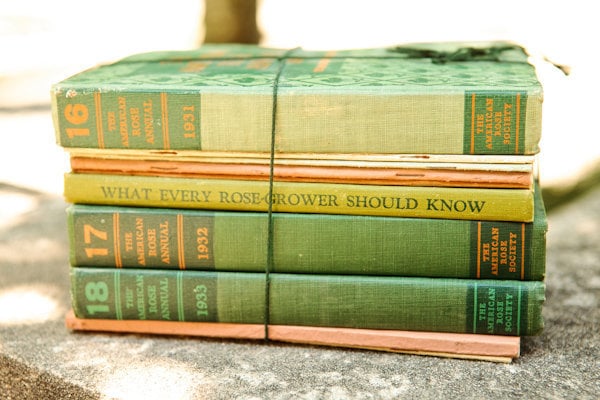 Group vintage books by color for a fun twist.
Get Crafty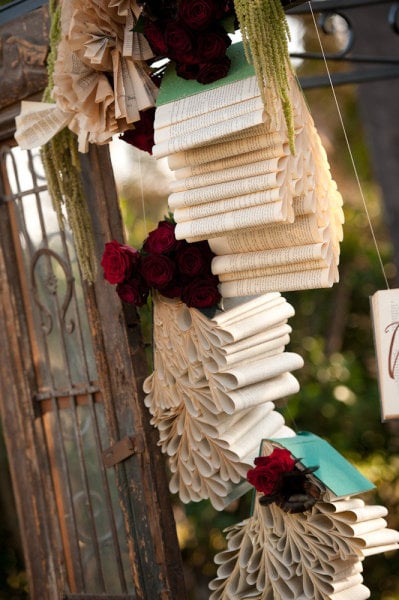 Book pages can be crafted into all sorts of garlands and decor.
Lawbreakers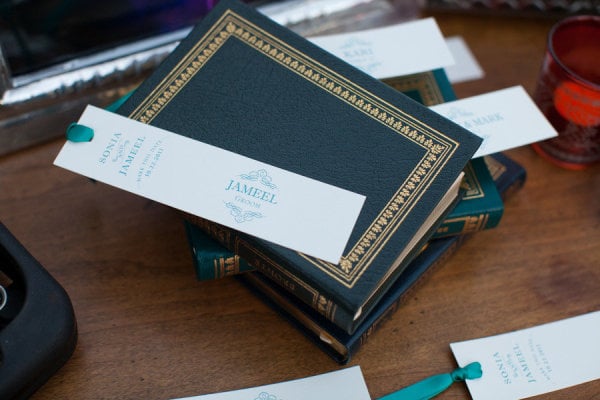 Take a cue from these lawyer lovebirds who decorated the reception with law school textbooks and incorporate books from your own romantic past into your big day.
Go Green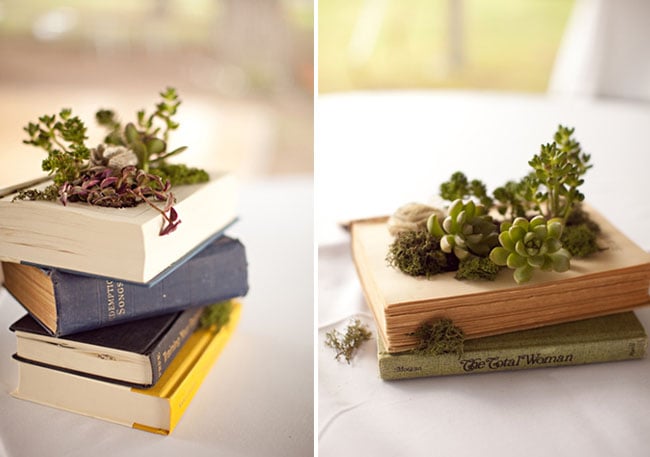 These DIY [4] succulent vases are made from old books!
Stamp of Approval
Use a cute book icon on your good like these book-stamped coasters.
Have a Heart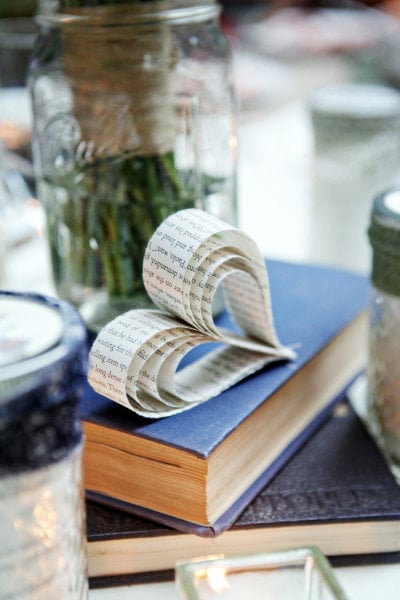 Use book pages to create pretty hearts for centerpieces that show the love.
Type It Up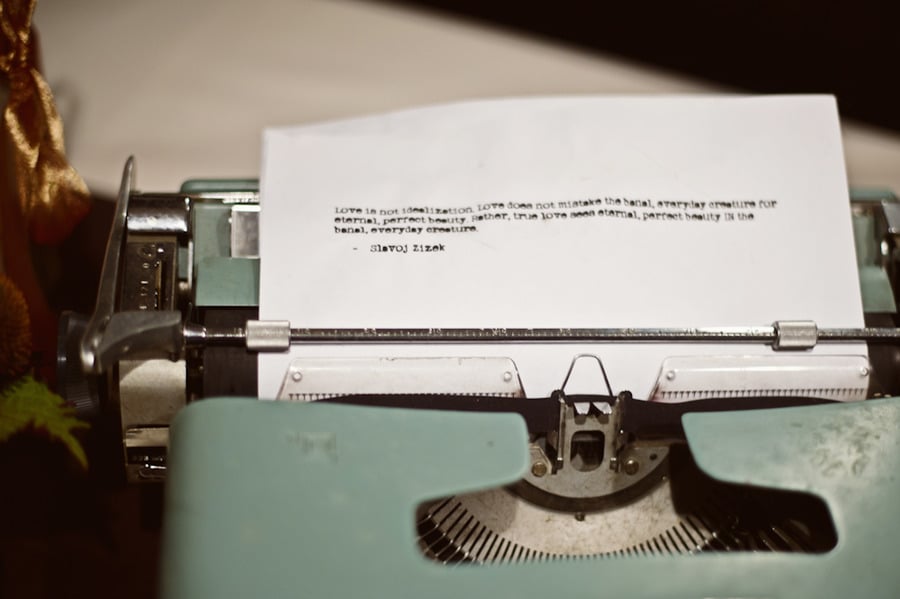 A vintage typewriter makes great decor, but it also can be used as a guestbook.
Piece of Cake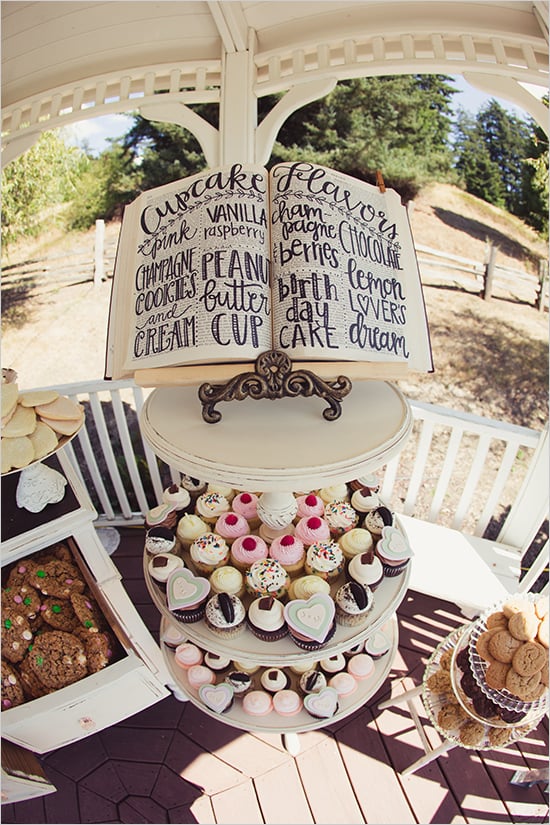 Use a book display to show what flavor the cupcakes are.
Page by Page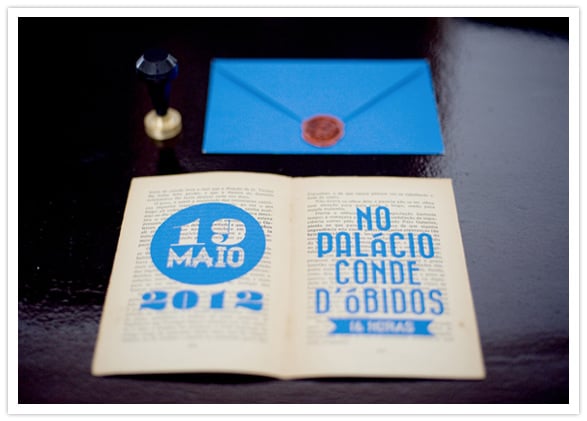 Use actual book pages to print your invitations on.
By Candlelight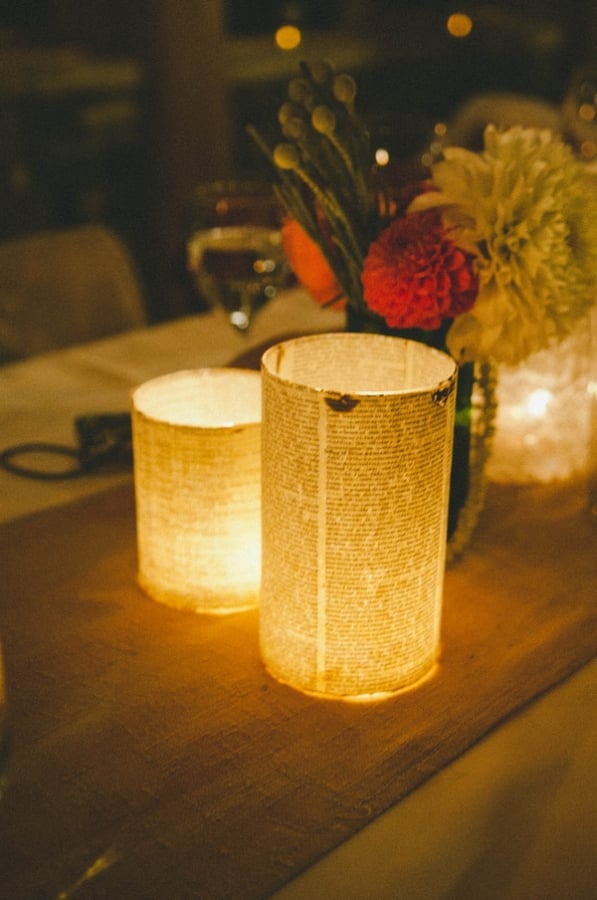 Get in touch with your crafty side by decoupaging book pages onto candles.
Wedding's Afoot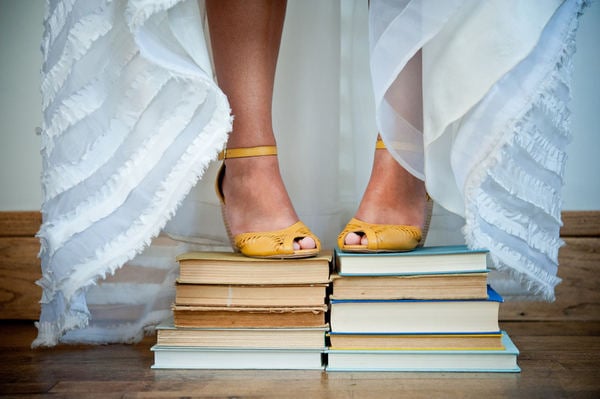 Use the books for visual interest when taking the standard bridal shoe pics.