If you needed an excuse to get some extra reading done this week, in addition to commemorating Banned Books Week [1], Sept. 25 marks National Comic Book Day. In honor of the genre, take a look at the graphic novels that have met challenges in libraries and schools across the country for content deemed inappropriate by some.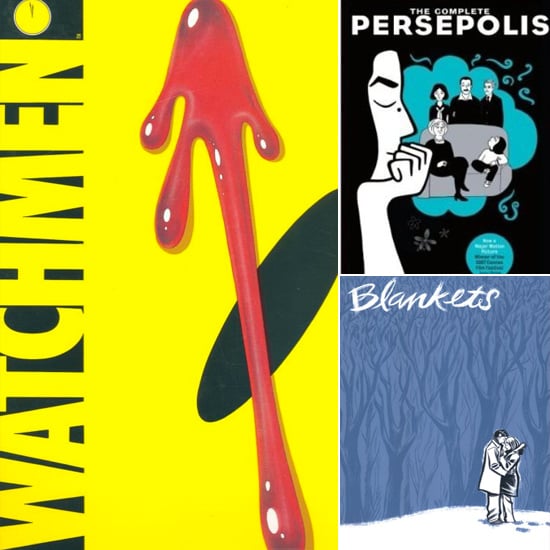 A 2013 ban attempt in Chicago caught national attention when the Chicago Public Schools pulled Persepolis [2] from classrooms without warning. The graphic novel memoir by Marjane Satrapi, which is also an award-winning film, focuses on the author's experience growing up during the Iranian Revolution and the changes that her family must endure. Most interestingly in this incident, students spoke up requesting the book to be placed back in classrooms as it covers important history lessons. Persepolis is allowed in Chicago public school libraries but will not be part of a curriculum without further investigation by the school board.
We took a look at nonprofit Comic Book Legal Defense Fund [3] (CBLDF), which has a database of frequently challenged comic books and their cases, to highlight (and read!) the following graphic novels that have seen complaints.
Watchmen [4] — Heralded as one of the best English-language novels [5], Watchmen has been challenged in at least two school libraries in the US [6], though details from the American Library Association aren't clear on the reasoning for the challenge.
Neonomicon [7] — A 14-year-old girl checked out this horror murder mystery [8] by Alan Moore from a Greenville, SC, library with her mother's permission since it was from the adult section of the library. The parent later saw profanity and "pornographic" imagery in the book and requested it to be removed from library distribution. While the challenge is still currently under consideration by the library's board of trustees, Neonomicon remains pulled from circulation.
The League of Extraordinary Gentlemen: The Black Dossier [9] — A public library employee in a Kentucky county objected to the sex scenes [10] in the Alan Moore work and tried to get it taken off library shelves. When that failed, she checked the book out of the library and continued to renew it over the course of a year, even getting a co-worker to prevent a child from requesting it. Both employees were fired, and the book was returned to circulation.
Bone [11] — The magic world of Bone was petitioned for removal from a school library by a Minnesota parent who was shocked to find that one of the characters smokes cigars [12]. The book remains in the library.
Blankets [13] — The coming-of-age autobiography touches on sexuality and was the purported reason a resident in Marshall, MO, asked the public library [14] to remove it from shelves. According to the resident, the illustrations were pornographic and would cause people who frequent porn shops to hang out more in the library. A letter from the CBLDF helped ensure that the library's board of trustees did not remove the book.