These days we do everything on the phone — find dates, read books, shop for clothes — but you have been truly missing out if you haven't downloaded these beauty apps. You can get your next blowout delivered before happy hour, find a local nail artist to bedazzle your manicure, or schedule when it's time to reapply sunscreen with a few simple taps. Browse our favorite mobile beauty tools, and don't forget to download our POPSUGAR app for free [1]!
Glamsquad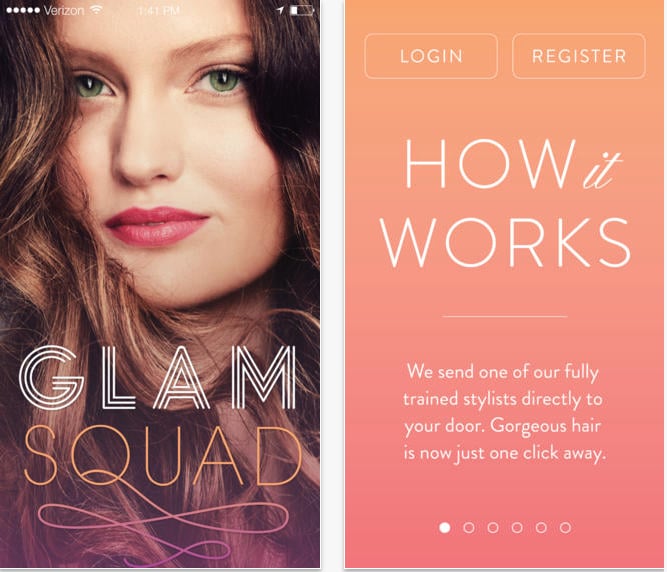 Celebrities pack up their glam squads of pros and take them on the road, so they never have to worry about unkempt hair. Well, the closest thing to that for the average lady is Glamsquad [2] (free). You can request a blowout or braided style through this app, and a stylist will come to your house or office to primp you personally. This Summer, you can also get a quick manicure and pedicure with Essie polish shades from your couch!
DreamDry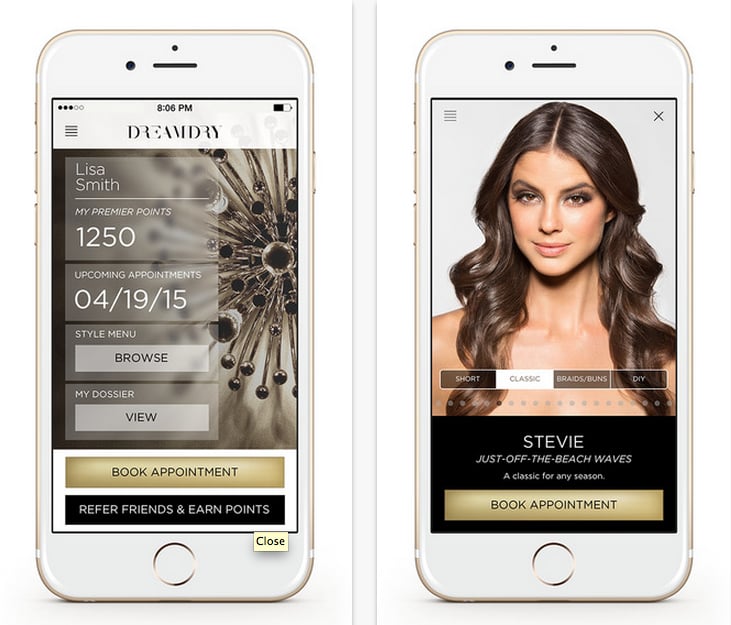 Booking your blowout just got a whole lot easier with the DreamDry app [3] (free). But any blow-dry addict can benefit from registering for this mobile program. Not only can you reserve appointments at the salon, but you can also rack up bonus points for being a frequent customer. The app also lets you keep track of your favorite DreamDry stylists, so you never forget who gave you those awesome waves last week.
Vive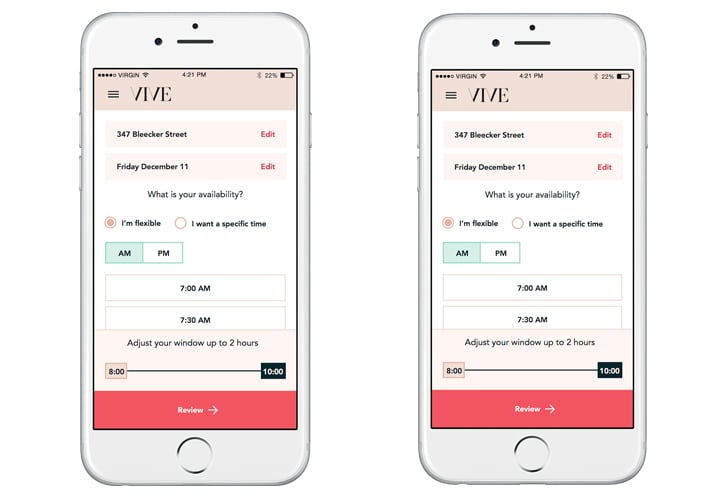 If calling to make a blowout appointment is just too much work, then concierge-style blowout booking app Vive [4] is your new BFF. Buy a package for hairstyling (starts at $65 per month for two sessions), and simply tell the app where you are and what time you're looking to book. It can be same day or a week out. Within minutes, a blowout appointment will be booked under your name within the time and location range set (can be as close as within one mile). Currently, the service is available in NYC (Manhattan and Brooklyn) and Chicago. But there are plans to expand to LA in early 2016!
Spruce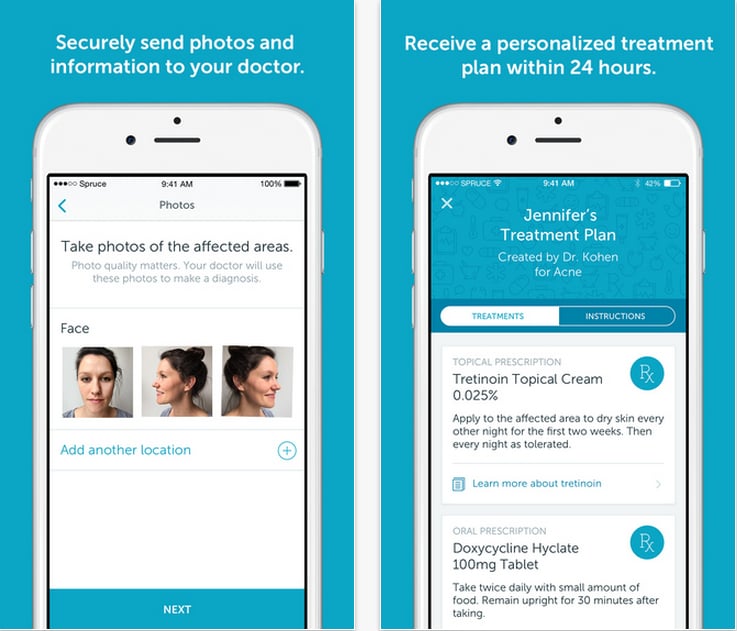 What if you could go to the dermatologist without taking time off work? Spruce [5] (free) allows you to do just that. For $40, you can set up a consultation with a board-certified dermatologist. All you have to do is collect photos and fill out basic information, and you'll have a diagnosis and prescriptions within 24 hours. Spruce also allows you to contact your dermatologist for up to 30 days to check up on your treatment plan.
ShadeScout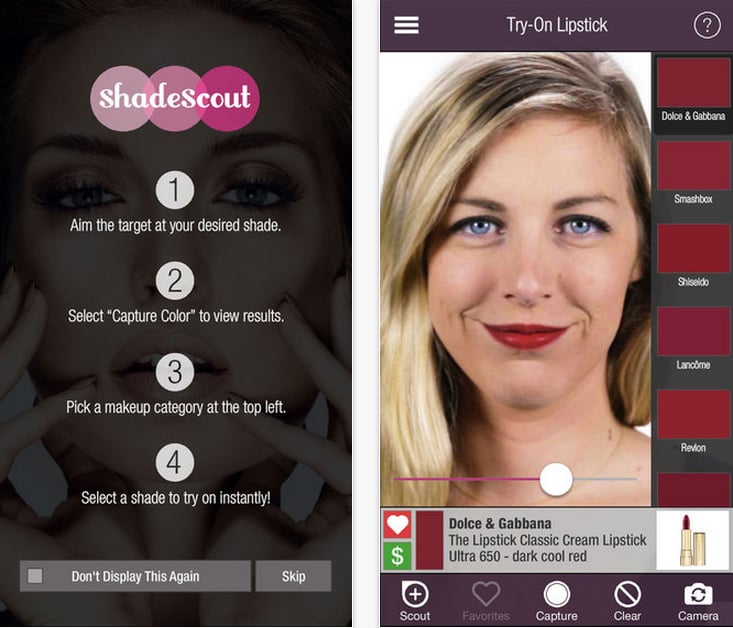 Stealing that perfect shade of red lipstick you spotted on Instagram just got a whole lot easier with ShadeScout [6] (free). The app allows you to spotlight colors in any photo and find makeup in the exact Pantone shade family. You can also try the makeup on in real time without ever opening the packaging. Just use your front-facing camera to start a video feed, and the shade will virtually appear on your face.
R+Co Education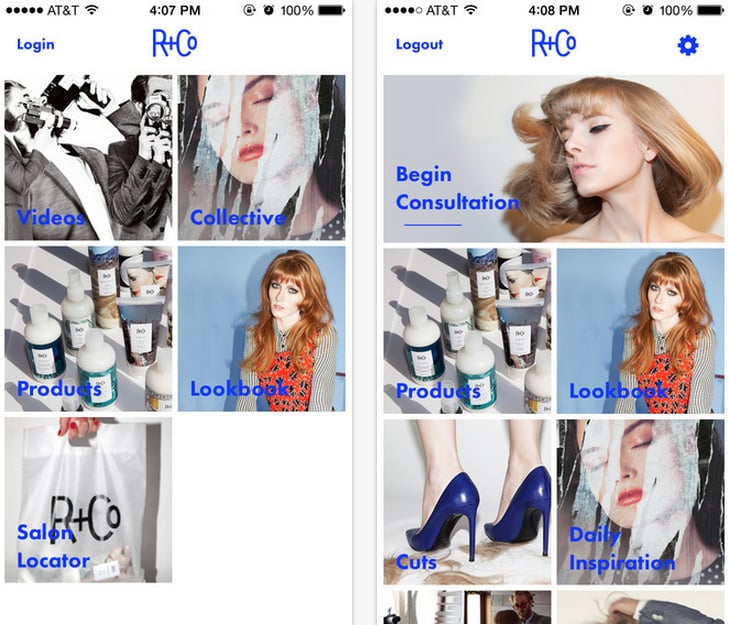 The R+Co Education app [7] (free) was created with salon professionals in mind, but it's a great resource for clients, too. The Lookbook function allows you to search haircuts to show to your stylist and outlines the products you'll need to re-create the look once you get home. There are also fun video tutorials to teach you new techniques. It's like a personal shopper, Pinterest, and YouTube — all rolled into one free app.
Shopkick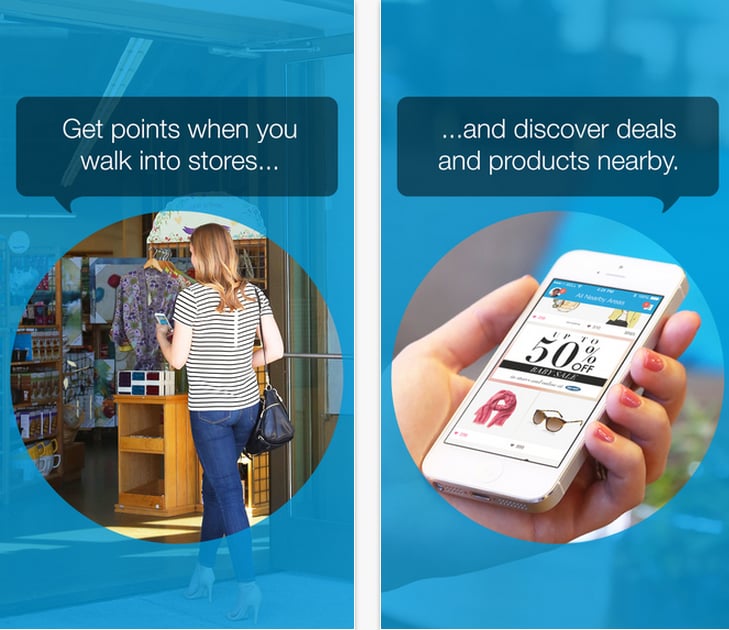 While most apps are trying to get you to buy online, Shopkick [8] (free) wants you to spend time browsing in brick-and-mortar stores. The technology uses GPS to track when you enter select shops and gives you points for just walking in! Then you'll get a list of nearby sales and get points for scanning certain items (you don't even have to buy). Purchasing is another opportunity to get points. At the end, all your points add up to a gift card to some of your favorites spots like Target, Best Buy, and Old Navy.
SuperDuper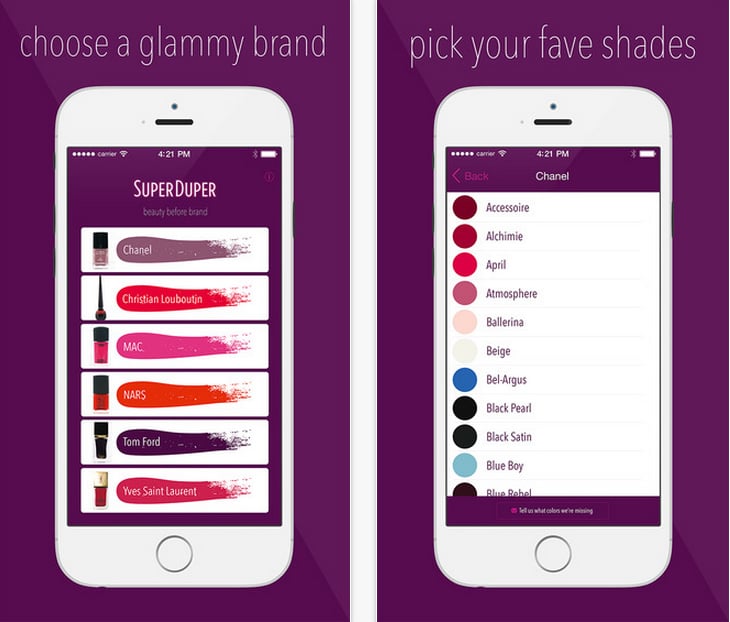 SuperDuper [9] (free) is a pocket essential for beauty junkies on a budget. This download allows you to find drugstore dupes for your favorite luxury nail polish brands. Love Chanel lacquer in Expression? Try Wet n' Wild Red, Red for $17 cheaper.
TheGlamApp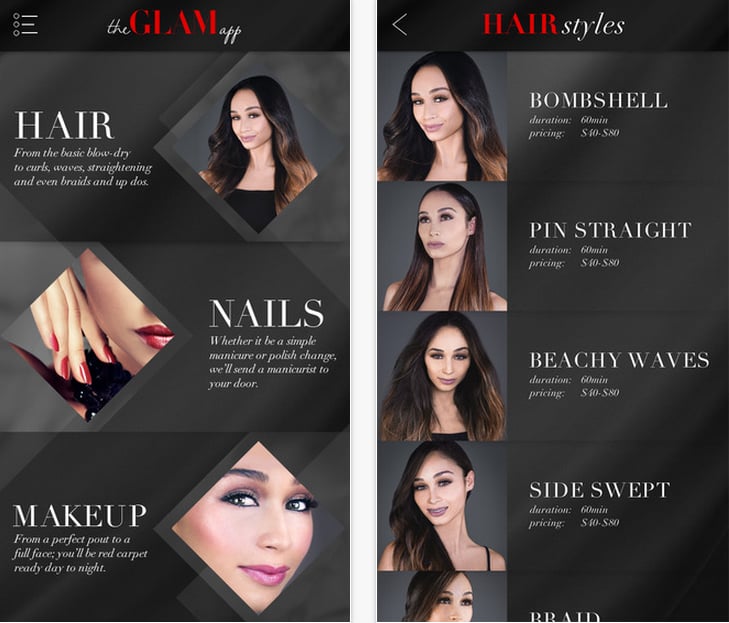 Actress Cara Santana and celebrity stylist Joey Maalouf have joined forces to bring you TheGlamApp [10] (free). While most service apps are made with the customer in mind, this app is artist friendly, too. Anyone with a license can sign up to build their hair, makeup, or manicure portfolio. Plus, a stylist can be on call during a certain time period to get first pick of clients. Currently that app only operates in LA and NYC, but we're keeping our fingers crossed for worldwide domination.
BeautyNow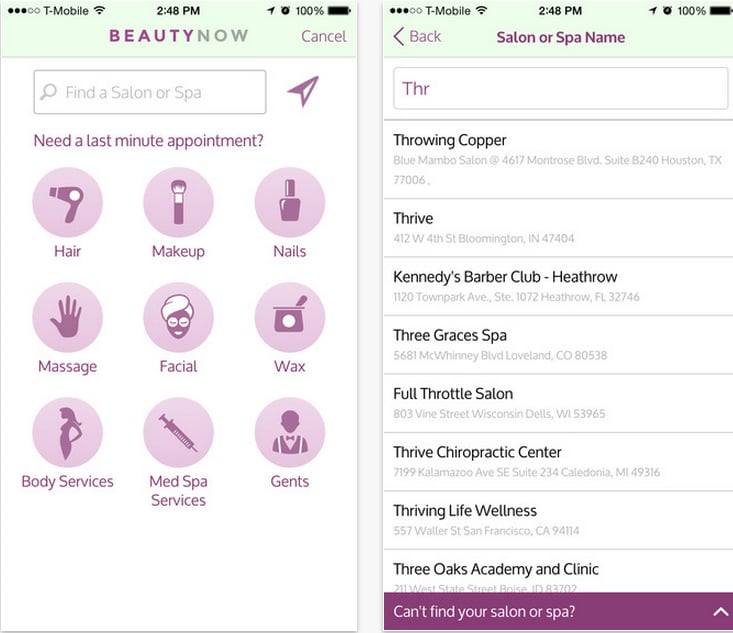 Here's the scenario: you've been invited to a last-minute event and need the beauty works ASAP. The BeautyNow [11] app (free). You can schedule a facial, blowout, manicure, and even Botox based on your current location.
Sephora Pocket Contour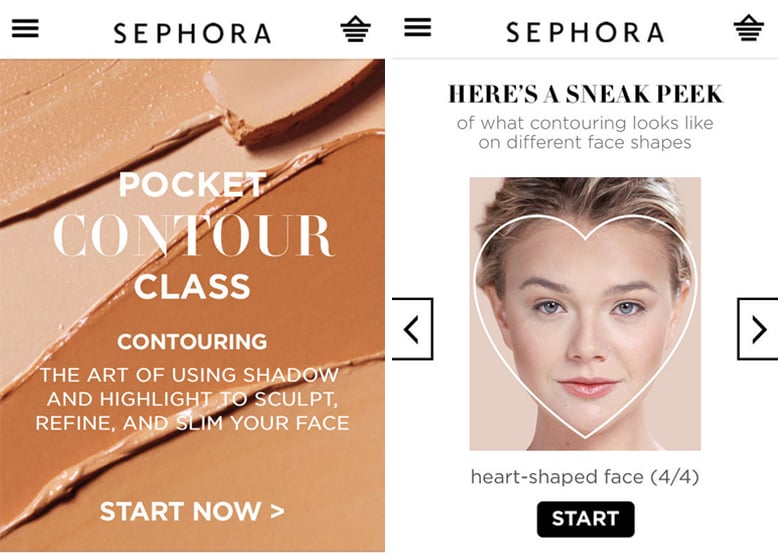 Contouring is the one beauty technique that requires a full-on instruction manual, so with that in mind, Sephora created a digital guide based on face shape. You just upload a photo of yourself, and the Pocket Contour [12] app (free) determines your face shape. It then walks you through where you should place bronzer and highlighter for that perfectly chiseled Kim Kardashian [13] look.
Bella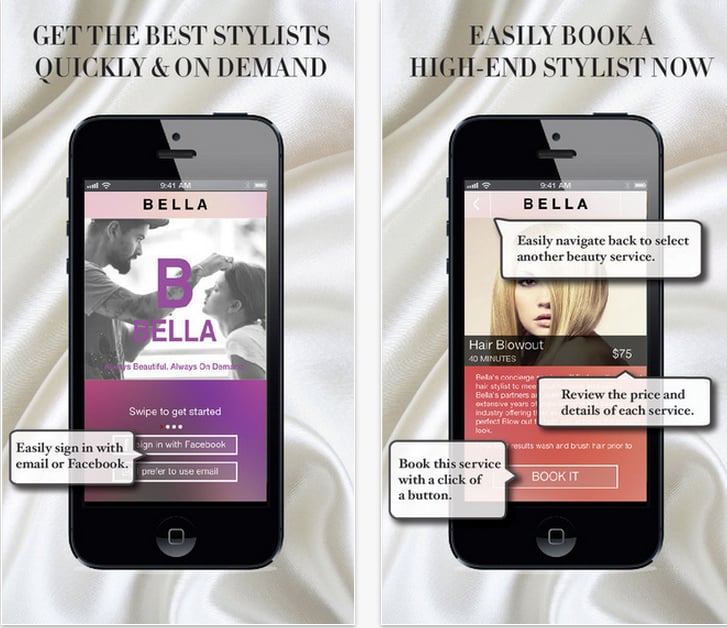 The Bella [14] (free) team only signs on the most experienced stylists in NYC and Washington DC. The professionals are picked from the top salons and spas in each city to provide in-home beauty services. In your profile you can also save details about your preferences such as the length of your hair and typical makeup style. That way your stylist knows what to expect when they arrive.
Kenneth Willardt: The Beauty Book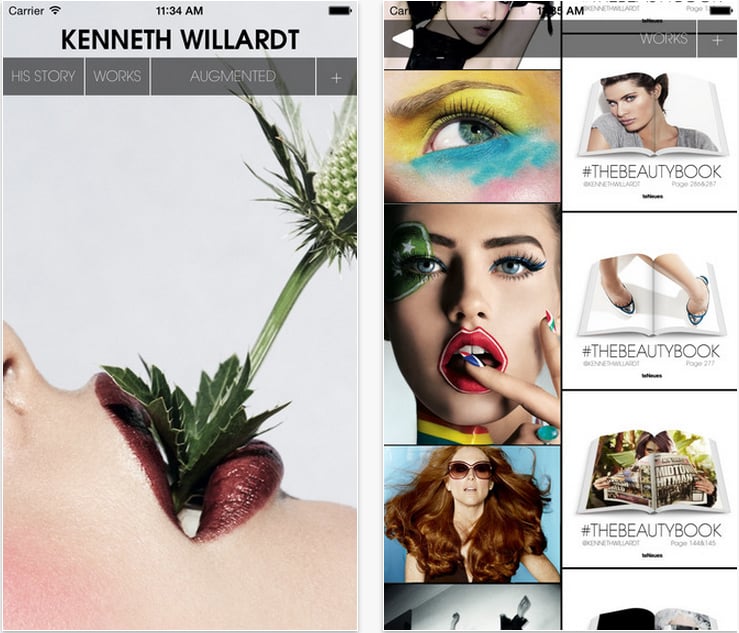 Kenneth Willardt: The Beauty Book [15] (free) is a companion app to the photographer's coffee-table book. You can swipe through the gorgeous portraits digitally along with owning the hardbound volume.
PrettyQuick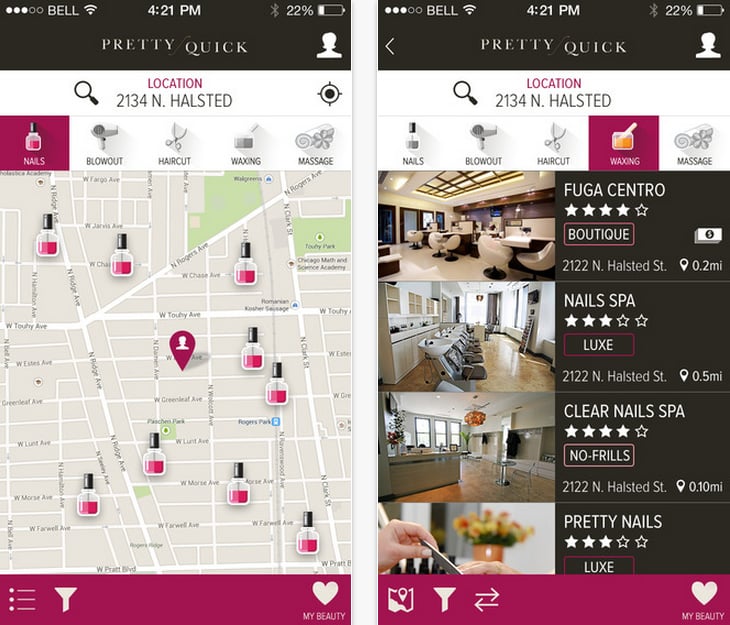 Finding a nearby nail salon for your last-minute Saturday manicure just got a whole lot easier with the PrettyQuick app [16] (free). You can find a blowout parlor, manicure emporium, or massage at the last minute based on your location.
Bellashoot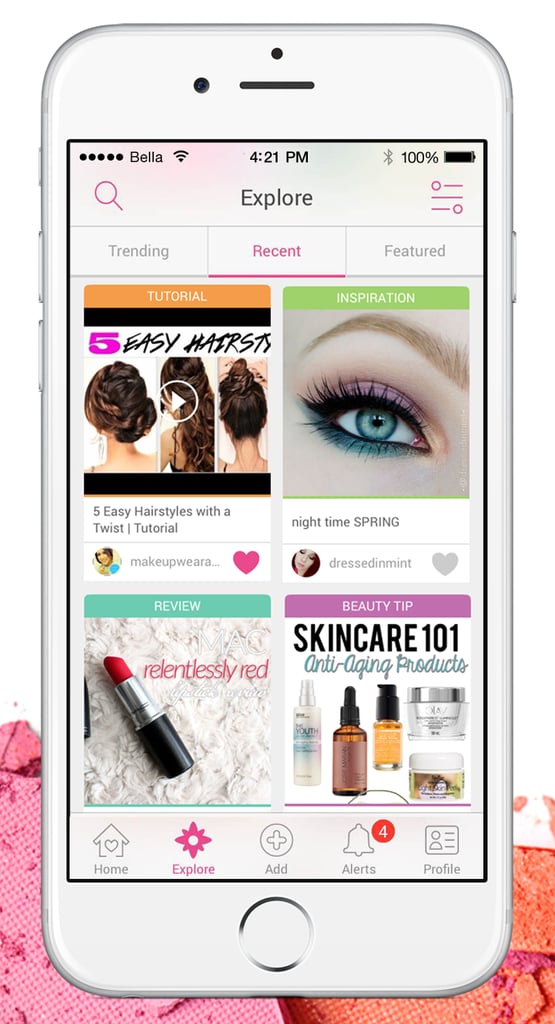 Do you often get caught watching YouTube tutorials for hours on end? Then Bellashoot [17] (free) is going to be your mobile app addiction. You can get product reviews, tutorials, and tips from your favorite beauty bloggers with just a few taps.
Klara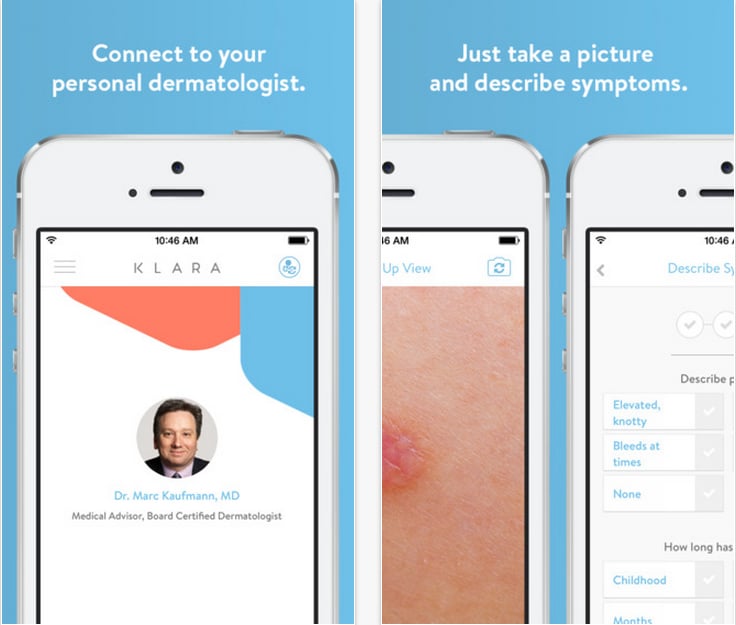 Waiting three months to get in at the dermatologist's office is now a thing of the past. Klara [18] (free; $39 for first diagnosis) allows you to take a photo of that unusual mole and send it to a certified derm for a diagnosis.
Keep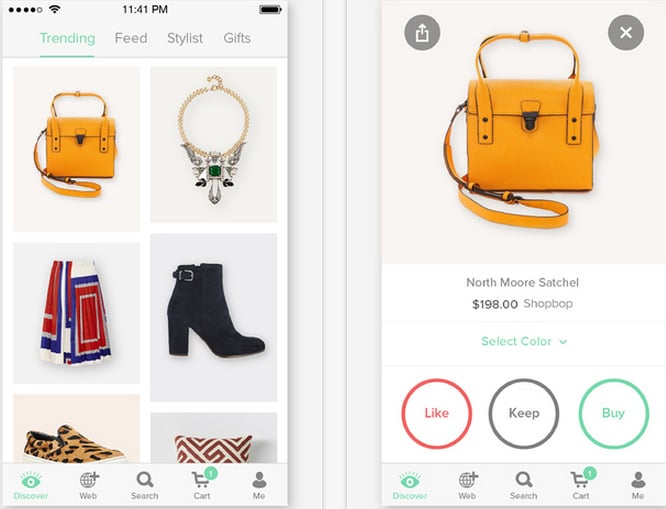 The Keep app [19] (free) isn't just for fashion fiends. You can shop beauty brands like Topshop, Nars, and Kiehl's from your phone. Just click "Keep" to save your favorites to a shopping list or "Buy" to check out automatically.
Beautified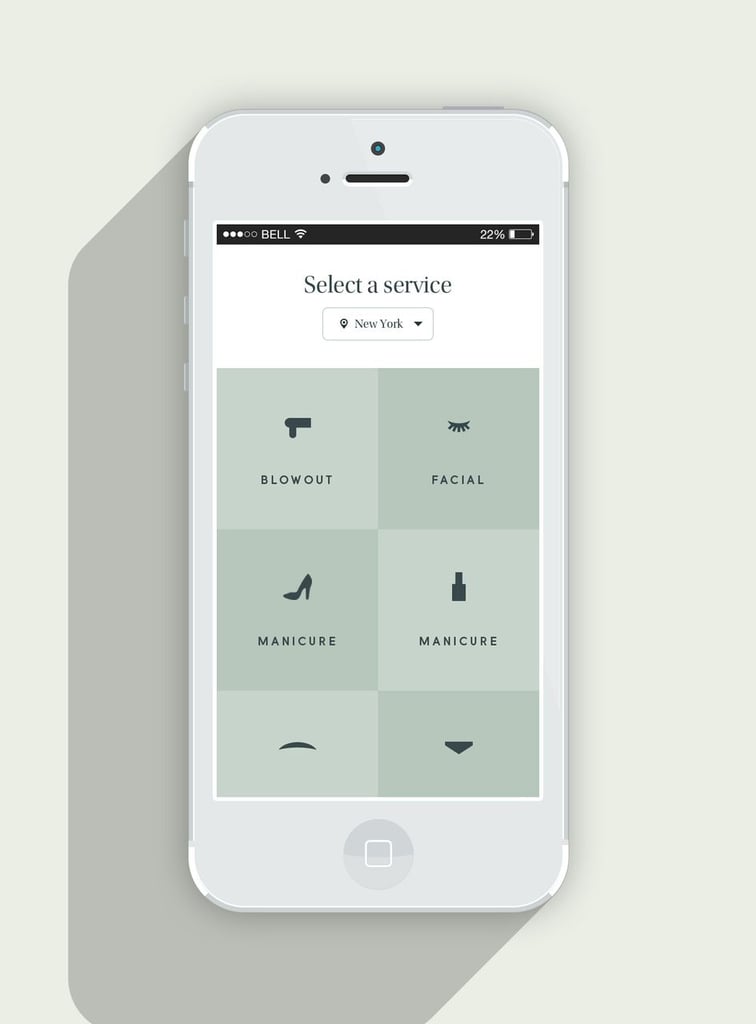 Sometimes 5 o'clock hits and happy hour just won't be enough. That's when you need Beautified [20] (free). This beauty savior by It girl and DJ Hannah Bronfman will help you schedule your massage, facial, or pedicure in a hurry. In fact, you can only schedule within a 48-hour window. It's a procrastinator's dream! In the Beautified 2.0 launch, the app included fitness classes, too.
The brand also just released this hilarious video [21] showing us how to get the best out of Beautified. The sketch features The Fat Jew, Leandra Medine of Man Repeller, Dree Hemingway, and rapper Theophilus London. You'll also see Beautified founder Hannah Bronfman wearing an awesome manicure [22] (as usual). Now we know where to turn before an impromptu girls' night out.
BeautyBooked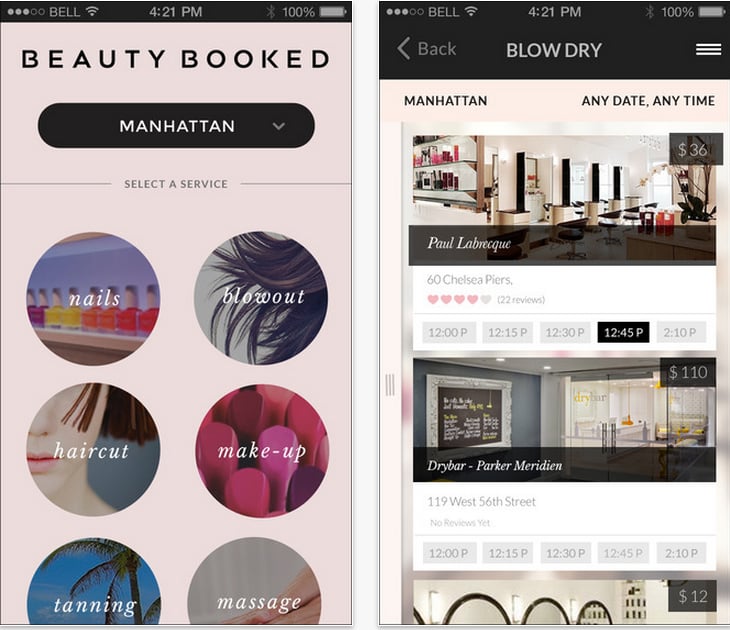 Recently BeautyBooked [23] (free) announced a partnership with Allure magazine to bring its amazing app features online.
Meanwhile on mobile, you can still book local salons for several different services or have your stylist come to you. Before you decide on a location, you can read reviews from fellow BeautyBookers and Allure editors, too.
Trusper
Trusper [24] (free) is a DIY [25] beauty maven's dream app. Think Reddit and Yahoo Questions rolled into a special app. You can browse the database for numerous beauty tips and tutorials, or you can rely on the Trusper universe to reply to your burning inquiries. Just make sure to submit your own solutions to pay it forward.
Visada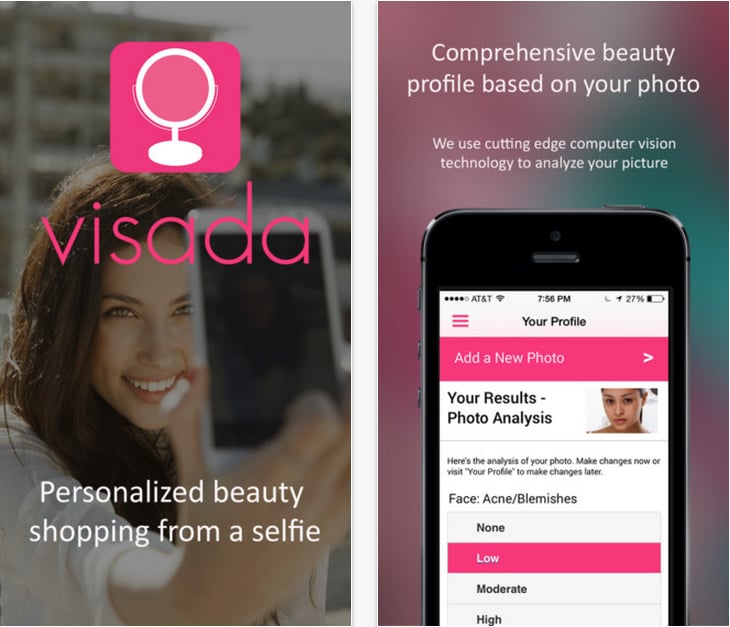 If you spend hours walking the Ulta aisles in confusion, Visada [26] (free) should be your next download. The app will analyze your fine lines and dark spots based on a selfie. From there you'll get specific skin care recommendations. You can also get makeup recommendations based on your skin and eye color. Shop directly on your phone, so you can avoid the temptation of going in the drugstore and bingeing.
Nail Snob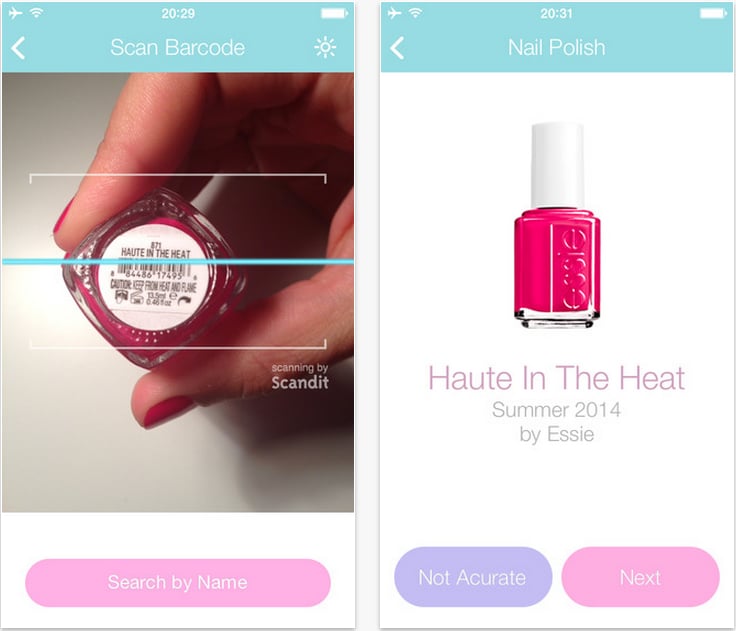 You know that one nail polish shade you love but can never remember the name of? Well, Nail Snob [27] (free) takes care of that problem. You can scan and save the info on your favorite lacquer hues including a photo of the hue on your nails! It's an essential for nail art fiends who have extensive color collections.
Beautiq
You'll never have to be embarrassed about dark roots or screaming at your moustache wax again thanks to Beautiq [28] (free). This app allows you to get hair, makeup, and body care services on-demand at home. The services range from $30 and above, and getting extensions done in the privacy of your home is worth every penny.
Plum Perfect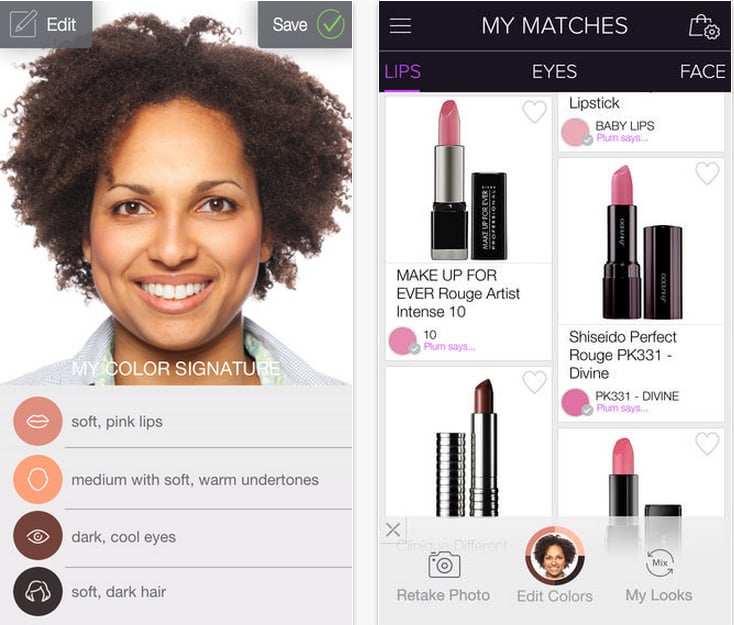 This beauty app uses facial-recognition-like technology to determine your skin tone, hair type, eye color, and undertones from a photo. From there, Plum Perfect [29] (free) uses that info to customize your makeup recommendations. It's the all the skills from a makeup pro wrapped into a pocket-sized assistant.
L'Oréal Makeup Genius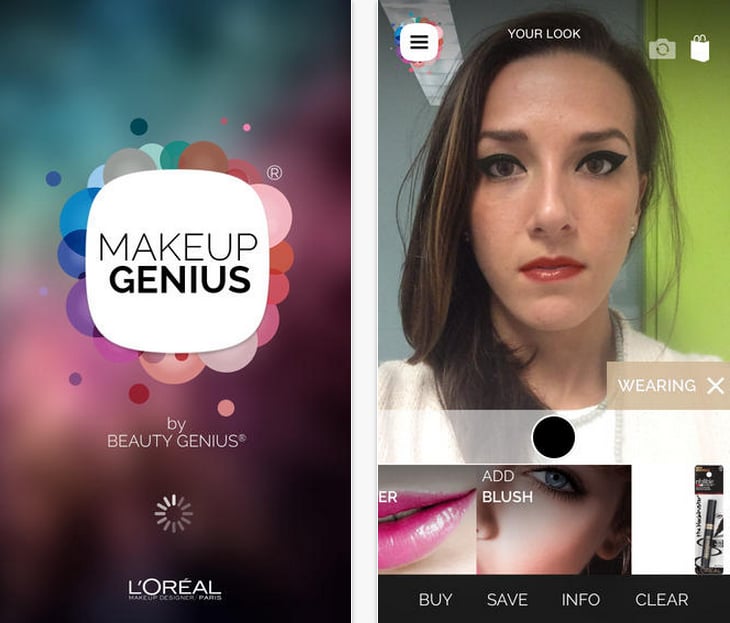 The L'Oréal Makeup Genius [30] (free) app lets you try on the hottest makeup launches before you buy. And while we've tried many haircut demo apps, this makeup trial technology seeks out your eyes, cheeks, and lips for a flawless virtual application.
You can try on products by scanning the bar code while you shop, or select a face chart you already love to copy. The best part is each look comes with a video tutorial. That way your makeup turns out just as precise in reality.
Beautiful Me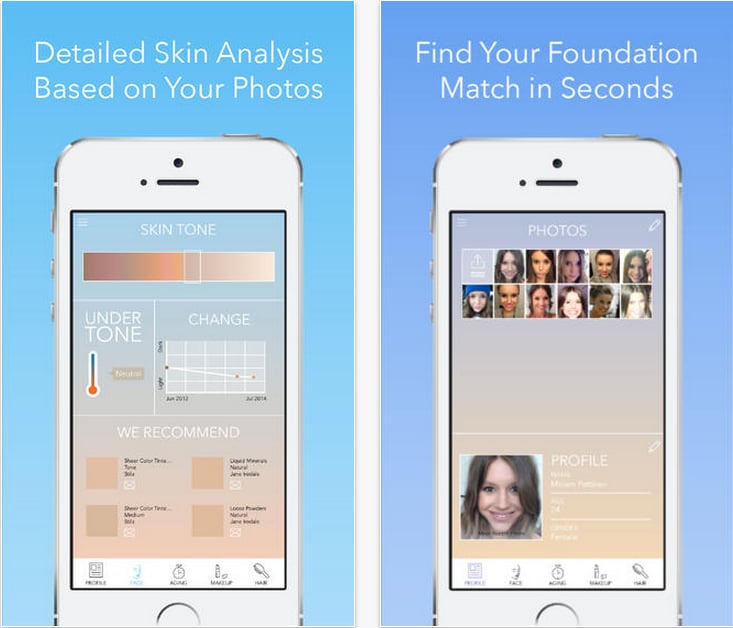 Beautiful Me [31] (free) is like having a squad of beauty experts packed into your pocket. First you upload selfies from your photo album or Facebook, then you can get all sorts of info based on your shots. The technology will determine your undertones and recommend foundation to buy. You can also get data on aging and makeup shade recommendations.
Priv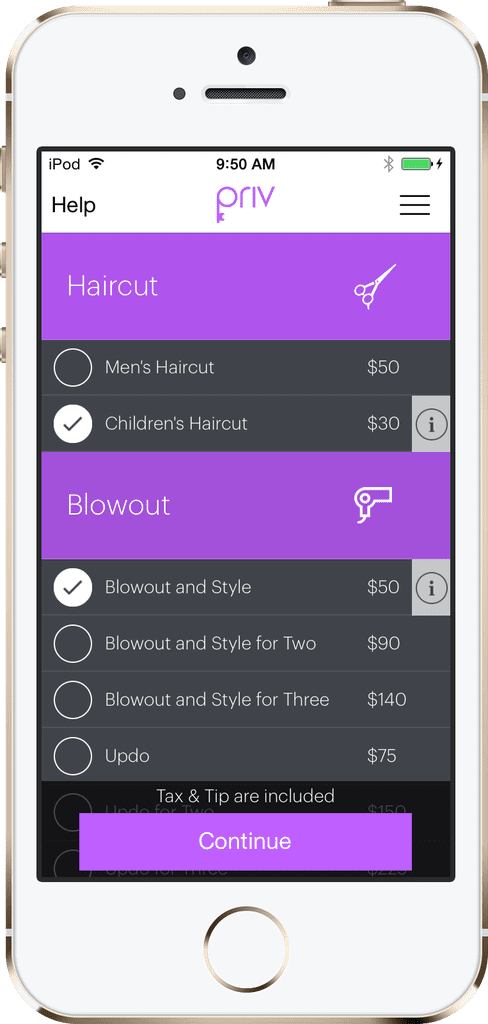 A manicure, massage, or blowout from your couch is what Priv [32] (free) is offering, and we're definitely down! If you're in Manhattan, you can also sign up for the app's new spray-tan service for $50 (it's listed under the makeup category). Expect a tanning expert to bring a pop-up booth to your home so that while you'll get a gorgeous glow, your furniture will stay formula-free. Oh, and did we mention it only takes 15 minutes? You can't beat that convenience!
Stylisted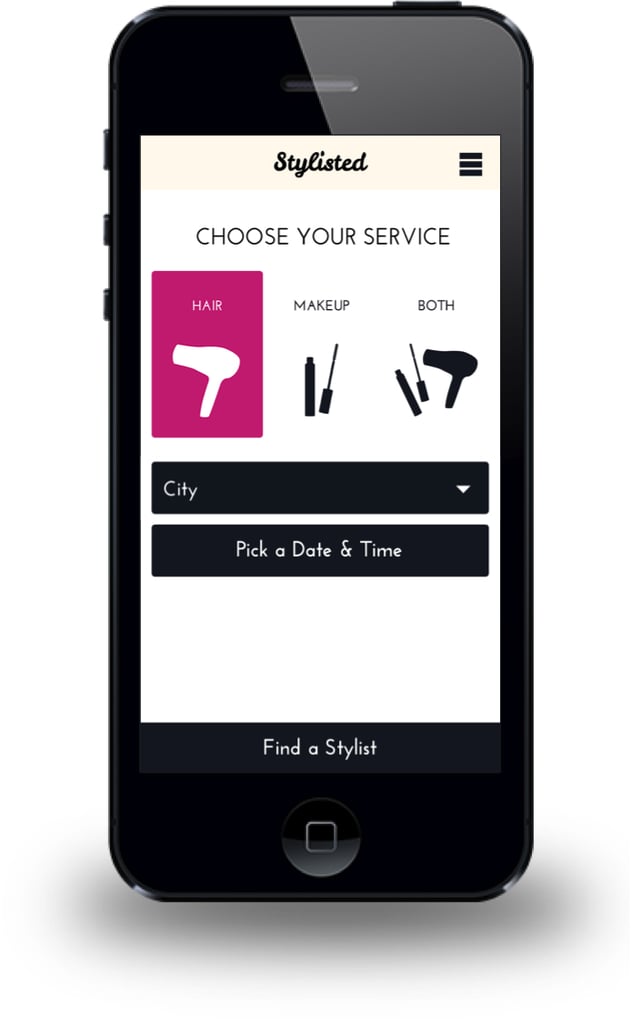 Getting ready for your next big date just got so much easier with Stylisted [33] (free). The beauty pros come directly to your door. You can compare prices and profiles of various services to find your perfect styling match. Plus, you can pay for your style or makeup application through the virtual register.
BeautyFriend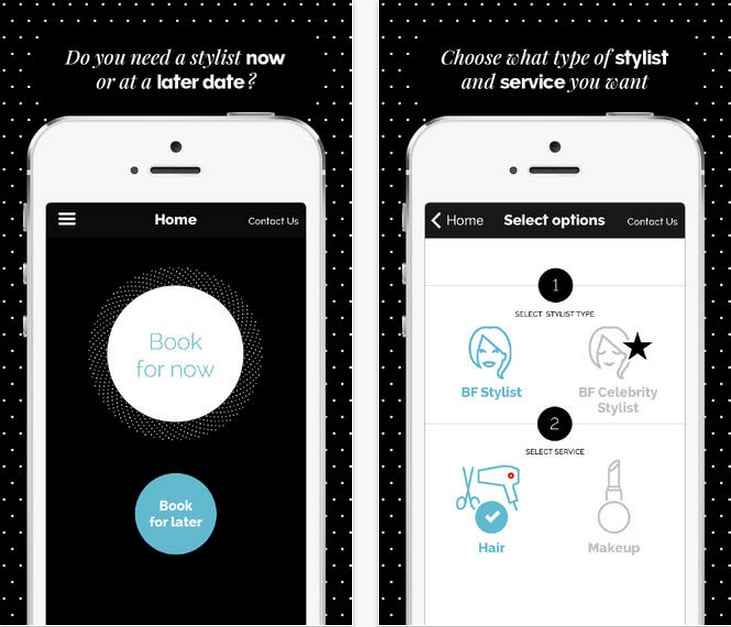 A-list celebrities have a list of beauty professionals at their beck and call, and now the BeautyFriend [34] app (free) lets you primp like a star — like literally steal the stylists your favorite red carpet mavens use. You can select from two levels of stylists (services ranging from $75 to $250). And if you opt for the celebrity treatment, then you can get red carpet ready from your apartment.
StyleSeat
This beauty app was recommended by actress Sophia Bush [35]. She uses StyleSeat [36] (free) to schedule last-minute beauty treatments as she travels from city to city. Individual stylists and makeup artists post their profile and their availability to hook up with potential clients. Consider this your Match.com for meeting a new beauty pro.
Lifebooker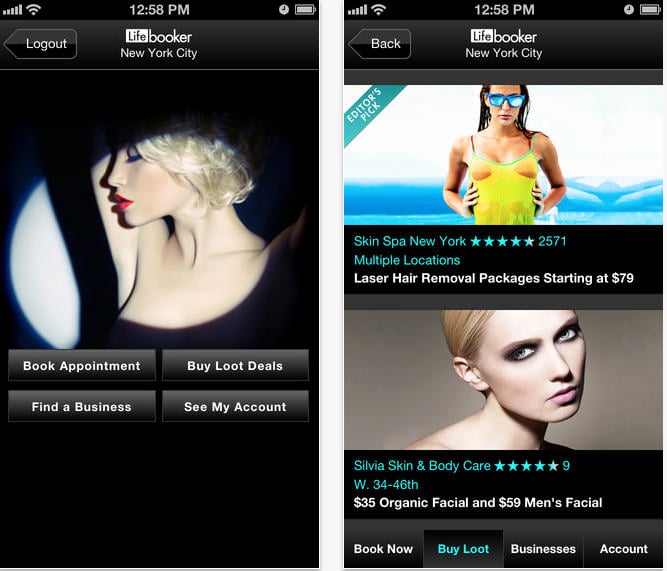 A blowout for 50 percent off? Sign us up! Lifebooker [37] (free) is the Groupon for beauty-lovers. This app will help you schedule facials, massages, or haircuts at a discounted rate. Or you can just clip treatment coupons the 21st century way.
TopCoat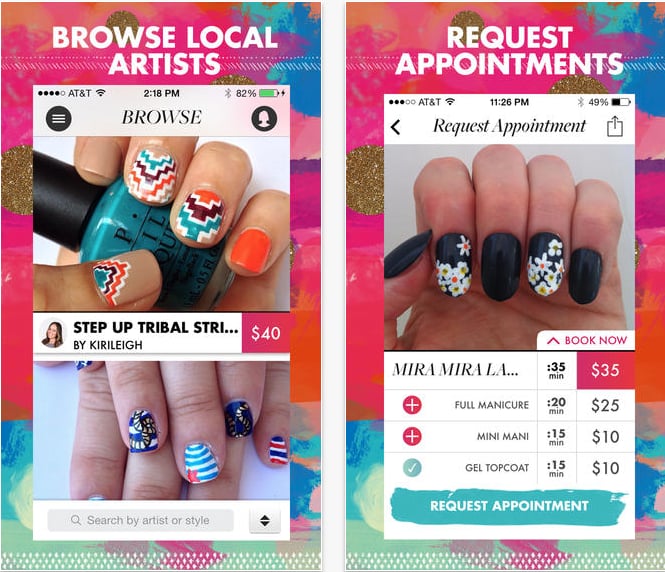 TopCoat [38] (free) is for the artistically challenged. It will help you book an appointment with a local nail art pro and pay via your phone. It's also a great way to display your personal designs or just get inspiration for your next manicure attempt.
Leaping Bunny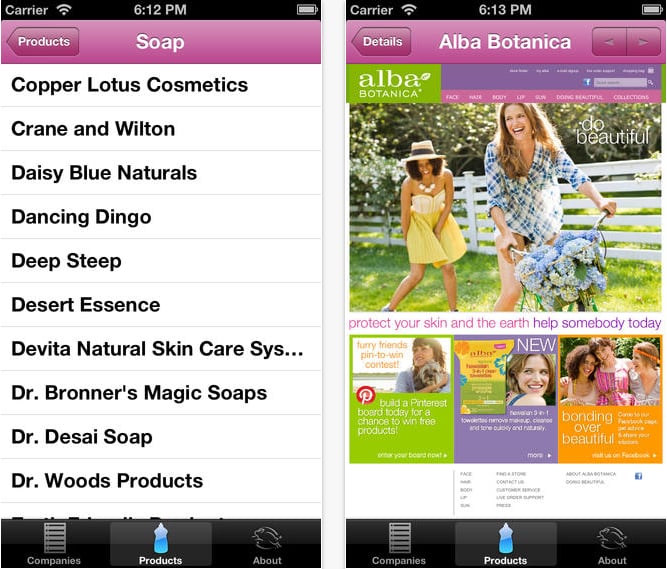 Unfortunately, the ingredients in our cosmetics and skin care products can undergo questionable testing before they hit shelves. The Leaping Bunny app [39] (free) helps make sure the products you use haven't been tested on animals. There is a comprehensive list of brands you can trust, and you can shop for anything from dish detergents to fragrances.
Beauty Mark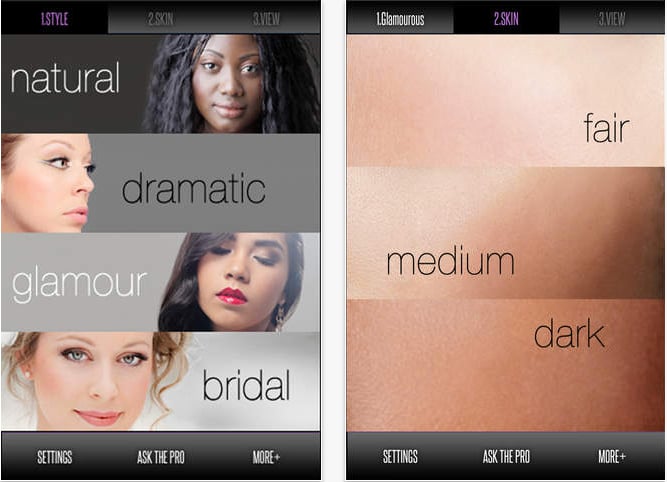 OK, you've got an hour before your big date. You need to look fabulous: what do you do? Download Beauty Mark [40] ($3). You can pick your occasion (glamorous, natural). Then pick your skin tone (fair to deep) to see a model wearing the looks. You can mix and match eye makeup and lipstick options on the model until you find the right combination. Finally, you can get video tutorials and product recommendations instantly. It's like YouTube but condensed.
Nevus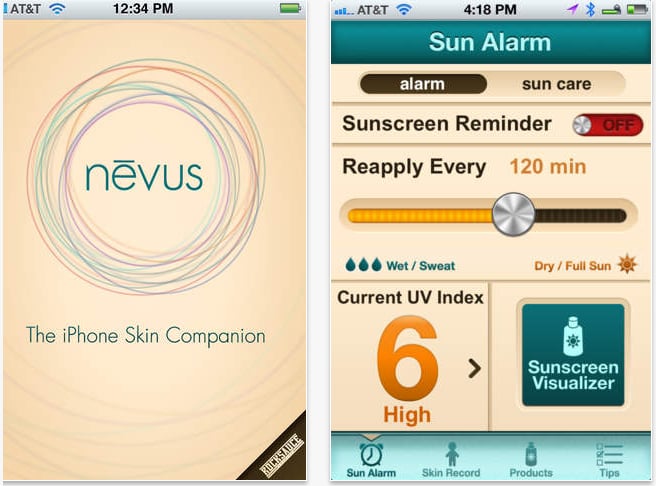 With the Nevus [41] ($3) app on hand, you have no more excuses for skipping sunscreen. You can set an alarm to remind you to reapply, and it will even tell you how much to put on with the visualizer. The app also has a section to help you document any unusual moles and get product recommendations from your dermatologist. Nevus makes going to the beach a much safer situation for your skin.
MatchMaker by True Match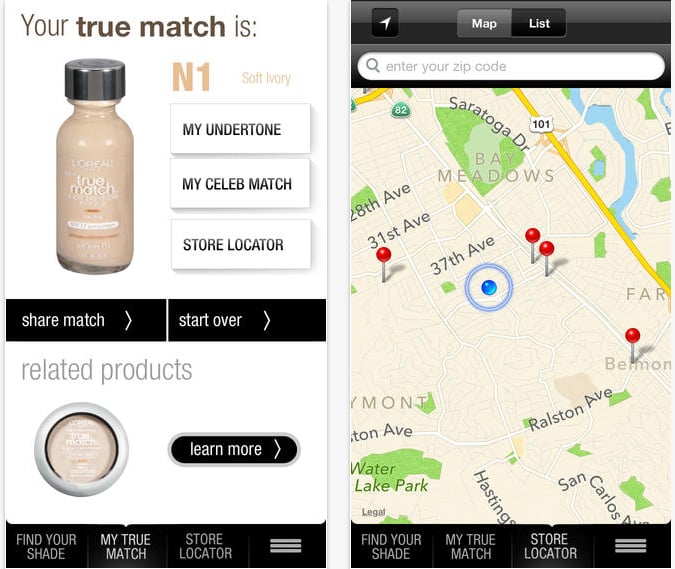 Finding the perfect foundation shade in the drugstore is like spinning a roulette wheel in Vegas — it's all luck. But with this L'Oréal app, you can take some of the guesswork out of the process. MatchMaker by True Match [42] (free) finds your undertone, your exact foundation match, and the closest drugstore. But the best part is you get a celebrity skin look-alike. Are you a J Lo or a Liya Kebede?
Sephora to Go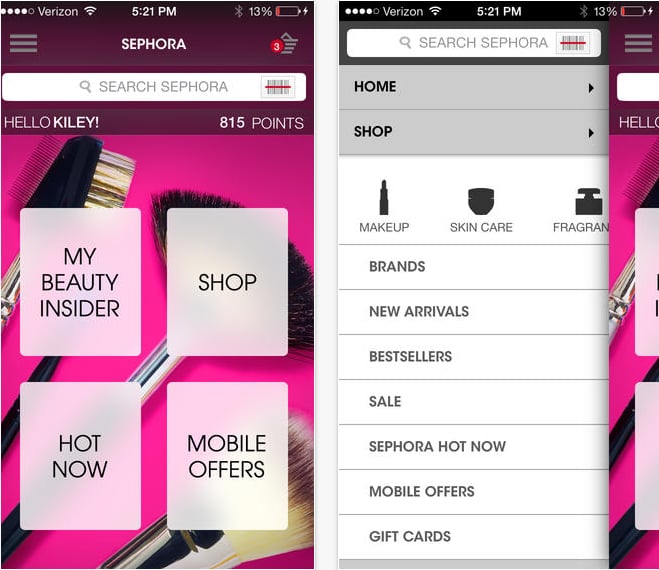 The Sephora to Go [43] (free) app is probably bad news for beauty junkies. It makes it even easier to buy the products you love on the go, meaning your next beauty haul can be done while you commute in the morning.
beGlammed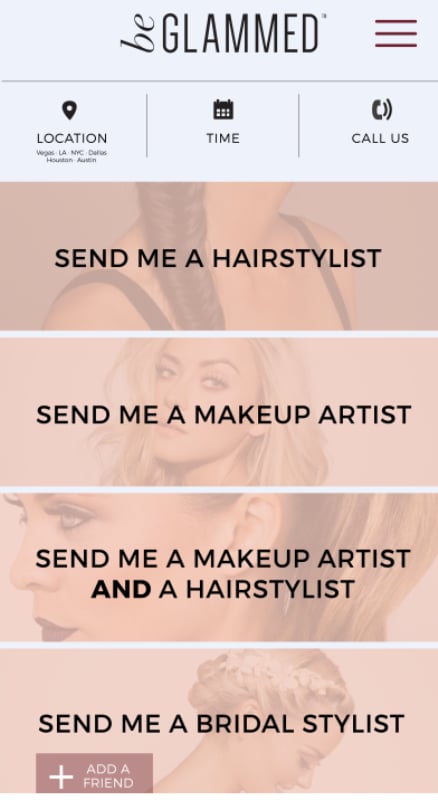 We love a good girls' night out (beauty prep included, of course), but can get a little agitated waiting for everyone to get out of the stylist's chair. With the group packages available from beGlammed [44] (free), you can have hairdressers and makeup artists come to your location of choice, so you can all get dolled up simultaneously. You can even book with just three hours of notice in case fabulous plans pop up.
Find Your VS Shade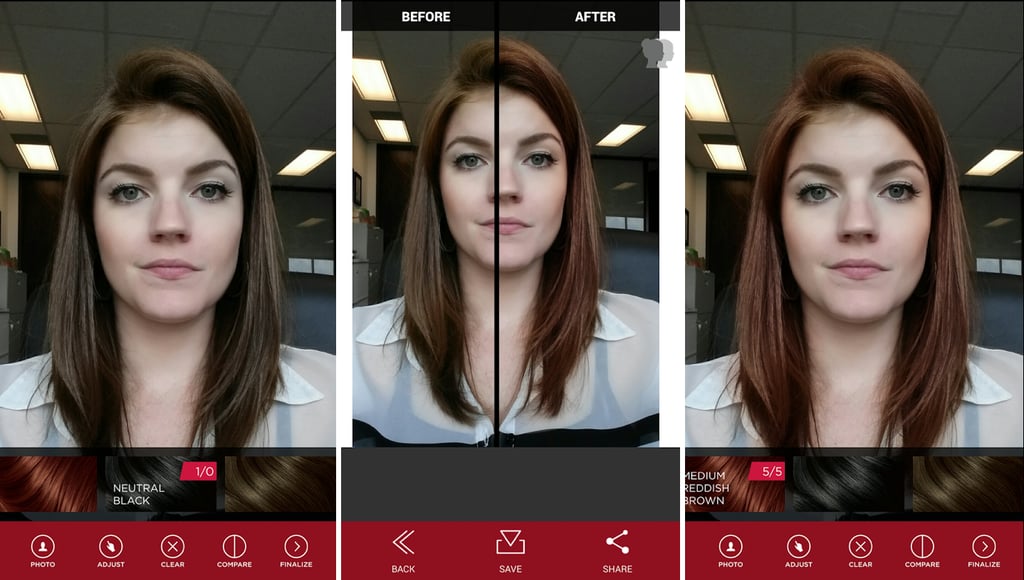 Committing to a new color can be daunting — especially for a hair virgin [45]. Find Your VS Shade [46] (free) lets you try on 24 different Vidal Sassoon dye shades on a selfie before taking the plunge at the salon. You can also share your new look with friends (or even your stylist!), so they can offer their opinions.
Drybar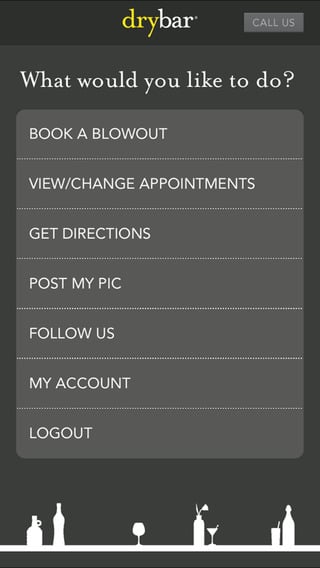 If you're addicted to Drybar blowouts, you need to download their app [47] (free). Not only can you make an appointment at your favorite location in a flash, but you can have a stylist do your hair at your home — "Dry-on-the-Fly!"
Beautini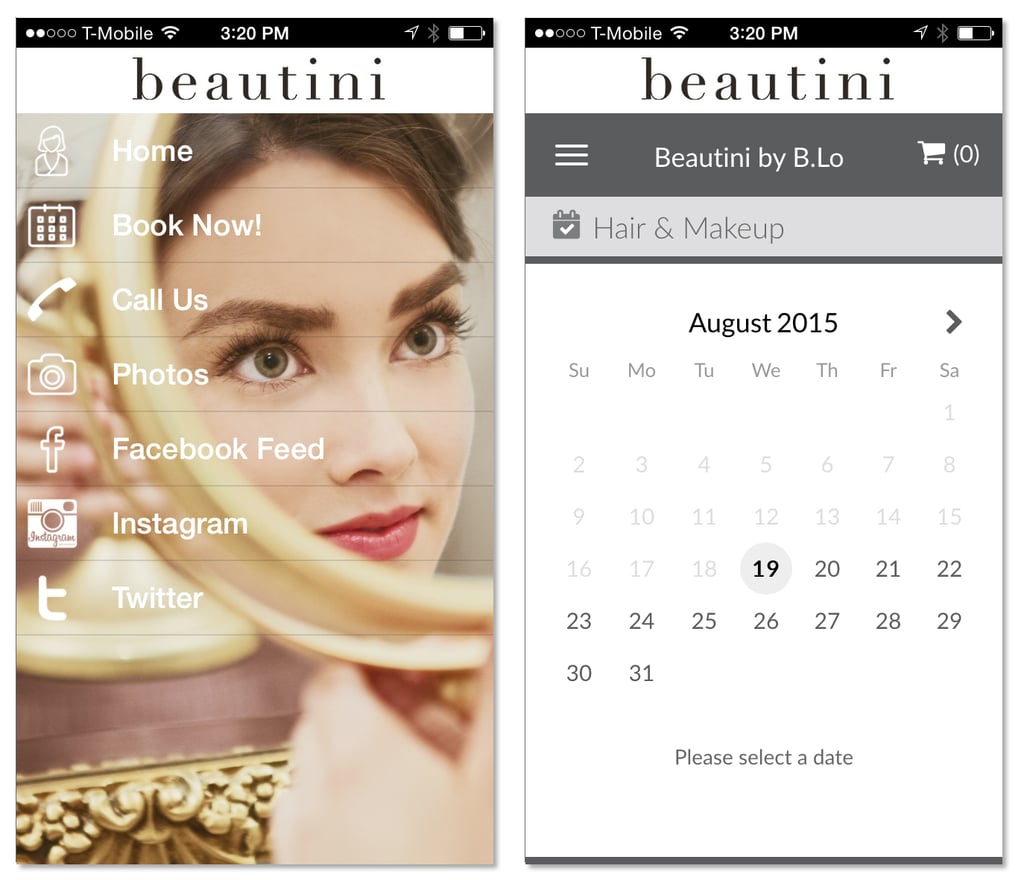 Like other similar apps, Beautini [48] (free) will send hairstylists and makeup artists wherever you need them — but it's especially a treat for bridal parties. Your stylists will bring complimentary breakfast, lattes, and Champagne for all the girls to enjoy, and they'll outfit everyone in silk robes to keep gorgeous gowns protected.
Soothe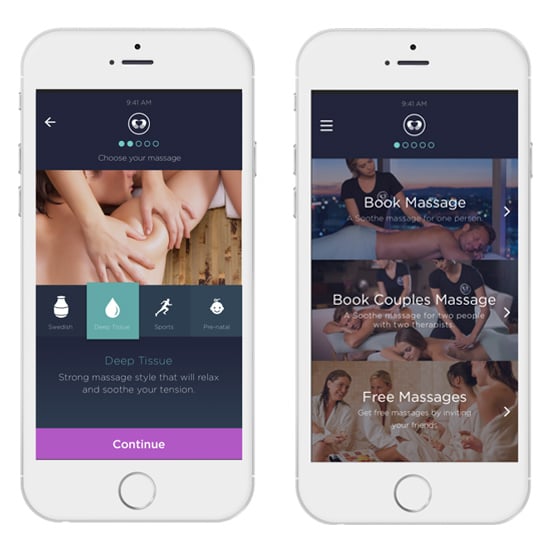 Turn your bedroom into a spa by lighting some candles, turning on a Spotify meditation playlist, and hiring a masseuse to come to your apartment and work out all of your body kinks. Thanks to the Soothe [49] app, booking this is even easier. The company has a roster of 2,000 licensed massage therapists throughout 15 cities including NYC, LA, Miami, DC, Dallas, and Chicago. The therapist comes with a pop-up table (and essential oils by request!) for your treatment. Choose from swedish, deep tissue, or sports massages, which can be done solo or in couples. There are 60-, 90-, and 120-minute sessions ($99-$219). Our tester tried this in Manhattan on a Sunday evening, and it was a euphoric experience (she went to bed directly after).
Honest Beauty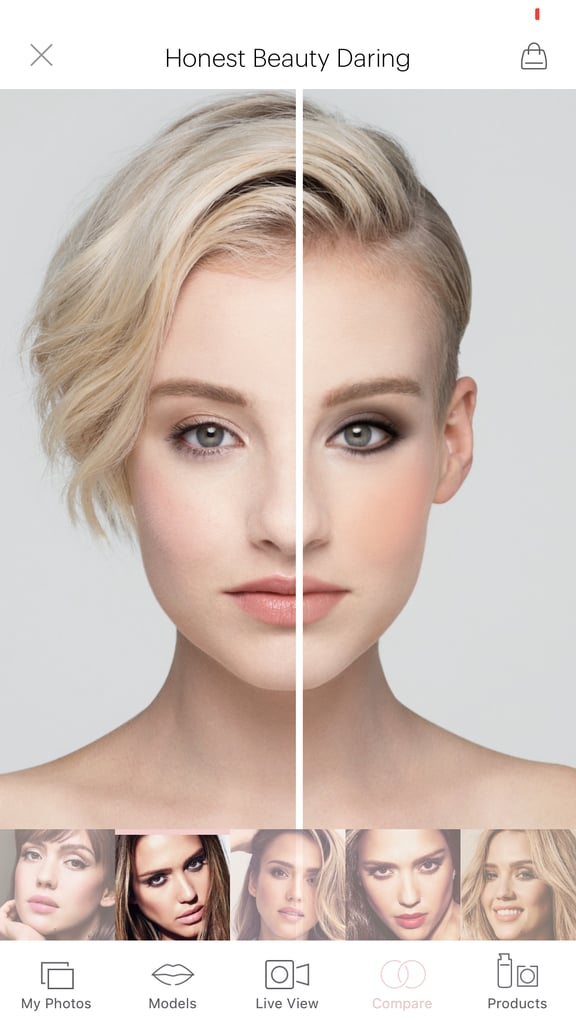 Jessica Alba [50]'s beauty brand has made shopping even easier — with the touch of a button, you can use your phone to see how each makeup product would look on your complexion and watch tutorials using them. You can even shop through the Honest Beauty app [51] (free) and set up a subscription, so you'll never run out of your favorite item.
NailSnaps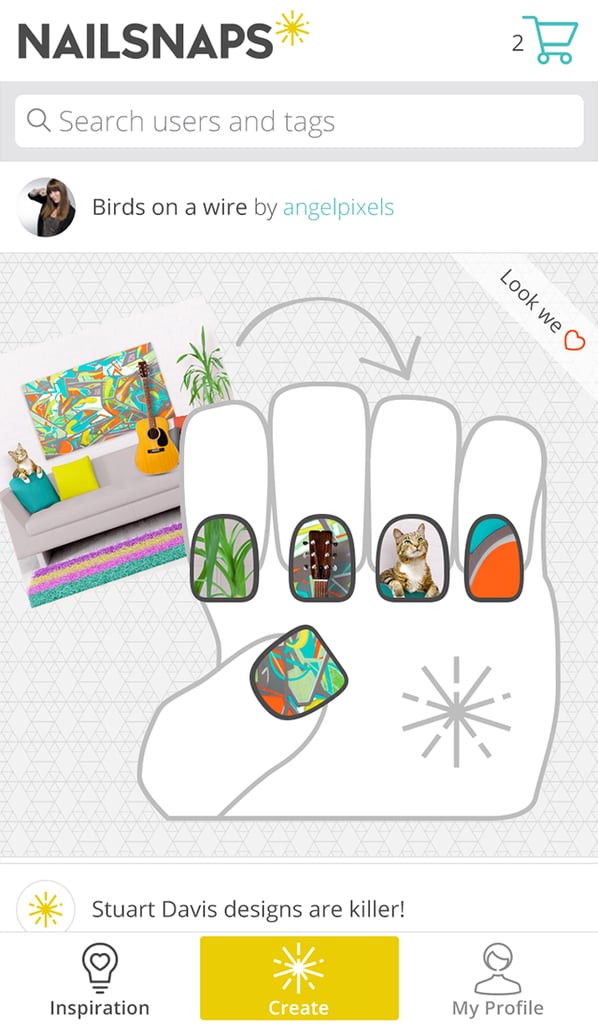 If you've ever wanted to turn your favorite vacation photo or a shot of your puppy into nail art, now's your chance. NailSnaps [52] (free) allows you to use your camera roll or a new image to create customizable manicure designs for each finger. Once you've designed your masterpiece, you can purchase it and have it sent to your home. Not so crafty? You can also browse (and shop for) premade decals from your friends and nail artists.
YouCam Makeup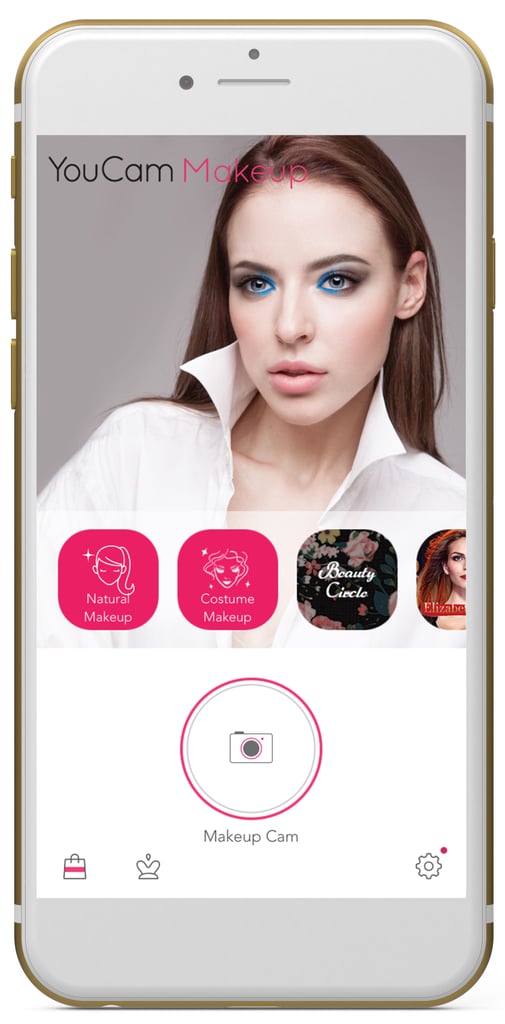 This is the mother lode of makeover apps. Once you download YouCam Makeup [53] (free), you'll be able to virtually apply cosmetics to yourself (just put your phone in selfie mode) and see how it looks in real time. Once you find your perfect look, you can browse product recommendations, send your makeover to friends, and share tips with other community members. You can even perfect your selfie before posting it on Instagram — try lengthening your lashes, brightening your complexion, or even coloring your hair.