Although sports fans may know now-retired NBA point guard Dwyane Wade for his ability to sink shot after shot on the basketball court, they might not be aware of the fact that he is also a proud dad to five kids. Wade's little crew includes a son he shares with his former partner Aja Metoyer, another son and daughter with his ex-wife Siohvaughn Funches, his adopted nephew, and a young daughter with his wife Gabrielle Union [1].
Wade and Union [2] are obviously no strangers to a mixed family, with Union becoming a stepmom to all of Wade's children, but the pair wanted a baby of their own after tying the knot. After Wade's marriage to the "Cheaper by the Dozen" [3] star in 2014, the couple was incredibly open and candid about their fertility struggles [4] due to Union's adenomyosis diagnosis [5]. After experiencing a heartbreaking "eight or nine" painful pregnancy losses [6], Union and Wade opted to go the surrogacy route [7]. And in 2018, they welcomed a beautiful daughter, Kaavia James Union Wade [8], into their family and have been sharing their little one, and their entire family, with the world ever since. Read ahead to meet every member of Wade and Union's blended brood!
Kaavia James Union Wade
Dwyane and Gabrielle welcomed their first child together, a daughter named Kaavia [10], via surrogate on Nov. 7, 2018. According to Gab, Kaavia has always had plenty of attitude. "She looks just like Dad, but I'd like to think the attitude is from me," she told People [11]. "She will stare into your soul and tell you about yourself through her eyes."
Kaavia is quite literally *always* a mood, as proven by her parents' nickname for her, Shady Baby. Gab and Dwyane even released a children's book of the same name [12] inspired by Kaav.
Zaya Wade
Zaya [13] is the second child that Dwyane and Siohvaughn share. Born on May 29, 2007, she made headlines after attending the 2019 Pride parade in Miami [14] with her siblings and stepmom in tow. In February 2020, Dwyane discussed Zaya's gender identity on "The Ellen Degeneres [15] Show."
"Zaya, our 12-year-old, came home and said: 'Hey, so I want to talk to you guys. I think going forward I'm ready to live my truth. And I want to be referenced as 'she' and 'her.' [16] I would love for you guys to call me Zaya,'" he told Ellen.
Zaire Blessing Dwyane Wade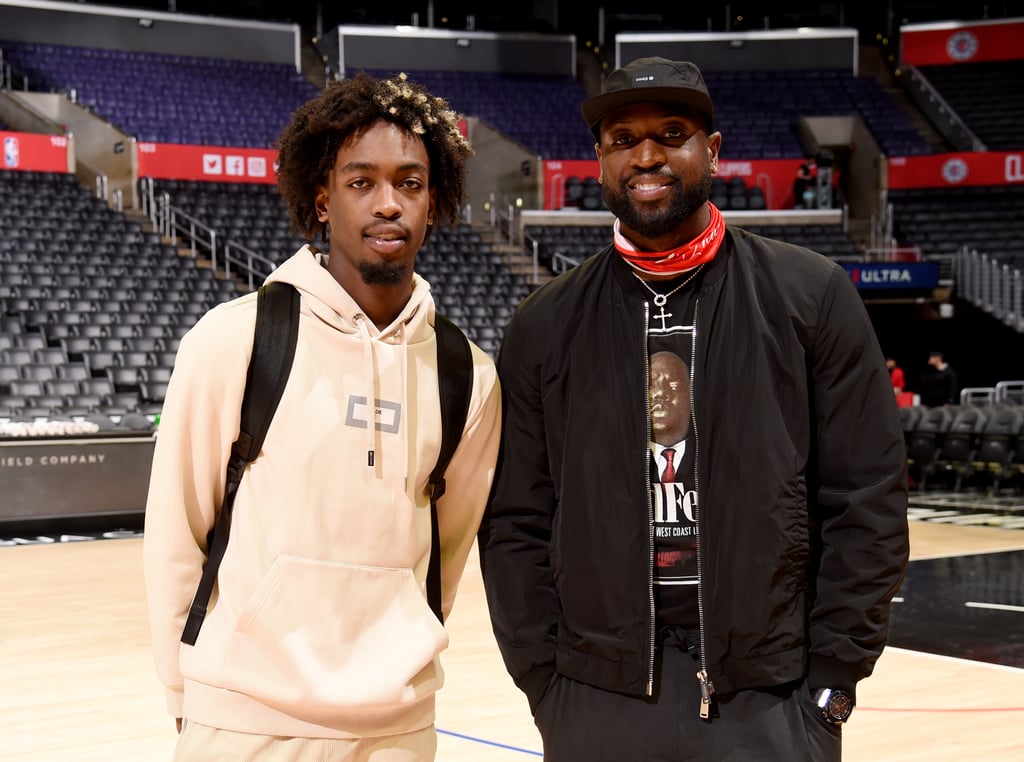 Dwayne shares his son, Zaire — who was born in 2002 — with his ex-wife and high school sweetheart, Siohvaughn Funches. Zaire has inherited some serious basketball skills from his dad, as several colleges offered him spots on their respective teams when he was wrapping up high school. He is currently playing in the NBA G League for the Salt Lake City Stars.
Xavier Zechariah Wade
Dwyane welcomed his third child, Xavier (sitting on Dwyane's shoulders in the photo above), on Nov.10, 2013, with his longtime friend Aja Metoyer. In his photographic memoir, Dwyane shares that raising his youngest son has its challenges because Xavier is not living with him and Union.
Dahveon Morris
In 2011, Dwyane was awarded full custody of his nephew [17], Dahveon (pictured on the far right), by a judge in Florida. Although Dwyane's sister and Dahveon's mother, Deanna Morris, still has parental rights, he's been raising the boy ever since. He's the oldest of the crew, born on Sept. 17, 2001.
More Pictures of Dwyane Wade's Kids