While the British royal family [1] remains pretty private outside of their official appearances, they do offer more intimate glimpses at their personal lives with the release of official portraits [2] from time to time. The photos are typically shared to commemorate a special occasion, like a wedding [3] or a birthday, and they are more often than not totally frame-worthy [4]. Prince William and Kate Middleton took their first official photos following their 2010 engagement, and in the years since they've shared multiple sets of images marking important milestones in their lives, especially around the holidays [5]. We've even gotten a glimpse at what their thank-you cards look like! Scroll through to get a glimpse at Will and Kate's royal life as told by their palace-approved photographs.
Royal Thank-You Cards
Although the portrait of Will and Kate on this thank-you card has yet to be officially released, a lucky recipient was kind enough to share what it looks like on Twitter.
Official Engagement Portraits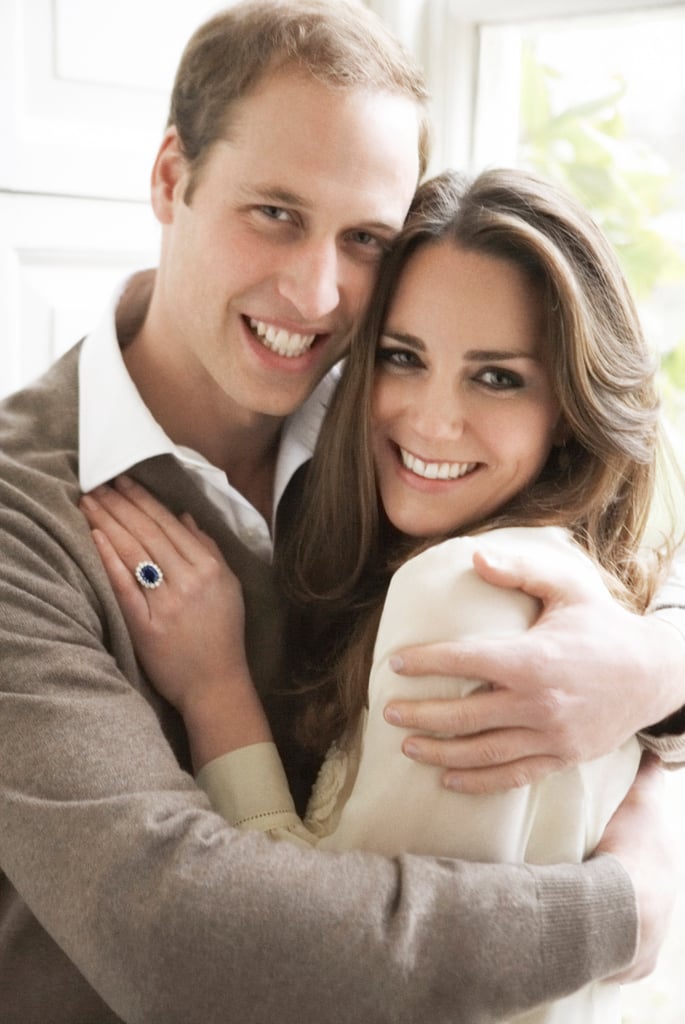 Kate and William posed in the Cornwall Room at St. James's Palace for this adorable snap, which was released in December 2010 as one of their official engagement pictures.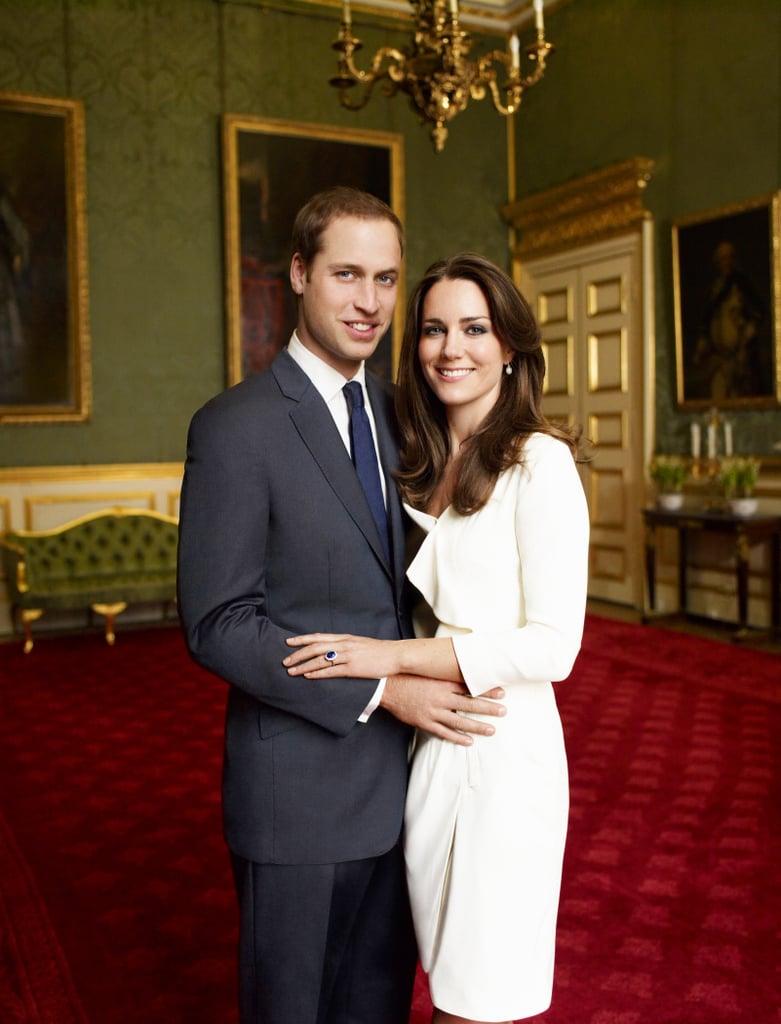 Another, more traditional photo, also taken by Mario Testino, was shared to mark their engagement in December 2010 as well.
Prewedding Portrait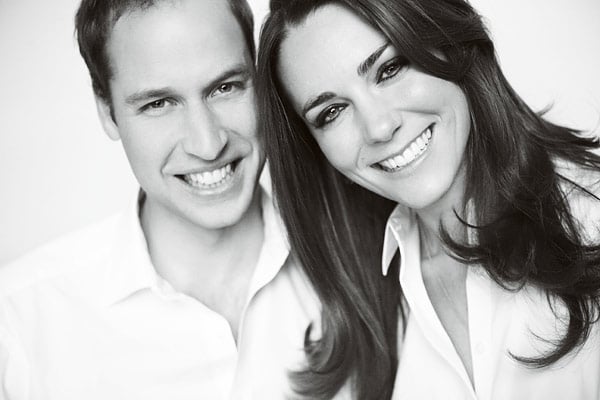 Just days before their April 2011 wedding [7], Kate and William released this candid black-and-white photo taken by Mario Testino along with a special thank-you message for the outpouring of support they'd received during their engagement.
Official Wedding Portrait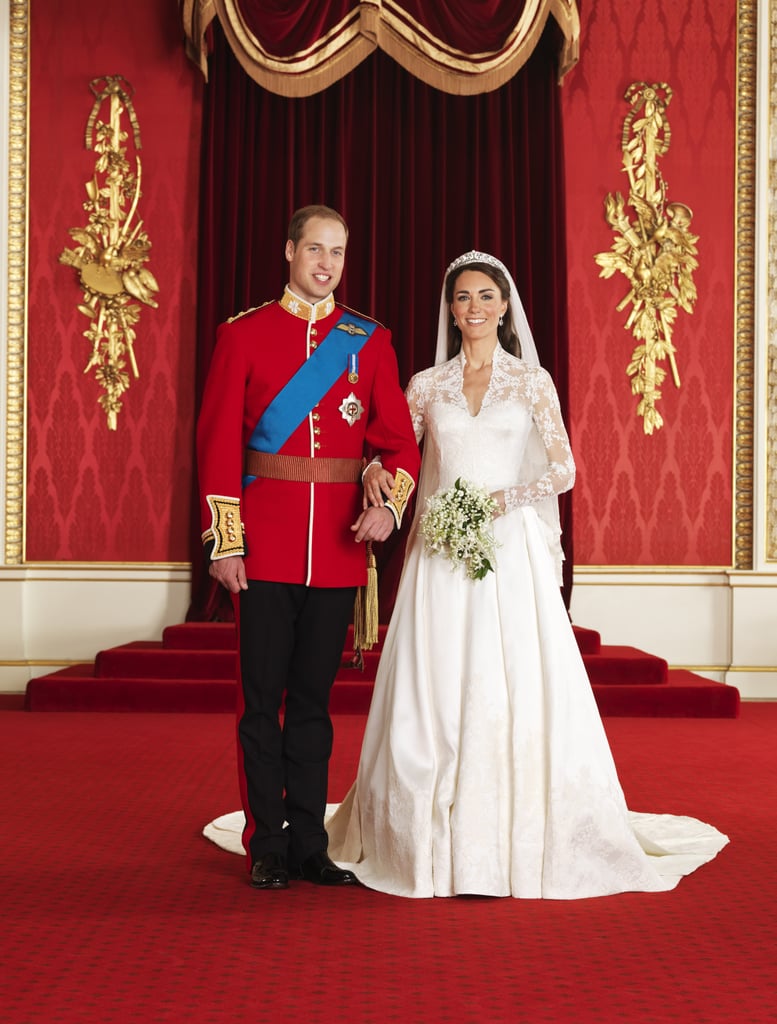 Hours after marrying at Westminster Abbey in April 2011, the newlyweds posed for Hugo Burnand in the throne room at Buckingham Palace. This royal portrait of the couple was one of three official photos later released to commemorate the special day.
First Official Family Portraits
The family's dog, Lupo, joined Kate, William, and a weeks-old Prince George for the royal baby's first portrait shoot [8] in August 2013.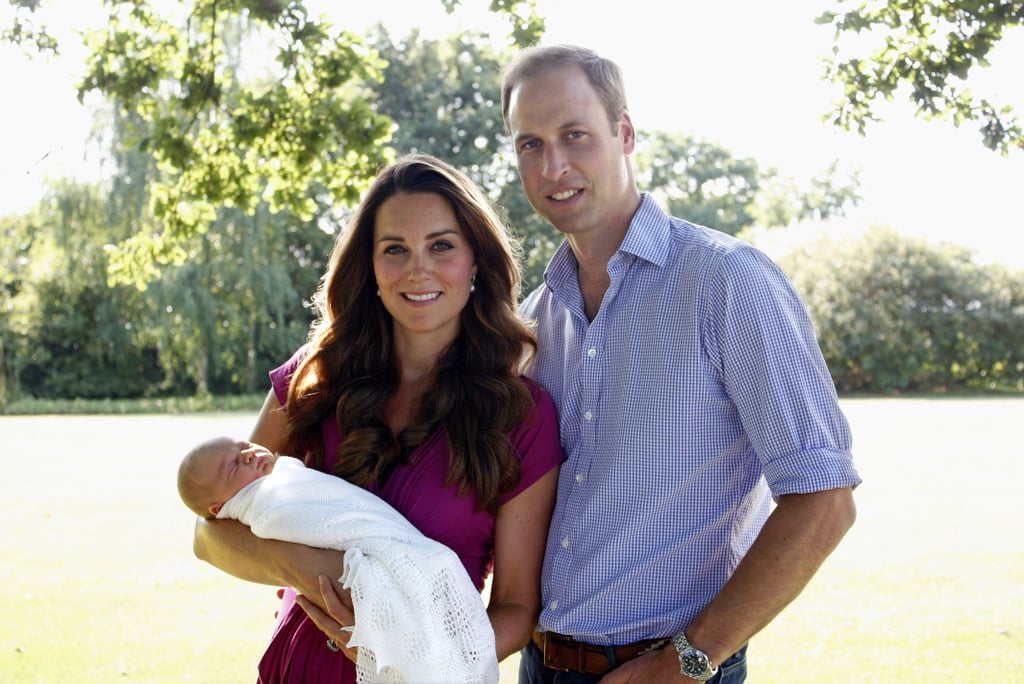 The photos were taken by Kate's father, Michael Middleton, at the Middleton family home in Bucklebury, England.
Official Prince George Christening Portraits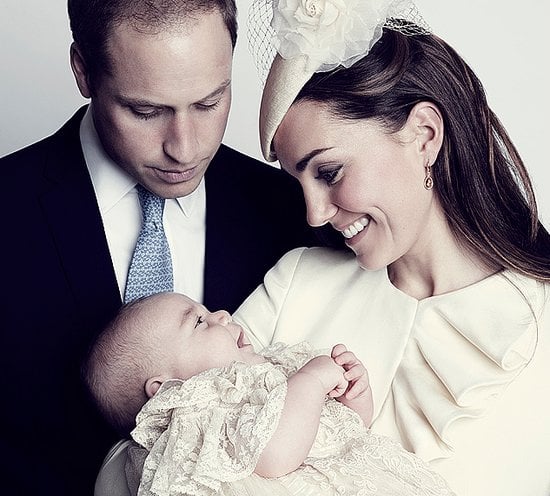 Photographer Jason Bell was invited to capture the special event for the royal family, and the photos were released days later in October 2013.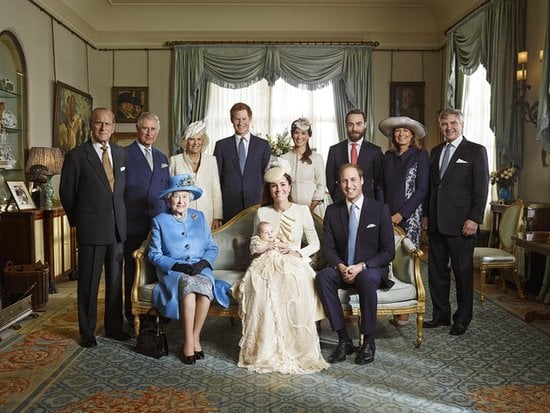 George and Kate took the center spot in this family portrait, which was taken in the Morning Room at Clarence House in London.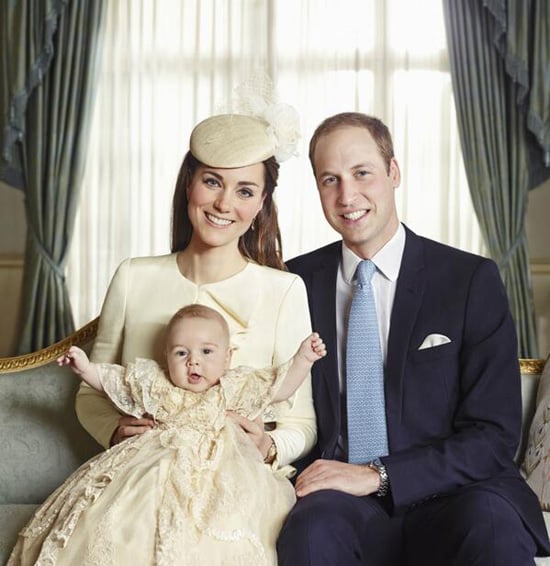 The new family of three — featuring an excited baby prince! — was featured in one snap.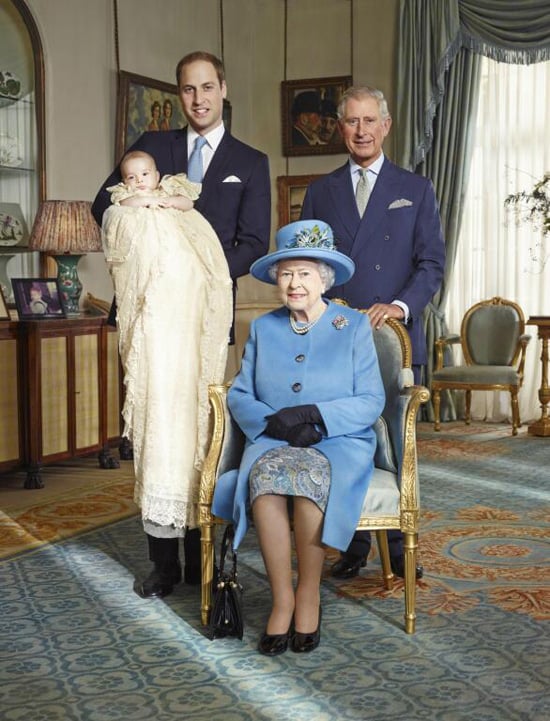 Queen Elizabeth II posed with the three top heirs to the throne on Prince George's christening day.
Official Royal Family Portrait
The family huddled together at a windowsill in their Kensington Palace apartment [9] for this snap by Jason Bell, which was released in March 2014. Eight-month-old George's personalized blue sweater (which retails for nearly $300 [10]) was gifted to Prince Charles by British brand Corgi.
Prince George's Official First Birthday Portraits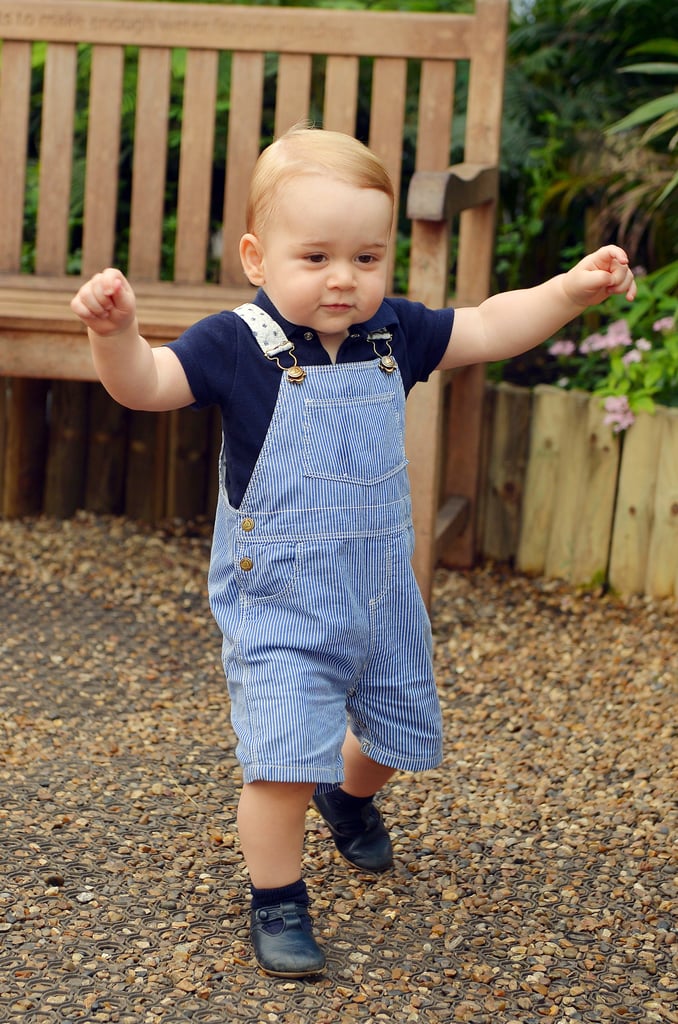 George was a star in his first birthday portraits [11], which were taken in June 2014, just a few weeks ahead of his actual July 22 birthday.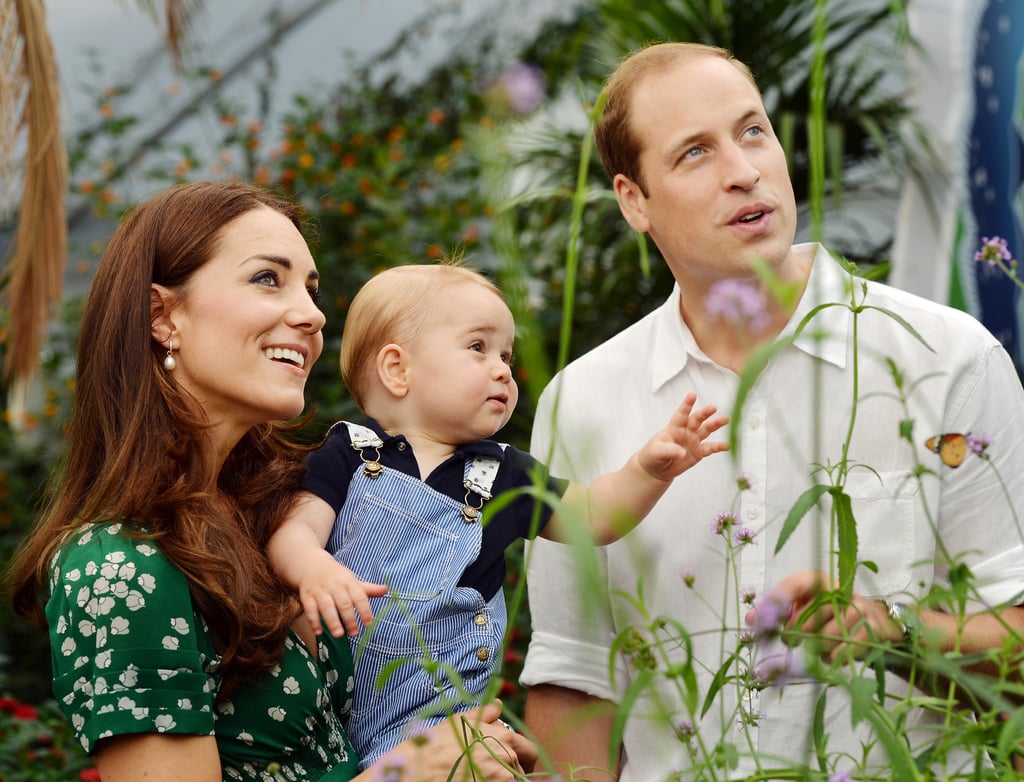 Kate and William joined George at London's Natural History Museum for the candid family moments.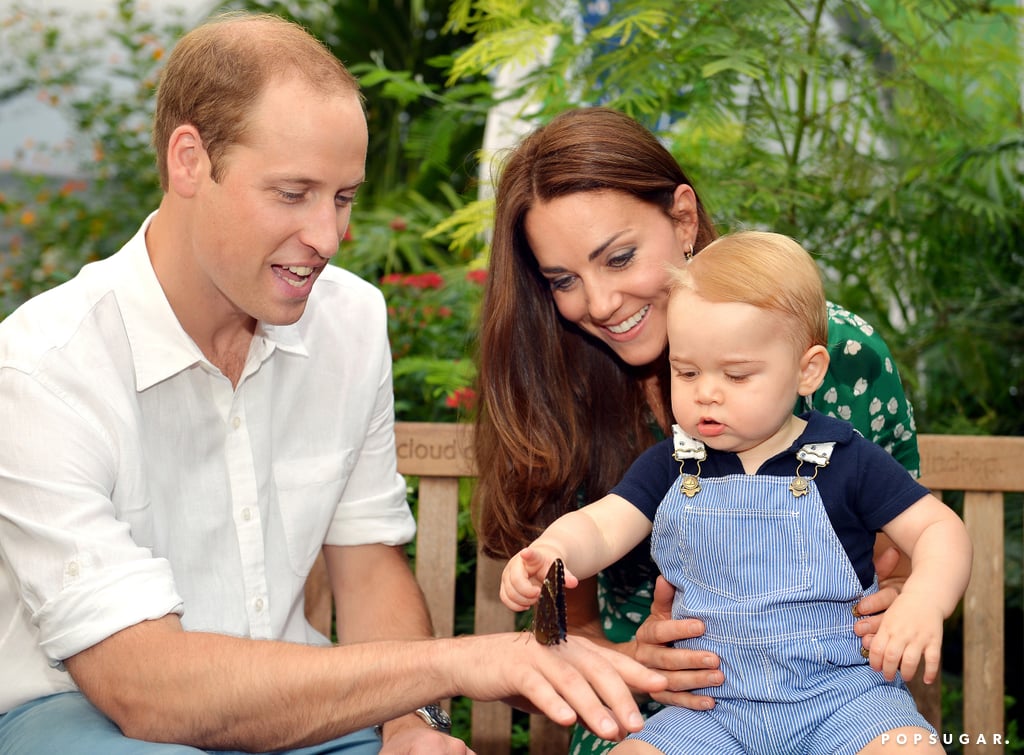 George focused on a butterfly in one of the professional snaps.
Prince George's Official Christmas Portraits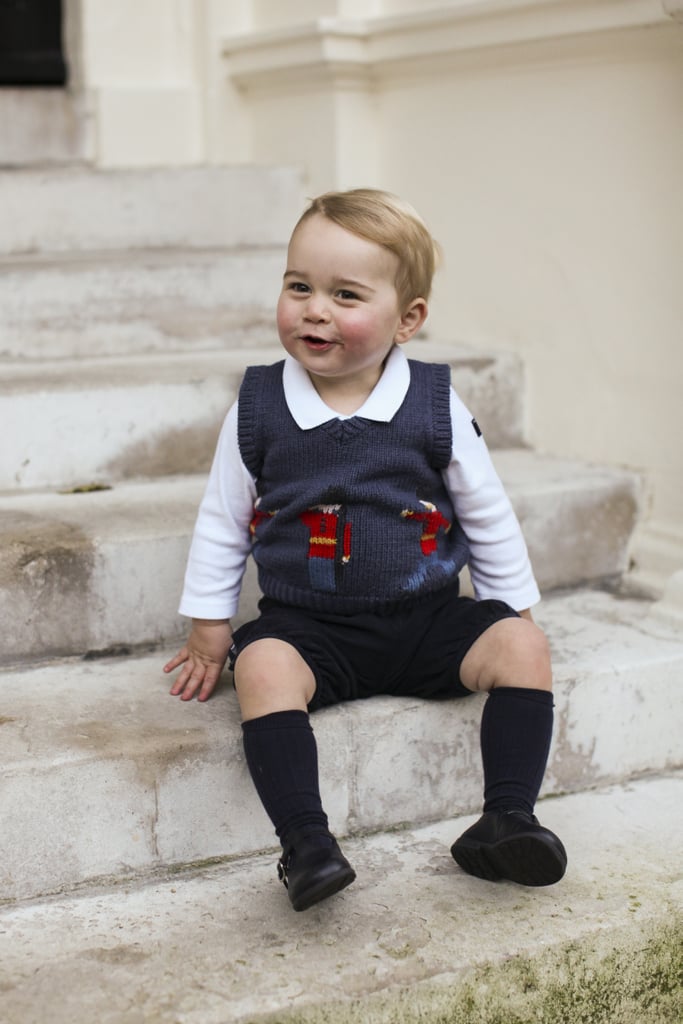 George's Christmas 2014 portraits [12] were snapped by Prince Harry's private secretary, Ed Lane Fox, in late November and were released in December 2014.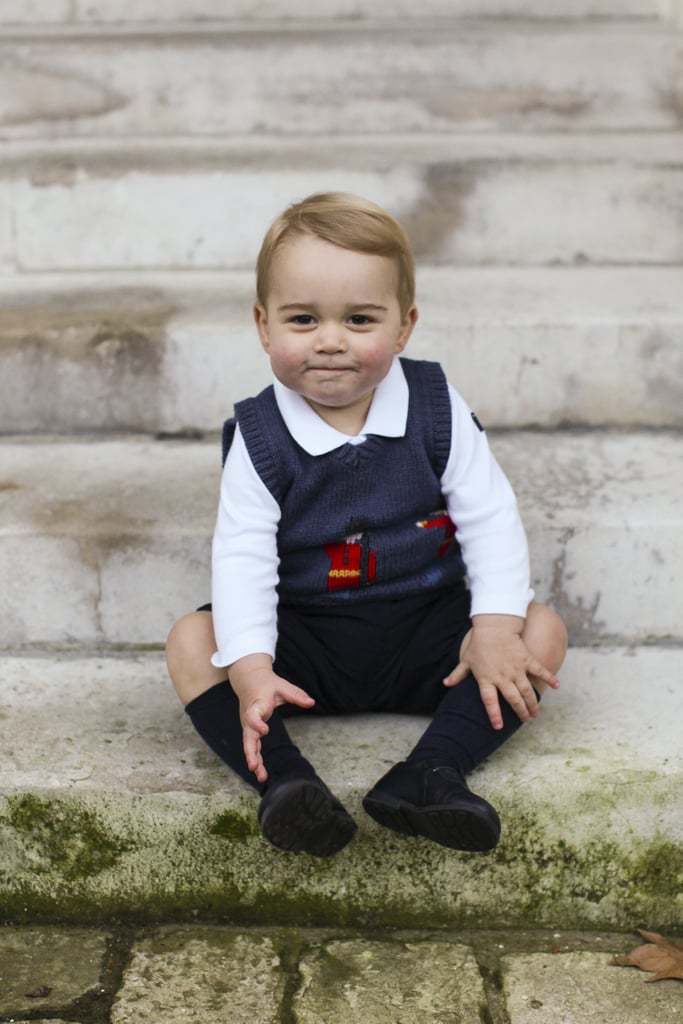 The royal, who was just shy of 17 months old, sat on the steps in a courtyard at Kensington Palace for the festive photos.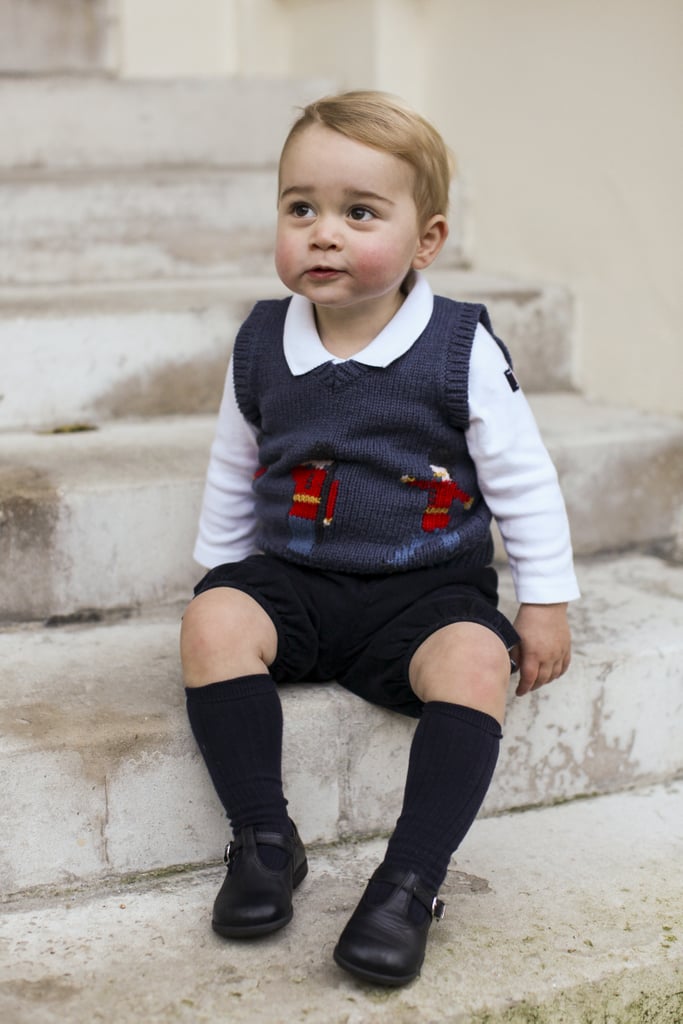 Unsurprisingly, George's navy Cath Kidston sweater vest sold out quickly after the photos were released and was later posted for nearly twice the original price on eBay.
Princess Charlotte's First Official Portraits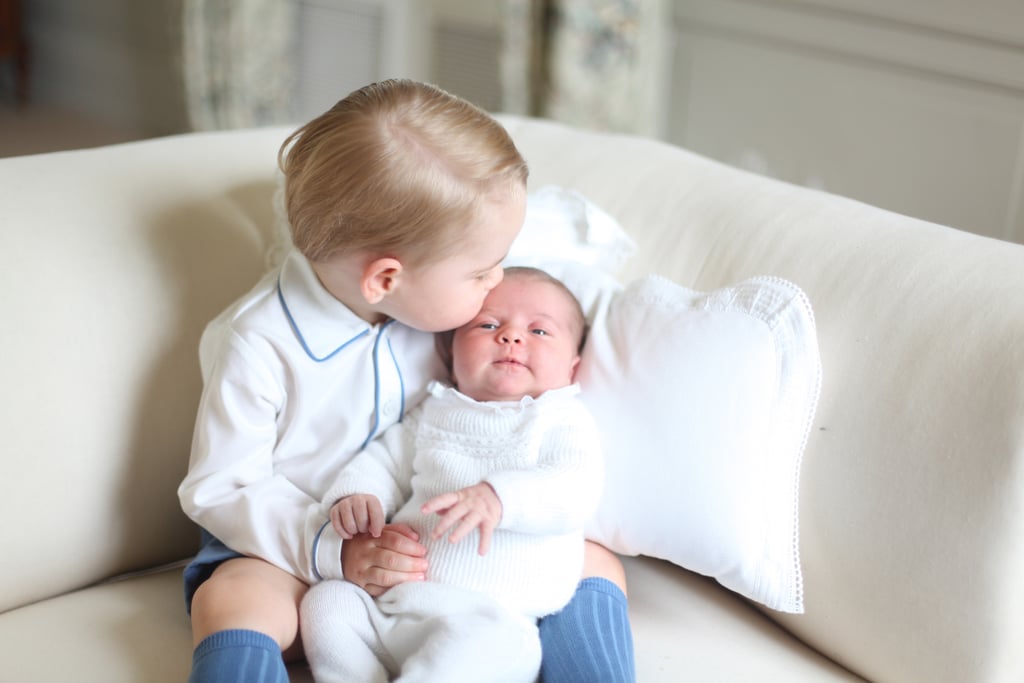 New mom of two Kate Middleton was behind the lens snapping these sweet first photos of Charlotte with her brother.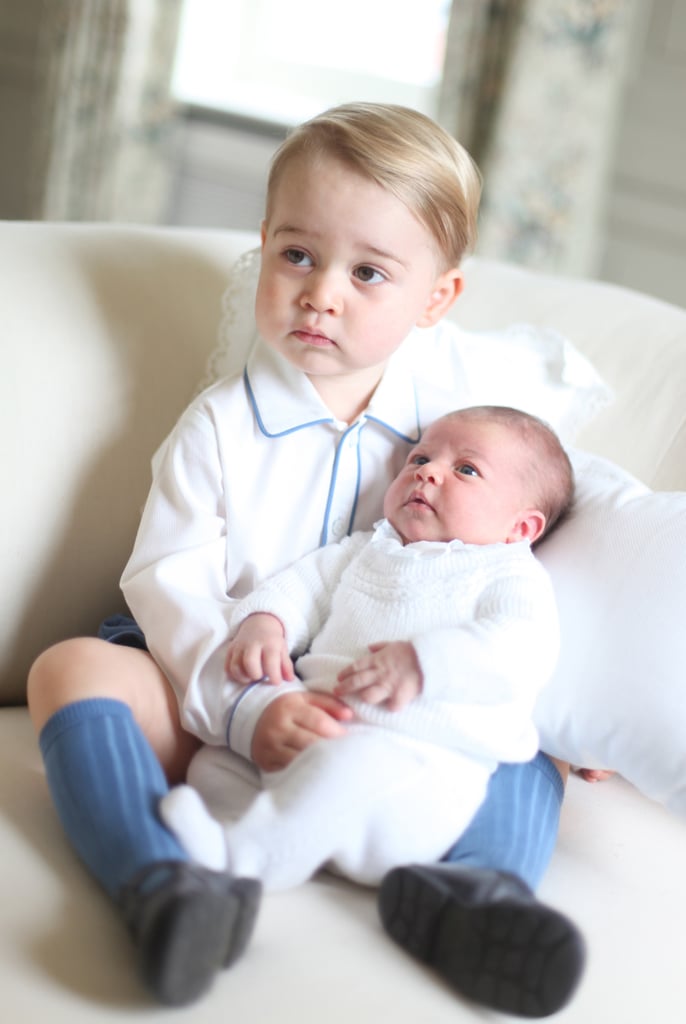 The duchess took the photos at her family's country home, Anmer Hall, in mid-May, presumably just days after Charlotte's birth.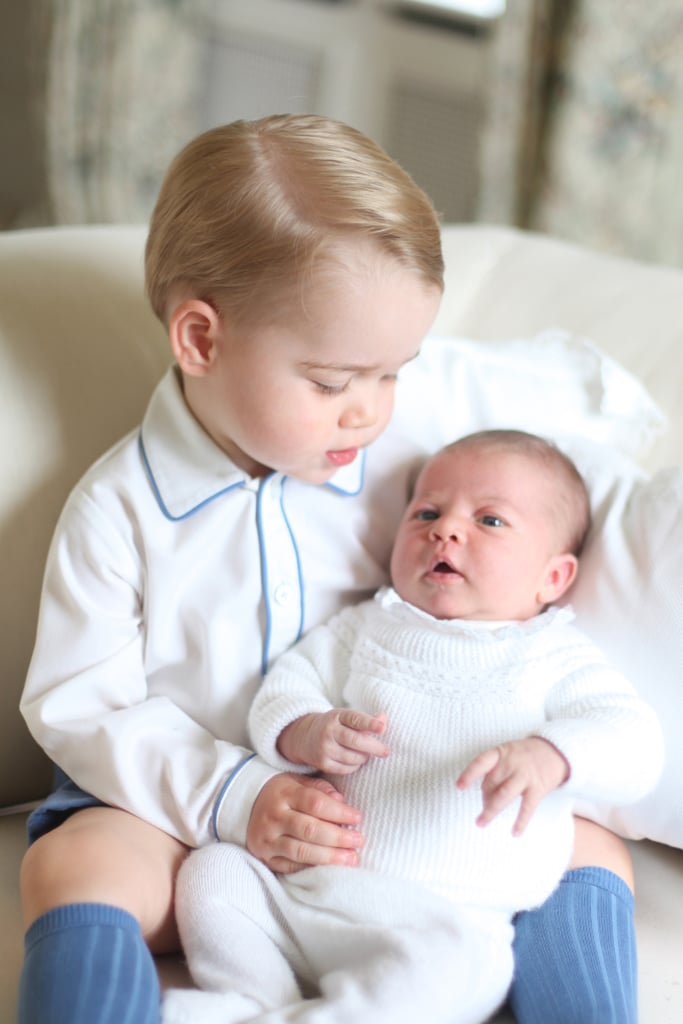 The photos weren't released until early June and were first shared on the Kensington Palace Twitter account.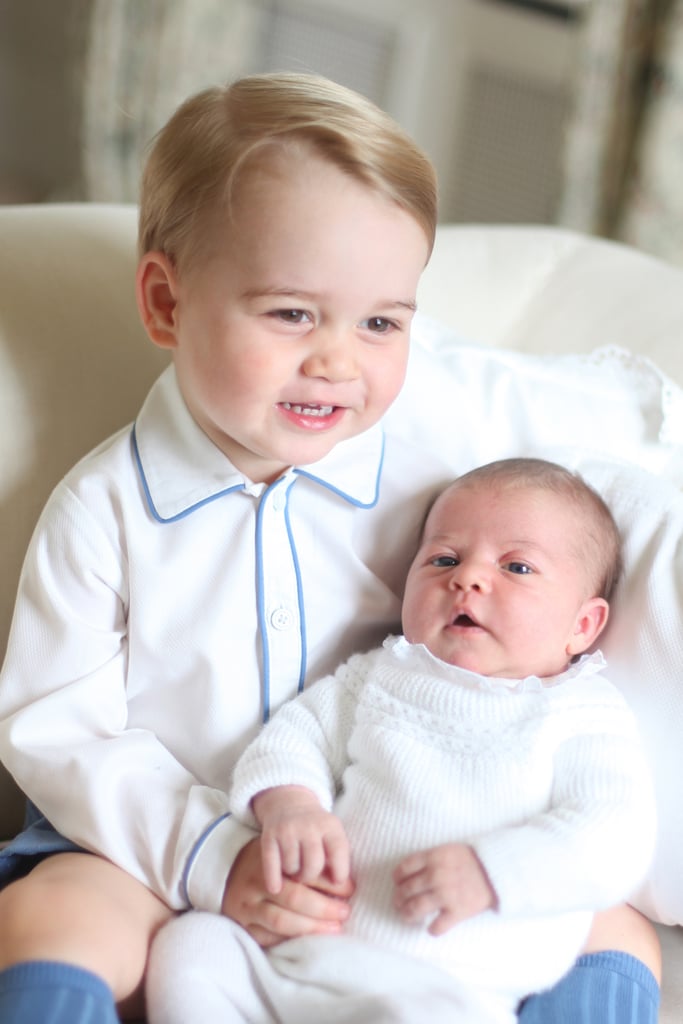 Charlotte may have been the reason for the photos' release, but George easily managed to steal some of the spotlight with his smile.
Princess Charlotte's Official Christening Portraits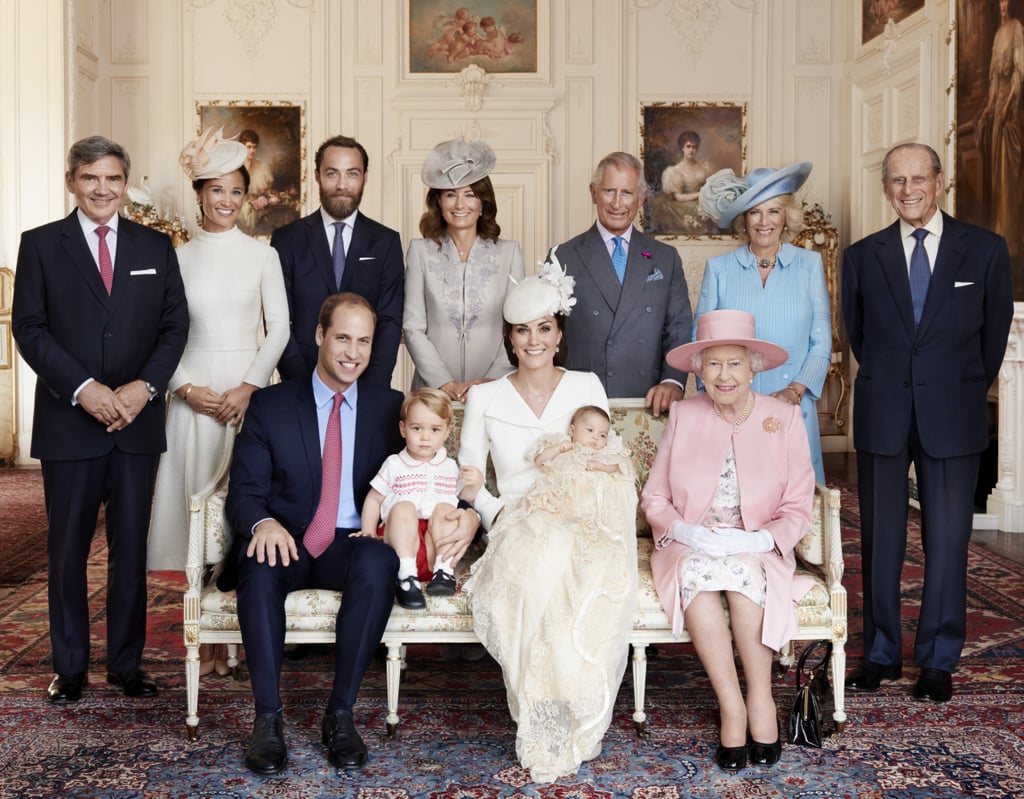 The royal family and Kate's immediate family sat for a special portrait at Sandringham Estate immediately after Charlotte's July 2015 christening. The photos were released days later.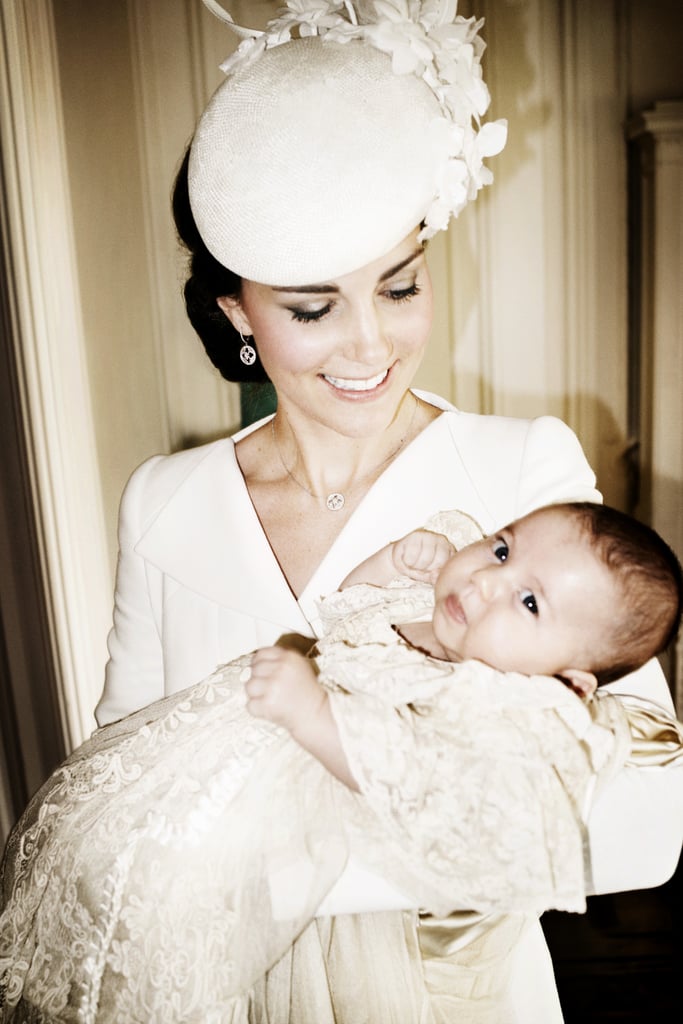 Mario Testino once again captured many sweet candid moments, including this one of Kate and Charlotte.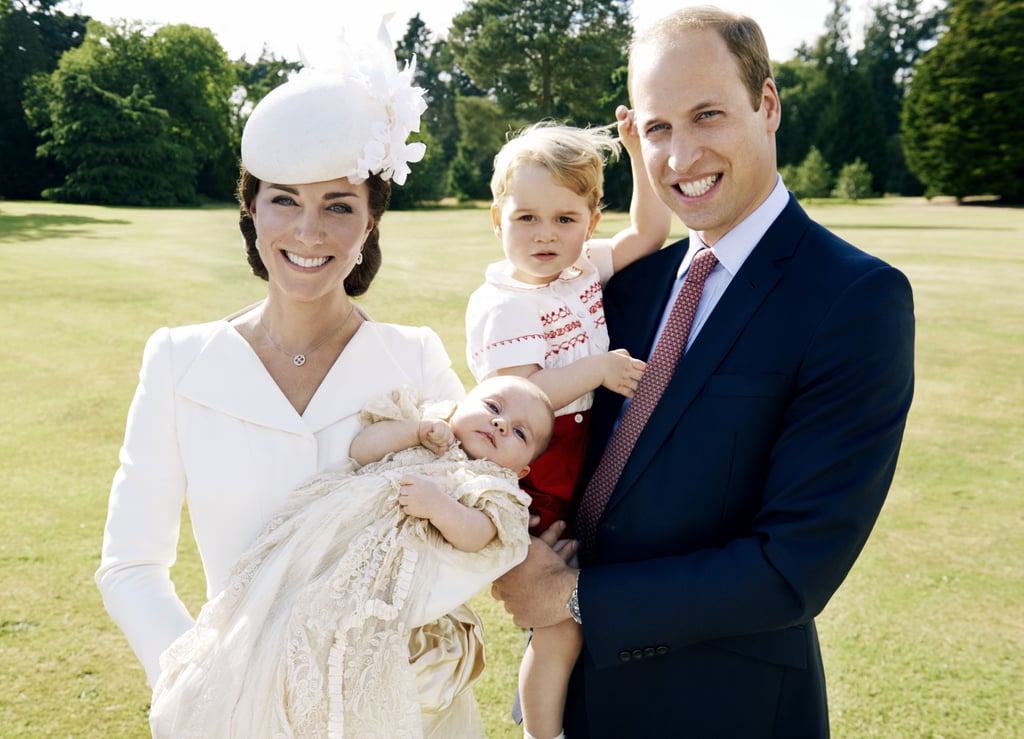 This was the first official portrait of the new family of four.
The adorable moments continued with one sweet capture of George with William.
Princess Charlotte's 2015 Portraits
The family released photos of Princess Charlotte that were taken by her mom in early November 2015 at their home in Norfolk.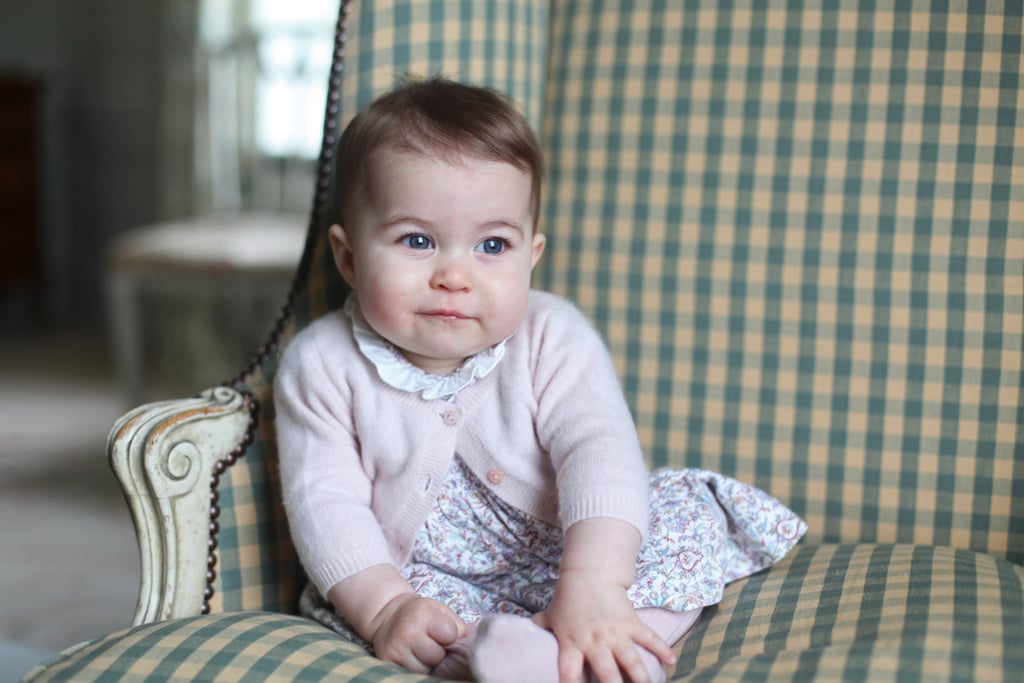 Just look at those bright blue eyes!
Christmas 2015 Portrait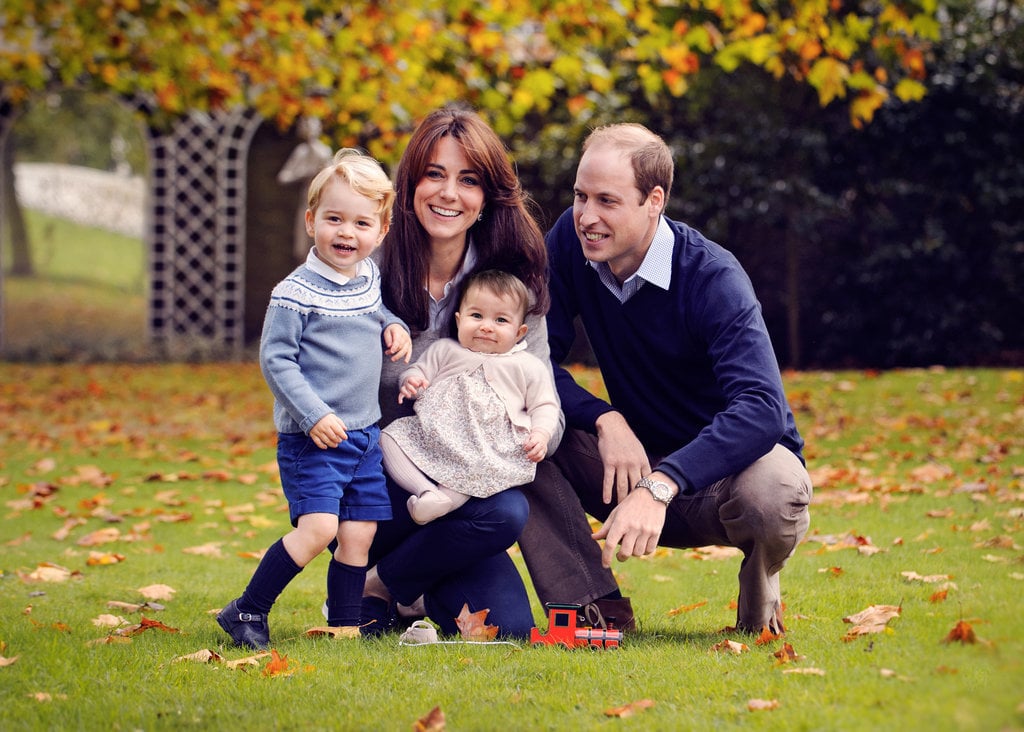 Kate and William casually posed with their children for a snap they shared just before Christmas in 2015 with the message, "Merry Christmas from The Duke and Duchess of Cambridge, Prince George and Princess Charlotte. The Duke and Duchess are hugely appreciative of all the warm messages they have received about their family this year and are very much looking forward to their first Christmas as a family of four."
Prince George's Official Preschool Photos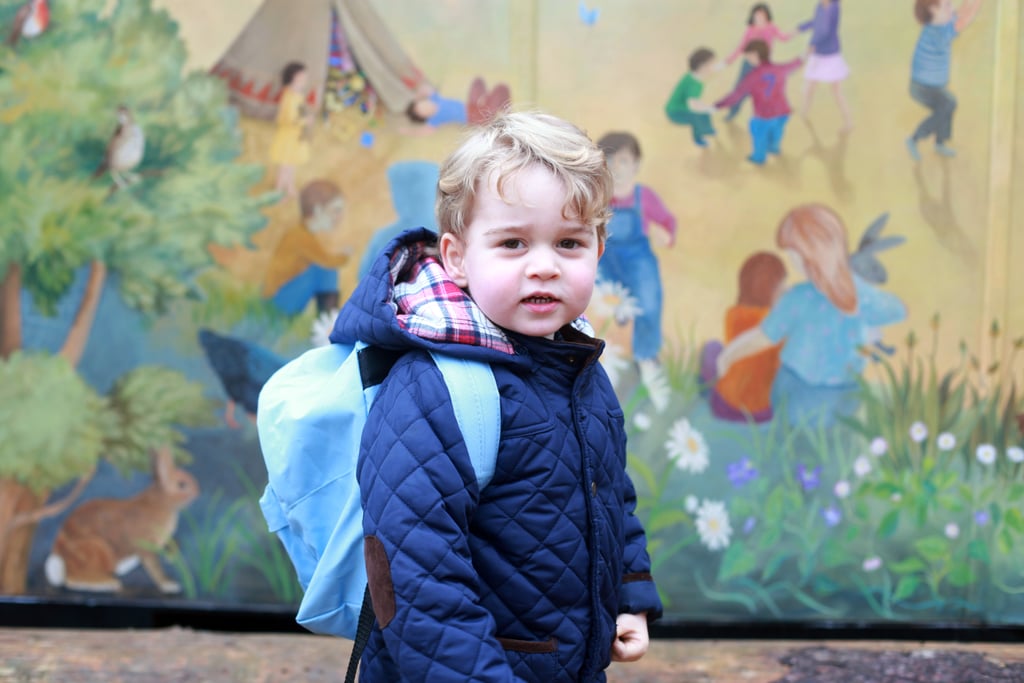 The Duchess of Cambridge documented Prince George's first day at Westacre Montessori nursery school in early January 2016.
In a second shot of Prince George's first day experience, he's enamored with the school's mural, located near Sandringham in Norfolk.
Official Family Vacation Photos
The foursome took a trip to the French Alps and shared a few snowy snaps from their trip in March 2016.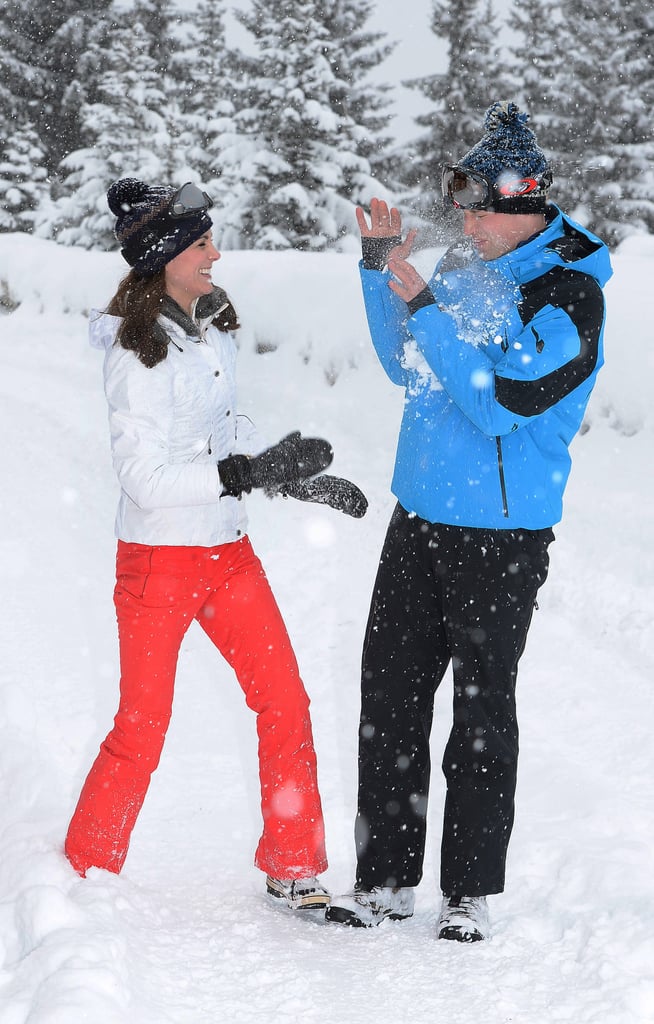 Will and Kate were adorable as they played in the snow.
The more candid photos captured the family's first vacation as a foursome as well as Prince George and Princess Charlotte's first time in the snow.
Princess Charlotte's Official First Birthday Portraits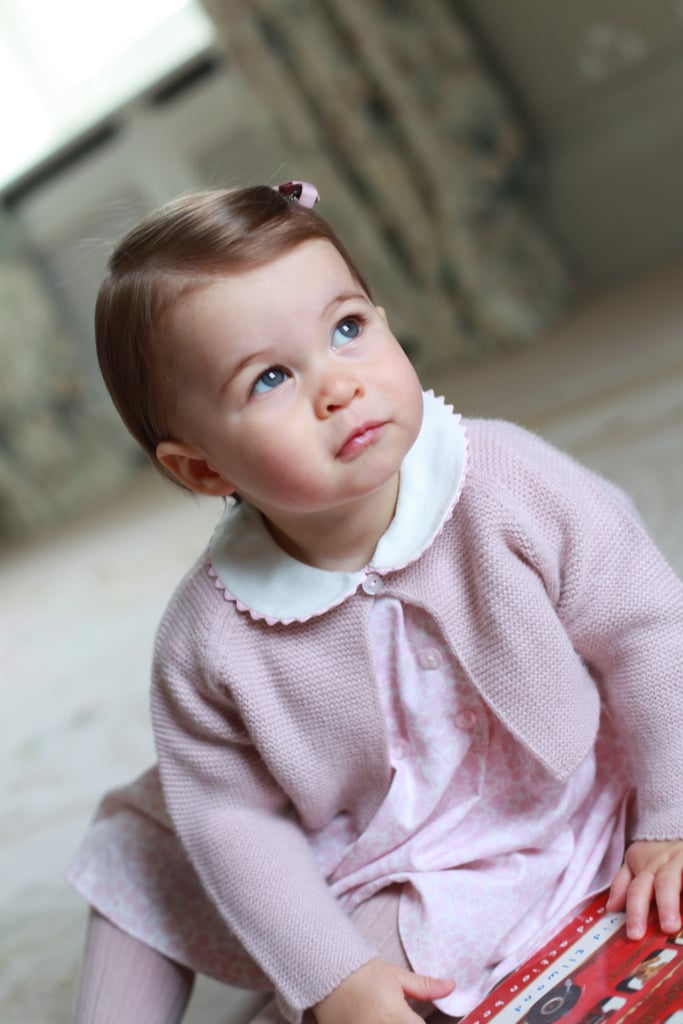 The day before Princess Charlotte first birthday in May 2016, the royal family release photos of the princess that were taken by Kate Middleton at their home in Norfolk in April 2016.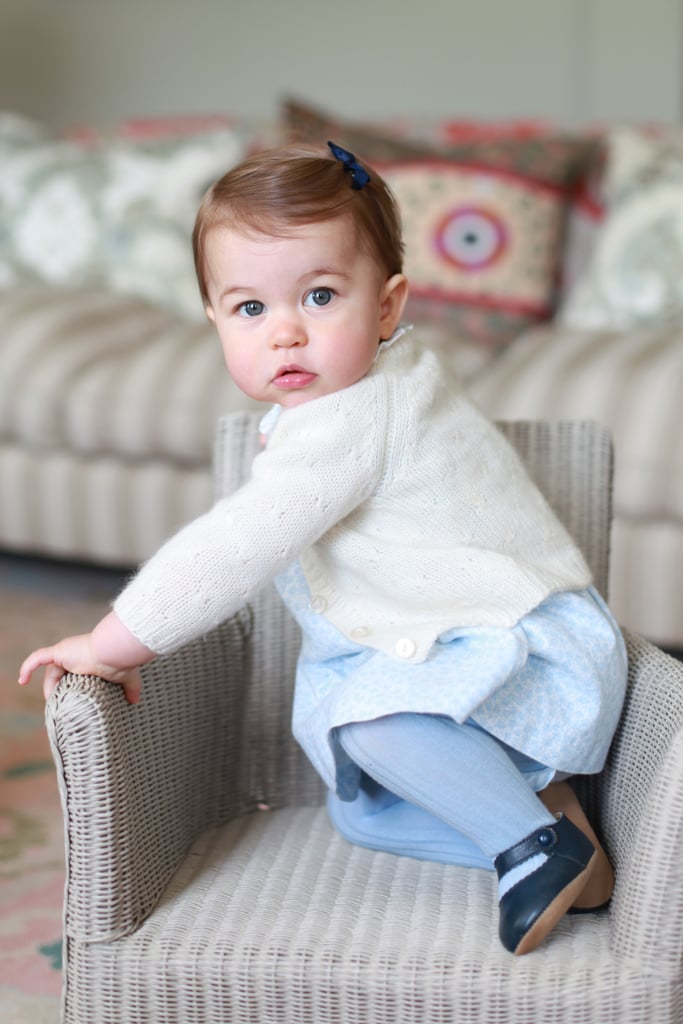 Doesn't she look so much like the queen [13]?
The little bow in her hair is so cute!
Prince George's Third Birthday Portraits
Will and Kate released four new portraits [14] to mark George's third birthday in July 2016.
Dressed in a blue striped t-shirt and shorts, George was photographed giving the family dog, Lupo, a treat.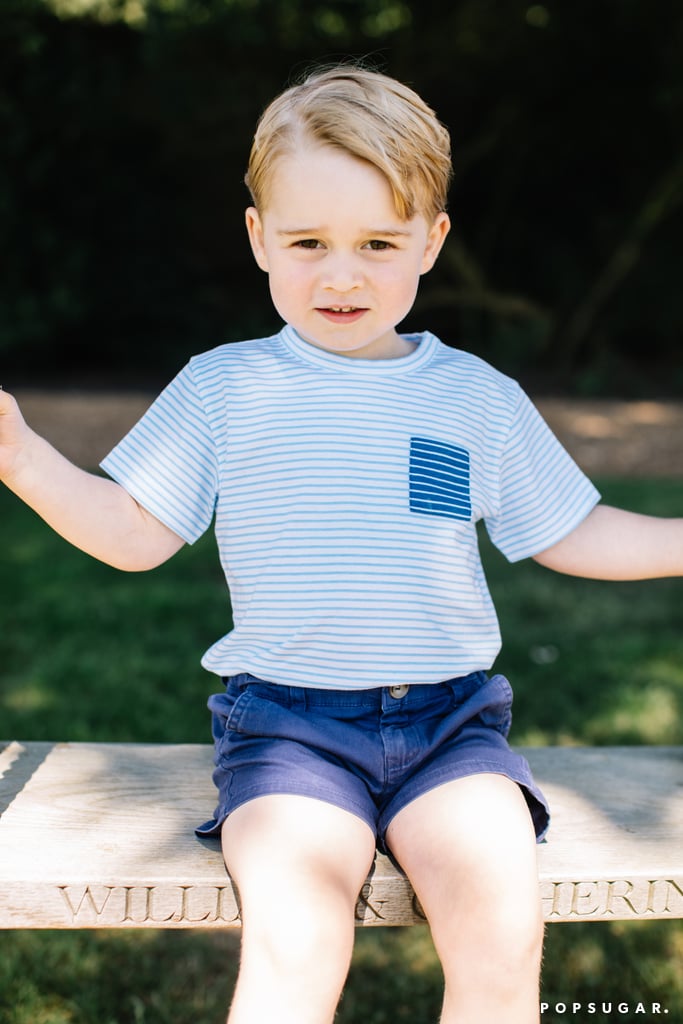 He also was captured playing around on a swing engraved with the names of his parents.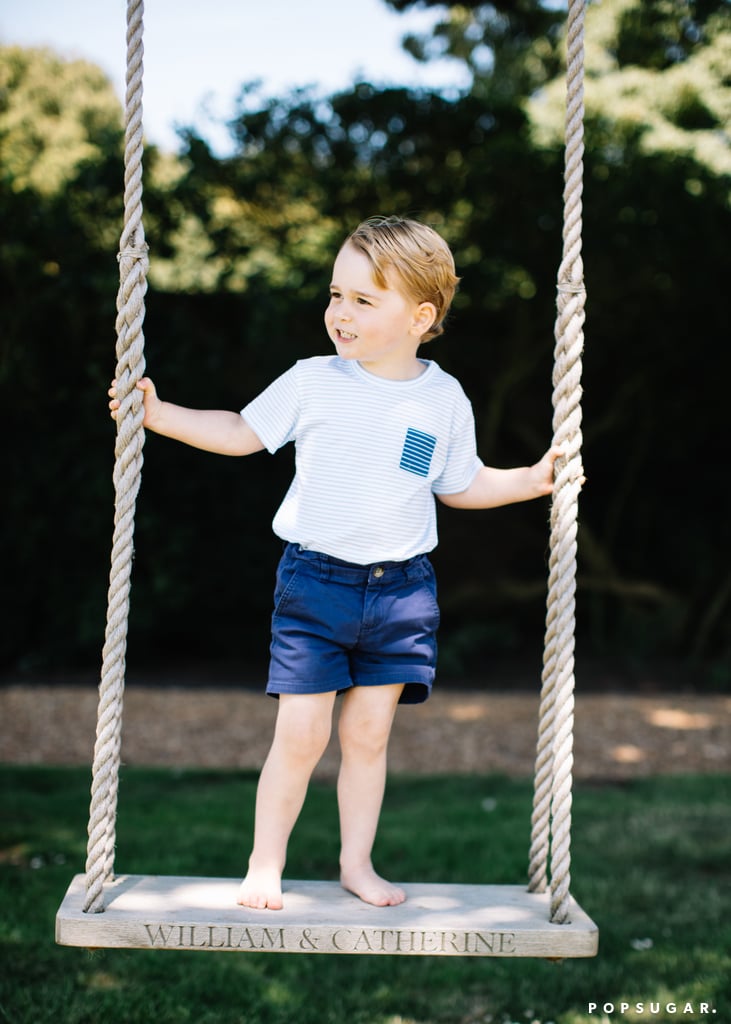 Seriously, how cute is he?
Princess Charlotte's Second Birthday Portrait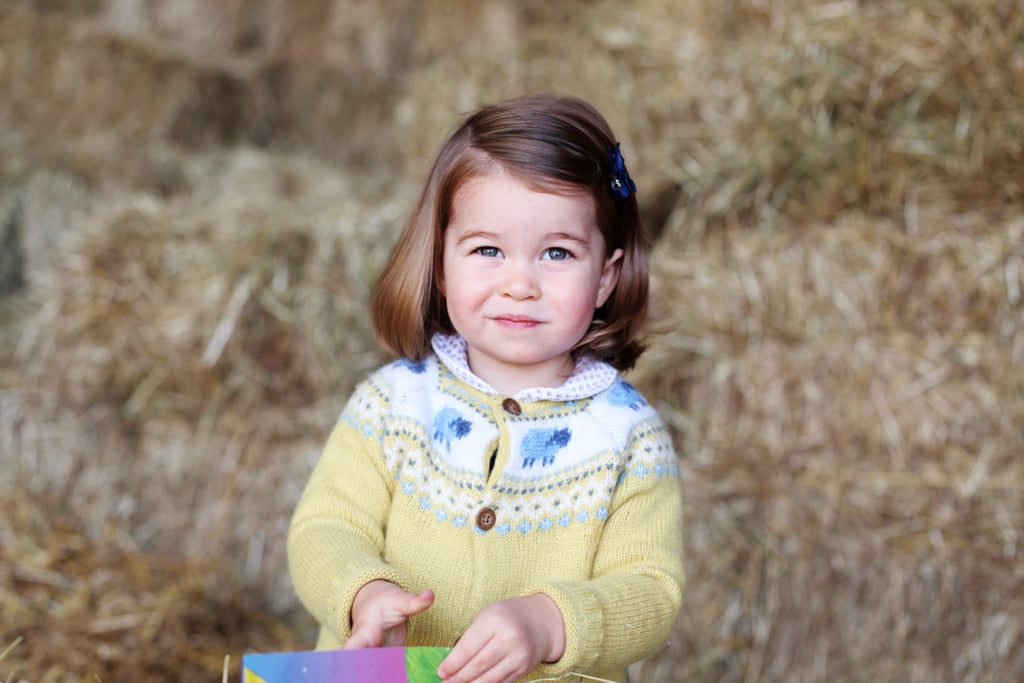 Charlotte gave a sly smirk for her official second birthday photo [15] in May 2017.
Prince George's Fourth Birthday Portrait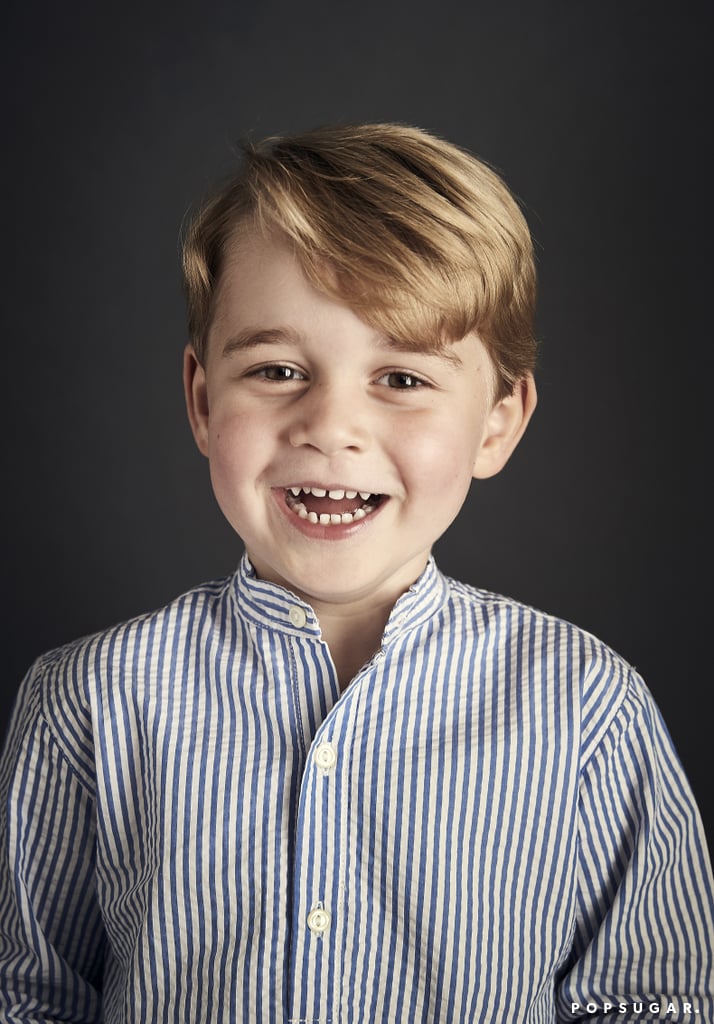 George looked all grown up in a striped button-up shirt as he posed for his new royal portrait [16] in July 2017.
Prince George's Official First Day of School Photo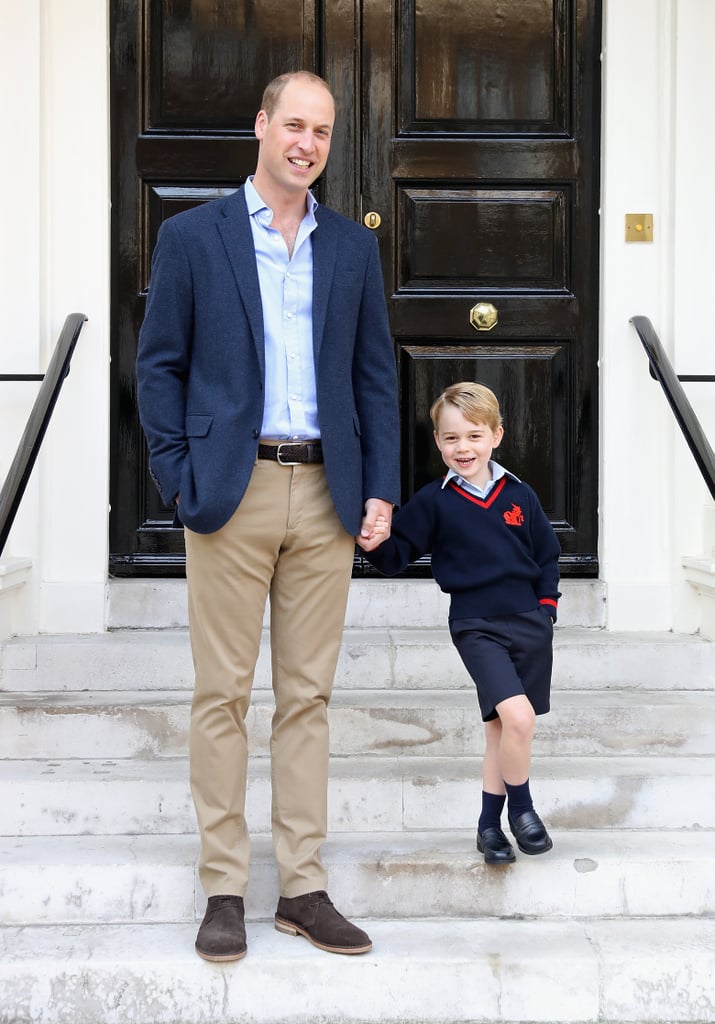 George posed with his dad [17] at Kensington Palace on his first day of school at Thomas's Battersea School in September 2017.
The Family's Royal Christmas Portrait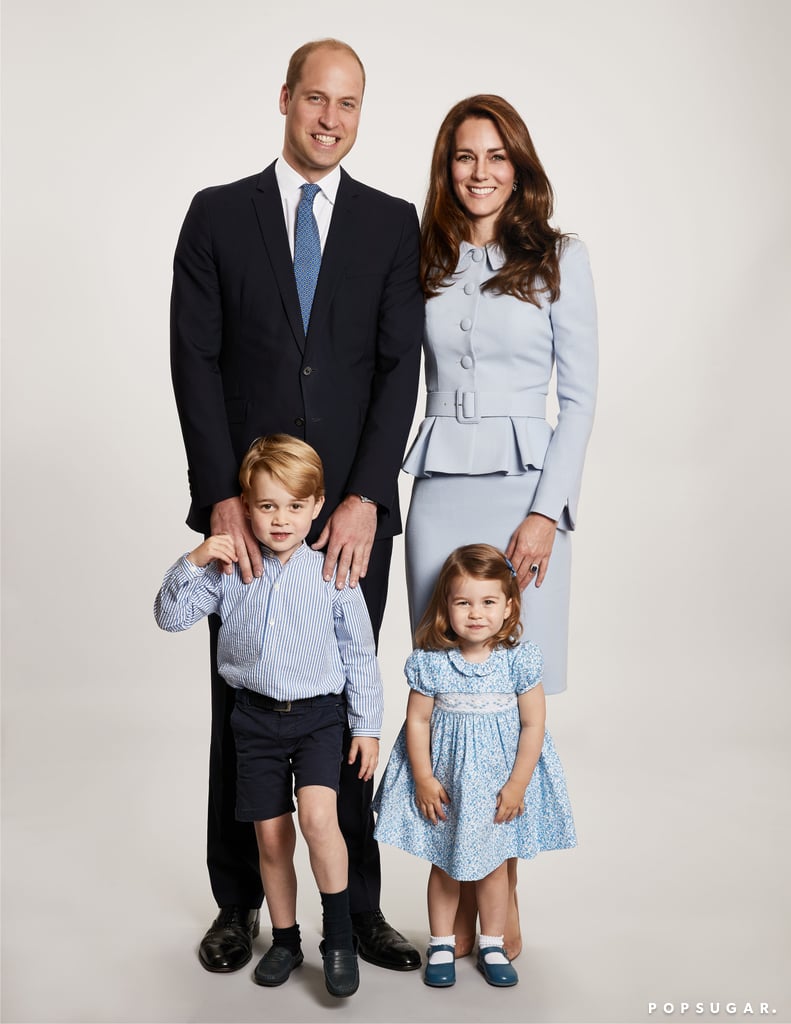 In 2017, Will and Kate celebrated Christmas by releasing a new family portrait [17] of the brood in matching outfits.
Princess Charlotte's First Day of Nursery School Pictures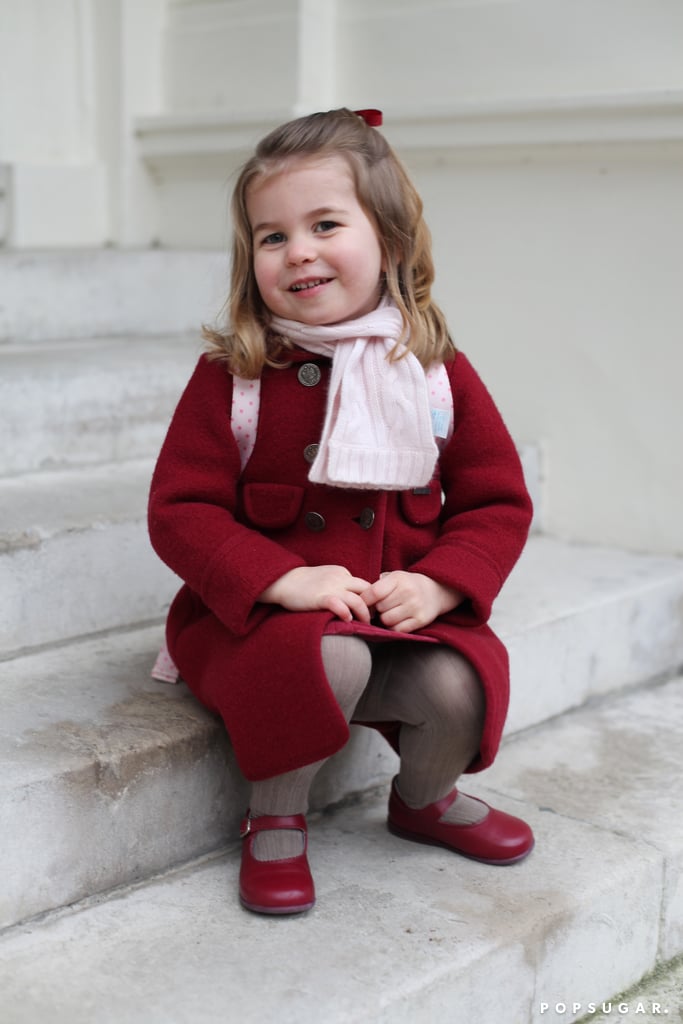 Charlotte could not have looked any cuter for her first day of nursery school [18] at Willcocks in January 2018.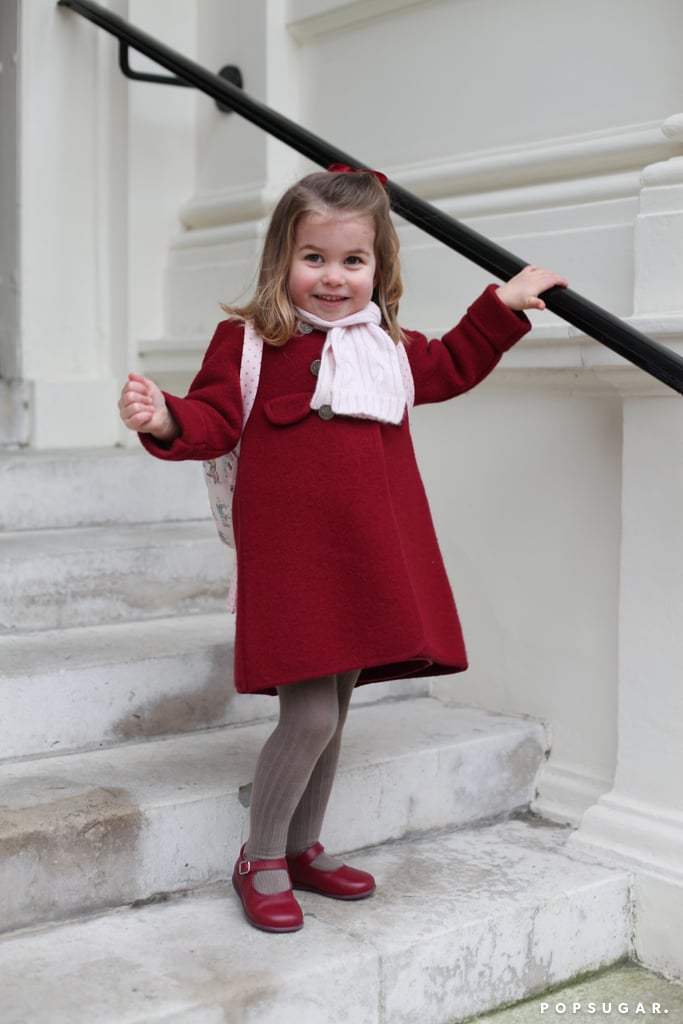 Her little pose is just too much!