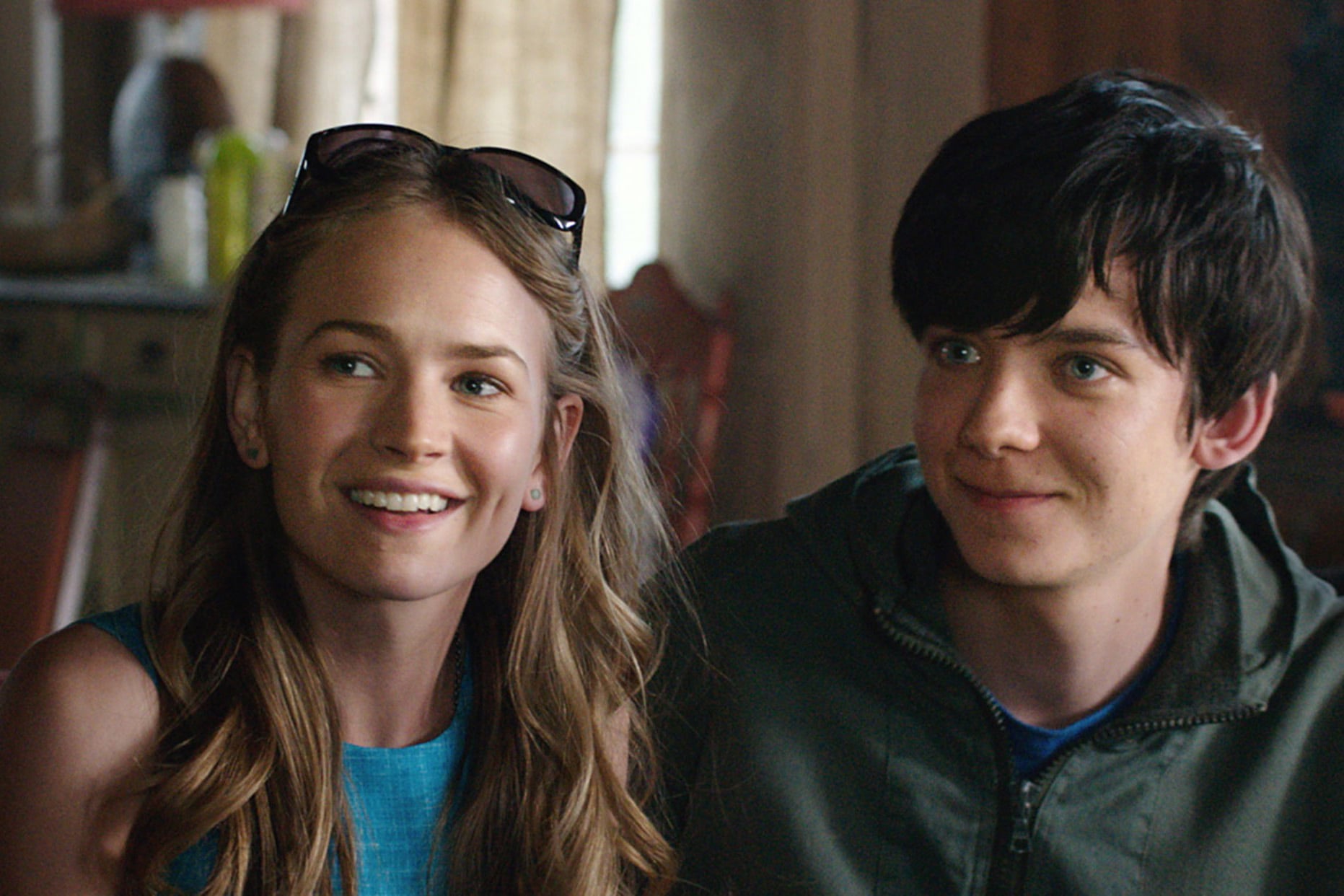 Britt Robertson and Asa Butterfield come from two different worlds — at least they do in the new movie The Space Between Us [1]. Coming out on Friday, the sci-fi romance tells the tale of Tulsa (Robertson) and Gardner (Butterfield), teens who begin a friendship online. What Tulsa doesn't know is that Gardner is from Mars. (Now is the time for any "Men are from Mars, women are from Venus" jokes you want to toss out.) We visited the film's Albuquerque set back in October 2015 and chatted with the down-to-Earth actors . . . see what I did there? Because it's a movie about space. Here's what we learned from the budding* superstars!
Robertson loves Dr. Phil: "Today I watched a really crazy episode of Dr. Phil that I recorded yesterday. It was about the Subway guy, Jared, and the tapes. They play all the recordings of when he was speaking to this woman who was recording it for the FBI. And listening to these tapes was fascinating. Anyway, so that's what I've been doing, getting super depressed and freaked out . . . It's always really fascinating stories. I think as an actor you're constantly observing human behavior and that show is just so good for the actor's mind I guess. You wouldn't meet these people otherwise, that are going through these crazy circumstances. So it's like news, but better."
Meanwhile, Butterfield passes the time on set by playing Super Smash Bros.: "I play Pikachu most of the time," he said. "It's one of the best. That's my in-between-scenes entertainment."
He's also into a ton of bands you've never heard of: "I listen to a lot of hip-hop and reggae dance music. Garage, jungle, drum and bass. Have you heard of Gramatik?" (Nope.) "Flying Lotus, J Dilla are cool."
She still counts Life Unexpected as her favorite experience: "I saw Shiri [Appleby] a couple weeks before I came out here," she said, of her former costar. "She has a baby now so I went and hung out with her, and she's pregnant with her second one so it's good to see her. And Liz [Tigelaar], the creator, she has a baby now too. So lots of babies! And lots of hangout time."
They had to avoid each other before they could meet: "The first time I met Asa was when I came in for rehearsals early on," said Robertson. "We got to the later part of the day and they were like, 'Oh, Asa's arriving,' and I was gonna go back to my trailer and they were like, 'No, you can't go back to your trailer because Peter, the director, really wants to introduce you two.' So the first part of him being on set was us avoiding one another so that Peter could introduce us, which was a little anti-climactic because he's just a person and I'm a person and we said 'hi' and shook hands and then I was like, 'How's it going?' and he was like, 'good.'"
The movie is right up his alley: "I'm a big science-fiction fan," he said. "I think what's great about sci-fi is that everything that you sort of see, it all comes from technology that we already have, but just it's far more advanced. So they are almost giving glimpses into our future, whereas fantasy is totally, totally made up. But this is almost believable, which I think is pretty cool."
*Butterfield's upcoming projects include a WWI drama with Sam Claflin, Departures with Nina Dobrev [2] and Maisie Williams, and The House of Tomorrow. Robertson is starring in A Dog's Purpose and the upcoming Netflix comedy series Girlboss.