Taylor Swift [1] is back at it again! After teasing new music [2] all week long, the singer finally unveiled her new video for "Me!" [3] alongside Panic! at the Disco singer Brendon Urie. Of course, as any Swiftie knows, that was only the beginning of the fun. Ahead of the video's release on YouTube, Swift confirmed that there are a ton of Easter eggs hidden throughout the video. While some were pretty easy to spot (see: a framed photo of the Dixie Chicks), others are a little harder to decipher. Did she casually reveal when her seventh album [4] is coming out? See all the hidden references my fellow Swifties and I could find ahead!
Sidewalk Chalk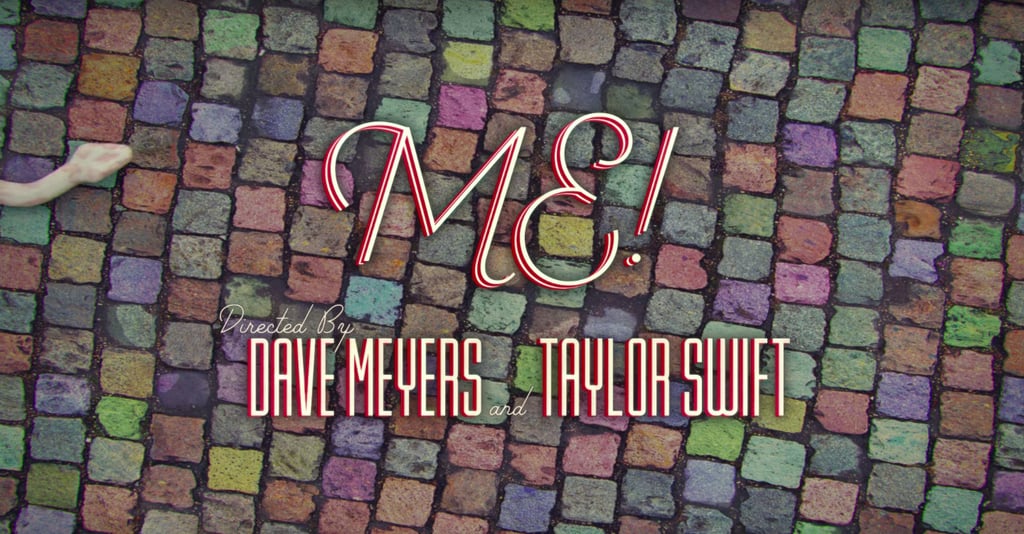 In the title card for the music video, a snake can be seen slithering on a sidewalk covered in colorful chalk. This seems to allude to Swift's poem "Why She Disappeared" from her Reputation album [6], in which she says, "When she fell, she fell apart. Cracked her bones on the pavement she once decorated as a child with sidewalk chalk." Swift is picking up right where she left off during her last era.
The Return of the Snake
Just like the callback to the sidewalk chalk, we also get a shot of a snake, which Swift used to introduce her Reputation era [7] back in 2017. Only this time, it's a little less intimidating, as it's pink!
Morphing Into a Butterfly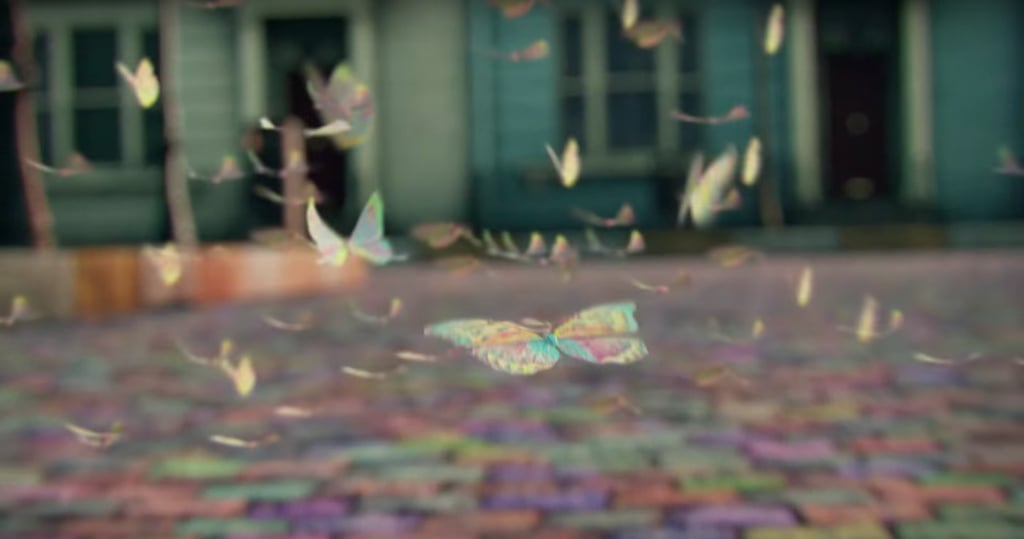 Just as the pink snake goes to strike at the camera, it bursts into beautiful butterflies. Throughout her teases for the new music, Swift has been using a lot of butterfly imagery [8] (including her recent wall mural in Nashville, TN [9]) which many people think is the new theme of this era. After shedding her skin, Swift is showing us her true colors!
Panic! at the Disco Déjà Vu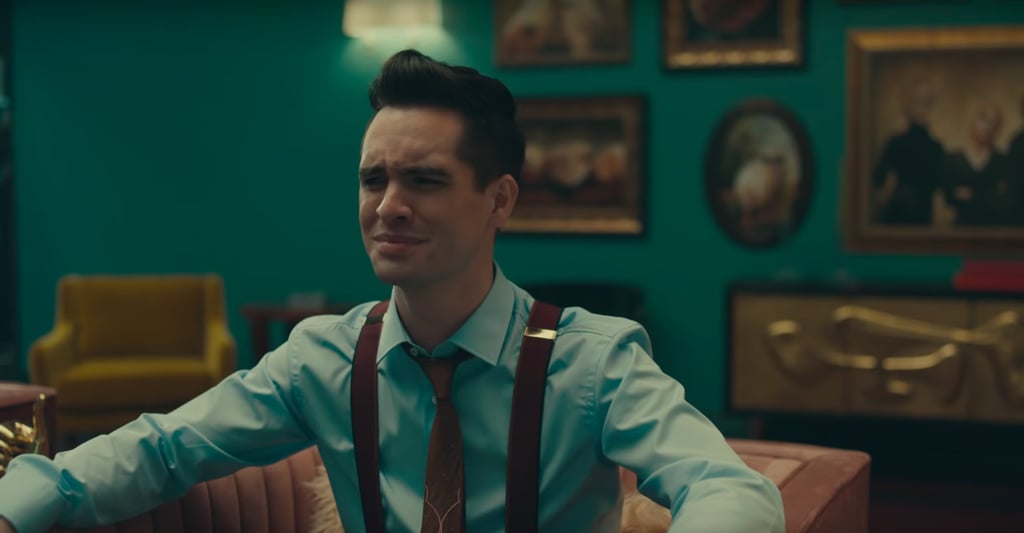 The video begins with Swift and Urie fighting in French. The whole thing is incredibly reminiscent of Panic! at the Disco's "But It's Better If You Do [10]" video, which starts off with a couple arguing in black and white before Urie storms out through a door.
A Christmas Tree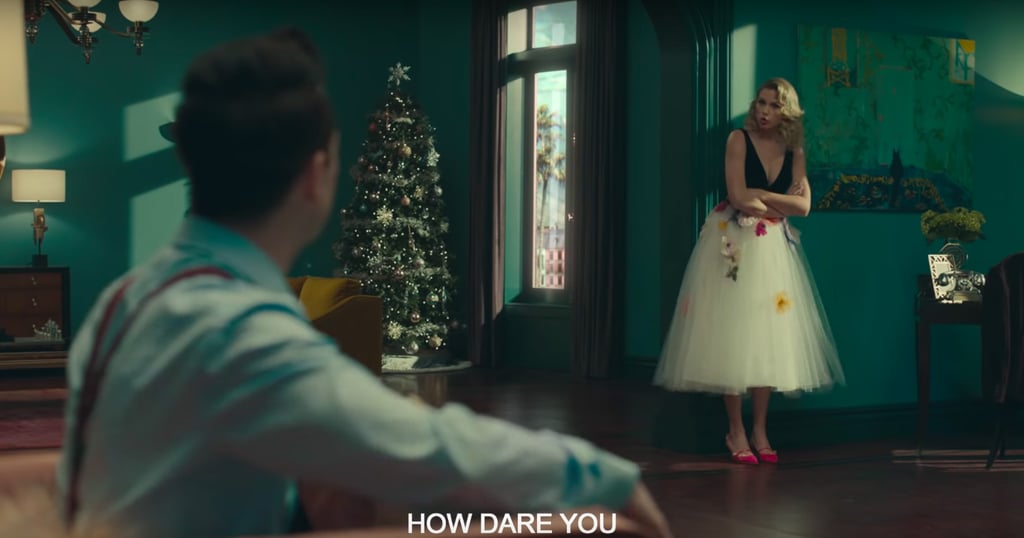 In the living room, you can spot a Christmas tree sitting in the background. It's a known fact by Swift fans that the singer grew up on a Christmas tree farm [11]. While it's possible that the tree is just a nod to her childhood home, others believe it could be a hint that this upcoming album will have a nostalgic theme [12], as Swift recounts the past 13 years of her career.
Meredith and Olivia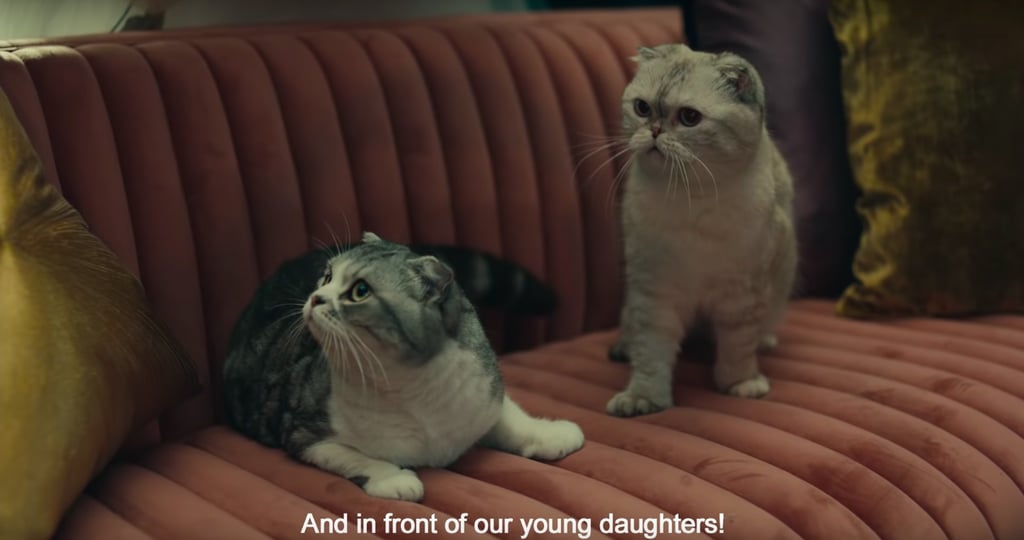 Swift's daughters cats make a special appearance during the opening scene! Look at their cute faces.
Throwback to Red Era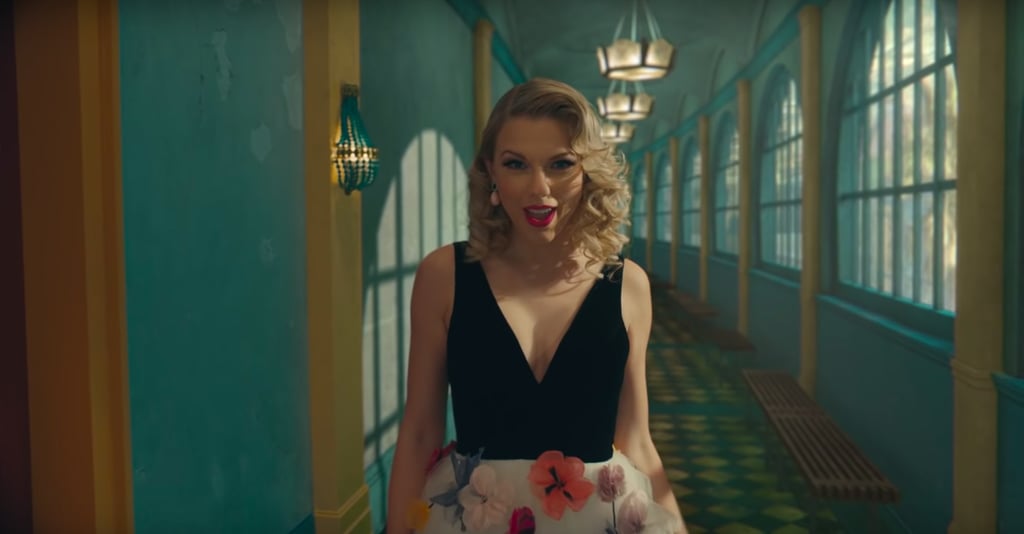 As Swift struts down the hallway, I couldn't help but think her black and white dress seemed oddly familiar. Well, it's because it looks almost exactly like the dress she wore during her Red tour [13] back in 2013 — only this time, it's covered in flowers. It could also be a nod to Grace Kelly's iconic look from Rear Window, since the video seems to have quite a few movie references.
References to Past Music Videos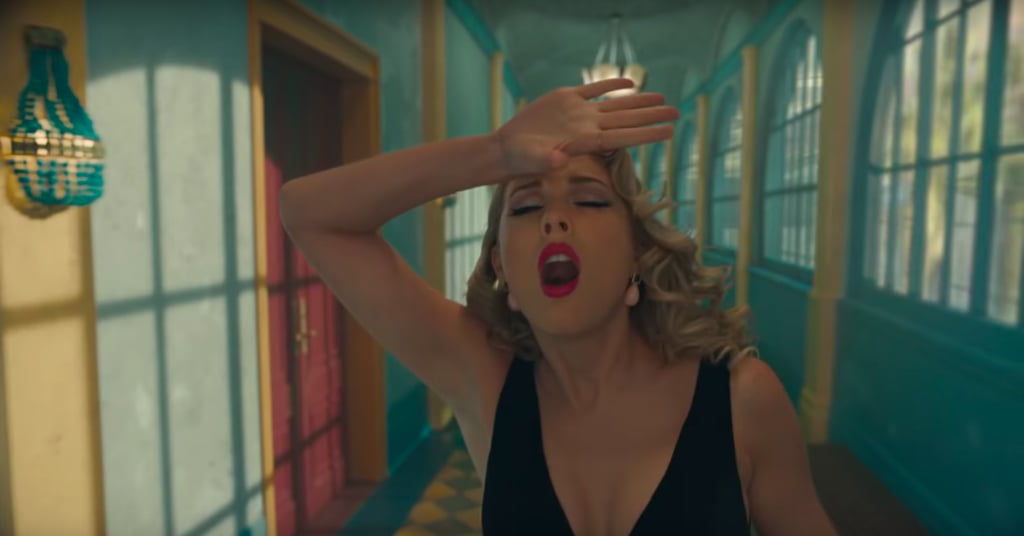 OK, maybe this is just me, but I got some major "Blank Space [14]" vibes as Swift went from "crazy" to smiley in a split second. She even makes some of the same melodramatic facial expressions from the video. As some fans pointed out on Tumblr, the video actually has a lot of similar imagery to past Taylor Swift music videos [15]. It was obviously purposeful because the time stamps even match up!
Palm Trees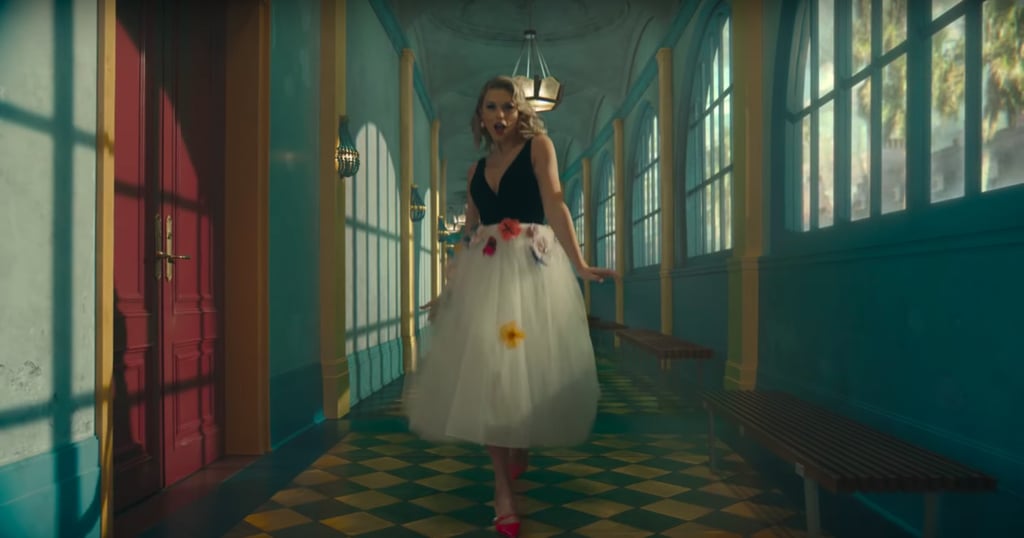 Remember when Swifties went crazy theorizing about a picture Swift posted of seven palm trees [16]? Well, the singer makes a fun reference to post in her video. As she walks down the hallway, you can spot palm trees in the distance through the windows.
Cool Chicks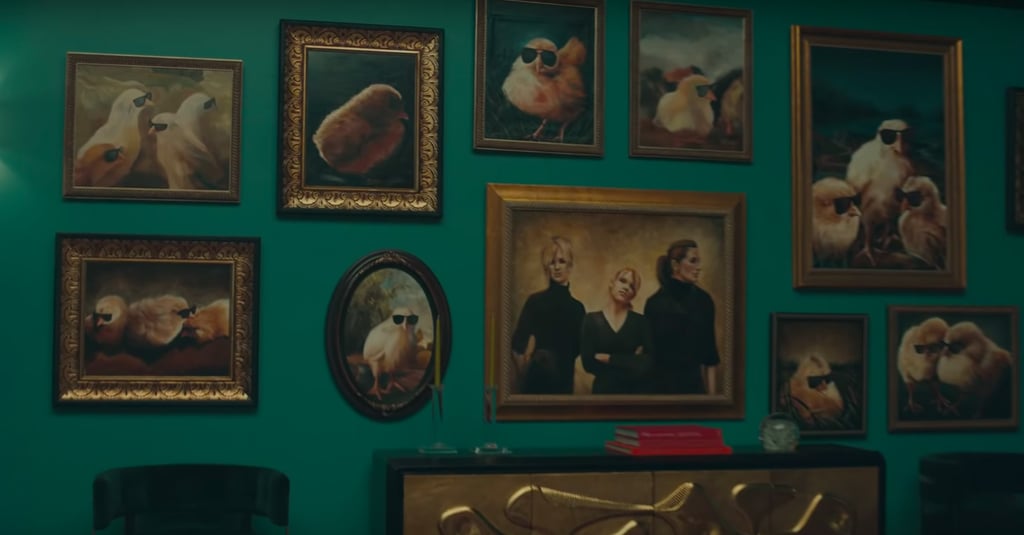 As Swift sings, "There's a lot of cool chicks out there," the camera flashes to a wall decorated with framed pictures of chickens in sunglasses. Of course, one of these things is not like the other. In the middle of the frames is a picture of the country music group, the Dixie Chicks. Is Swift trying to tell us about an upcoming collaboration?
Cloud 13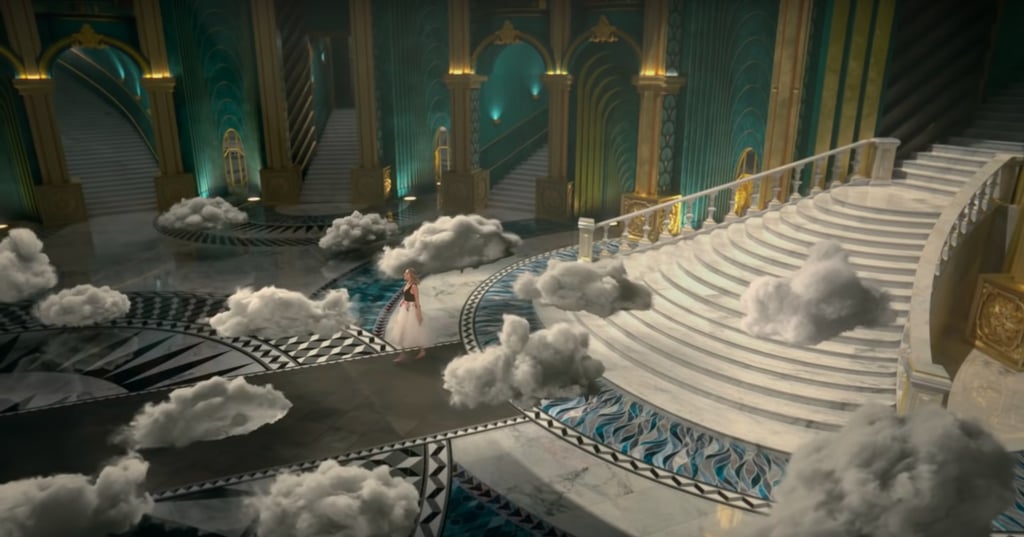 As Swift walks into a lobby area with a gorgeous staircase, there are 13 clouds in the room.
The Old Taylor Can't Come to the Phone Right Now
Swift makes a nod to her "Look What You Made Me Do [17]" music video as she sings, "I know that I went psycho on the phone," before pointing at a pink rotary phone.
Trouble Following Where She Goes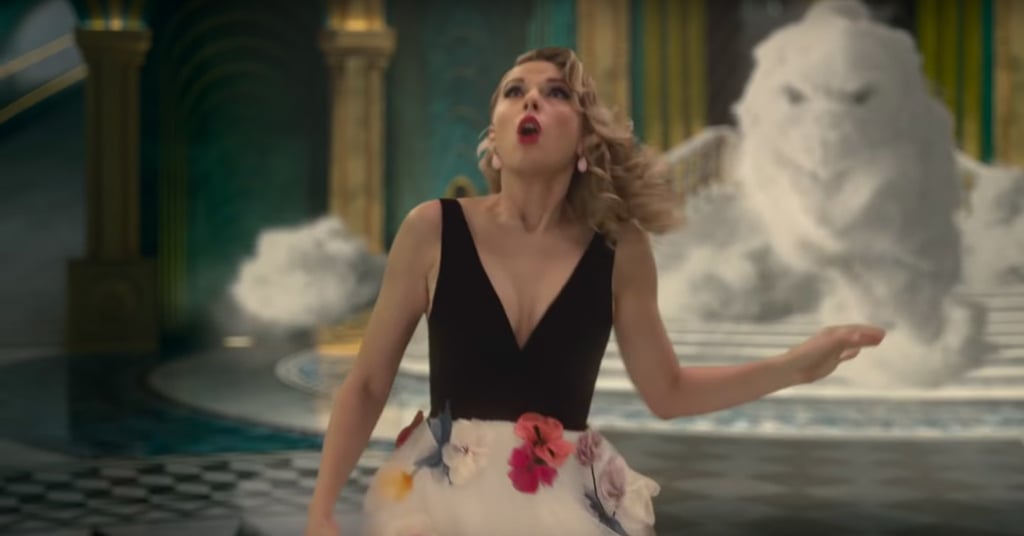 As Swift is surrounded by dark clouds, one of them actually turns into a snake. But before it is able to strike, Swift manages to get away. Perhaps this is another nod to her leaving the Reputation era behind her?
Step Into the Daylight and Let It Go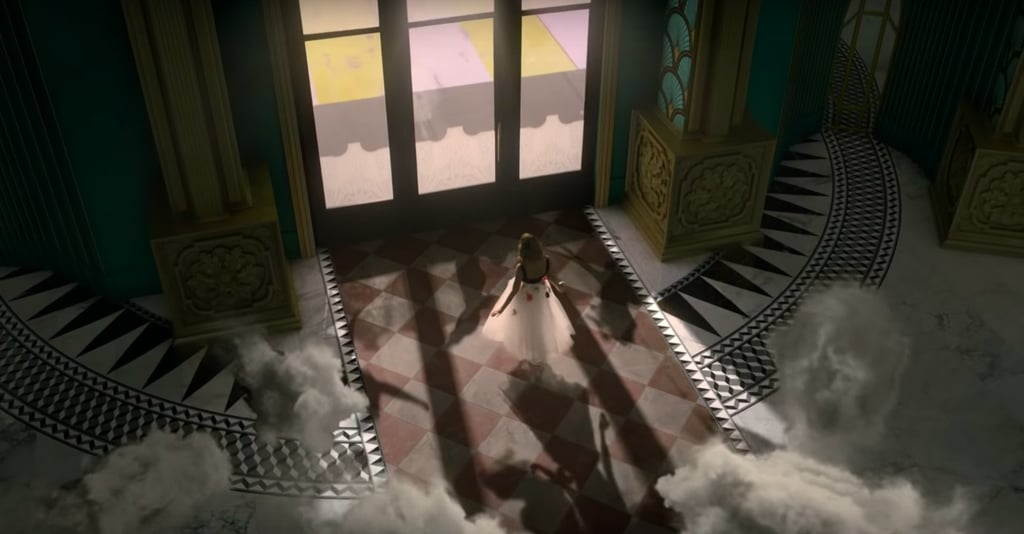 As Swift walks out of the room, you can just make out six shadows on the floor, which many fans think are "the old Taylors [18]."
A Butterfly in Its Cocoon
Eagle-eyed Swift fans pointed out that the entire music video actually take places inside a chrysalis [19]! Just like the song is the beginning of a new era, Swift is like a butterfly getting ready to hatch.
Lucky Seven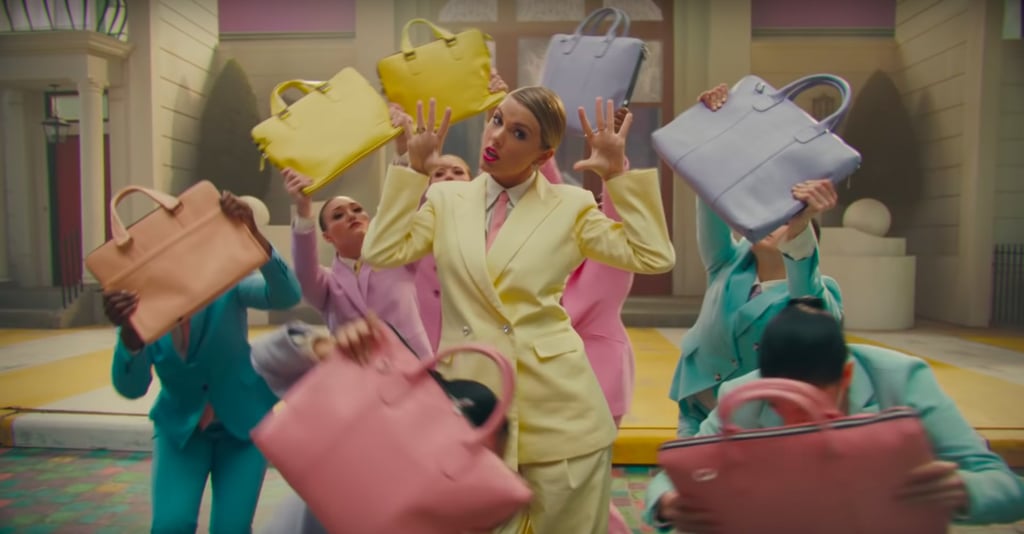 As Swift sings, "One of these things is not like the others," she is surrounded by seven woman wearing suits and holding colorful bags, which is seemingly a nod to her upcoming seventh album.
A Possible Album Release Date
As Urie looks out the window, fans couldn't help but notice the clock beside him, which is set to 8:30 [20]. Is this Swift's way of letting us know that her seventh album drops on August 30?
Mary Poppins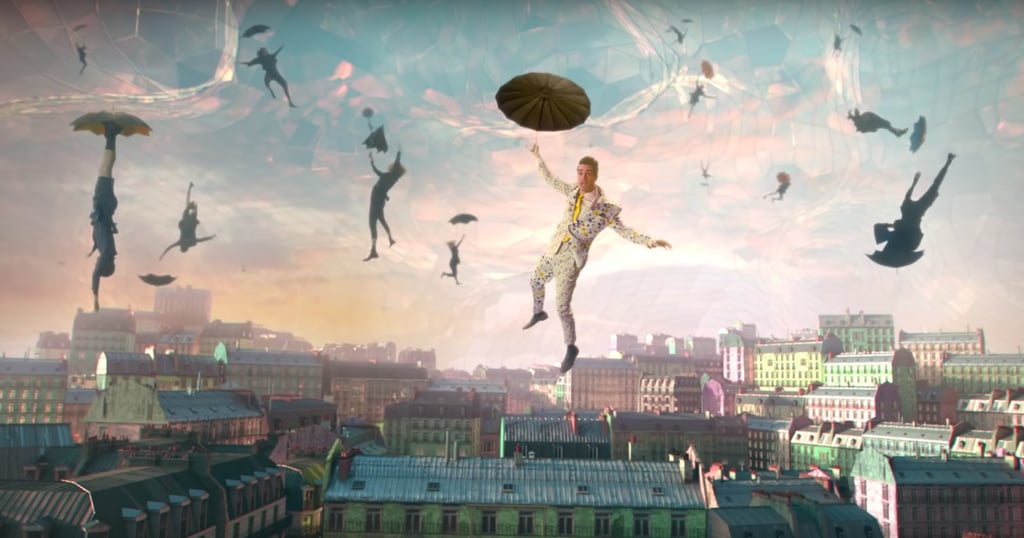 Another movie reference in the video is Disney's Mary Poppins, as Urie drops down from the sky with an umbrella like the magical nanny.
Lover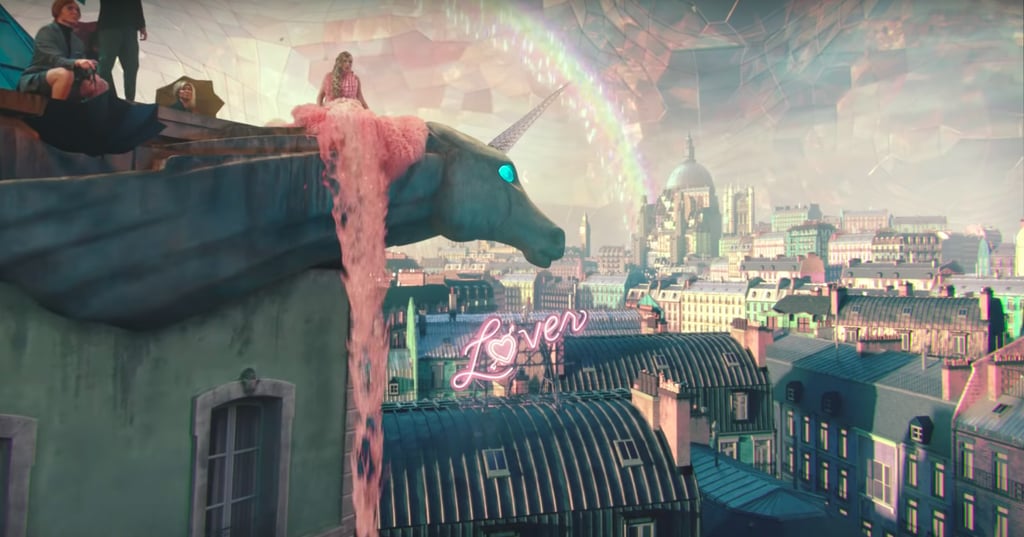 As Swift sits on top of a unicorn building, a neon sign in the background reads, "Lover." While it could be a reference to the lyrics in the song, it's likely that it's the title of a new track on the album. It wouldn't be the first time Swift has done this [21]! The whole scene is also similar to the musical Moulin Rouge!
Dismissing Engagement Rumors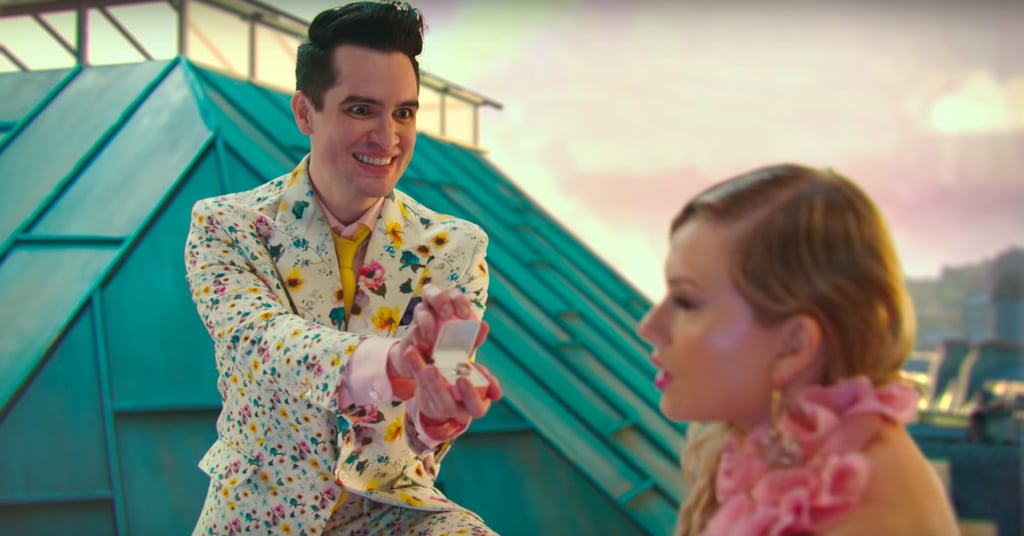 Over the past few months, there have been rumors that Swift's boyfriend Joe Alwyn is getting ready to pop the question [22], but the singer seemingly dismissed those rumors (or let us know that she plans on keeping her personal life private [23]) as she rejects a sparkly ring from Urie in the video.
A New Cat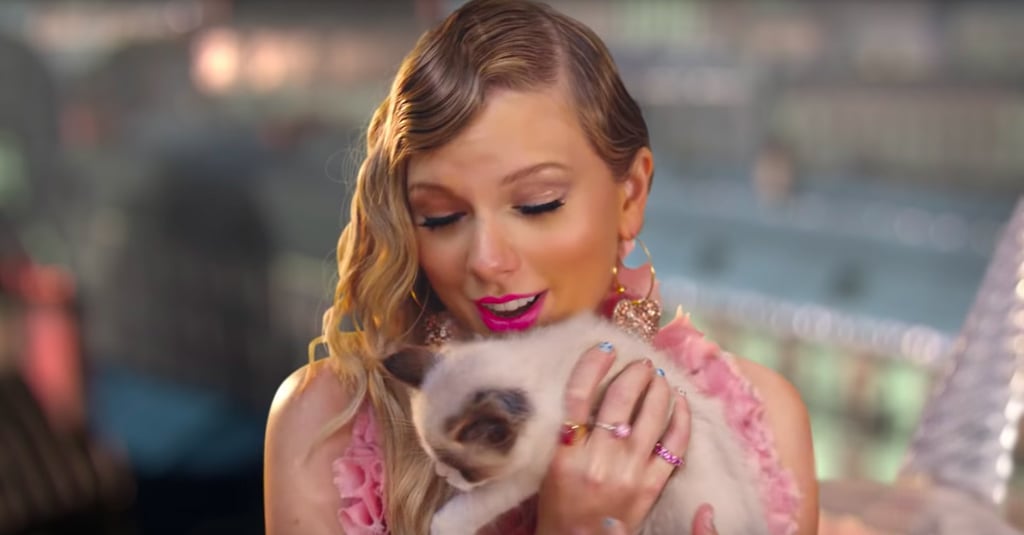 While Swift doesn't accept Urie's flowers or ring, she does gladly accept a fluffy new kitten. Ahead of the release, Swift teased that the video contains a secret she's been "keeping for months." She later confirmed her new addition [24] when she posted a picture with her new cat on Twitter writing, "And then there were three . . ."
Kaleidoscope of Loud Heartbeats Under Coats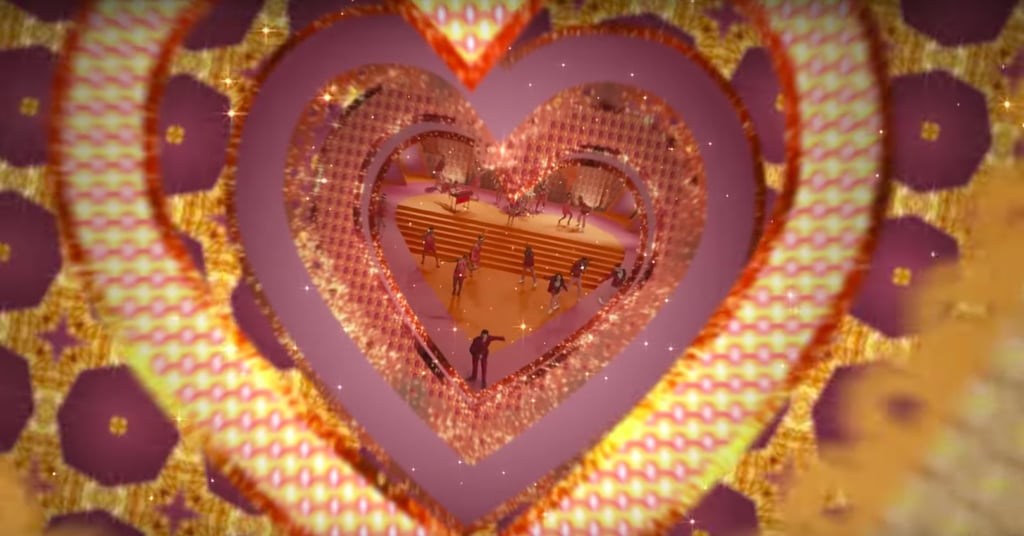 Swift brings her "Welcome to New York" lyrics to life [25] as Urie opens up his coat to reveal a kaleidoscope of hearts in loud colors.
You Can't Stop the Beat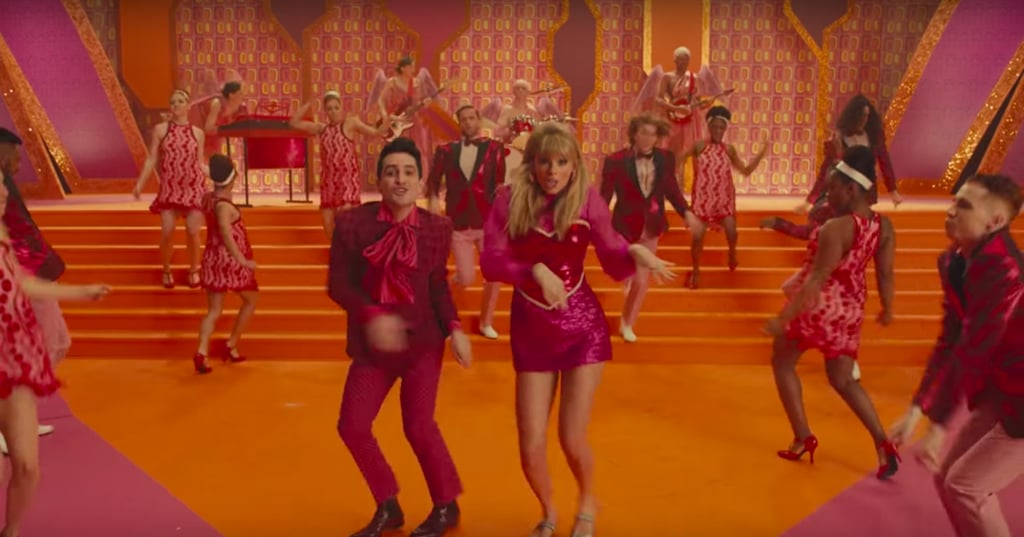 As Swift and Urie "shake it off" in heart outfits (another possible clue about the new album?), the whole scene felt incredibly reminiscent of the "You Can't Stop the Beat" number from Hairspray.
Marching to Her Own Beat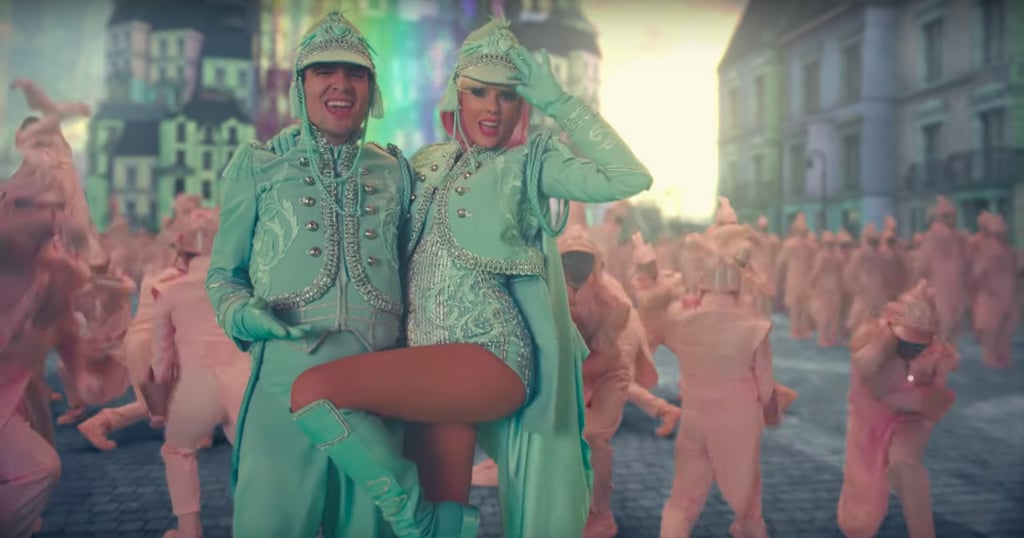 In the video, Swift dons a colorful majorette uniform as she marches around with Urie. While this could be a nod to her "You Belong With Me" video, in which she portrayed a marching band member, others think it could be her way of telling fans that she's performing at the Super Bowl this year. She did make the announcement about her new music video during the NFL Draft.
We're Off to See the Wizard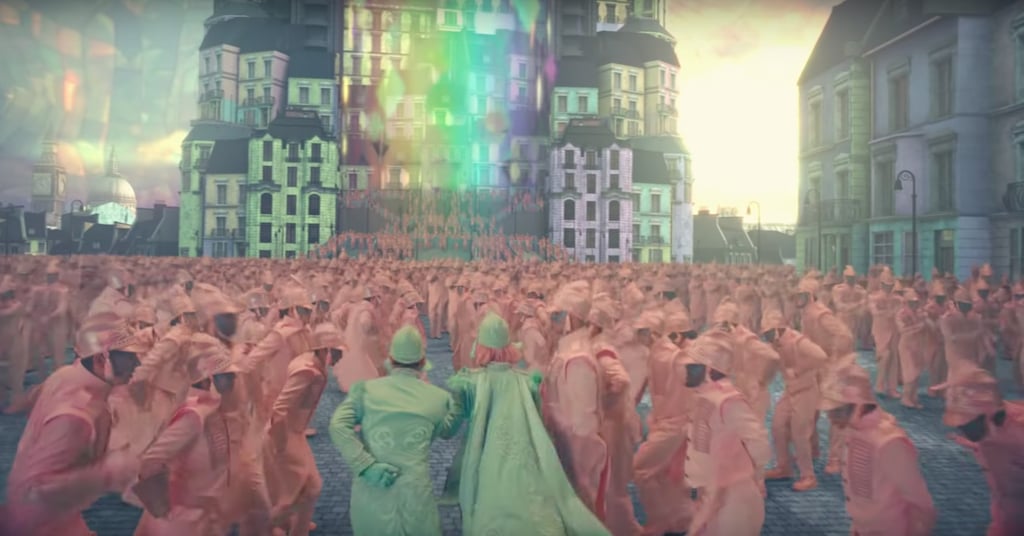 The marching scene ends with Swift and Urie skipping off to a magical rainbow in the distance, which seems to be a direct reference to the Emerald City in Wizard of Oz. Perhaps that crazy theory about Swift's seventh album being Wizard of Oz-themed [26] is actually true!
A Tribute to London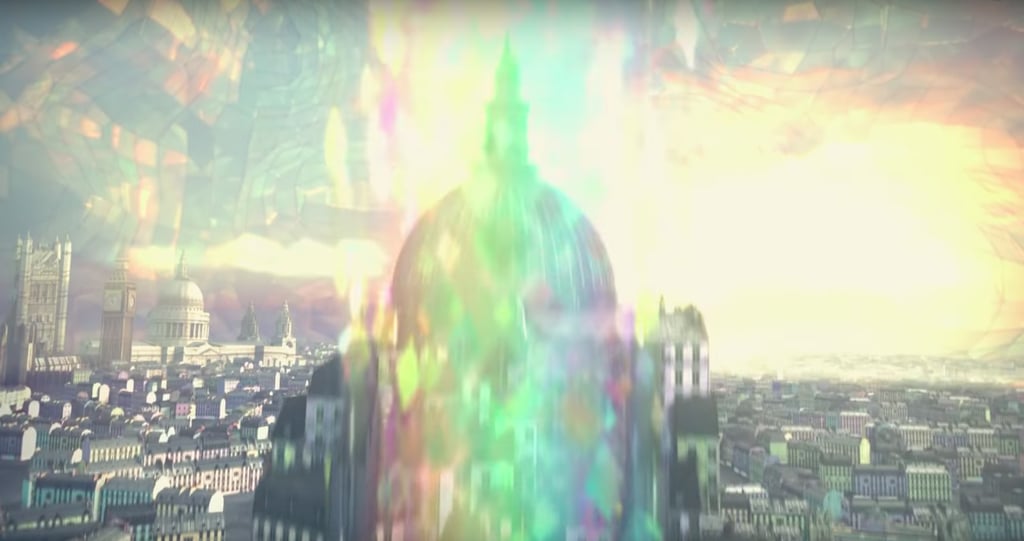 As the camera pans up, there seems to be images of iconic London landmarks in the distance [27] including Big Ben, St. Paul's Cathedral, and the Tower Bridge. Swift's boyfriend, Joe Alwyn, is originally from North London, so maybe it's a sweet nod to him?
Staying Grounded in Her Roots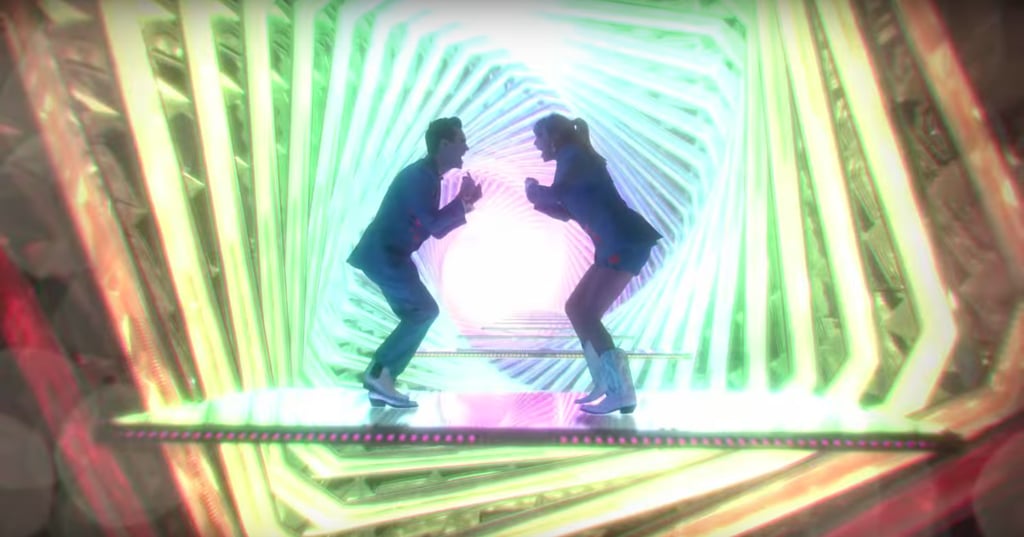 As Urie and Swift dance on top of neon lights, the singer is spotted wearing white cowboy boots. Even though Swift is a pop star now, it's clear her country music roots still have a special place in her heart.
Breaking Free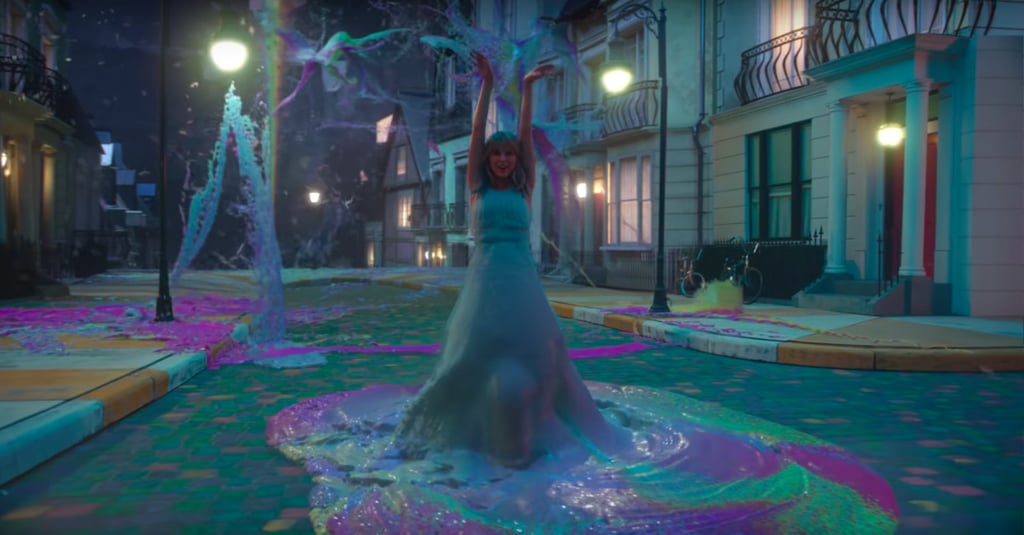 At the end of the video, we start to see a crack in the chrysalis. This could be Swift's way of symbolizing that a new era is getting ready to begin. Are you ready for it?
Taylor Swift "Me!" Music Video