Sorry, guys, but black did not make the list as one of the must-have colors in this year's wardrobe. Instead, the choices lean toward bright shades like yellow and soft hues like lavender [1]. Before you start panicking, however, neutrals are still popular (for those who fear a little color in their closets).
We combed through both runway [2] and street style shots [3] to come up with five colors we predict will be everywhere in 2018. As for how to wear them? The street style stars ahead will inspire you. Whether it's rocking an accessory in that of-the-moment hue or a full-on monochrome look, there are more ways than one to pull off the top color trends ahead.
Orange at Calvin Klein Spring 2018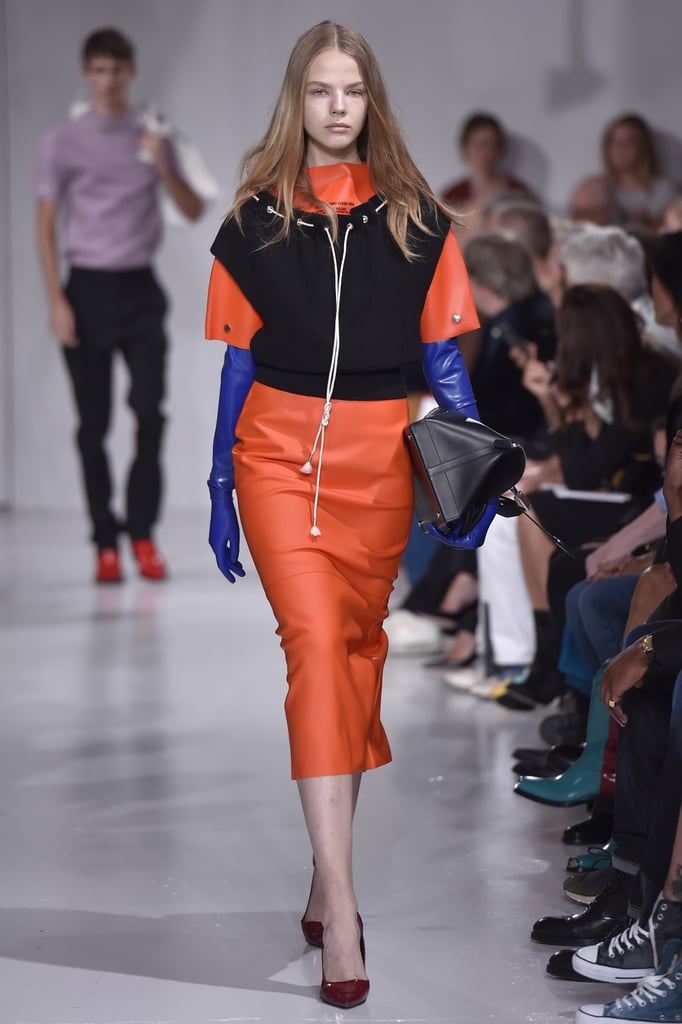 From the runways of Calvin Klein and Tom Ford to Marc Jacobs, orange was one of those unexpected hues that made a comeback for the Spring '18 season. The shade was bright, like traffic cones, and appeared on items such as jackets, bags, and dresses. Though some of us can literally count on one hand the number of oranges pieces we own (I have zero), the revival of the tone might just convince all of us to expand our wardrobe color palette.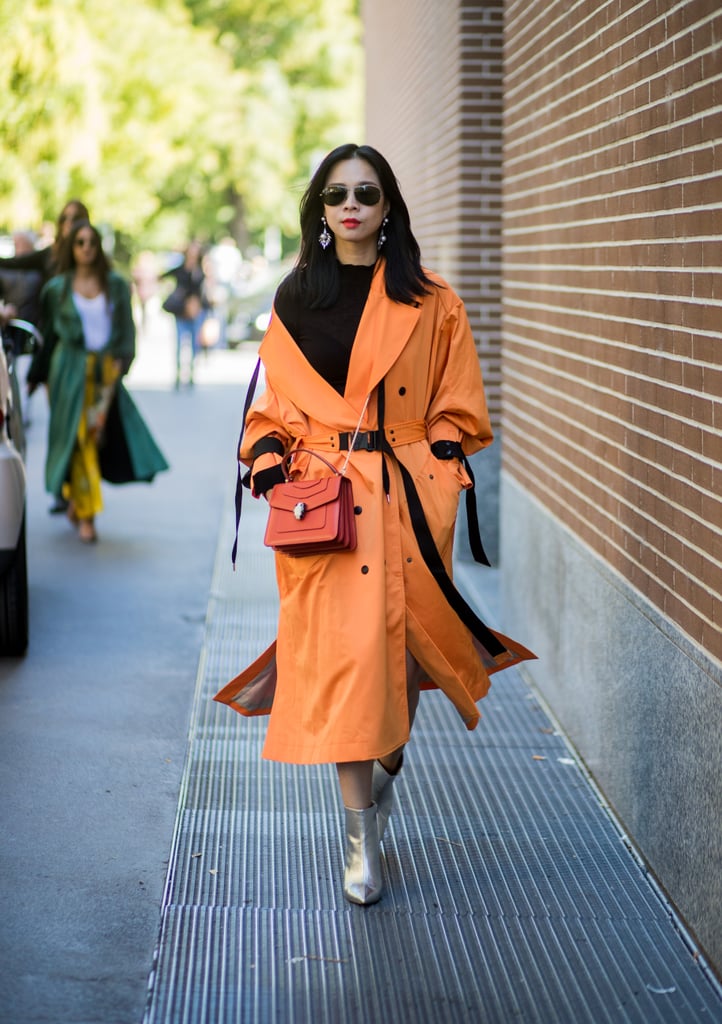 This street style star got a head start on the trend with an orange coat and matching Bulgari bag. The two different shades complemented each other and proved orange has staying power beyond Halloween [5].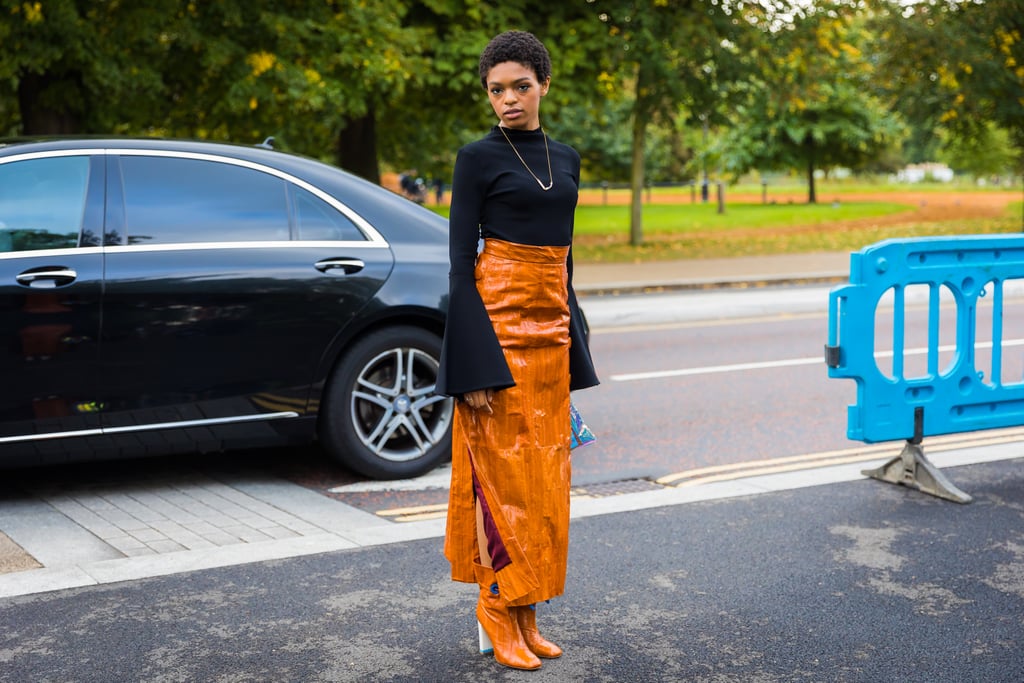 Just like you'd wear black boots with a black skirt, why not do the same [6] but with orange? This style star kept things basic on top, but colorful on the bottom.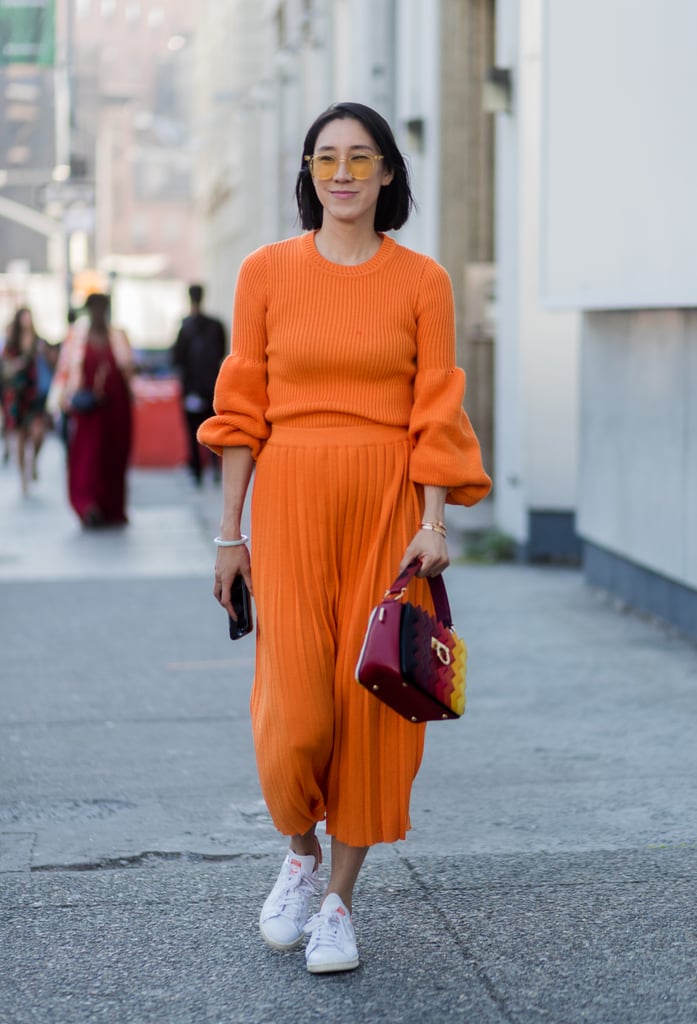 Eva Chen went for it at New York Fashion Week [7] by wearing head-to-toe orange. Going monochrome is one of the easiest ways to rock the trend without worrying about what matches what.
Yellow at Self-Portrait Spring 2018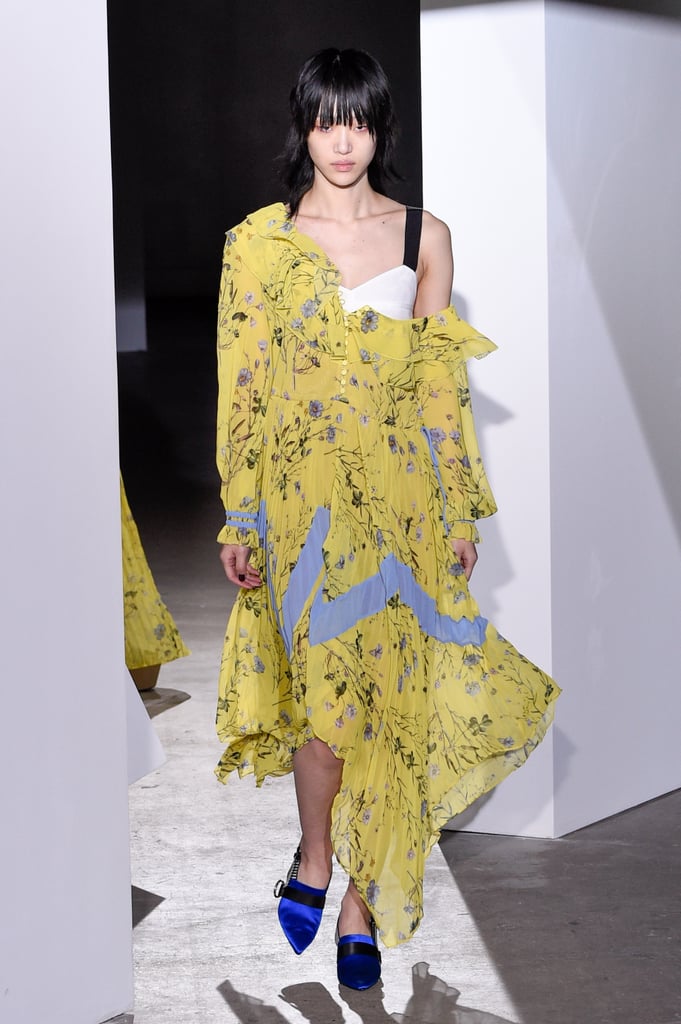 Call it mustard, marigold, or lemon — all these tones fall into the yellow category. According to an executive director of the Pantone Color Institute [8] this color is "a beacon of light," so it's obvious why labels like Self-Portrait included it in 2018 collections. The cheery vibes are sure to catch everyone's attention.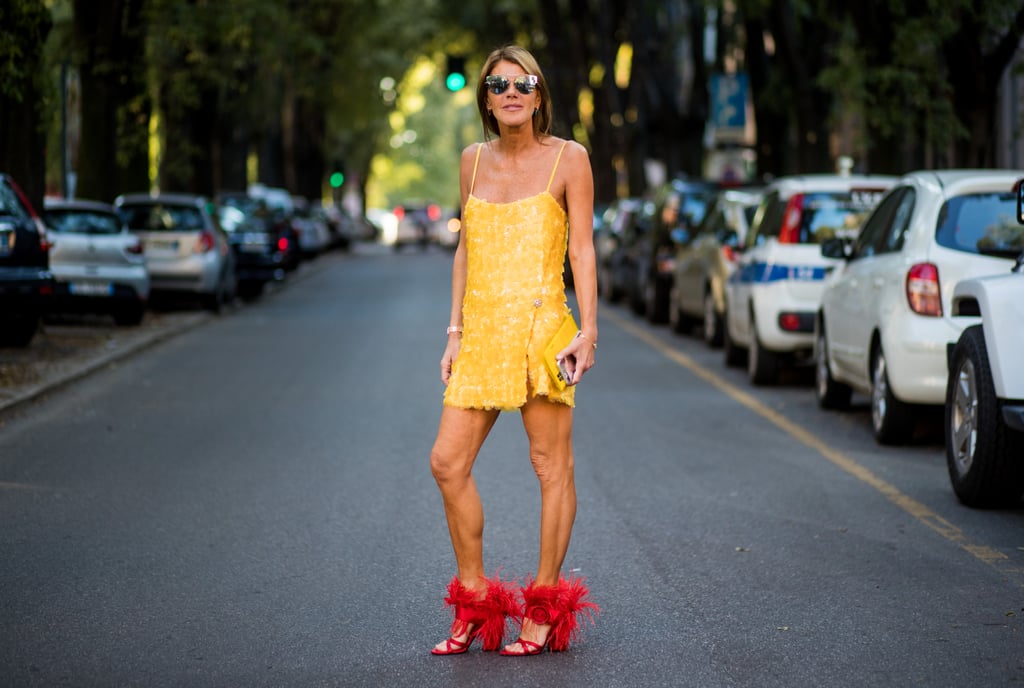 Anna Dello Russo didn't play it safe with her marigold dress. She wore a pair of fuzzy red heels with the mini for a pairing that beckons a perfect street style shot.
If you have as much yellow clothing as you do orange (aka not much), start small. Invest in accessories that come in this shade to test-drive the trend.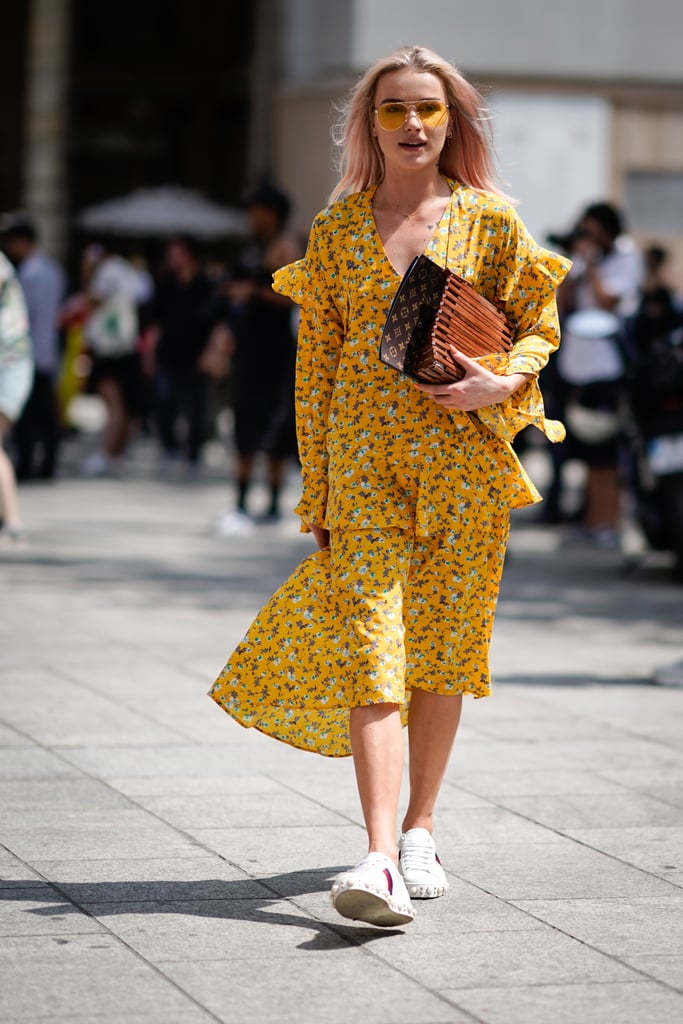 One of our favorite ways to wear this color is with a print. Put florals on anything and suddenly, we're ready to rock the standout piece with sneakers, boots, heels — you name it.
Lavender at Tibi Spring 2018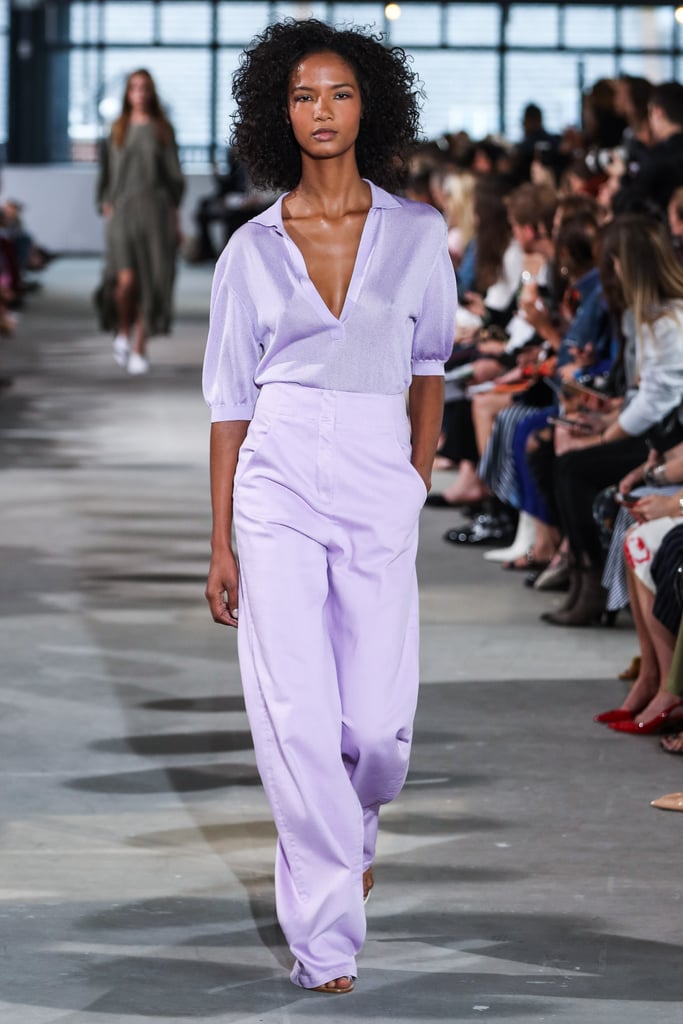 We can't call out the next big color trends without mentioning lavender. A handful of designers such as Tibi and Michael Kors incorporated the color into looks, giving us a fresh eye for how to wear it. In fact, the combination of mint and lavender was popular [9] with the street style crowd. Come 2018, you'll be seeing this color everywhere.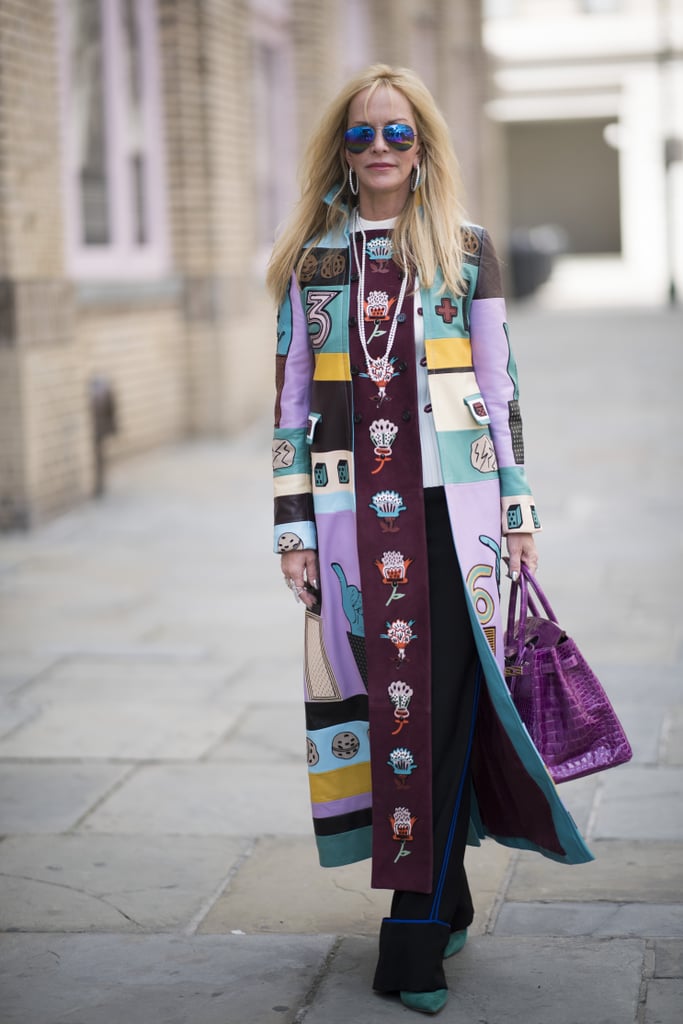 If you don't want to wear a full-on purple look, mix it in with other colors. This street style star pulls it off perfectly with her Valentino trench coat.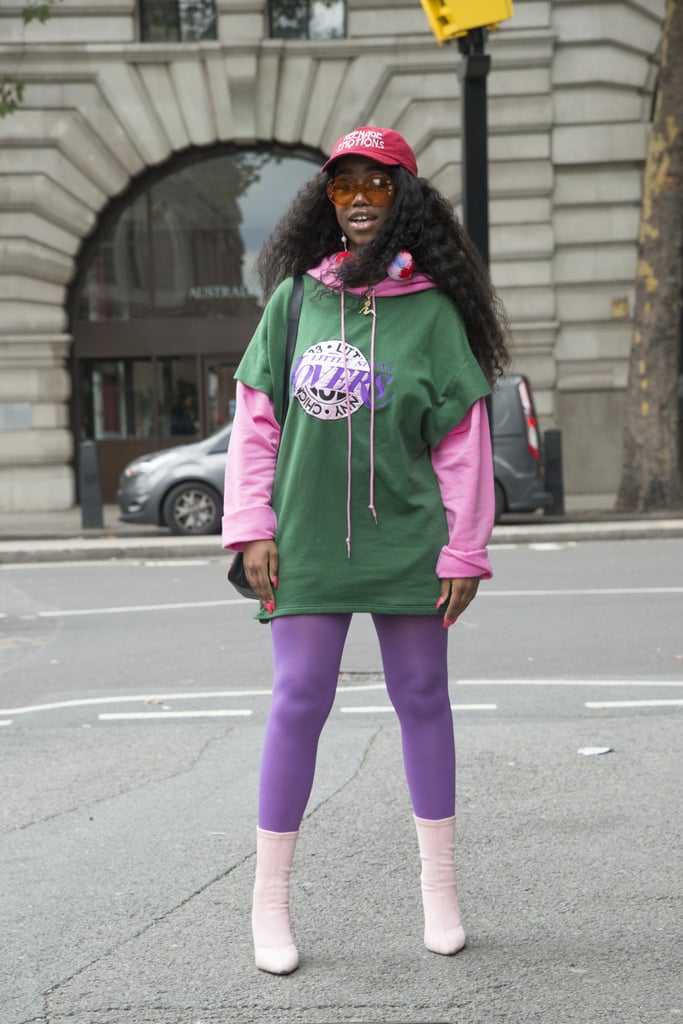 Trade in your black leggings for purple ones to give your outfit that pop of color.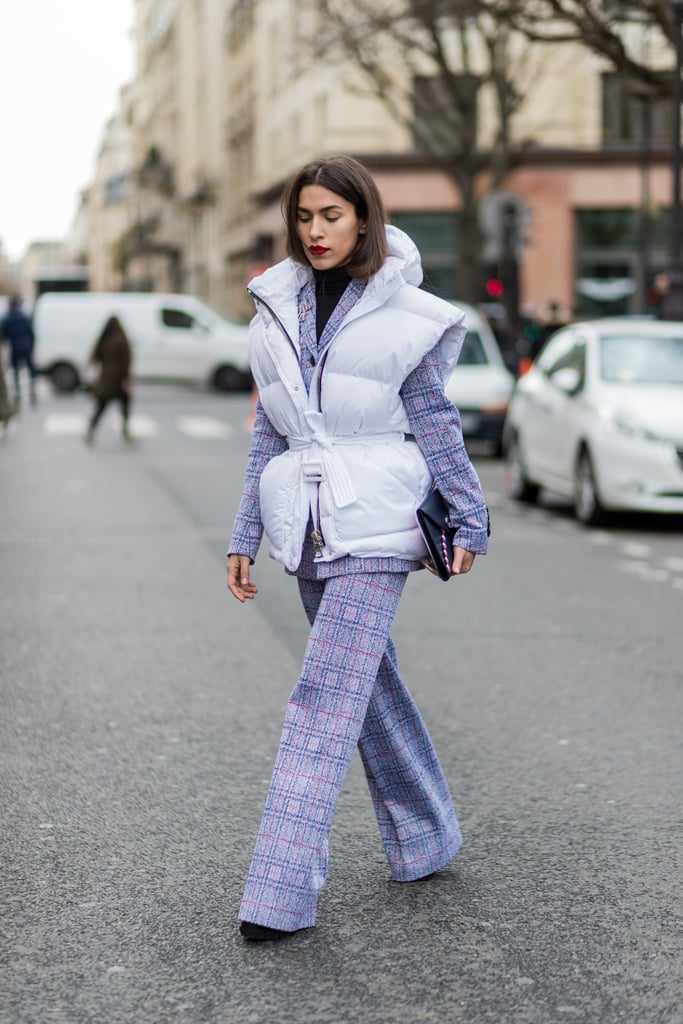 For the bold dressers out there, invest in a purple suit set. This combined with a Moncler puffy vest (as pictured on this show-goer) is probably one of our favorite outfits.
Gender Neutrals at Michael Kors Spring 2018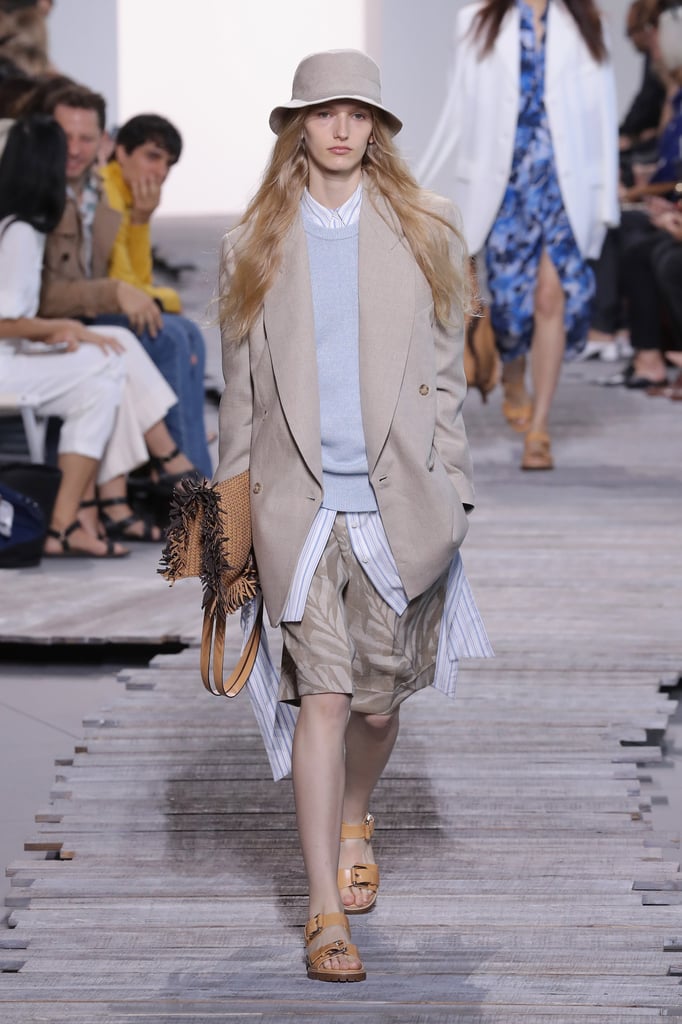 Neutrals are wearable shades that pop up season after season and continue to be a popular choice for all fashion girls. For Spring '18, the tones appeared on menswear-inspired pieces, offering unisex clothing anyone can wear. Expect to see retailers offering more brown, beige, and cream-colored pieces in 2018.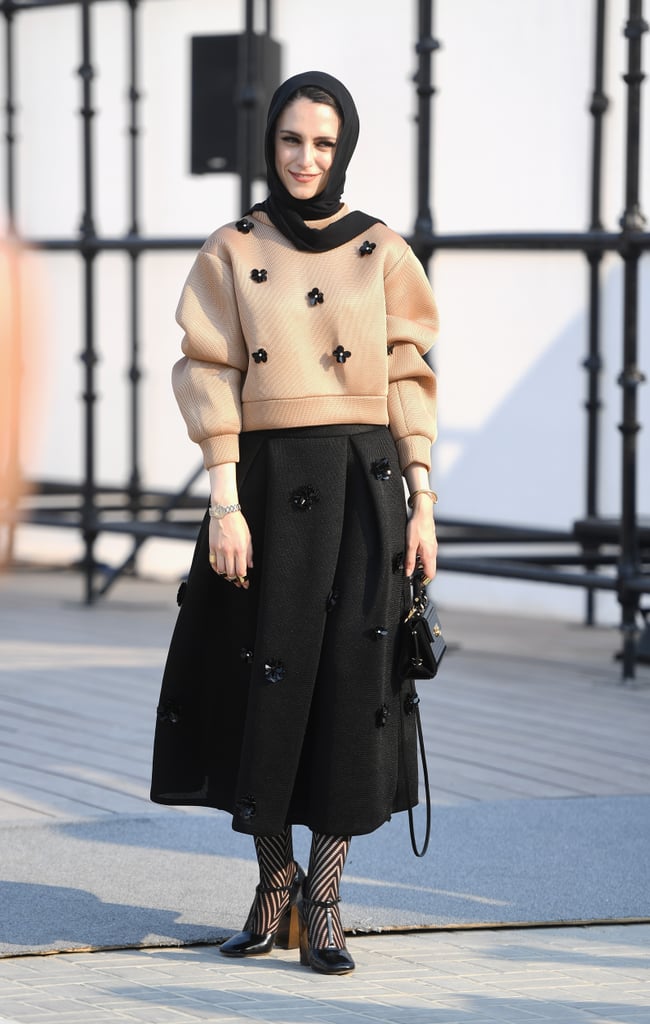 Mix two versatile colors like beige and black together for an easy look.
If you don't own a brown coat yet, invest in one for Fall stat. It serves as a good base for adding on more colors like red.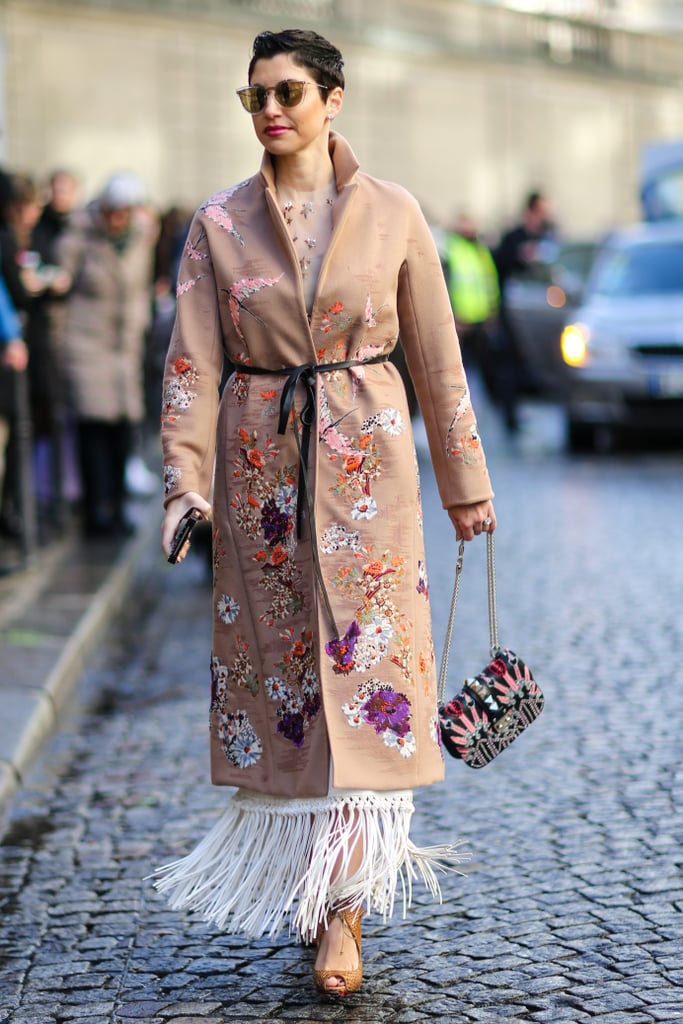 Tired of the same old camel coat? Find pieces that also have cool added designs or embroideries.
Pink at Tom Ford Spring 2018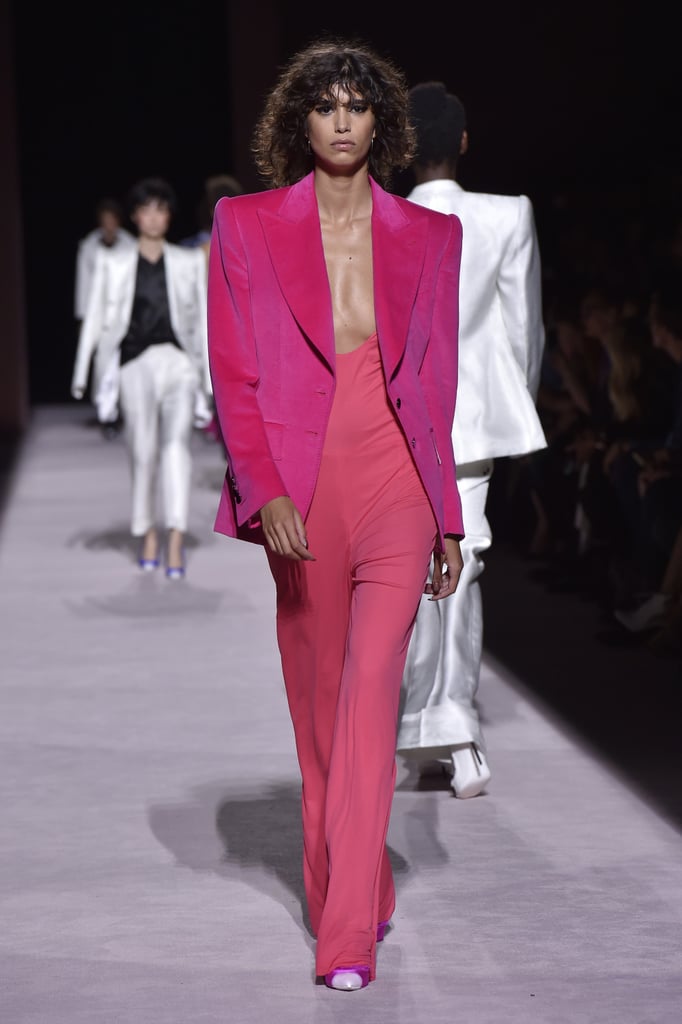 Though the hype over millennial pink has slowly died down, the color in general is sticking around for next year. Designers such as Tom Ford and Prabal Gurung sent out Spring '18 collections that incorporated the feminine hue. The new way to wear it, however, is with red — a trend many women mastered at NYFW [10].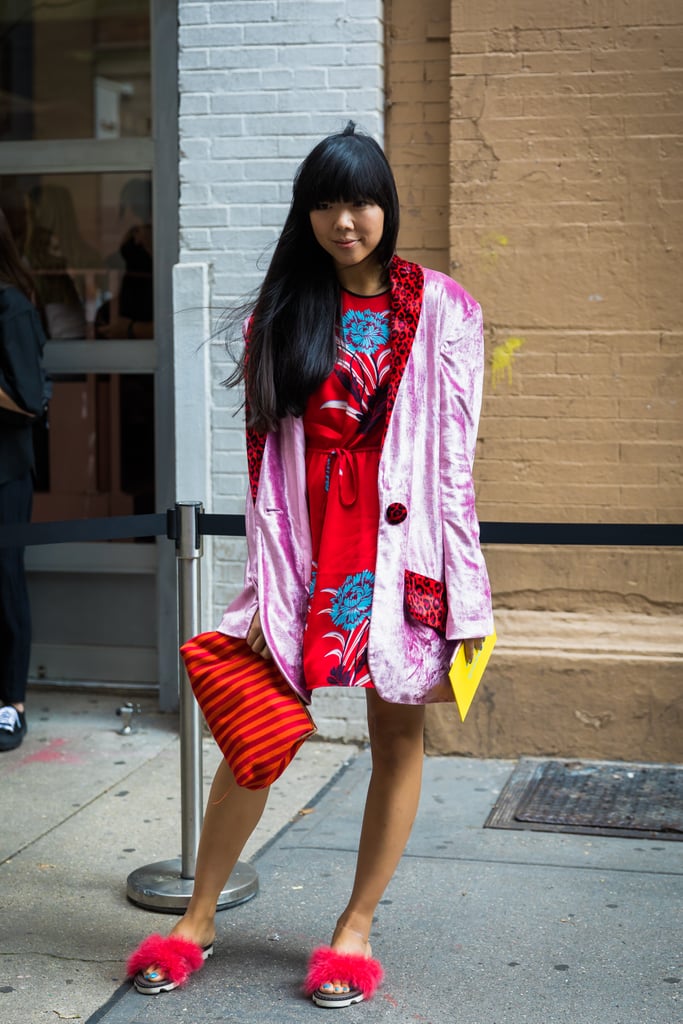 Susie Lau found a balance between red and pink in her outfit with the right accessories.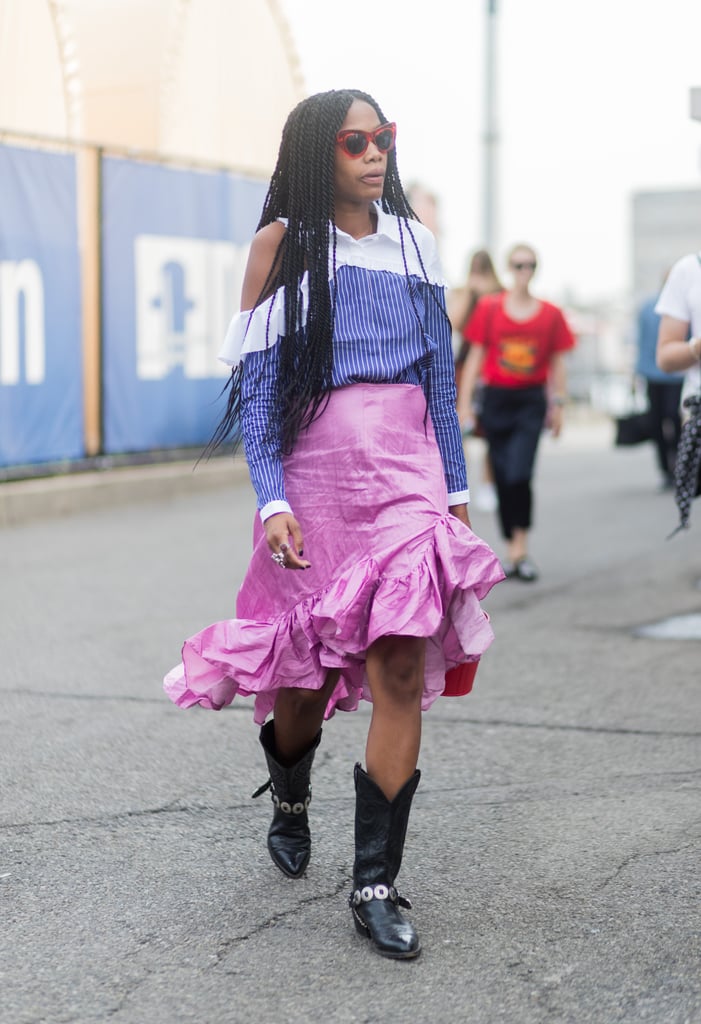 A pink ruffled skirt received an edgier update with Western-style boots [11].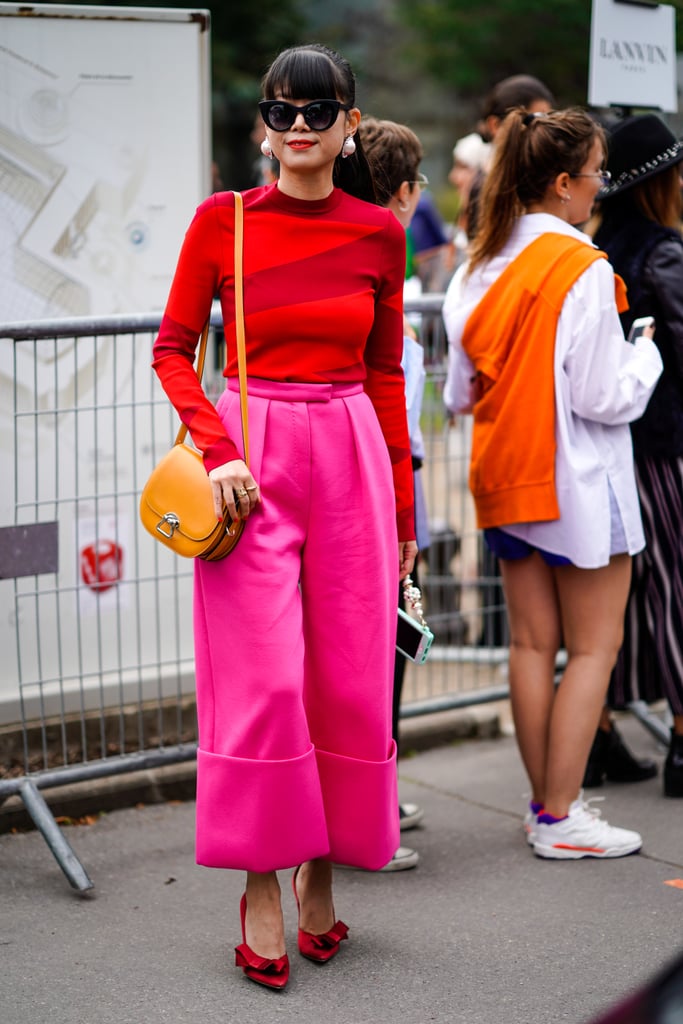 Leaf Greener proves you can mix all the big color trends of 2018 into one outfit and look amazing. Hint: they're yellow, red, and pink.