It seems like everyone's raving about the Paleo diet [1], but once I learned all the foods to avoid [2] on this plan, I asked myself, "What's left?!" If you've experienced a similar sentiment, then look to these 42 recipes that cover every meal of the day. These delicious and creative choices might even inspire you to start eating like a cavewoman.
— Additional reporting by Leta Shy, Jenny Sugar, and Michele Foley
Breakfast: Egg in an Avocado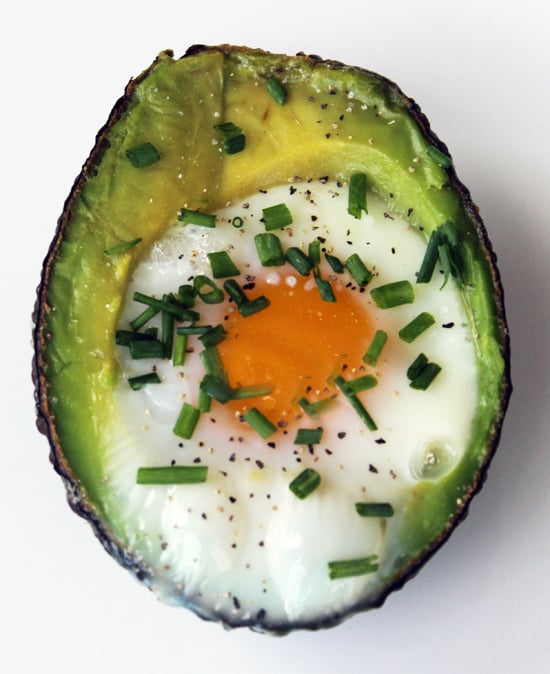 With just a few ingredients and almost no prep time, start the day with a satisfying egg in an avocado [4]. Between the eggs and avocado, this high-protein Paleo classic also contains lots of omega-3 fatty acids.
Breakfast: Coconut Chia Pudding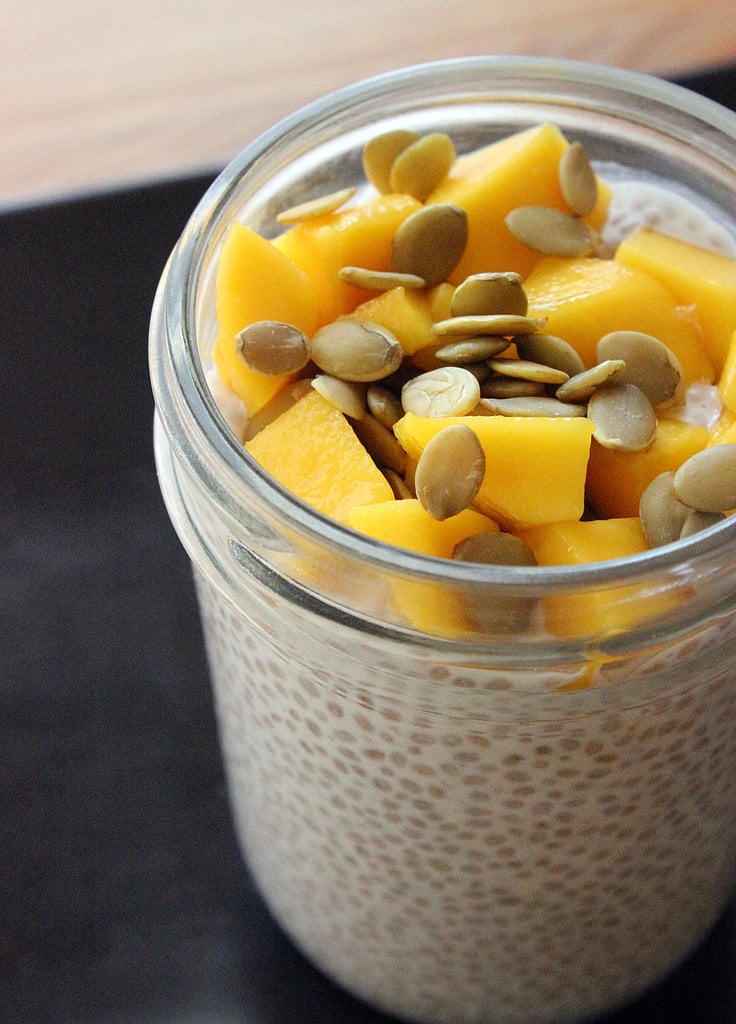 Mix together the ingredients the night before, pop your jar in the fridge, and look forward to coconut chia pudding [5] the next day. High in anti-inflammatory omega-3s, this sweet, chia-filled treat is a make-ahead recipe that will save you time, fill you up on fiber, and help you debloat.
Breakfast: Morning Protein Smoothie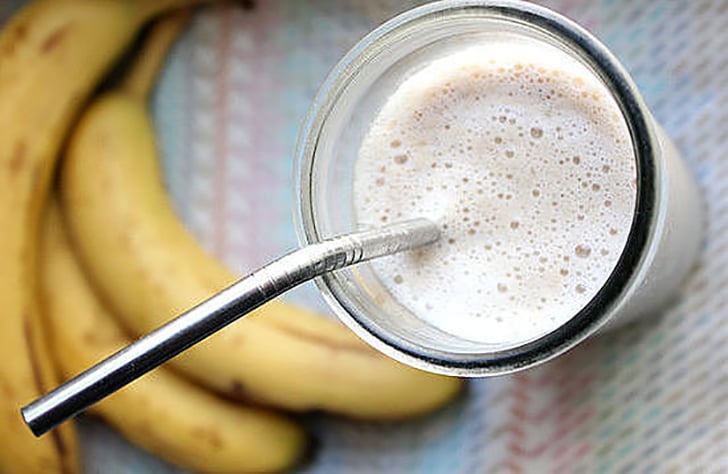 A high-protein, low-calorie smoothie [6] from prosurfer Erica Hosseini is a quick recipe that provides a healthy start to the day. Just make sure to find a raw protein powder that's Paleo-friendly!
Breakfast: Baked Eggs in Ham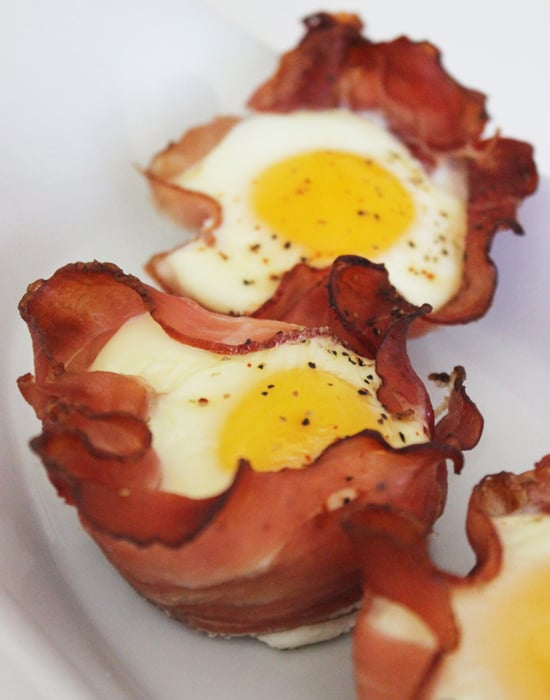 Pop in a batch of these protein-heavy eggs in ham shells [7] when you wake up, and enjoy a hot, hearty, and quick breakfast before you leave for work. They're tasty during the workweek but special enough to serve at a healthy weekend brunch where you're in need of a Paleo offering.
Breakfast: Tomato Frittata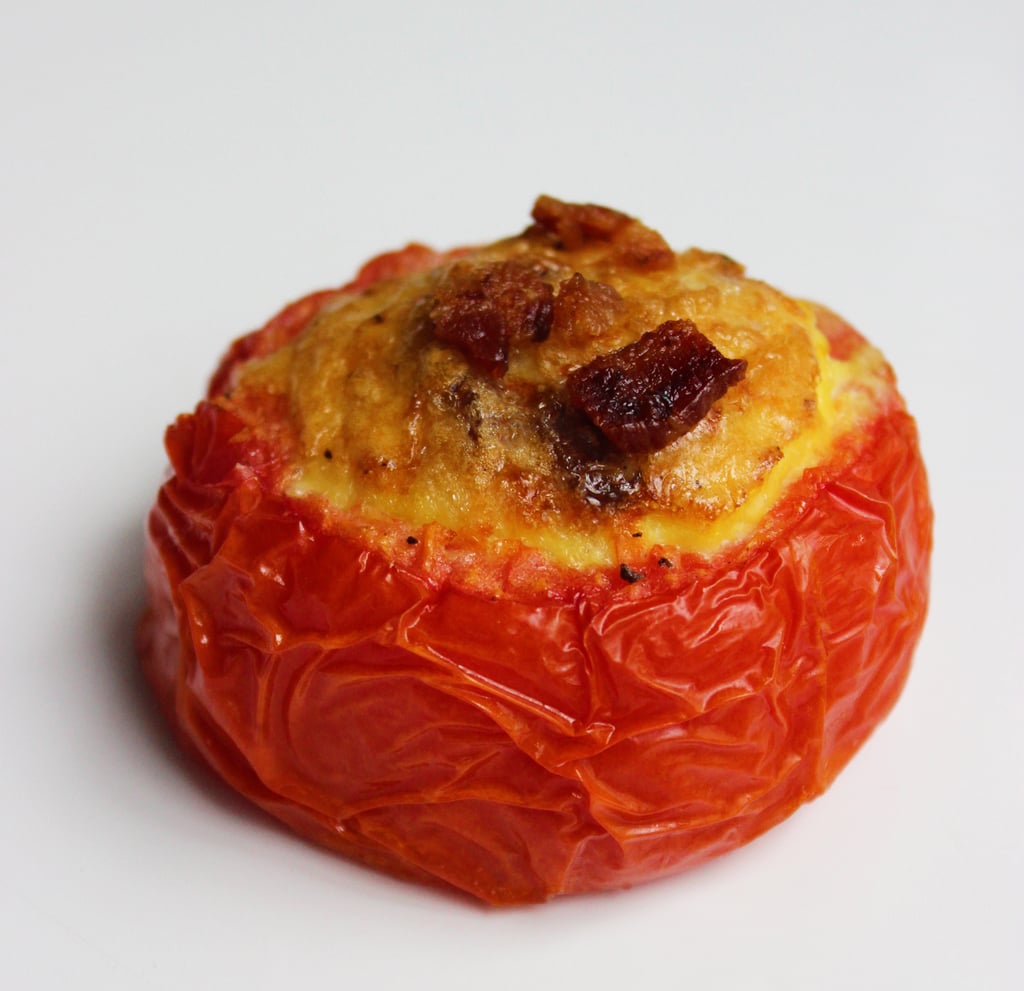 Scrambled egg, a sprinkle of diced bacon, and a drop of ghee (clarified butter) all bake right into a tiny tomato ramekin for a savory Paleo tomato frittata [8] with just the right hint of sweetness.
Breakfast: Paleo Pancakes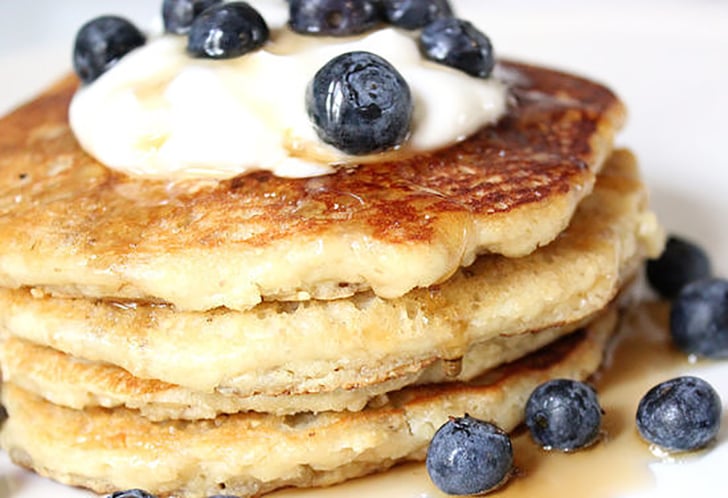 Luckily, you don't have to pass on a pancake breakfast as long as you whip up wheat-free pancakes [9]. Using almond flour and flaxseed means these dense, filling hotcakes are high in fiber (three grams per serving) as well as protein (six grams per serving).
Breakfast: Gluten-Free Egg Muffins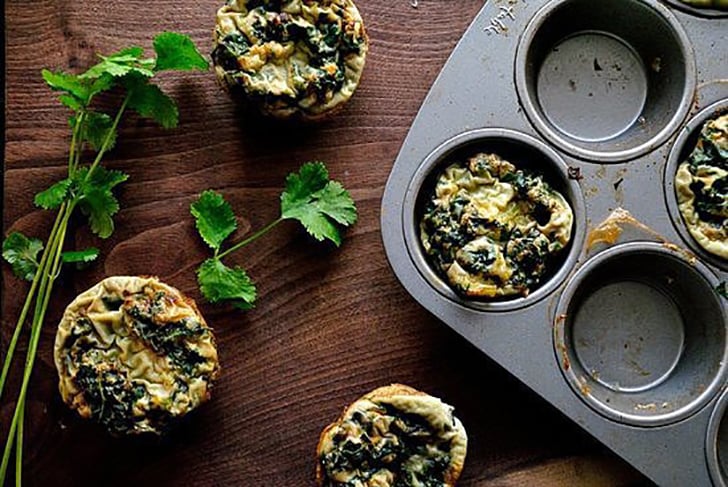 Not quite frittatas and not quite miniquiches, these portable egg muffins [10] are packed with good-for-you greens like kale and get a healthy kick from fresh jalapeño.
Breakfast: Avocado and Egg Breakfast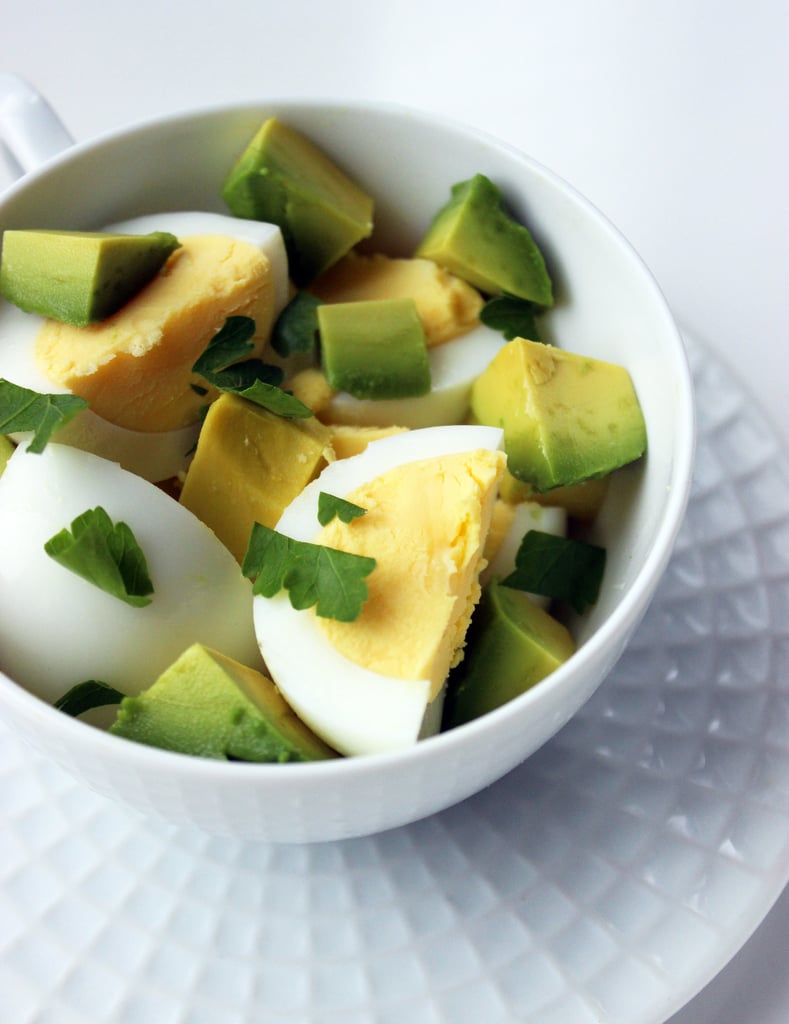 This avocado and hard-boiled egg breakfast [11] is an easy throw-together recipe that will fill you up with protein and fiber, keeping you surprisingly full and satisfied until lunchtime rolls around. Anyone on a Paleo plan who's always on the go needs this recipe in their life.
Lunch and Dinner: Spicy Sweet Potato Salad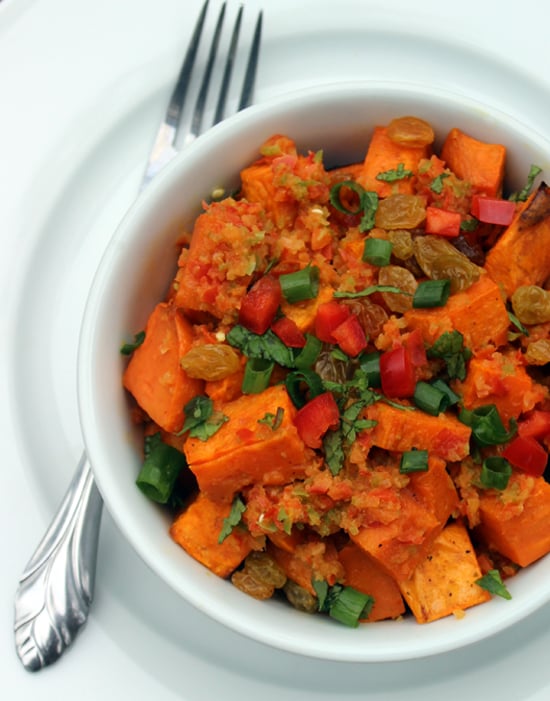 Food journalist Mark Bittman's spicy sweet potato salad [12] can serve as a special side or stand alone as a hearty lunch. High-fiber sweet potatoes can regulate blood sugar and help you lose weight [13], while a spicy, antioxidant-rich red pepper and jalapeño dressing ties everything together.
Lunch and Dinner: Cauliflower "Rice" Stir-Fry
This grain-free cauliflower "rice" stir-fry [14] has zero cholesterol, is low in sodium, and offers your entire daily recommended intake of vitamin A and vitamin C in just one meal. This nutrient-dense recipe is filling, delicious, and full of fresh bright flavors.
Lunch and Dinner: Zucchini Noodles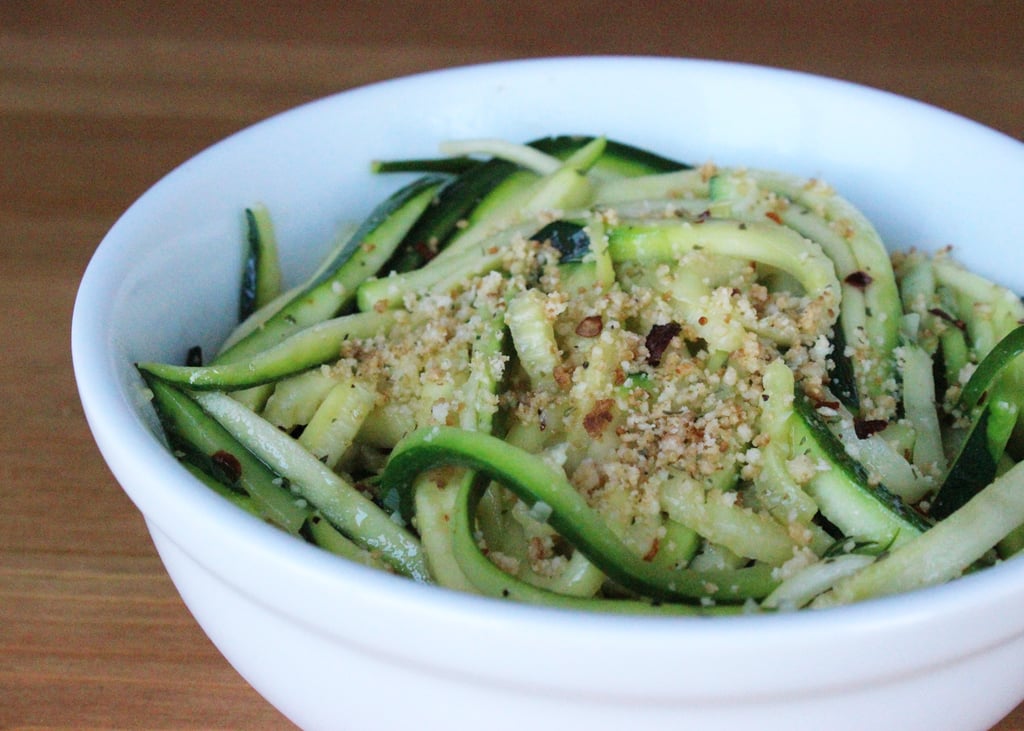 Instead of a big bowl of garlicky pasta, cook up these zucchini noodles aglio e olio [15] (garlic and oil).
Lunch and Dinner: Paleo Pad Thai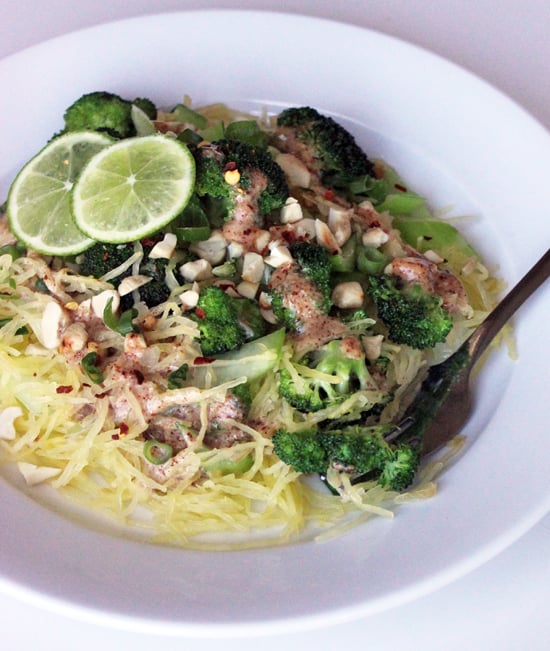 This Paleo-friendly riff on the classic pad thai [16] has over 300 percent of your recommended vitamin C and vitamin A for the day, more than 50 percent of your calcium, and over 30 percent of your iron. Everything about this recipe — especially its tangy and creamy dressing — will make you want to dig in for seconds . . . or thirds.
Lunch and Dinner: Shrimp Over Spaghetti Squash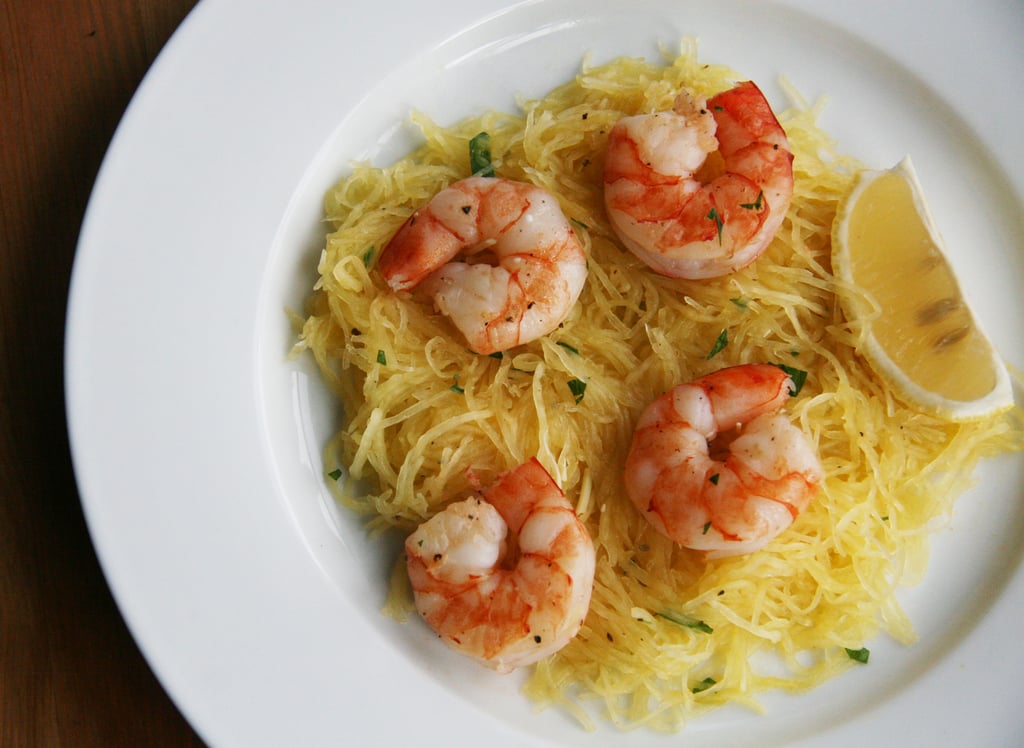 High in protein but low in calories, roasted shrimp over spaghetti squash "noodles" [17] is a healthful option for those craving the comforting flavors of traditional scampi. You'll love the crunchiness of the bed of squash against the texture of the simple roasted shrimp.
Lunch and Dinner: Coconut Curry Butternut Squash Soup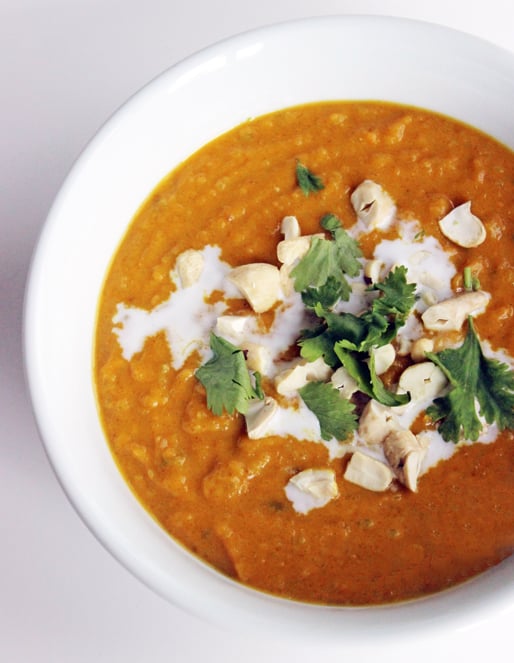 Thick and creamy butternut squash soup [18] with curry and coconut milk is warming and subtly sweet. Light coconut milk contains 68 percent less fat than the regular stuff, significantly cutting the calories of this tasty soup! Just be sure to skip the yogurt garnish.
Lunch and Dinner: Crock-Pot Mexican Chicken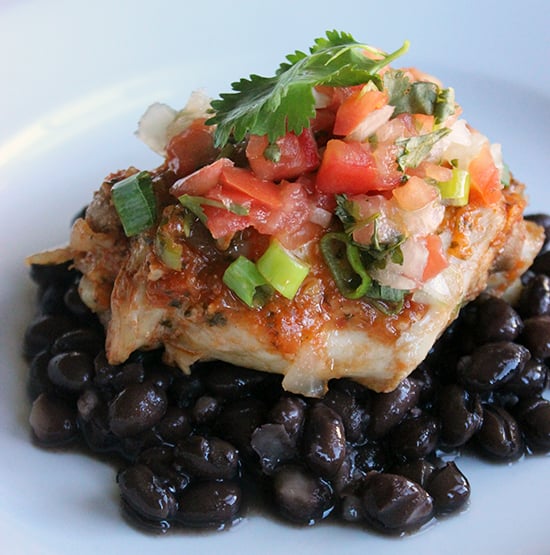 For a healthy, protein-rich meal that doesn't rely on dairy for flavor, try this delicious Mexican-style chicken [19] recipe full of fresh ingredients. This preparation results in an absolutely delicious, fall-off-the-bone piece of meat. For a complete Paleo meal, serve over a bed of fresh cabbage or cauliflower rice [20], instead of black beans.
Lunch and Dinner: Garlic Lemon Shrimp and Cauliflower Grits
If your ultimate comfort food tends to be Southern-fried, this clean-eating recipe will curb (and satisfy) those greasy cravings. This easy-to-follow Paleo shrimp and cauliflower grits [21] recipe comes together in 45 minutes and weighs in well under 300 calories per serving due to its sky-high protein content — one serving offers 29.8 grams.
Lunch and Dinner: Pumpkin Bisque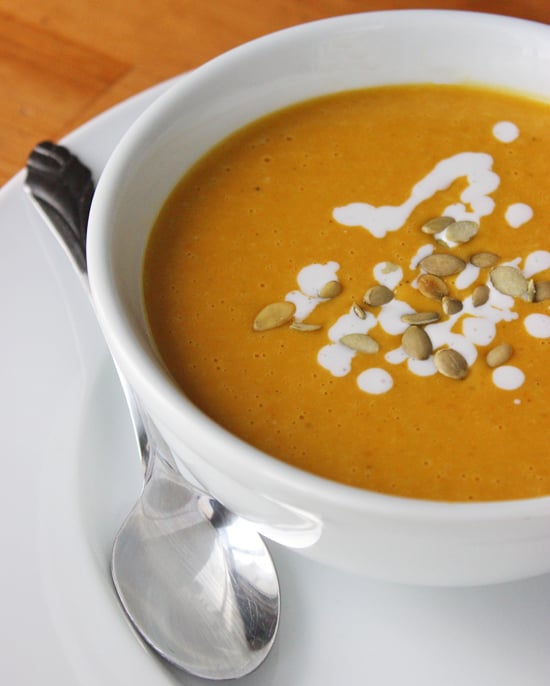 Even if you've decided to cut back on dairy for your Paleo plan, it's possible to warm up with a creamy bowl of hot soup that doesn't lay on the cream or calories too heavily. This light pumpkin-coconut bisque [22] will curb your dairy cravings and keep you on track.
Lunch and Dinner: Carrot and Cabbage Detox Salad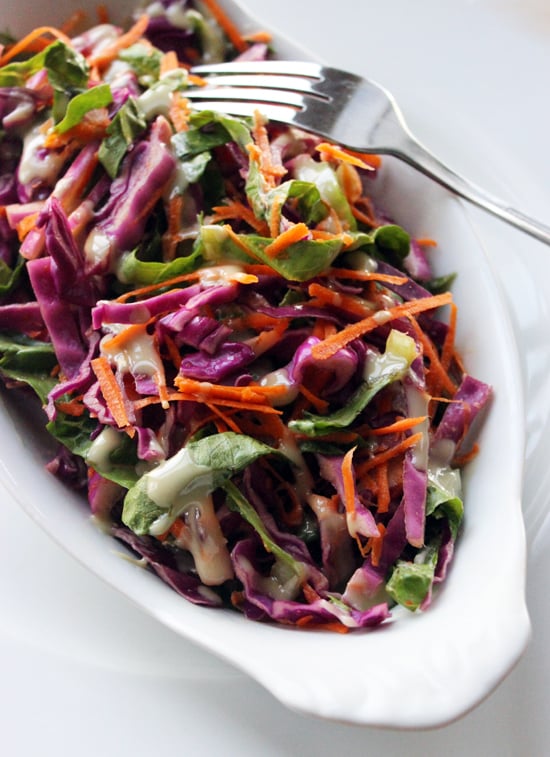 Colorful detox rainbow salad [23] will add some brightness and flavor to a day of detox. The water content in romaine works to hydrate your body, while the high fiber content in the red cabbage and carrots aids in healthy digestion. All these veggies readily available, so you can make this recipe a staple in your clean diet all year.
Lunch and Dinner: Creamy Cauliflower Soup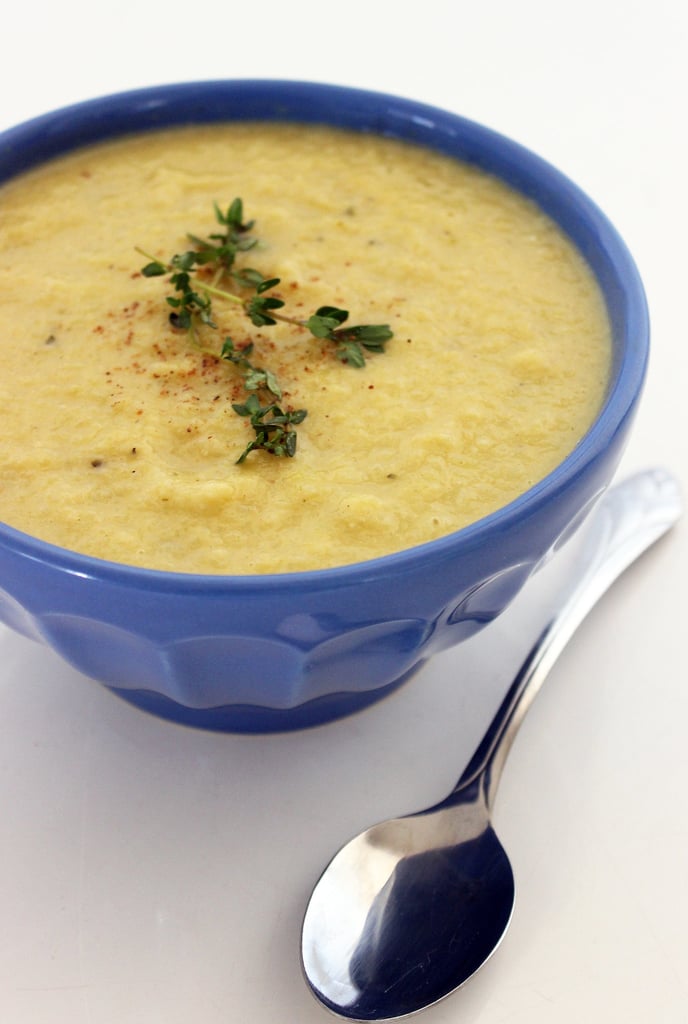 Loaded with fiber and vitamins, this immunity-boosting cauliflower soup [24] also supports healthy digestion — a win-win combination. It's also a great dish to serve to a group with a mix of dietary preferences, since it's gluten-free, dairy-free, vegan, and Paleo friendly.
Lunch and Dinner: Guacamole Wraps
Wrap up your favorite fresh veggies and tasty guacamole in this collard green wrap [25].
Lunch and Dinner: Carrot Fettuccine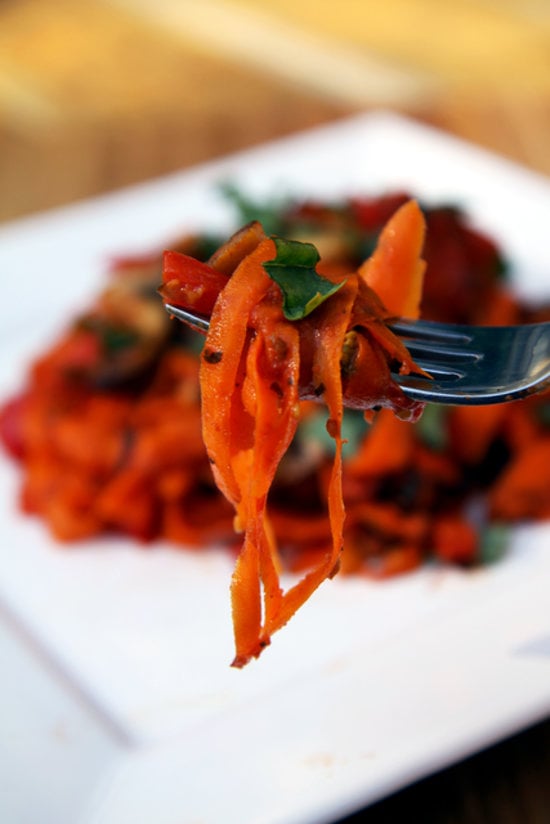 Satisfy your pasta cravings with carrot fettuccine [26]. The "pasta" ribbons are made using a simple vegetable peeler and sautéed with mushrooms, red peppers, cherry tomatoes, and fresh basil for a Paleo-approved bowl of comfort.
Lunch and Dinner: Czech-Spiced Meatballs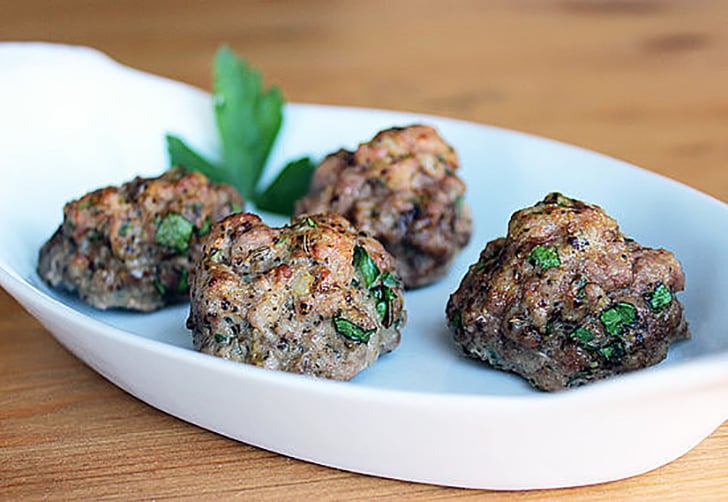 A creative blend of traditional Czech spices and fresh herbs gives these nutritious, protein-packed pork meatballs [27] their delicious flavor, while just one egg and a little mustard act as the binder that holds these balls together.
Lunch and Dinner: Chicken Tortilla-Less Soup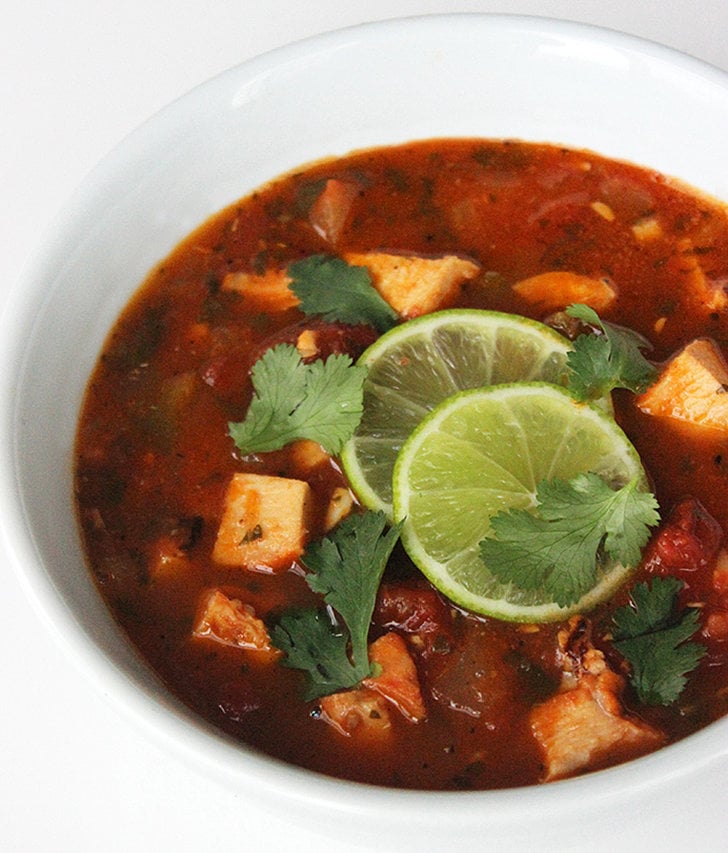 This fresh and spicy tortilla-less soup [28] is full of fresh produce and weighs in at fewer than 200 calories per satisfying serving. It's high in vitamin C and protein, so anyone who loves Mexican-inspired flavors will find a new favorite healthy dinner in this oh-so-easy recipe — perfect for entertaining!
Lunch and Dinner: Almond Chicken Fingers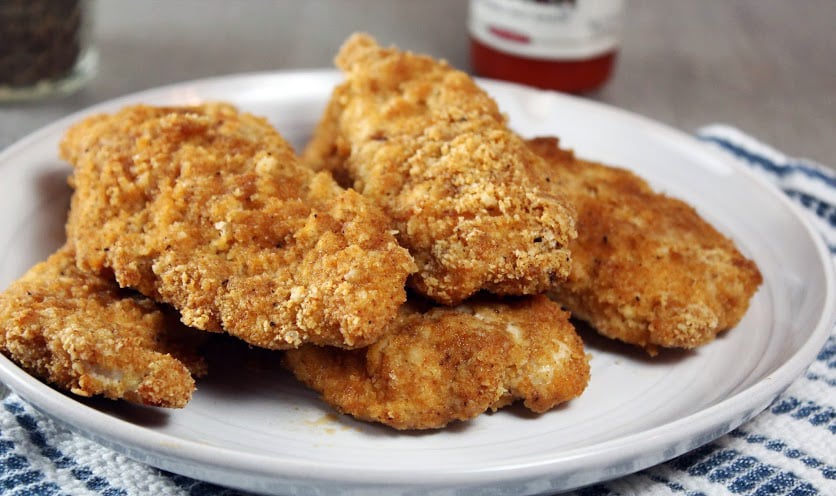 You can easily enjoy chicken fingers on a Paleo plan. Dig into a plate of these almond chicken fingers [29] that use almond meal and a number of spices to create a flavorful and crunchy crust.
Lunch and Dinner: Meatloaf Muffins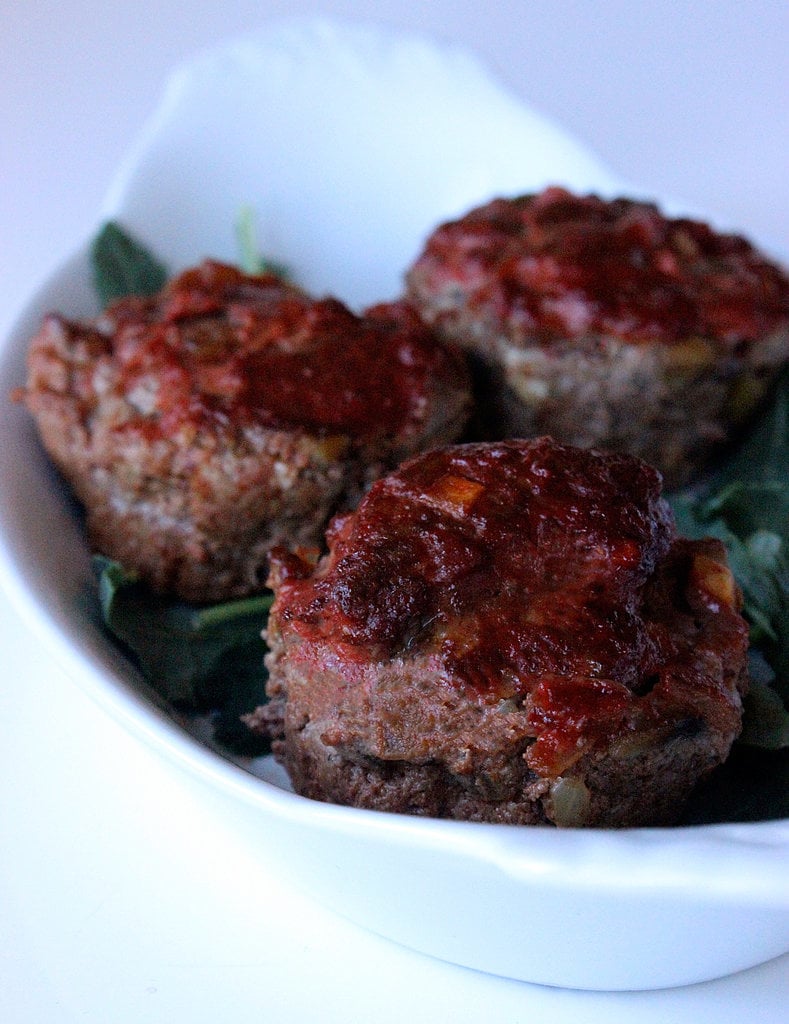 High in iron and protein, these meaty Paleo muffins [30] are perfect for any low-carb eater looking for tons of energy in a small serving — each 139-calorie muffin has over 18 grams of protein!
Lunch and Dinner: Stuffed Peppers
With just a few ingredients and less than 30 minutes, you can enjoy a fresh, clean meal with more than 30 grams of protein. You'll be glad to know these satisfying Paleo stuffed peppers [31] are under 300 calories per serving, making it a perfect light supper after an evening workout.
Snack: Brussels Sprouts Chips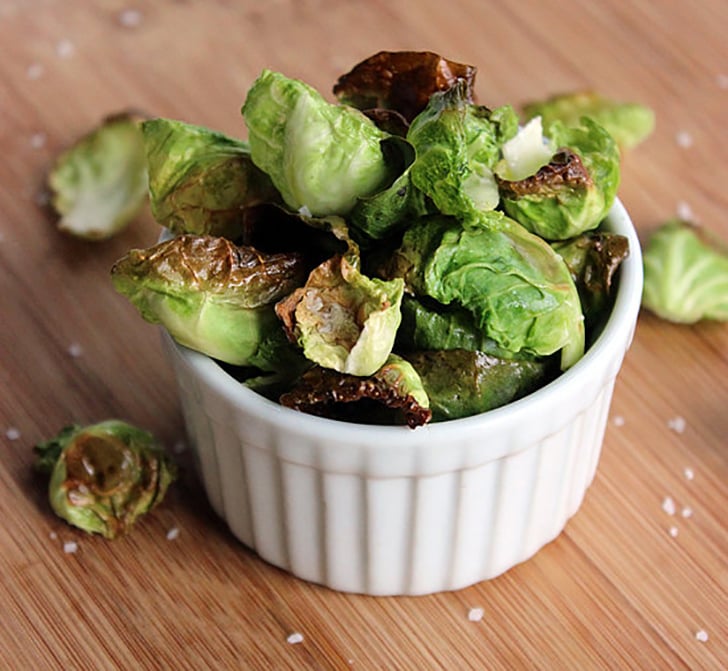 Looking for a high-fiber, and low-calorie salty snack? It's time to whip up a batch of crispy brussels sprouts chips [32] made from the roasted veggie's leaves. In less than 10 minutes, you'll be snacking on a vitamin-rich Paleo recipe you'll want to grab by the handful.
Snack: Babaganoush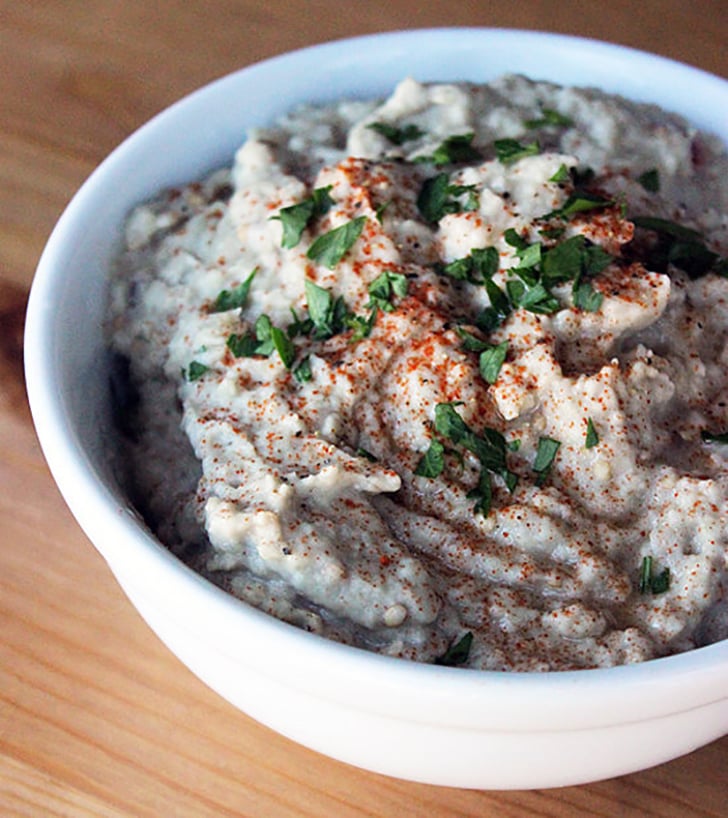 This lightened-up version of the traditional eggplant dip babaganoush [33] eliminates olive oil from traditional recipes but not at the price of flavor or texture. This Middle Eastern recipe is a great alternative when you're craving hummus on a Paleo plan.
Snack: Kabocha Squash Hummus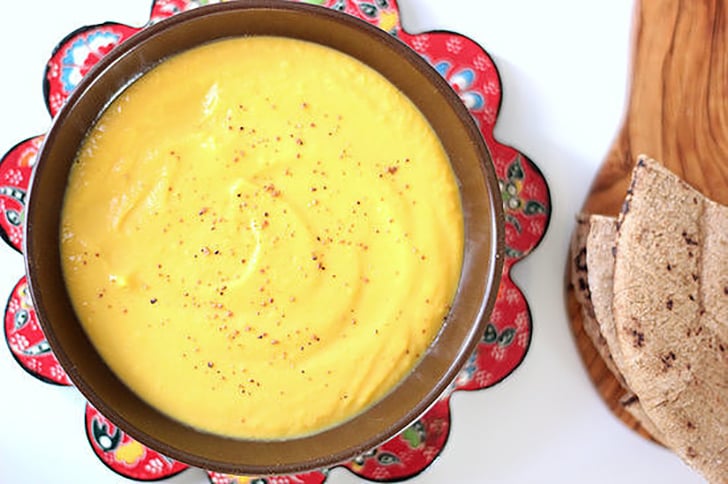 For a more literal alternative to traditional hummus (which, unfortunately, isn't allowed on a Paleo plan), look to seasonal kabocha squash hummus [34] for inspiration. It's high in vitamin A from the squash and brings healthy fats from the tahini and olive oil to your table.
Snack: Seaweed Chips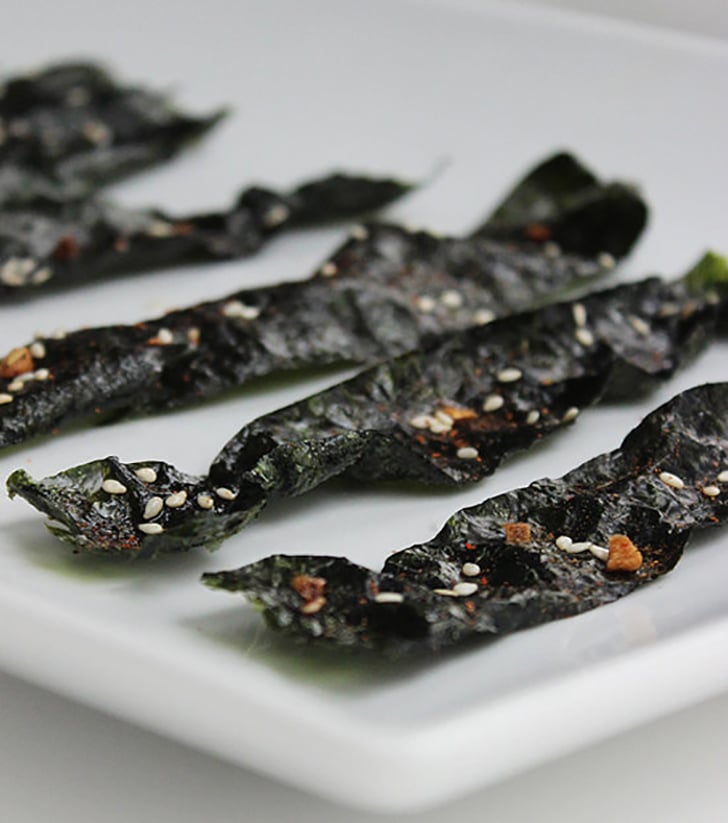 Craving the crunch of potato chips but on a Paleo diet? Welcome these seaweed chips [35] to your snack-time rotation. They're cholesterol-free and high in vitamin A, and seven of these spicy seaweed chips are only 42 calories.
Snack: Homemade Strawberry Fruit Leather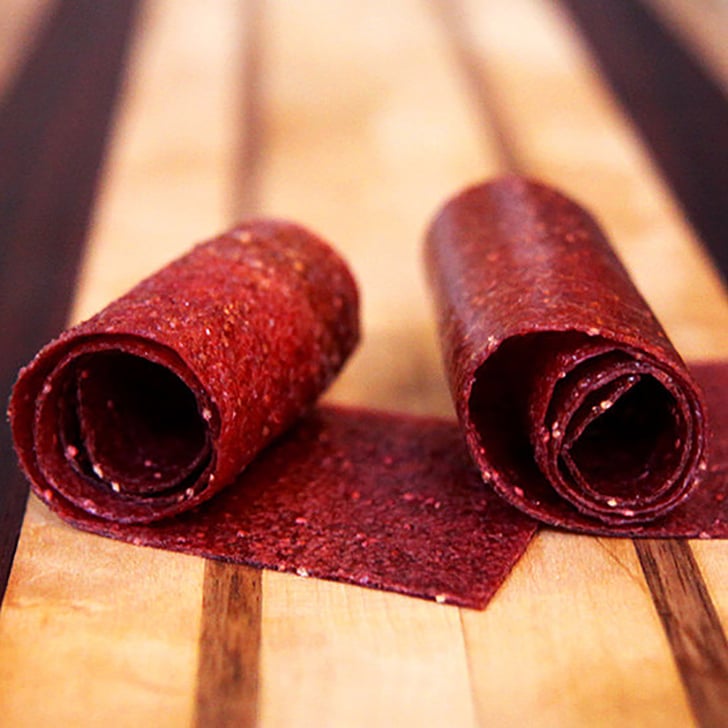 With a food processor, an oven, and a lazy afternoon, it's easy to whip up a batch of fresh-tasting fruit leathers [36], made with only pureed fruit.
Snack: Bacon and Brussels Skewers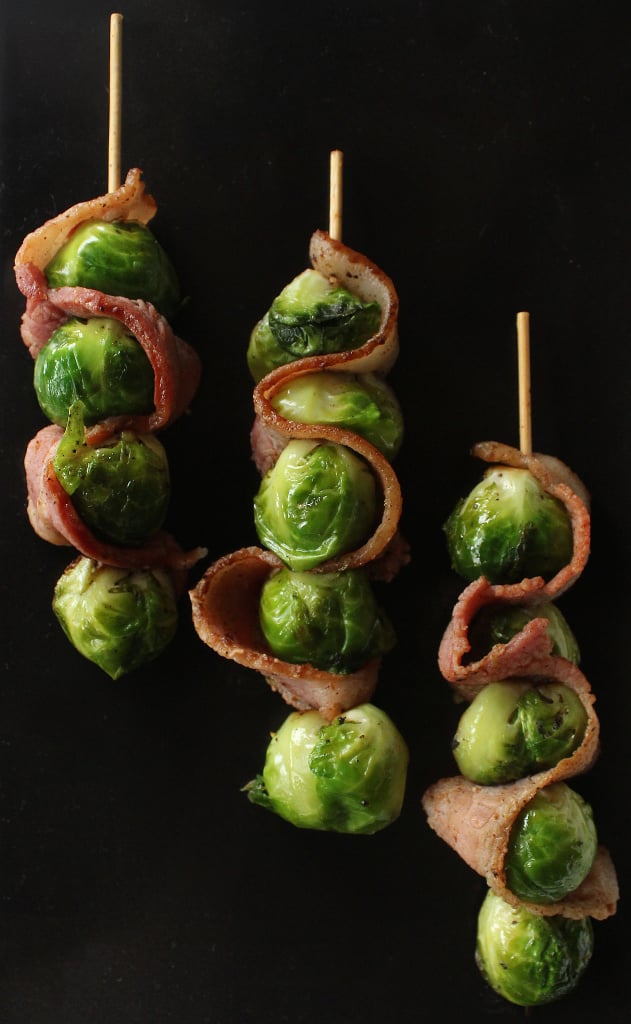 Simple bacon and brussels sprout skewers [37] are a Paleo-friendly and naturally gluten-free snack that come together in just a few steps. These satisfying skewers help keep portion control in check — each is just over 150 calories and offers more than 10 grams of protein.
Snack: Almond Butter Apricot Bites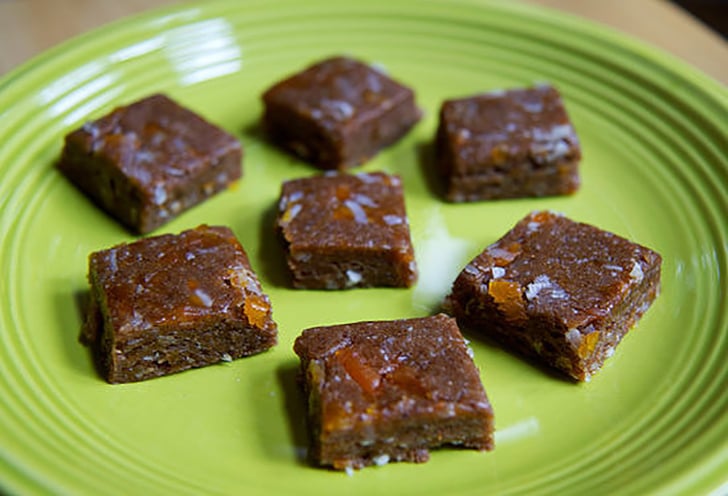 This Paleo treat is also vegan [38] and is perfect for a sweet snack to enjoy before a workout.
Snack: Avocado With Sunflower Seeds
Avocados are a creamy snack that are good on their own, but a sprinkling of sunflower seeds gives them an even healthier boost. The combination of avocado and sunflower seeds [39] brings the body a healthy dose of fiber, vitamins E and K, and potassium.
Dessert: Raw Fudge Brownies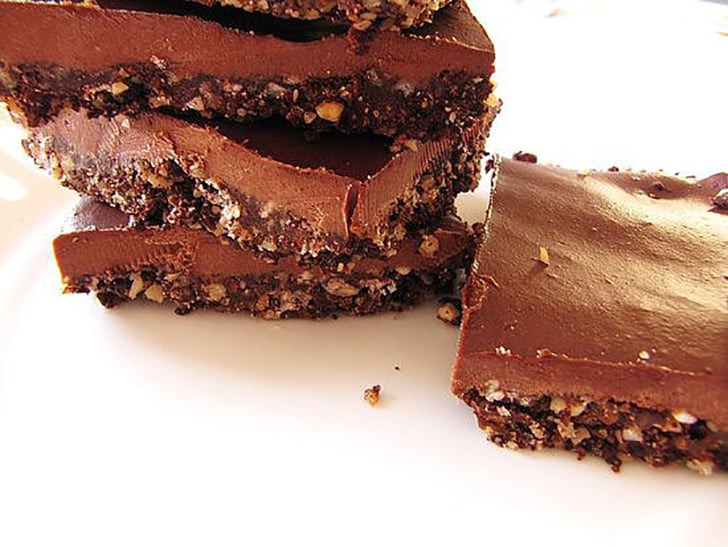 Whip up a batch of these completely grain-free fudge brownies [40] — just be sure to use raw, unfiltered local honey.
Dessert: Tahini-Orange Cookies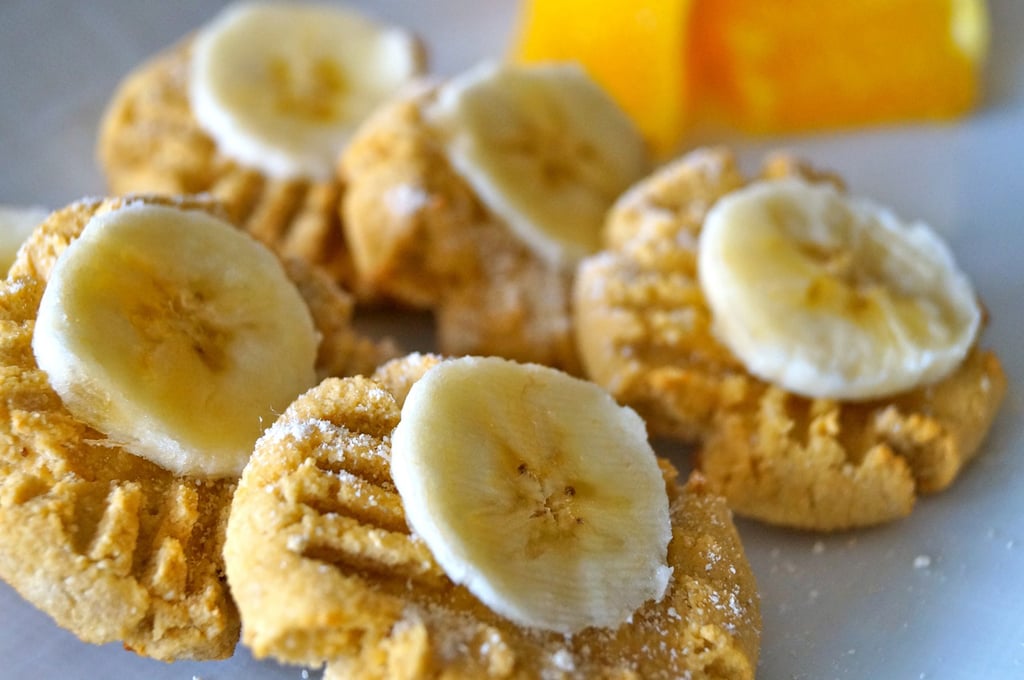 Bake up a batch of these nutty and tropical tahini-orange cookies [41] for a fruity and sweet treat. You can also enjoy this batter raw.
Dessert: Cocoa Cherry Cake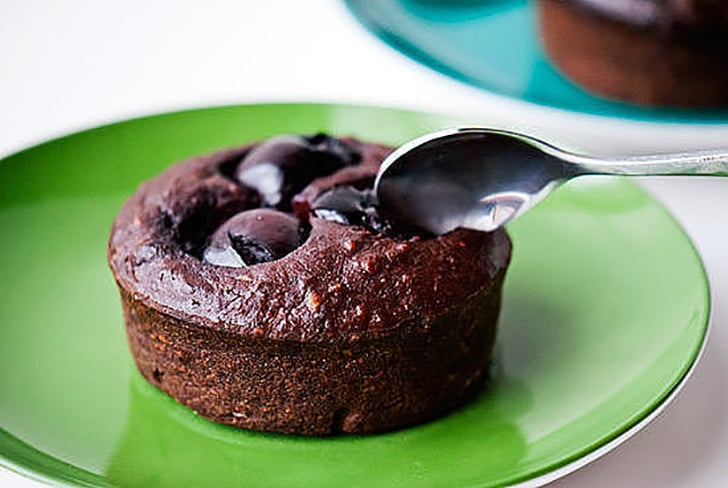 Make the most of cherries with a simple single-serving chocolate cake [42]. This grain-free recipe doesn't add unnecessary sugar, allowing naturally sweet flavors to speak for themselves.
Dessert: Banana Nut Butter Ice Cream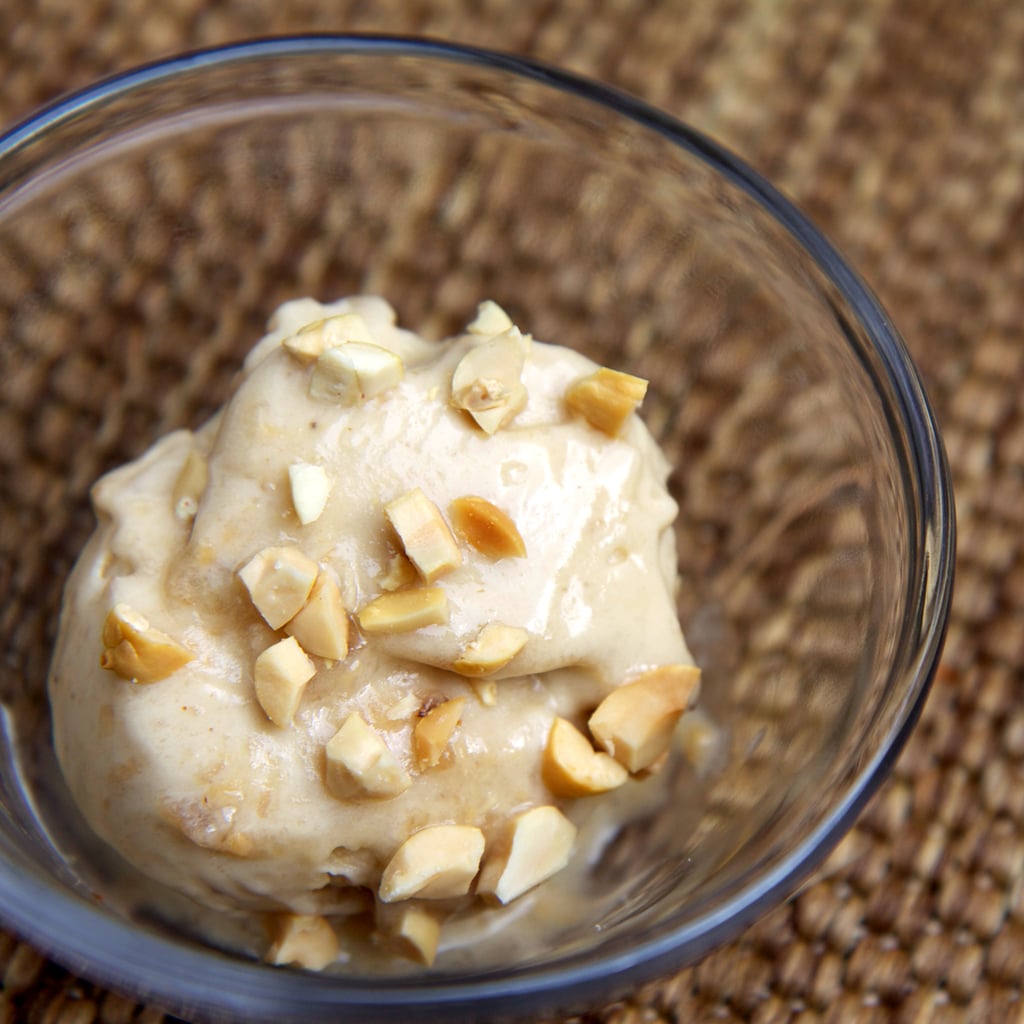 Made with only two ingredients — frozen bananas and nut butter — this ice cream [43] will taste more like a dessert than a snack. Make it Paleo-friendly by swapping out the peanut butter for your favorite nut butter.
Dessert: Blueberry Crumble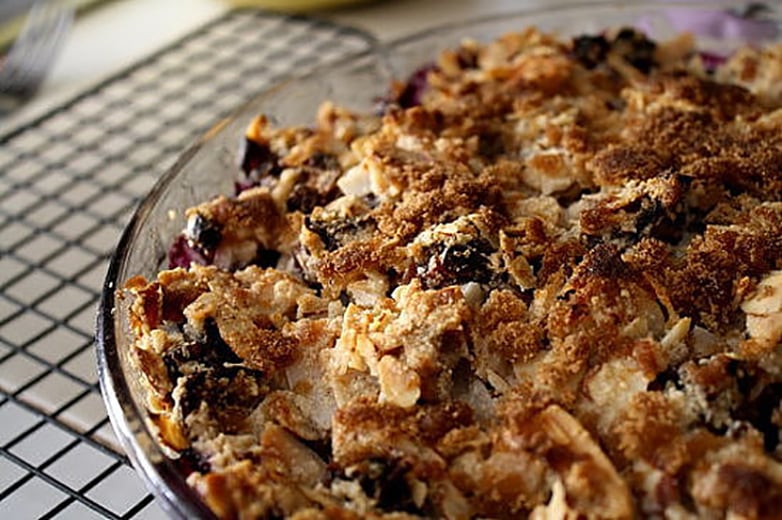 Make the most of blueberries with a fresh blueberry crumble [44]. You can easily incorporate your favorite fresh variety of berries or produce into this recipe.
Dessert: Pecan Pie Bars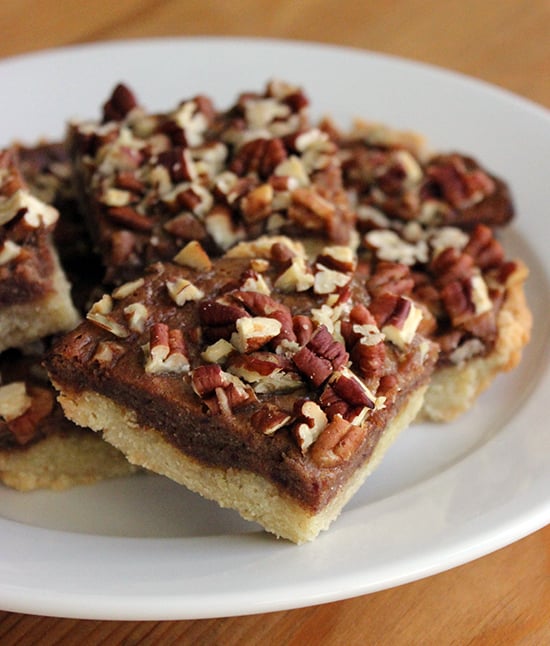 Who says pecan pie is just for Thanksgiving? With all-natural ingredients and no added sugar, this reinvented Paleo pecan pie recipe [45] is a tasty treat all year round. This dessert's gooey filling, moist texture, and crumbly crust will satisfy anyone's sweet tooth.
Dessert: Chocolate Chip Cookies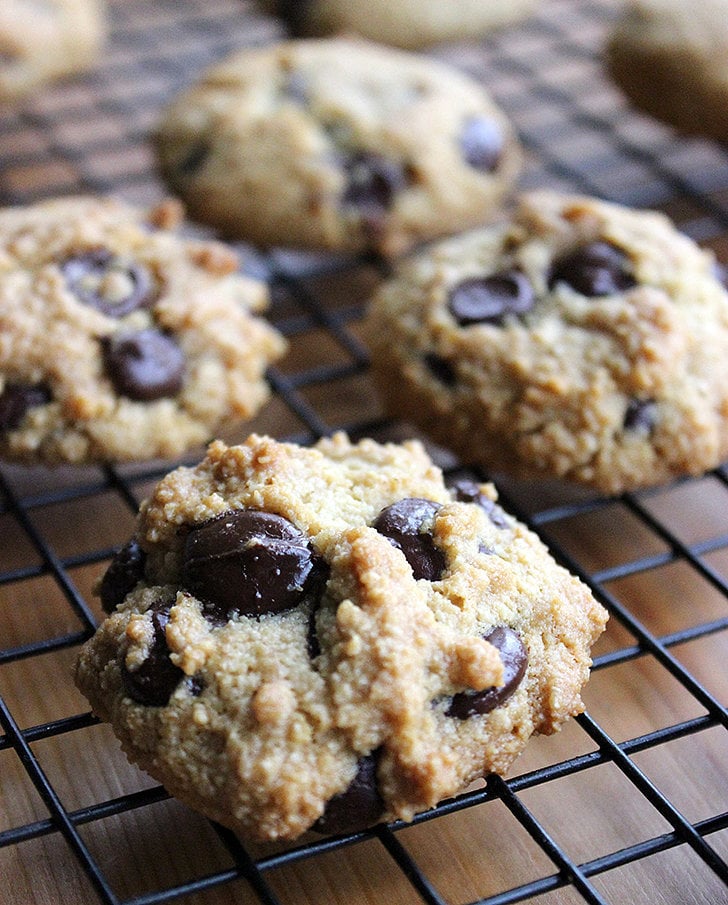 It's hard to believe, but these chocolate chip cookies [46] are Paleo and vegan! It's tough for these two dietary needs to meet in the middle for a decadent dessert, but these rich-tasting cookies make it happen.
Dessert: Dark Chocolate Nut Clusters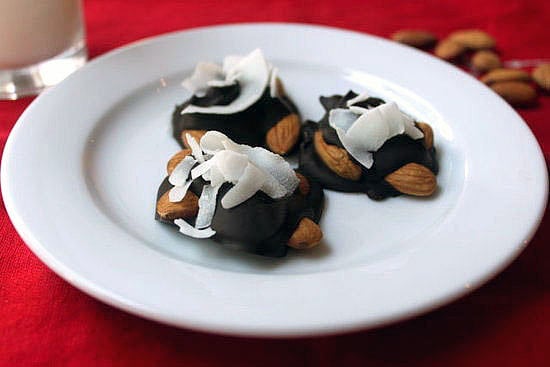 With just a handful of ingredients, you can enjoy a quick and easy chocolate fix: dark chocolate nut clusters [47]. This recipe avoids almost every type of diet limitation, since it's gluten-free and vegan-friendly.