For celebrity trainers Chris and Heidi Powell [1], the answer to beating belly bloat in time for Summer is simple: you've got to cut back on salt. Heidi called sodium a "magnet for water," since overconsumption can cause you to retain fluid, which can leave you feeling bloated. According to the couple, when there's too much sodium in your diet, it doesn't matter how many sit-ups you do. There's still a layer of water that's covering up all your hard work.
Beyond debloating for bikini season, a low-sodium diet (less than 1,500 milligrams per day [2]) can decrease your risk of cardiovascular disease, high blood pressure, and stroke — all important long-term benefits that should not be ignored.
From breakfast to dinner, check out all our tasty, natural recipes that offer less than 140 milligrams of sodium per serving, the recommended amount for a low-sodium meal from both the Mayo Clinic and the American Heart Association.
Source: Shutterstock [3]
Baked Egg in Avocado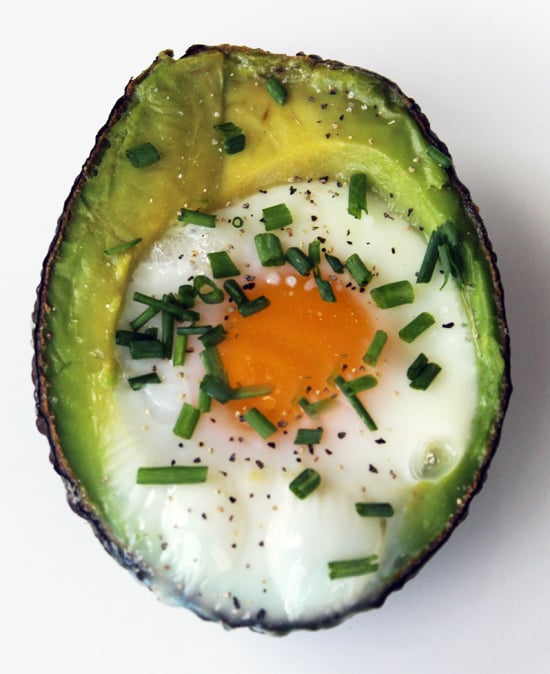 For a one-two punch of omega-3s in your breakfast, try baked eggs in avocado [4]. The low-sugar, high-protein, and fiber-filled breakfast will kick off your day on a healthy high note.
Total sodium: 137 milligrams
Total calories: 449
Photo: Lizzie Fuhr
Blueberry Barley Bake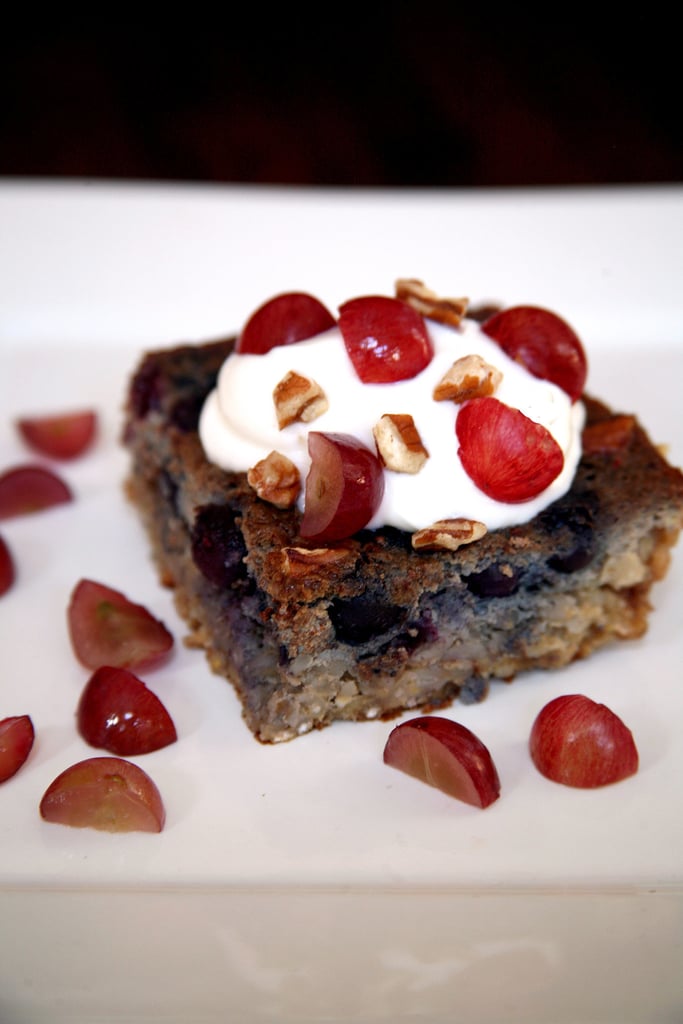 Here's a low-cal breakfast bake [5] made with whole grains and fruit, so it'll fill you up and keep you energized for hours. Blueberries and pureed grapes add fiber, prevent belly bloat, and give it a natural sweetness, and the plant-based protein powder, eggs, and soy milk jack up the protein, so you'll feel pepped and satisfied all day.
Total sodium: 90 milligrams
Total calories: 239
Photo: Jenny Sugar
Sweet Spinach Smoothie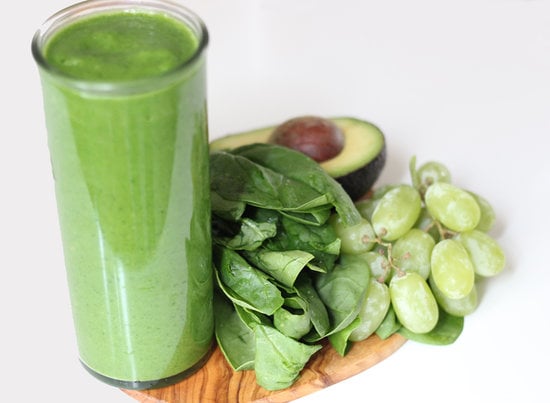 With just one 16-ounce serving of Harley Pasternak's sweet spinach smoothie [6], you'll be getting your entire recommended amount of vitamin A (great for healthy skin, hair, and eyes) and bone-building vitamin K. This recipe is a favorite of Harley's celebrity clients like Julianne Hough after an indulgent period.
Total sodium: 53 milligrams
Total calories: 296
Photo: Leta Shy
Coconut Almond Energy Bars
These protein- and carb-packed energy bars [7] are the perfect breakfast to grab while you're getting ready for a workout. Almonds, cashews, sesame seeds, and sunflower seeds fill you up, while honey and dates will give you the carbs you need while you sweat.
Total sodium: 25 milligrams
Total calories: 293
Photo: Leta Shy
Coconut Chia Pudding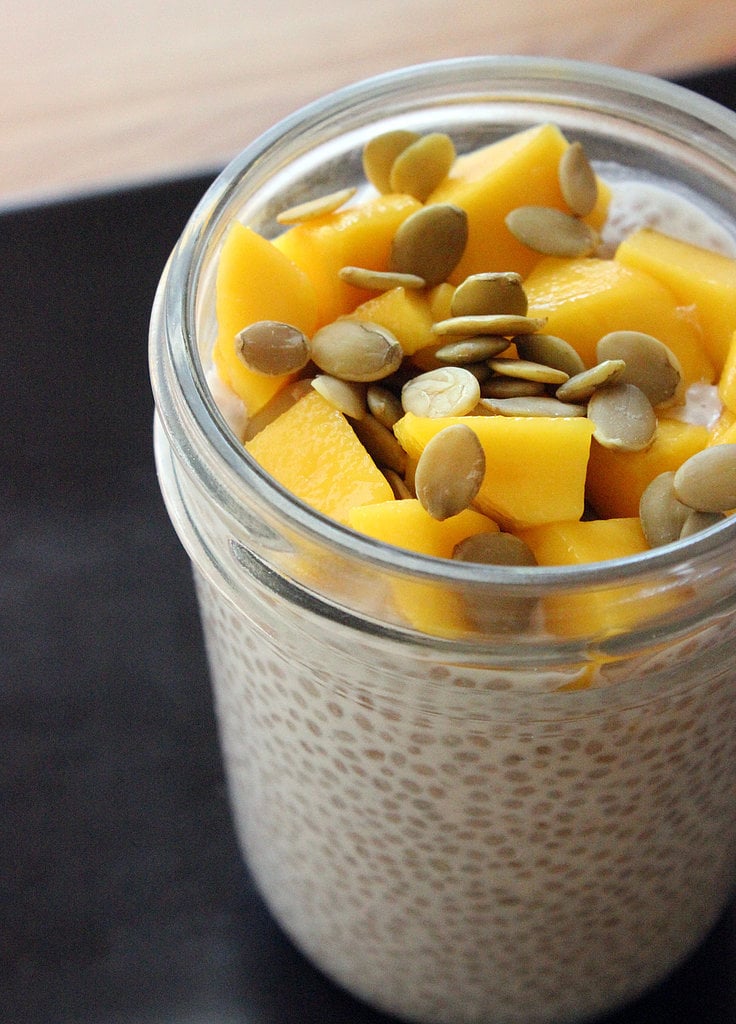 Mix the ingredients together the night before, pop your jar in the fridge, and look forward to coconut chia pudding [8] the next day. High in anti-inflammatory omega-3s, this sweet, chia-filled treat is a make-ahead recipe that will save you time, fill you up on fiber, and help you debloat.
Total sodium: 60 milligrams
Total calories: 206
Photo: Lizzie Fuhr
Quinoa Pancakes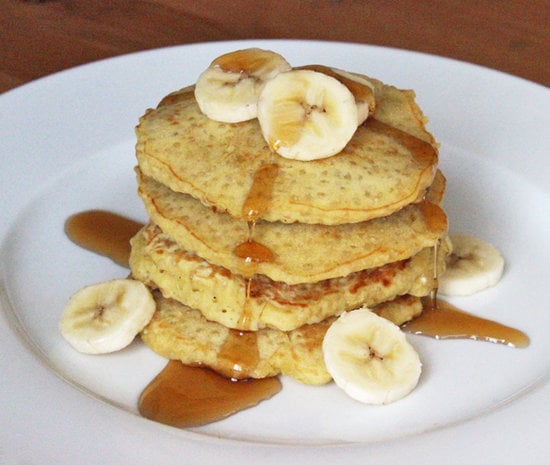 This creative quinoa-filled twist [9] on the breakfast classic offers less sodium and more folate, protein, and fiber than traditional recipes. Instead of leaving breakfast in a food coma, you'll feel satisfied and energized — ready to make the most of the day.
Total sodium (per two pancakes): 82 milligrams
Total calories (per two pancakes): 208
Photo: Lizzie Fuhr
PB&J Smoothie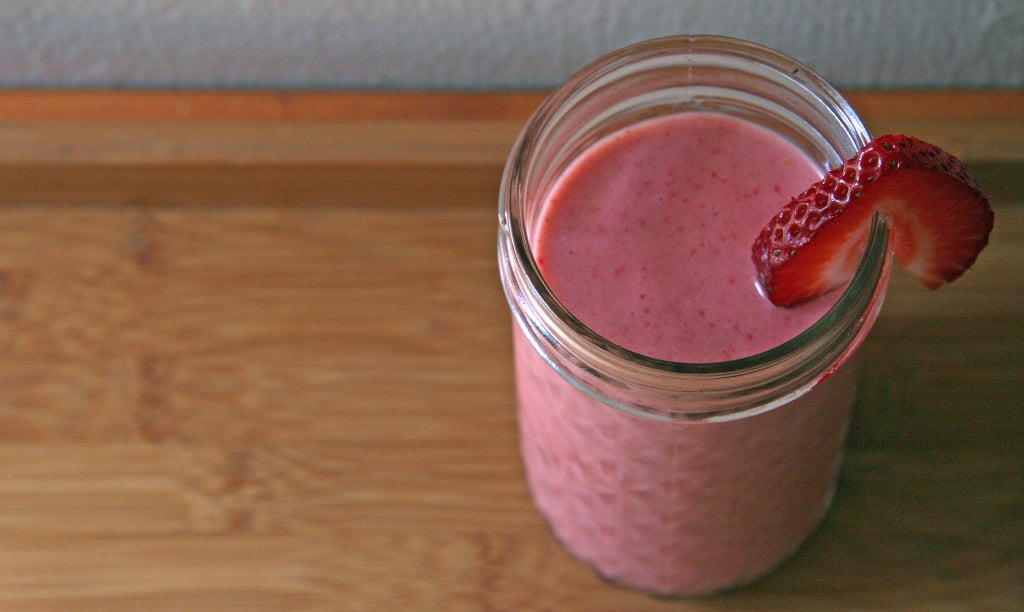 Harley Pasternak's PB&J smoothie [10] has all the nostalgia of a peanut butter and jelly on white bread: creamy and sweet, feeling more like dessert than a proper meal. But consider this — it contains an entire day's worth of fiber, is low in fat and sodium, and has high levels of potassium and vitamins B and C.
Total sodium: 114 milligrams
Total calories: 302
Photo: Michele Foley
Apple Cinnamon Quinoa Bake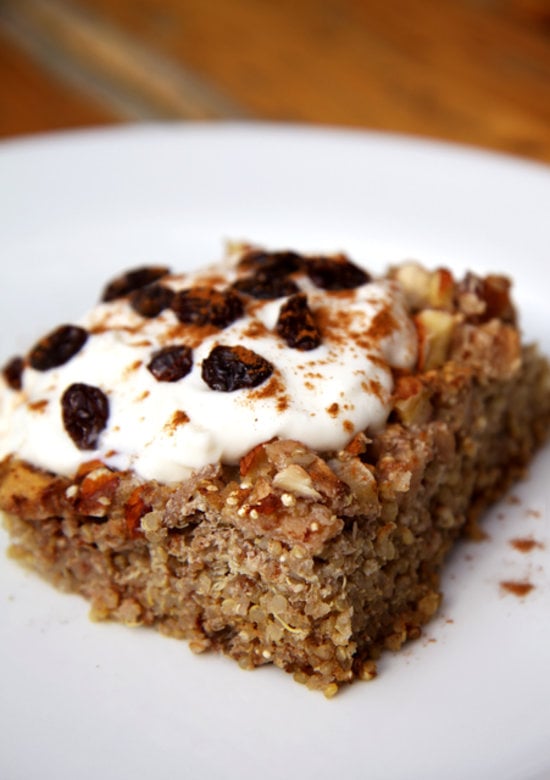 Whip up a batch of this gluten-free quinoa bake [11] featuring cinnamon-spiced apples, plump raisins, and crunchy almonds. And the best part is that you can make this hearty breakfast bake ahead, so you'll have low-sodium breakfast made for the next six mornings.
Total sodium: 56 milligrams
Total calories: 269
Photo: Jenny Sugar
Skinny Bitch Pasta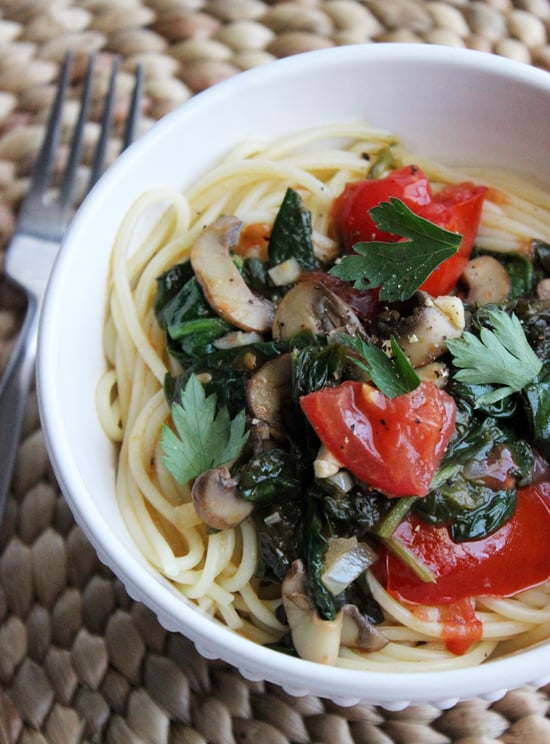 You don't need salt-laden ingredients to create a satisfying pasta supper, and this vegan-friendly spaghetti dish [12] from The Skinny Bitch [13] is proof. Fresh produce and a fragrant white-wine-and-garlic sauce keep this recipe low in calories but rich in flavor and nutrients like vitamins A and C.
Total sodium: 53 milligrams
Total calories: 228
Photo: Lizzie Fuhr
Cauliflower Rice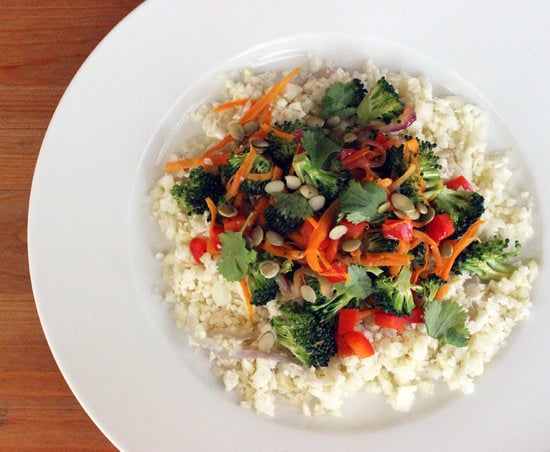 Fried rice should definitely not be on anyone's healthy-eating menu, so get the taste — and kill the cravings — with this Paleo-perfect cauliflower fried "rice" [14] recipe instead.
Total sodium: 99 milligrams
Total calories: 278
Photo: Lizzie Fuhr
Stuffed Peppers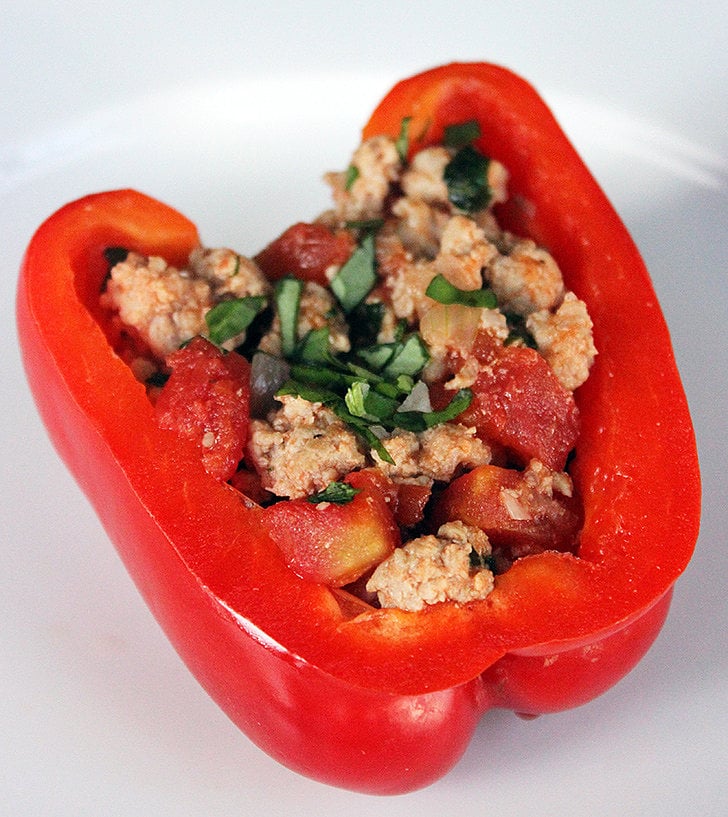 With just a few ingredients and less than 30 minutes, you can enjoy a fresh, clean meal with more than 30 grams of protein. You'll be glad to know these satisfying Paleo stuffed peppers [15] are under 300 calories per serving, making it a perfect light supper after an evening workout.
Total sodium: 125 milligrams
Total calories: 285
Photo: Lizzie Fuhr
Kale and Quinoa Superfood Salad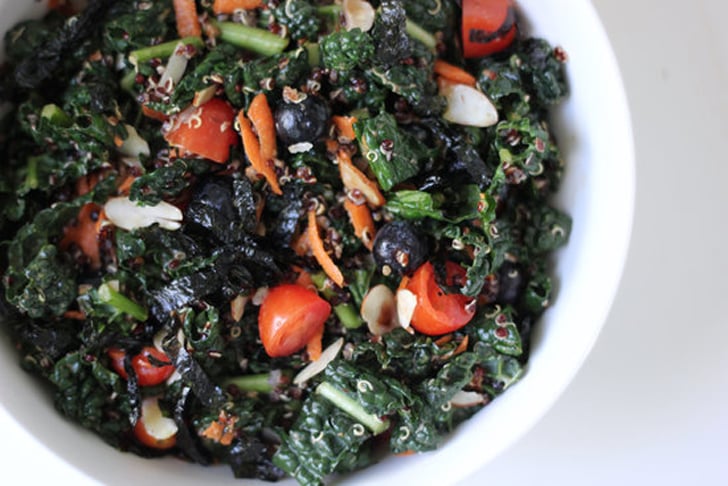 Powerhouse duo kale and quinoa combine in this salad [16] for a meal you'll want to make again and again. Both ingredients are jam-packed with nutrients like vitamins A, C, and K; healthy fats; protein; and fiber.
Total sodium (including tablespoon of dressing): 118 milligrams
Total calories: 434
Photo: Leta Shy
Spicy Sweet Potato Salad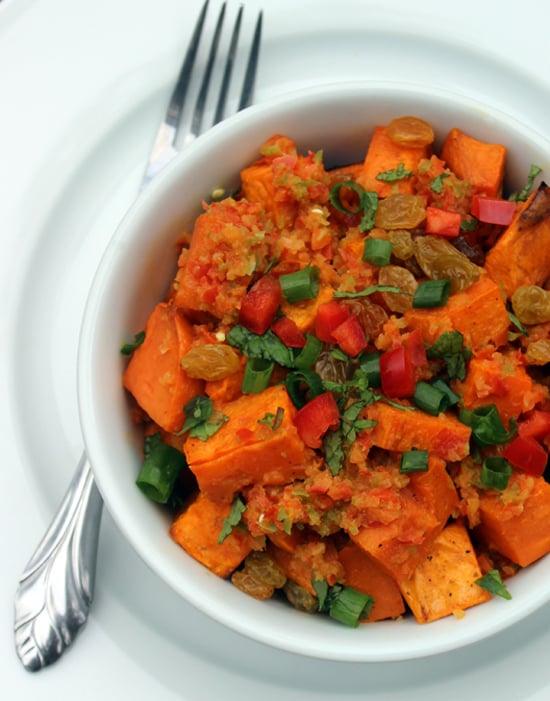 Food journalist Mark Bittman's spicy sweet potato salad [17] stands strong as a hearty and satisfying dinner. High-fiber sweet potatoes can regulate blood sugar and help you lose weight [18], and the spicy, antioxidant-rich red-pepper-and-jalapeño dressing helps balance out the sweetness of the dish.
Total sodium: 14 milligrams
Total calories: 270
Photo: Lizzie Fuhr
Hemp and Cabbage Detox Salad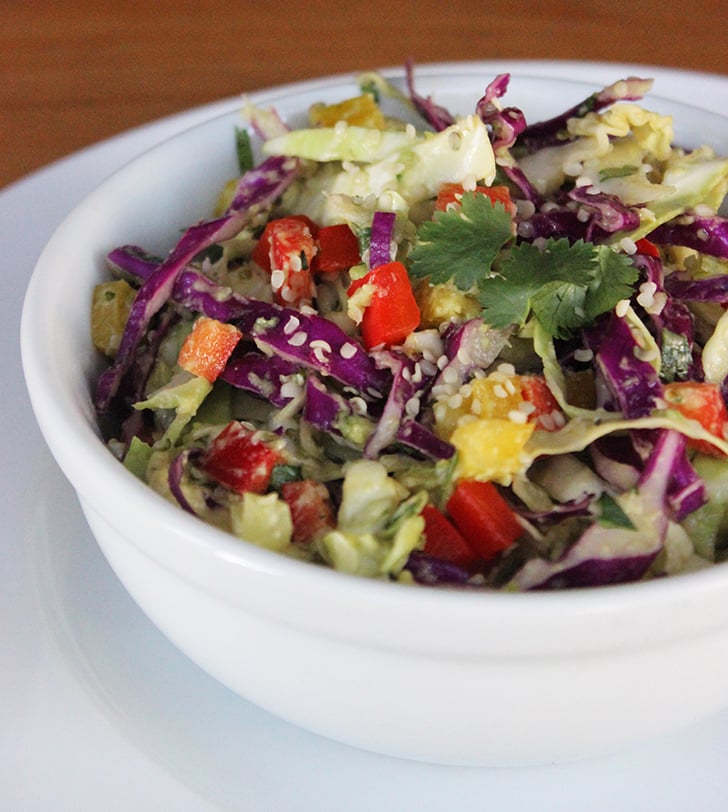 If you're on the hunt for a quick and tasty detoxifying recipe, this crunchy cabbage and hemp salad [19] is for you. If you haven't tried them yet, it's time to give hemp seeds a try. They're a great source of omega-3s and vitamin E for vegans and vegetarians, and the combination of the cold-pressed oil and seeds in this recipe gives this fresh salad a nutty flavor you'll love.
Total sodium: 22 milligrams
Total calories: 361
Photo: Lizzie Fuhr