It's taken a lot of traveling for me to realize that just because I'm on vacation, I can't eat whatever I want. I'm a fan of making that excuse, but now that I'm back on Weight Watchers [1] — again — I've tried to get those tendencies under control. I recently put that to the test when I did a five-day road trip.
I planned well in advance for all aspects of my trip, down to selecting a car that I thought was best suited. My friend and I opted for a Buick Regal Tourx [2] because it was roomy enough to haul our luggage along with food and drinks. It also had a handy GPS system in the dash that allowed us to search for food options for dinners each night.
I packed breakfasts, lunches, and snacks [3] in two different coolers to stash in the trunk. All the perishables were in one cooler that I refilled with ice from every hotel and all the nonperishables were separate. I specifically kept everything in the trunk so I wouldn't be tempted to snack constantly while on the road [4], knowing I'd struggle not to if food was within reach.
I also packed some extra supplies that came in handy. I brought a case of water with Crystal Light packets to give me some variety in my drinks, my own dishes just in case, and my own measuring cups and spoons. I wanted to be as precise as possible with the food I bought for the trip, because that was where I had the most control. I knew my dinners out would be a gamble, so I needed to keep an accurate count of my SmartPoints at breakfast and lunch.
My daily SmartPoints base is 25 [6], and while I went over each day, it wasn't usually by much, and it was actually right around where I usually hover. As someone who's not a fan of vegetables, I tend to not eat many of them and instead opt for the food with SmartPoints, keeping me right around 25 or a little more every day. That's what the weekly points are for!
My trip was five days down the West Coast, from Seattle to Los Angeles. I had a weigh-in right before I left and another one right after I got back, and lo and behold, being careful on the road trip paid off and I actually lost just over two pounds [7]. It was probably the first time I lost weight on vacation, and it was exhilarating! But it didn't feel like hard work, because I still ate out every night; I just had to be smart about it. For some insight on what I ate every day, keep reading.
How We Packed the Car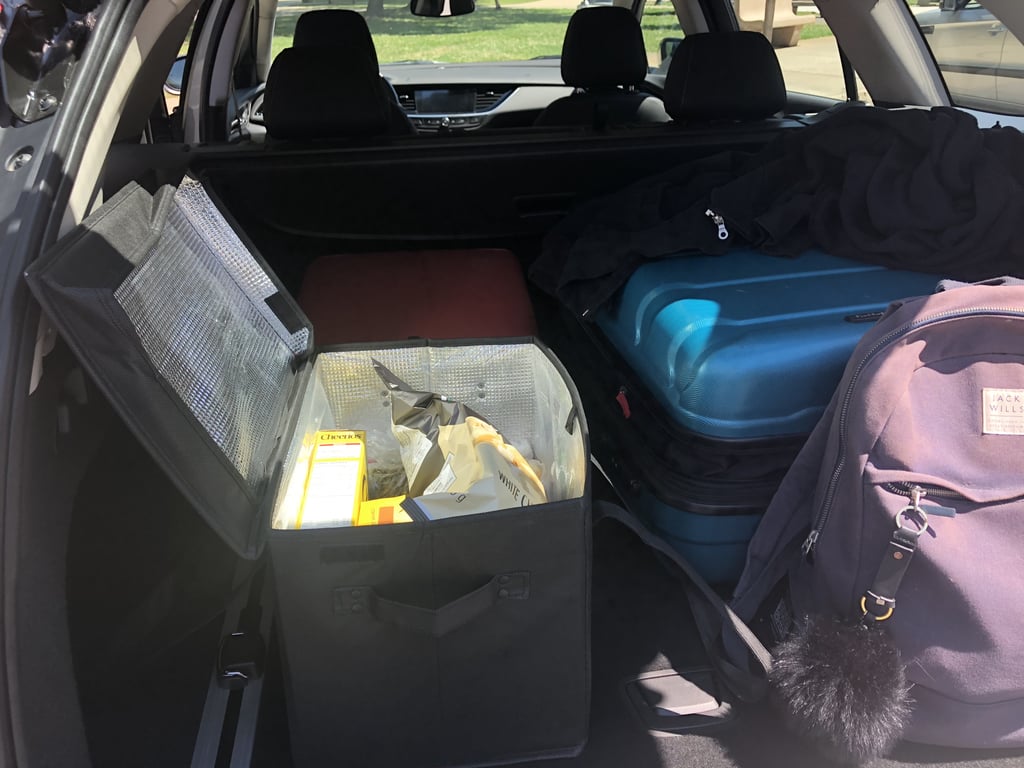 Renting a car with a large trunk space allowed us to easily stash all the luggage and a couple coolers. I bought one cooler that was collapsible, so I could bring it home on the plane once emptied, and I had a second hardside cooler that I filled with ice for the cold items. There's also a case of water in the backseat.
The Foods I Brought Along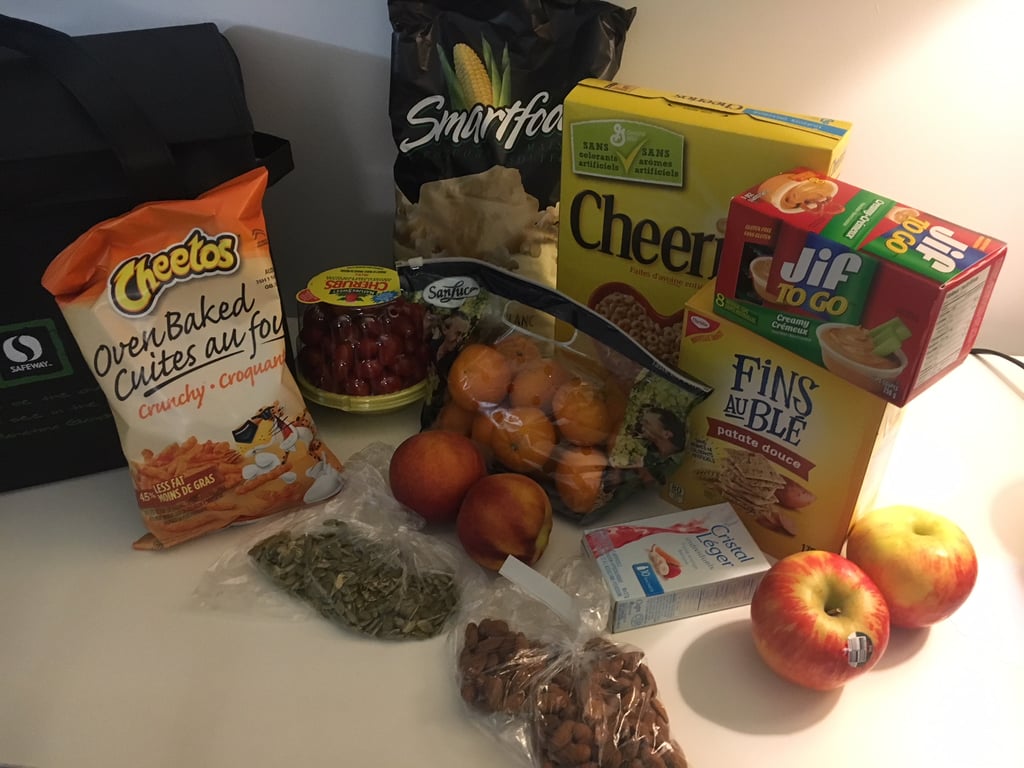 I bought quite a few things to start off the trip but didn't end up eating some of it. Some of the food came back to New York with me, and the rest was inherited by friends along the way.
Baked Cheetos (literally my favorite snack)
Apples
Peaches
Grape tomatoes
Unsalted almonds
Unsalted pepitas
Peanut butter
Smartfood popcorn
Mandarins
Wheat Thins
Hard-boiled eggs
Lactaid
Carrots
Cheerios
Crystal Light
Breakfast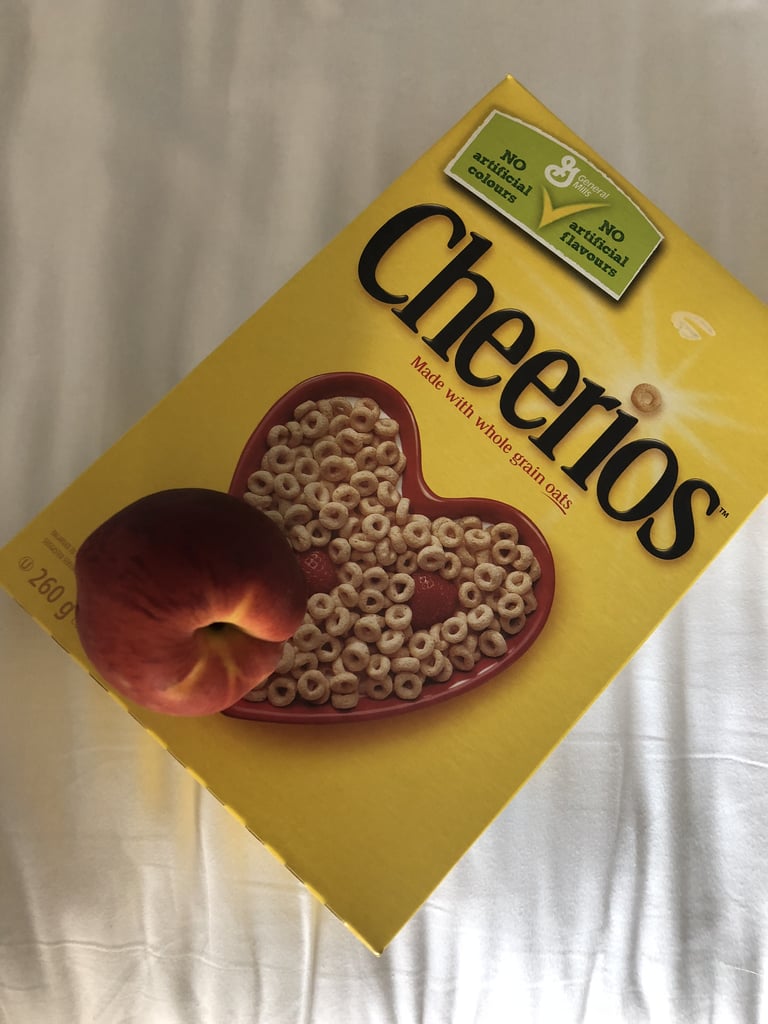 On my first day, and every subsequent day, I had a bowl of Cheerios with Lactaid for breakfast. I brought my own bowl and spoon with me and just washed it in the hotel bathroom sink after eating.
SmartPoints Breakdown
1 cup Cheerios: 3 SP
3/4 cup Lactaid: 2 SP
Meal Total: 5 SP
Lunch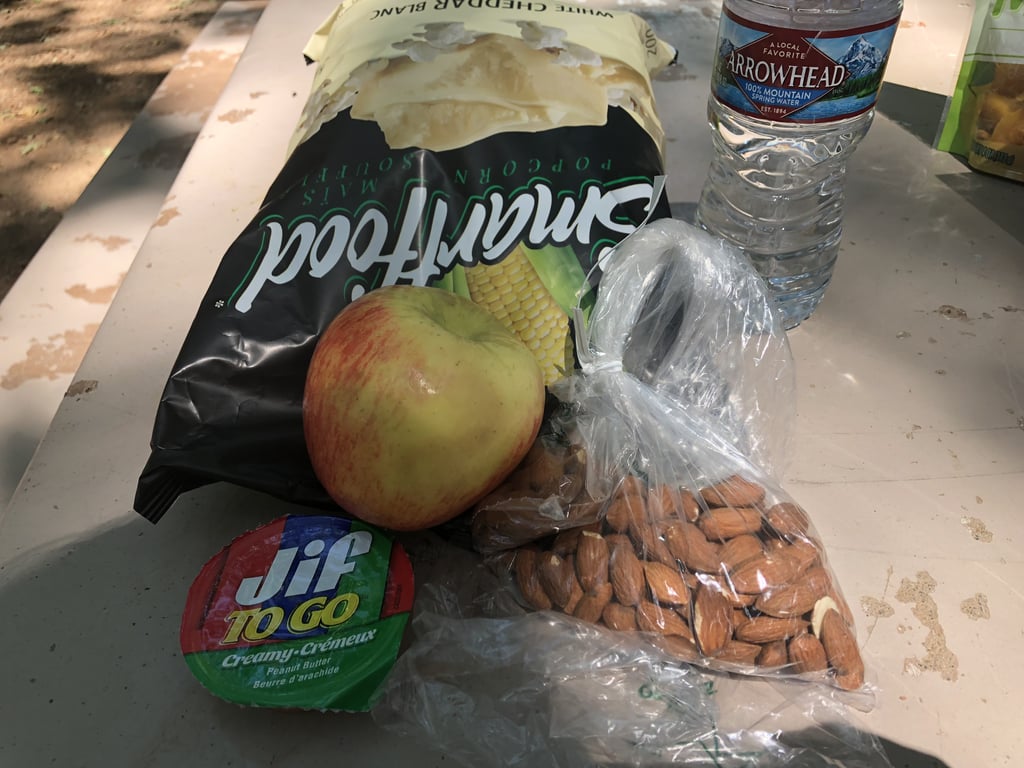 Lunch was on the road every day, so it was the same throughout the trip, usually at a rest stop somewhere.
SmartPoints Breakdown
1 apple: 0 SP
3/4 Jif To Go: 6 SP (one pack would have been 8 SP, which is too much)
2 tbsp. almonds: 2 SP
1 cup Smartfood White Cheddar Popcorn: 3 SP
Meal Total: 11 SP
Dinner: Day 1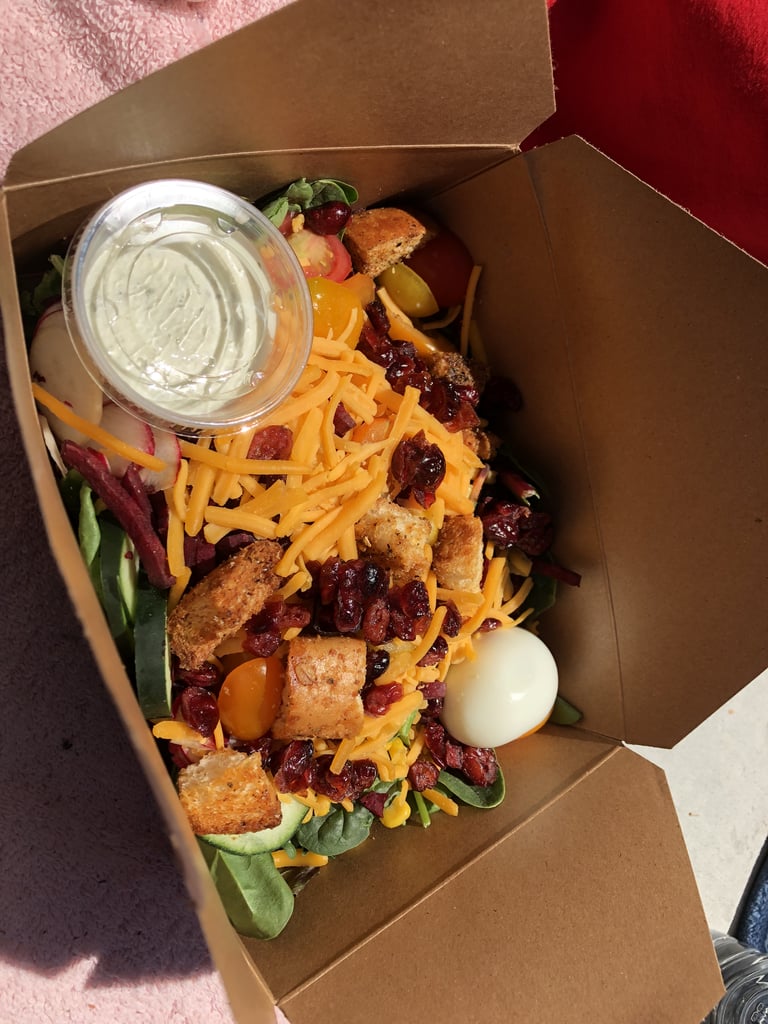 On the first day, we stopped somewhere in the Pacific Northwest, where I thankfully found a Whole Foods. If there's one place I love to get salad, it's the Whole Foods salad bar [9], despite how pricey it can be. So I made myself a big salad for dinner and ate it there. I also ended up eating no snacks on day one, which is shocking even to me.
SmartPoints Breakdown
2 cups of assorted greens: 0 SP
1/2 cup grape tomatoes: 0 SP
1/2 cup bell peppers: 0 SP
1/4 cup shredded beets: 0 SP
1/4 cup celery: 0 SP
1/4 cup carrots: 0 SP
1/8 cup radishes: 0 SP
1/8 cup cucumbers: 0 SP
1 hard-boiled egg: 0 SP
1/4 cup croutons: 3 SP
2 tbsp. shredded cheddar: 2 SP
1 tbsp. dried cranberries: 1 SP
2 tbsp. ranch dressing: 5 SP
Meal Total: 11 SP
DAY TOTAL: 27 SP
Dinner: Day 2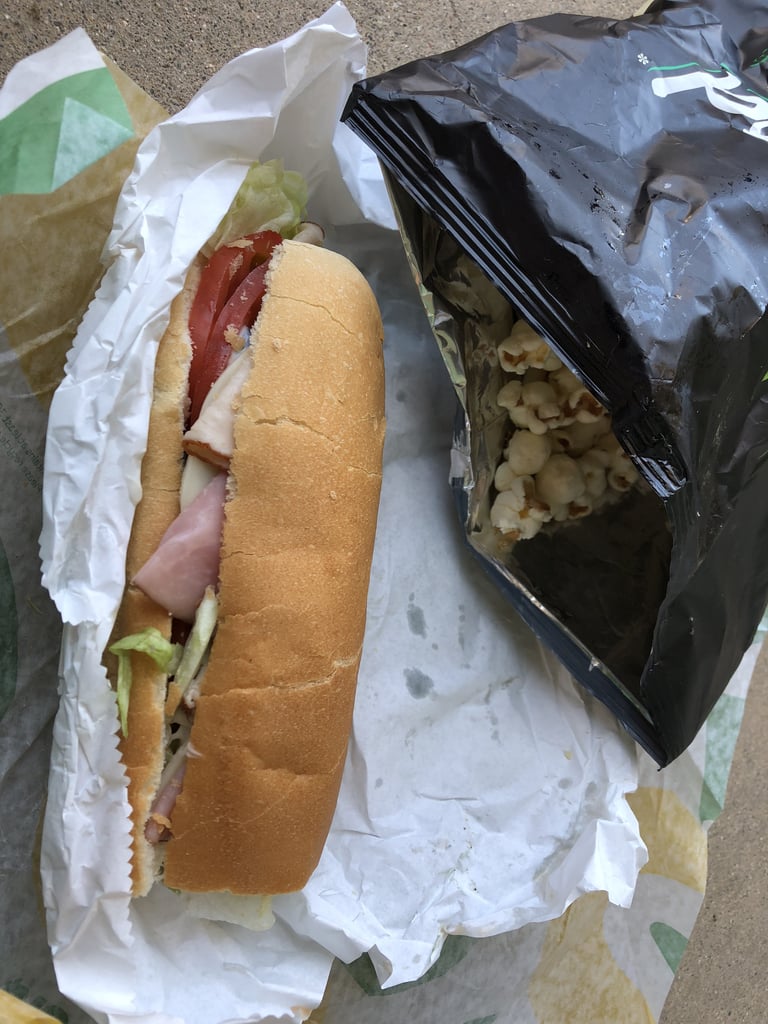 On day two, I had a snack around midafternoon while we were driving and for dinner we grabbed Subway. I got a six-inch ham and turkey sandwich on Italian bread with all of the veggies it could fit.
Snack SmartPoints Breakdown
1/2 cup grape tomatoes: 0 SP
1 peach: 0 SP
Snack Total: 0 SP
Dinner SmartPoints Breakdown
6-inch ham and turkey sub on Italian with veggies and mustard: 9 SP
1 cup Smartfood White Cheddar Popcorn: 3 SP
Meal Total: 12 SP
DAY TOTAL: 28 SP
Day 3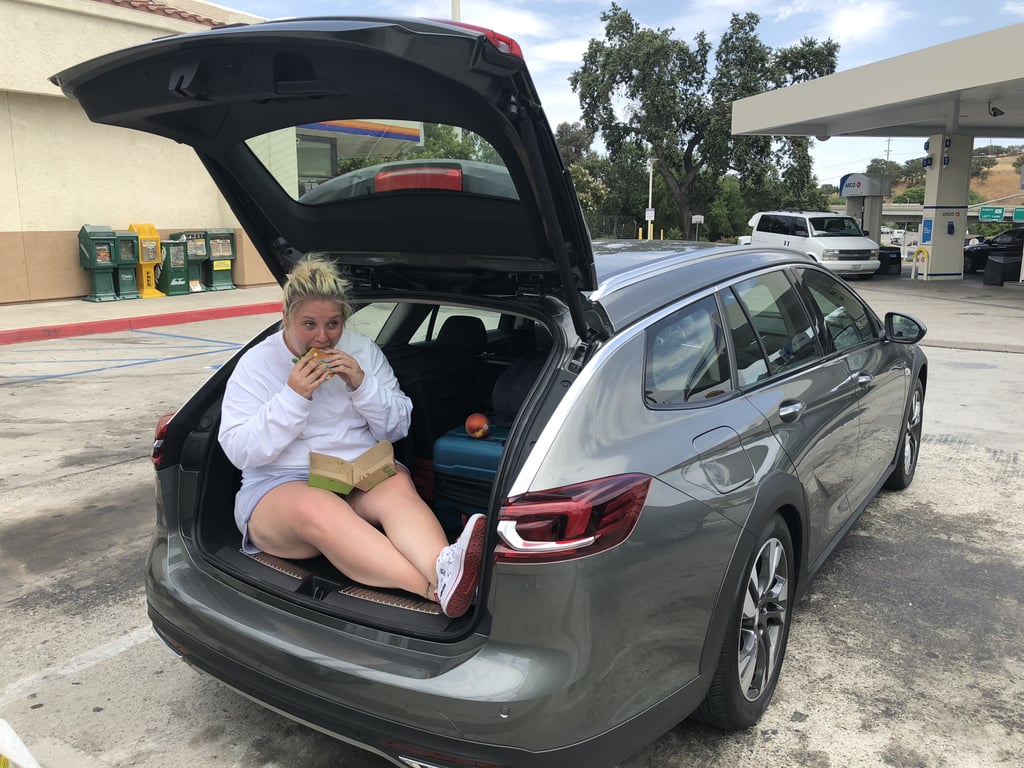 Honestly, the best part about having a hatchback was that we could sit in the back to eat to change things up. It's also more comfortable that way. On day three, I skipped an afternoon snack and had McDonald's for dinner. Fast food shouldn't be scary on Weight Watchers! There are definitely things you can eat. Just watch out for the toppings on your sandwiches and avoid the french fries.
SmartPoints Breakdown
McDonald's Artisan Grilled Chicken Sandwich: 8 SP
1 peach: 0 SP
1 cup carrots: 0 SP
Meal Total: 8 SP
DAY TOTAL: 24 SP
Dinner: Day 4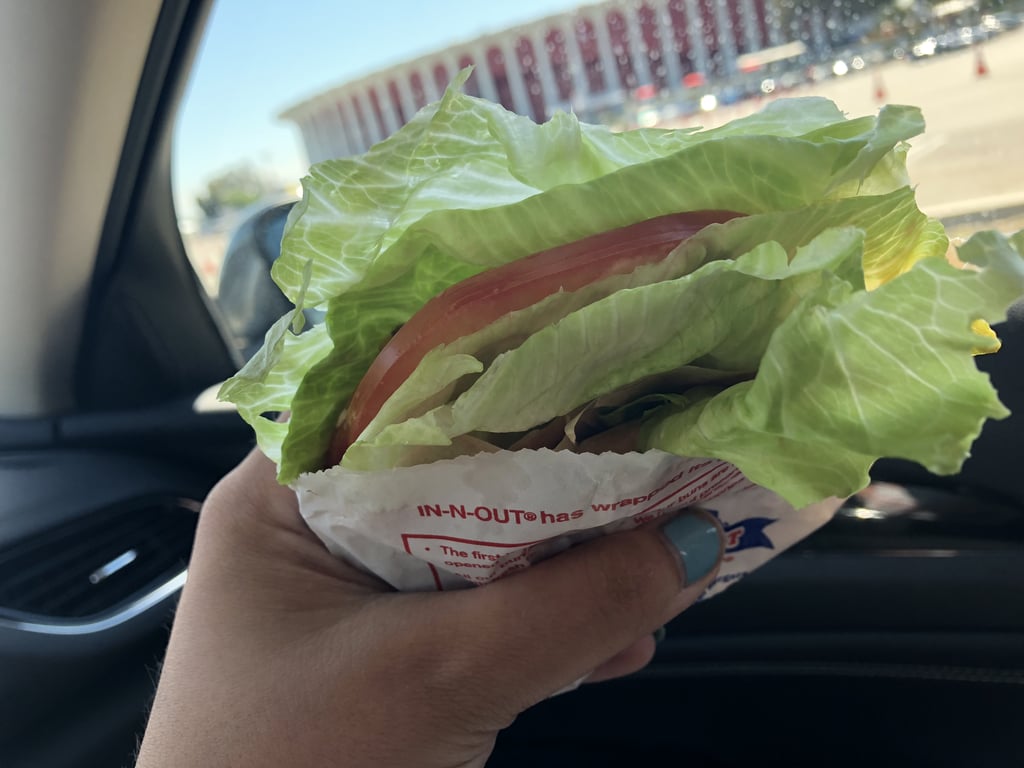 Because I was in LA at this point, I couldn't not have an In-N-Out burger. Luckily, In-N-Out has a protein-style option that leaves off the bun and instead uses a lettuce wrap. I also had a snack in the evening because I got hungry again.
Dinner SmartPoints Breakdown
In-N-Out single cheeseburger, protein style: 12 SP
1 peach: 0 SP
1 cup carrots: 0 SP
Meal Total: 12 SP
Snack SmartPoints Breakdown
3 mandarin oranges: 0 SP
34 pieces Baked Cheetos: 4 SP
Snack Total: 4 SP
DAY TOTAL: 32 SP
I went over more than I'd like on this day, but I also went to a concert in the evening and danced for a solid 90 minutes, so I forgave myself for eating a little extra. After all, that's what your weekly points are for!
Day 5
Our last full day of the trip was spent in Malibu, enjoying the beach. As with the rest of the week, I had my usual for breakfast and lunch, which finished off all of those foods (thanks to my friend also eating some) and left me very little to cart all the way back home across the country. After a long week of travel, we rewarded ourselves with burritos, because if there's one thing I truly miss about living in California, it's the burritos.
Dinner SmartPoints Breakdown
Shrimp burrito with black beans, rice, lettuce, pico de gallo, and guacamole: 15 SP
(This is my best estimate. It was a small burrito.)
Meal Total: 15 SP
DAY TOTAL: 27 SP
Bonus — Exercises!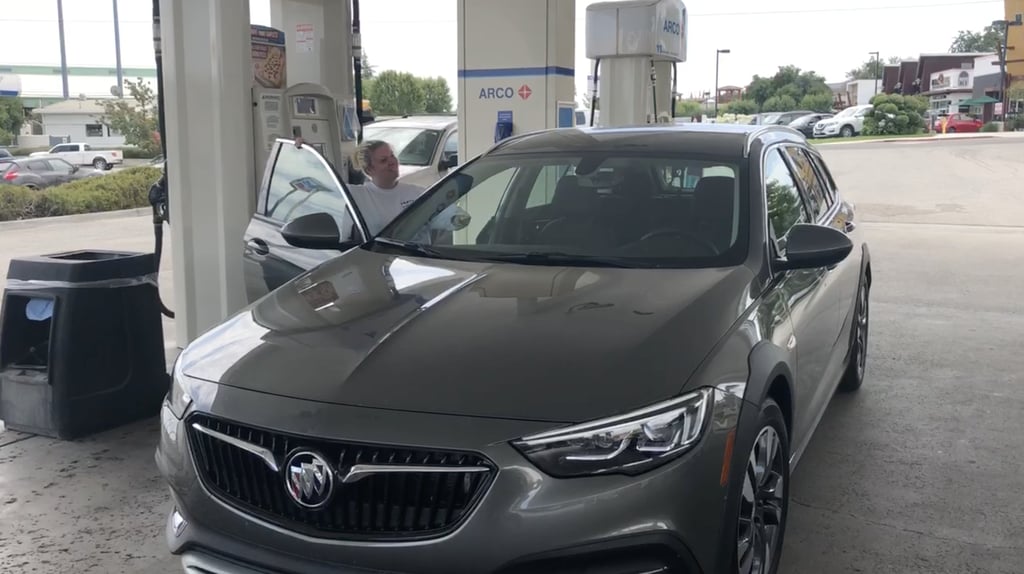 As you can imagine, sitting in a car for hours a day is not awesome, and for someone who is pretty active, my legs were dying to get some work in any time I could. So I took advantage of every stop we made. At gas stations, I'd walk laps around the car while pumping gas and then I'd do a few squats [10], which is what I'm doing here. I got some looks from strangers, but it felt good to move around!