Spinach, Egg, and Bacon Breakfast Casserole
Adapted from Bon Appétit [2]
Notes
Substitute chopped ham for the bacon if it irks you that bacon, strictly speaking, isn't ham.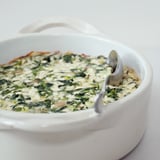 Ingredients
4 large eggs
A scant 3/4 teaspoon kosher salt
1/2 teaspoon freshly cracked black pepper
1 10-ounce package frozen chopped spinach, thawed, squeezed dry
1 16-ounce container cottage cheese
1 bunch scallions, thinly sliced
1 cup (3 ounces) sharp cheddar cheese, grated
1/4 cup all-purpose flour
3-4 strips (about 4 1/2 ounces) thickly cut bacon, cooked [3] and roughly chopped
3 tablespoons chopped fresh parsley
Directions
Preheat the oven to 350°F. Grease an 8-inch-square (or equivalent volume) baking dish.
In a large mixing bowl, beat the eggs, salt, and pepper until no streaks of yolk remain. Mix in the remaining ingredients until evenly distributed. Transfer the egg, cheese, and spinach mixture to the prepared baking dish.
Bake the casserole until the center is firm and the top is golden, about 45 minutes. Serve hot or at room temperature.
Information
Category

Eggs, Breakfast/Brunch

Yield

4-6 servings