Microwaveable Peanut Butter and Banana Oatmeal
Inspired by Andie Eikenberg and Tricia Kate Roberts
Notes
My favorite instant oatmeals are Nature's Path Flax Plus [1] and Bob's Red Mill Instant Oats [2].
To keep things convenient at work, I recommend keeping minipackets of oatmeal and peanut butter on hand.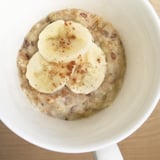 Ingredients
1 large banana, mashed
2 tablespoons peanut butter
1 (50-gram) packet or 1/2 cup of plain, unsweetened instant oatmeal
Splash of nondairy milk, optional
Flake salt, to taste
Ground cinnamon, chocolate chips, or berries, as garnish
Directions
Fully mash a banana in a mug. Mash in peanut butter until fully combined. Stir in oatmeal. If mixture is too dry, splash a bit of nondairy milk and continue mixing. Press mixture down until it's flat.
Microwave for 2 minutes or until oatmeal becomes slightly translucent and the top becomes spongy and cake like.
Garnish with flake salt, ground cinnamon, chocolate chips, and/or berries.

Information
Category

Breakfast/Brunch

Cuisine

North American

Yield

1 mug oatmeal