Microwaveable Mug Oatmeal With Peanut Butter and Banana
How to Make Your Morning Oatmeal Taste Like Cookies — No, Seriously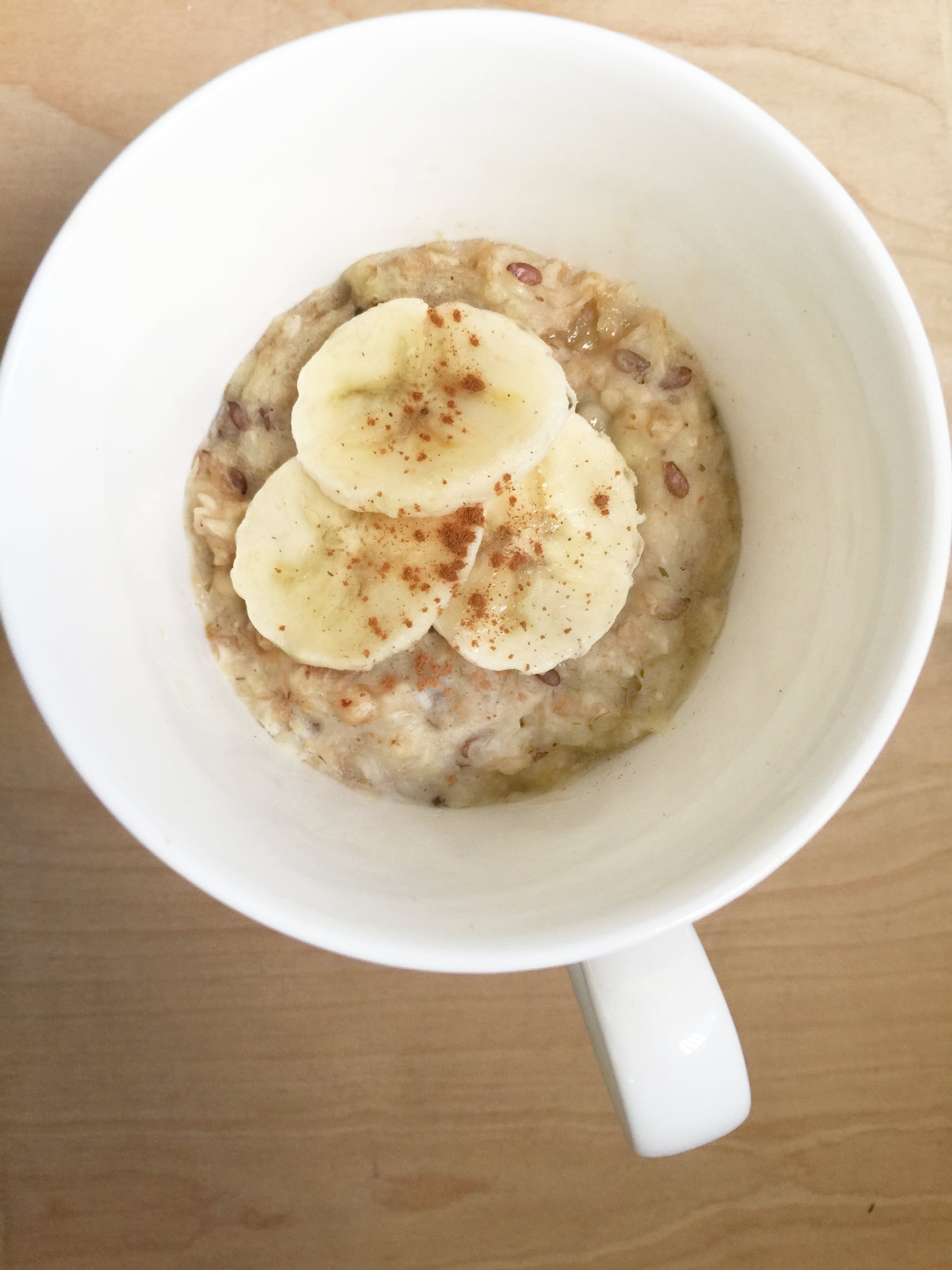 My younger sister, a vegan, gluten-free home cook extraordinaire, introduced me to this microwaveable oatmeal recipe, which I like to call "microwaveable oatmeal cookie," because the texture and taste is like a batch fresh out of the oven. The first time I watched her make this recipe, I couldn't conceal my bafflement — why is there no water?! Can banana and peanut butter alone really rehydrate the oats? Being the wiser-yet-younger sister, she calmly brushed my anxiety aside and said, "Just trust me on this one, OK?"

Even those who claim they are oatmeal averse won't be able to resist scraping the last bite of this recipe. The oatmeal becomes fluffy and almost cake like — rather than sticky like when cooked on the stovetop or rehydrated with boiling water. And the best part of this recipe is that it's extremely filling. As a person who often sneaks away to the kitchen for snacks every hour, this stuff keeps me satisfied for hours on end.
The basic recipe calls for instant oats, peanut butter (or any kind of nut butter), and a large banana.




The first step is key — mash the banana with a fork until it cannot be mashed any more. It should look like a thick, sticky syrup. I've used a mug here for convenience, but my sister likes to use a bowl with a wide, flat bottom.
Then stir in the peanut butter. Mash and stir until the two are thoroughly mixed.
Stir in the oats until every single piece is coated in the peanut butter-banana mixture. Microwave for a few minutes and then garnish with whatever toppings of your choice. I love sprinkling flake salt and ground cinnamon and sometimes adding a few squares of chocolate (as inspired by the recipe's original creator, our family friend Andie). My sister, on the other hand, likes to microwave her oatmeal with a few blueberries on top.
Microwaveable Peanut Butter and Banana Oatmeal
Inspired by Andie Eikenberg and Tricia Kate Roberts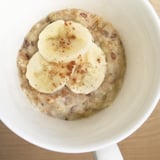 Ingredients
1 large banana, mashed
2 tablespoons peanut butter
1 (50-gram) packet or 1/2 cup of plain, unsweetened instant oatmeal
Splash of nondairy milk, optional
Flake salt, to taste
Ground cinnamon, chocolate chips, or berries, as garnish
Directions
Fully mash a banana in a mug. Mash in peanut butter until fully combined. Stir in oatmeal. If mixture is too dry, splash a bit of nondairy milk and continue mixing. Press mixture down until it's flat.
Microwave for 2 minutes or until oatmeal becomes slightly translucent and the top becomes spongy and cake like.
Garnish with flake salt, ground cinnamon, chocolate chips, and/or berries.

Information
Category

Breakfast/Brunch

Cuisine

North American

Yield

1 mug oatmeal
Image Source: POPSUGAR Photography / Anna Monette Roberts