Spicy Soba Noodles With Wilted Watercress
Adapted from Brassicas: Cooking the World's Healthiest Vegetables: Kale, Cauliflower, Broccoli, Brussels Sprouts, and More [2] by Laura B. Russell
Notes
Arugula can be substituted for watercress. To make gluten-free, use 100-percent buckwheat soba noodles [3] and wheat-free tamari [4] or soy sauce.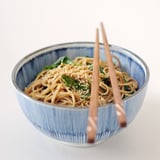 Ingredients
8 ounces dried soba noodles
2 1/2 tablespoons soy sauce or tamari
1 teaspoon chile-garlic sauce
1 teaspoon toasted sesame oil
6 cups stemmed watercress or upland cress
1 tablespoon canola or other neutral oil
Toasted sesame seeds, for garnish, optional
Directions
Bring a large pot of water to a boil over high heat. Add the noodles and cook for about 8 minutes, or according to package directions, until done. Meanwhile, to make the sauce, in a small bowl, stir together the soy sauce, chile-garlic sauce, and sesame oil.
Drain the noodles in a colander set in the sink. Put the watercress in the hot pot. (If you are using 100-percent buckwheat soba, give them a quick rinse with hot tap water to remove excess starch.) Return the noodles to the pot along with the canola oil. Using tongs, toss to combine. The watercress should wilt from the residual heat of the pan and the noodles. Add the sauce and toss until well incorporated. Sprinkle with sesame seeds, if using. Serve hot.
Information
Category

Pasta, Main Dishes

Yield

4 servings