Salty B*tch
From Jeni's Splendid Ice Cream Desserts [2] by Jeni Britton Bauer
Notes
A sorbet is the perfect mixer and ice in one — pulverized fruit, juices, and sugar, all frozen together — and a shot of liquor over a scoop of sorbet is all you need for a killer cocktail . . . You can riff on the classic cocktail, and even make it better, as in my rendition of the Salty Dog, which I call the Salty B*tch: it's phenomenal . . . My favorite cocktail of all time.
Editor's note: Store the vodka in the freezer overnight to thoroughly chill it. That way, the sorbet doesn't melt as quickly.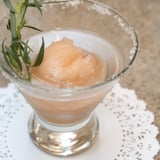 Ingredients
Murray River Sea Salt or Himalayan coarse pink sea salt
1 (4-ounce) scoop grapefruit sorbet [3]
2 ounces (1/4 cup) vodka
Sprig of tarragon
Directions
Pour a thin layer of the salt onto a small plate. Moisten the rim of a lowball glass and gently dip into the salt to coat. Drop the scoop of sorbet into the glass and pour the vodka over the top. Garnish with the tarragon sprig and serve with a spoon.
Excerpted from Jeni's Splendid Ice Cream Desserts by Jeni Britton Bauer (Artisan Books). Copyright © [4]
Information
Category

Drinks, Cocktails

Yield

Makes 1 drink