Trader Joe's has tons of new items [1] worthy of trying this year, and this month is no different. TJ's is stepping up its game this June with all-natural fruit snacks, addictive cookies, and more unique items you'll want to add to your shopping list. Read on to hear our reviews of each new item that we'd recommend trying for yourself this month, plus the ones we wouldn't.
Pick Up: Caramel Ginger Popcorn ($3)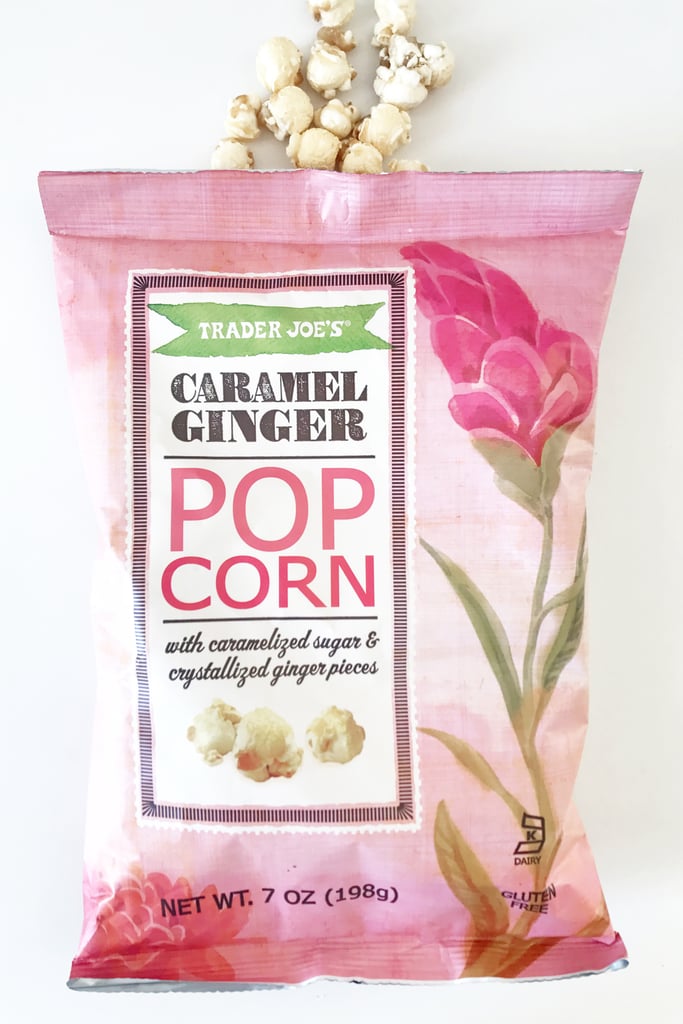 A subtle kick of ginger takes standard caramel popcorn up a notch, and Trader Joe's Caramel Ginger Popcorn is a dangerously addictive snack. Sweet and salty, each piece of popcorn is coated in enough of a ginger flavor that your taste buds notice, but it's not overpowering whatsoever.
Pick Up: Organic Herbal Flavored Waters ($1)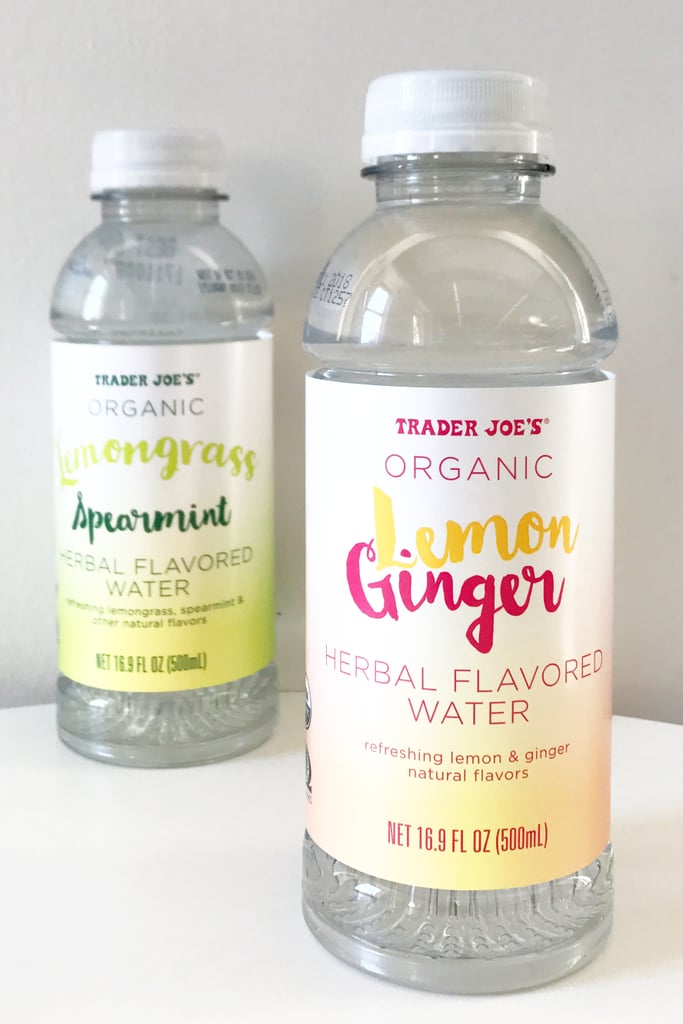 If drinking plain water doesn't excite you, pick up Trader Joe's Organic Herbal Flavored Waters [3], which come in flavors Lemon Ginger and Lemongrass Spearmint. With no artificial ingredients or colors, these all-natural waters contain only water and organic extract. The Lemongrass Spearmint is cool and refreshing, while the Lemon Ginger has an earthy kick.
Pick Up: Organic Agua Fresca ($2)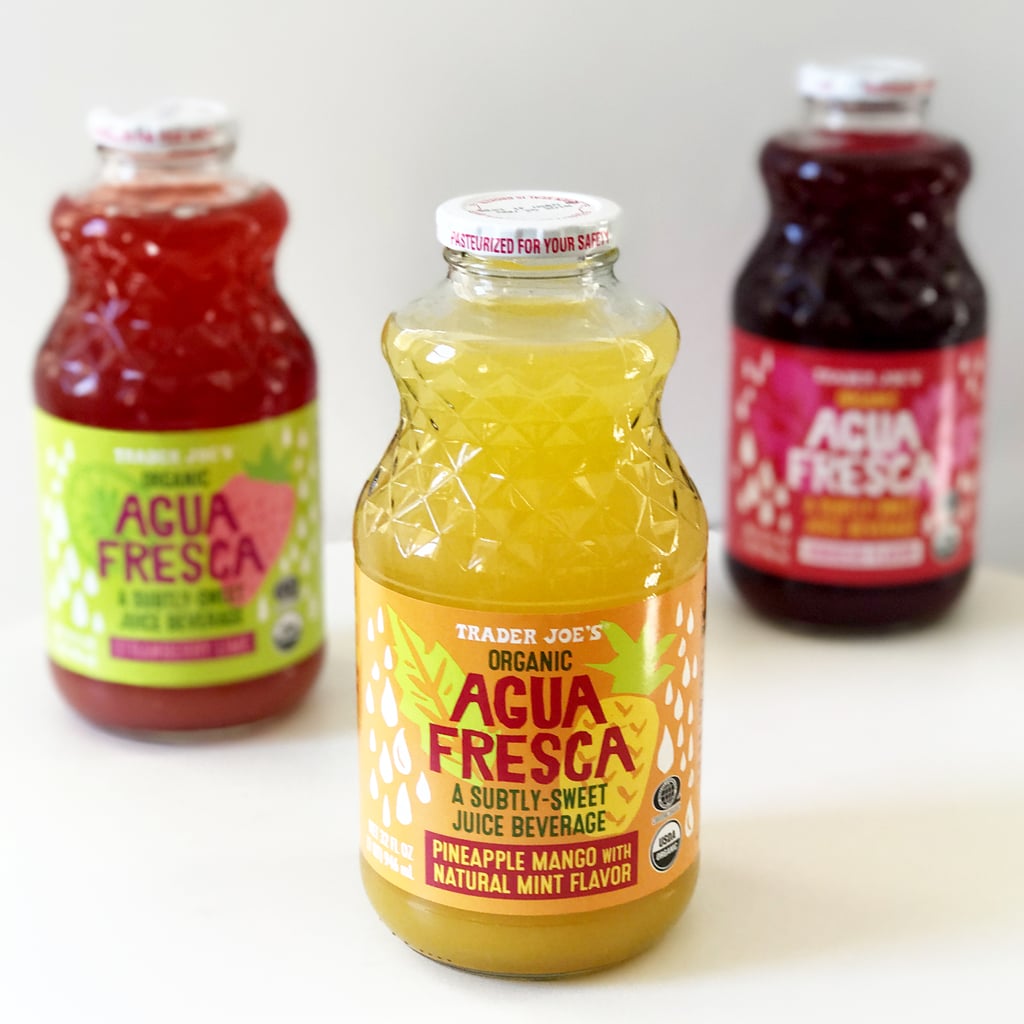 Meet your new favorite Summer drink and mixer: Trader Joe's Organic Agua Fresca [4]. TJ's riff on the classic Mexican beverage comes in flavors Strawberry Lime, Pineapple Mango, and Hibiscus, and they're all delicious over ice or mixed into your favorite cocktail. Without too much added sugar, the juices aren't cloyingly sweet and have real fruit flavors that come through in every sip.
Pick Up: Onion Salt ($2)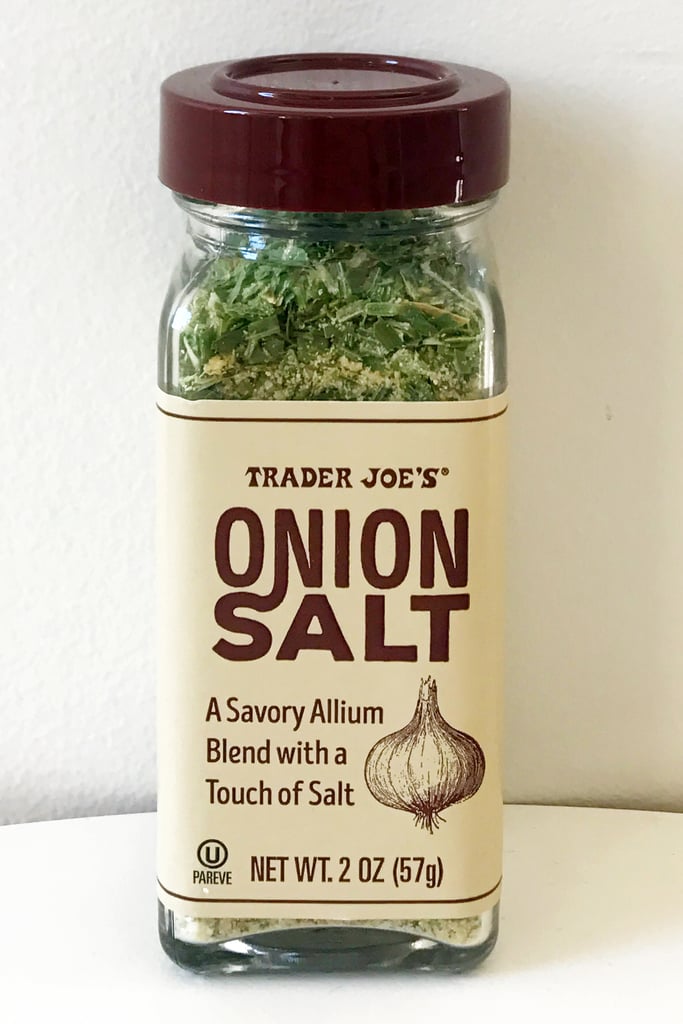 Trader Joe's new Onion Salt [5] is the new secret ingredient you'll want to have stocked in your spice cabinet. It's a supersavory blend of granulated onion, granulated garlic, minced onion, kosher salt, green onion, and dried chives, and the flavor profile is dynamite. Sprinkle it on pizza, season chicken with it, or toss it on roasted vegetables [6].
Pick Up: Sweet Corn, Burrata, and Basil Ravioli ($3)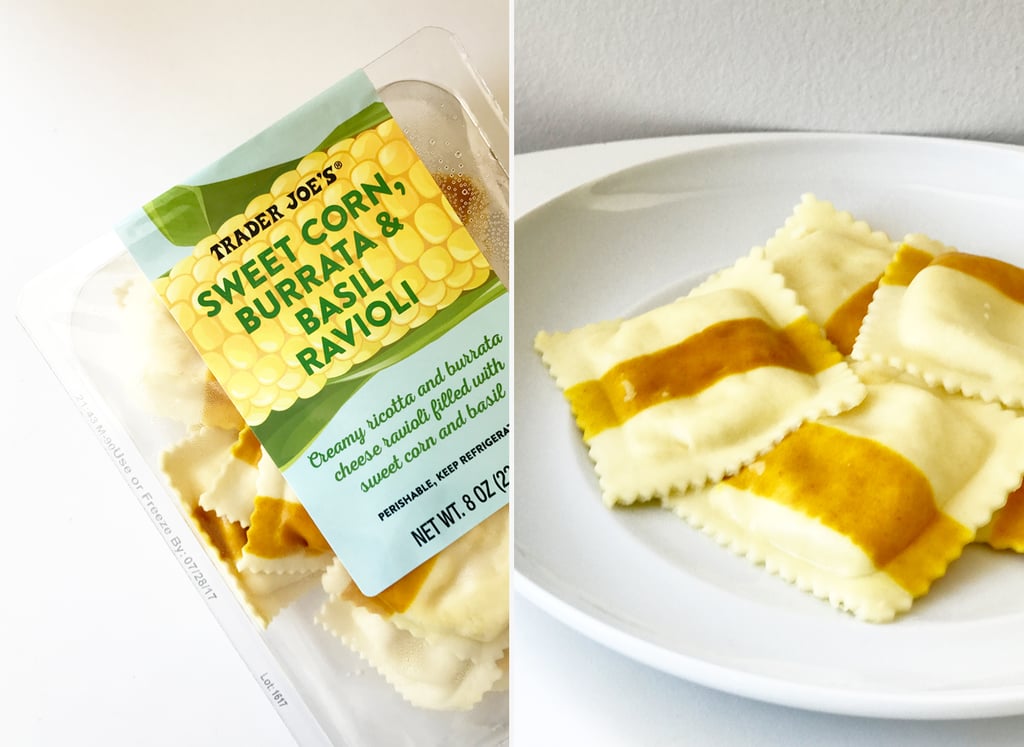 The new Sweet Corn, Burrata, and Basil Ravioli [7] from Trader Joe's screams Summer. The filling has a combination of soft ricotta cheese and creamy burrata, and each bite offers a pop of fresh, sweet corn and an earthy taste of basil. The flavors work perfectly together, and this convenient eight-ounce package allows you to enjoy a fresh Summer dinner without any effort. Top the ravioli with basil pesto [8] or olive oil or butter, and serve it with your favorite Summer side dish [9].
Pick Up: Pollo Asado Burrito ($4)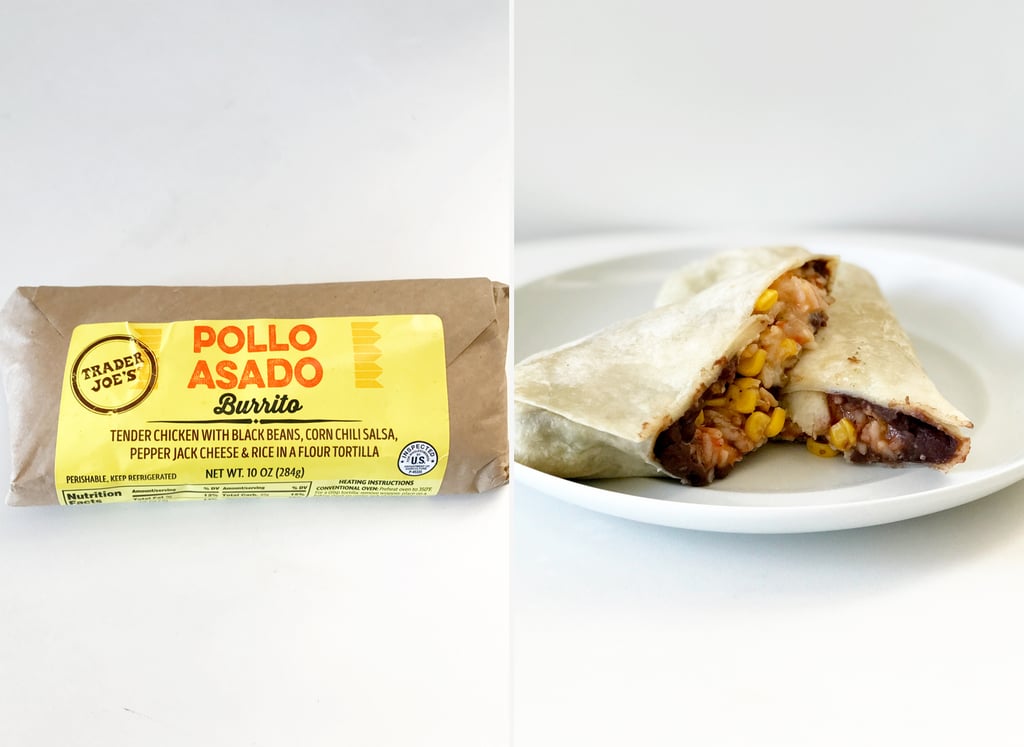 You'll find a couple of new burritos in Trader Joe's packaged, refrigerated foods section (by the salads and sushi), including the Pollo Asado Burrito [10]. The soft flour tortilla is filled with shredded chicken, black beans, pepper jack cheese, rice, and corn salsa. You could almost call it a quesadilla — it's on the thinner side — but in terms of convenience and taste, it's a solid buy. You can microwave it in two minutes for an instant lunch or dinner that will keep you full.
Pick Up: Mango Chipotle BBQ Sauce With a Hint of Salted Bourbon ($3)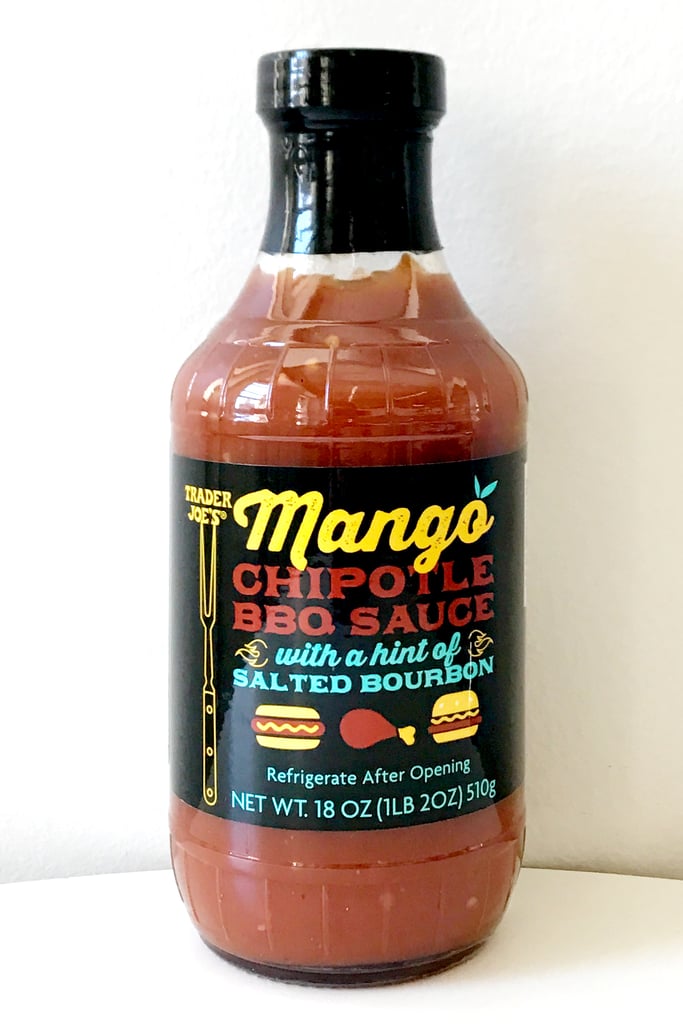 Hitting shelves in time for grilling season, Trader Joe's Mango Chipotle BBQ Sauce With a Hint of Salted Bourbon [11] will add a sweet-savory kick to any dish. Made with mango puree, apple cider vinegar, tomato paste, brown sugar, Worcestershire sauce, ginger, chipotle peppers, and, yes, bourbon, this pourable sauce delivers on flavor and isn't sickeningly sweet like other BBQ sauces. Slather this on ribs, simmer it with pork shoulder, or simply use it as a dip or topping for any of your favorite grilled meats [12].
Pick Up: Puff Dogs ($6)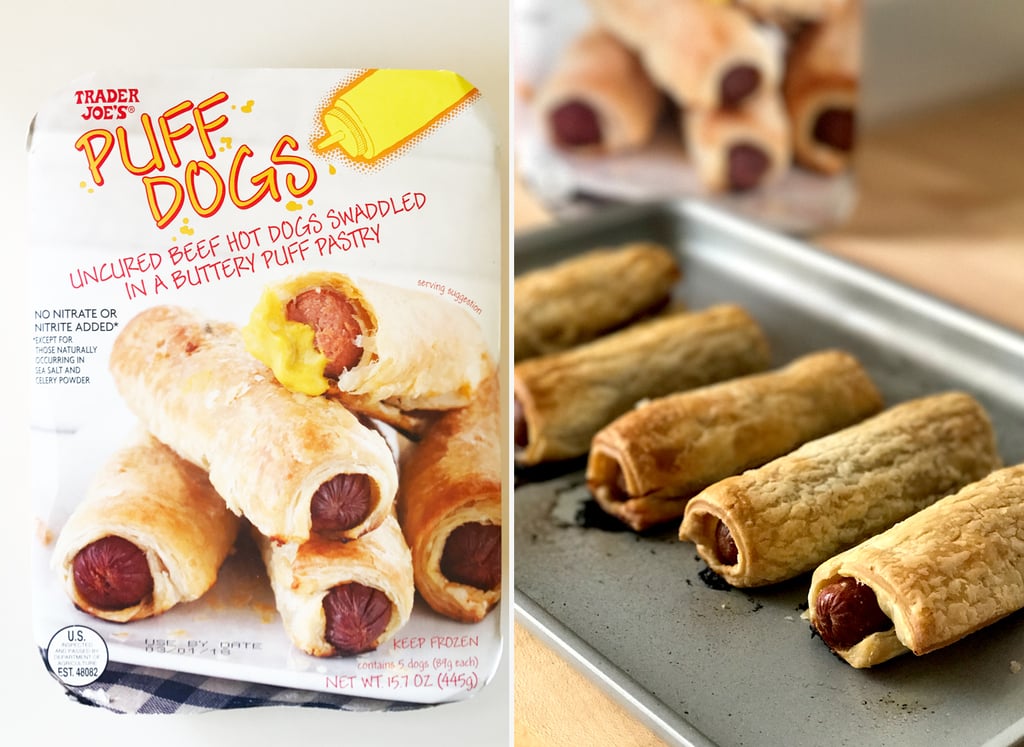 Trader Joe's has completely reinvented one of your favorite childhood snacks, pigs in a blanket, with its puff-pastry-wrapped hot dogs, appropriately called Puff Dogs [13]. Each beefy, uncured hot dog is wrapped tightly in a buttery, flaky puff pastry that gets golden brown and crispy in the oven at 400°F. There's absolutely nothing bad about these, and they're a great appetizer to serve a crowd at a Summer cookout.
Pick Up: Carnitas With Salsa Verde Burrito ($4)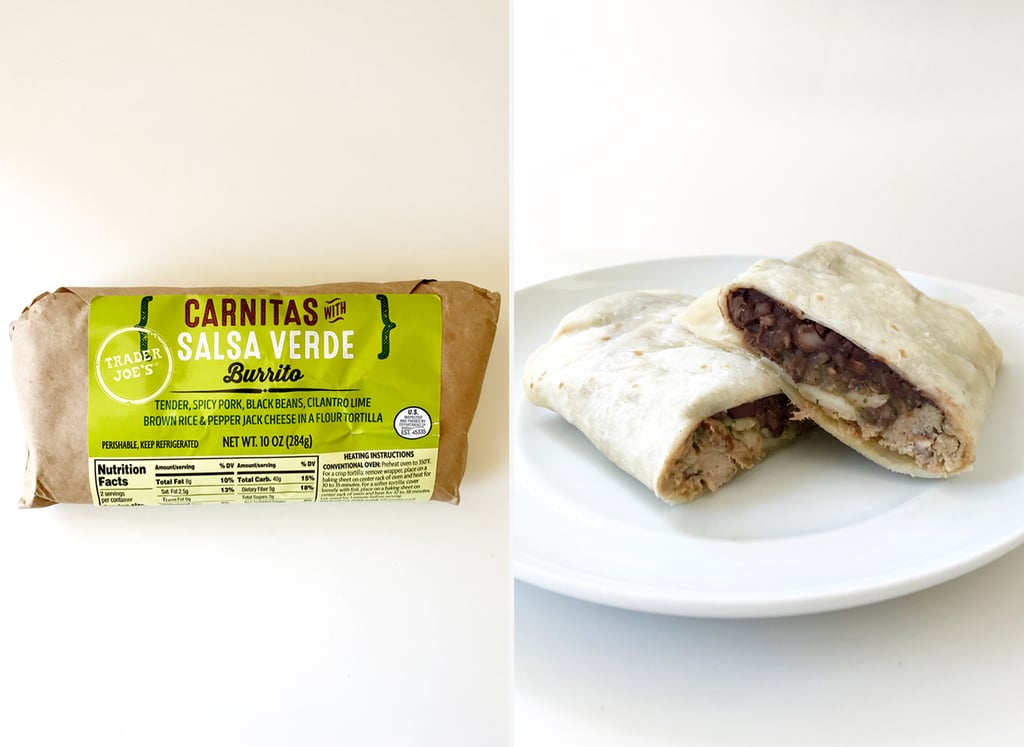 Those who prefer pork over chicken will love Trader Joe's Carnitas With Salsa Verde Burrito [14]. Just like the Pollo Asado Burrito but instead with spicy pork, black beans, cilantro lime rice, and pepper jack cheese, this on-the-go lunch is full of flavor and hearty enough to make a meal. If you'd rather not take the time to make your own burritos for a week's worth of lunch, this is an affordable option that you'll look forward to eating.
Pick Up: Organic Reduced Sugar Wild Blueberry Preserves ($3)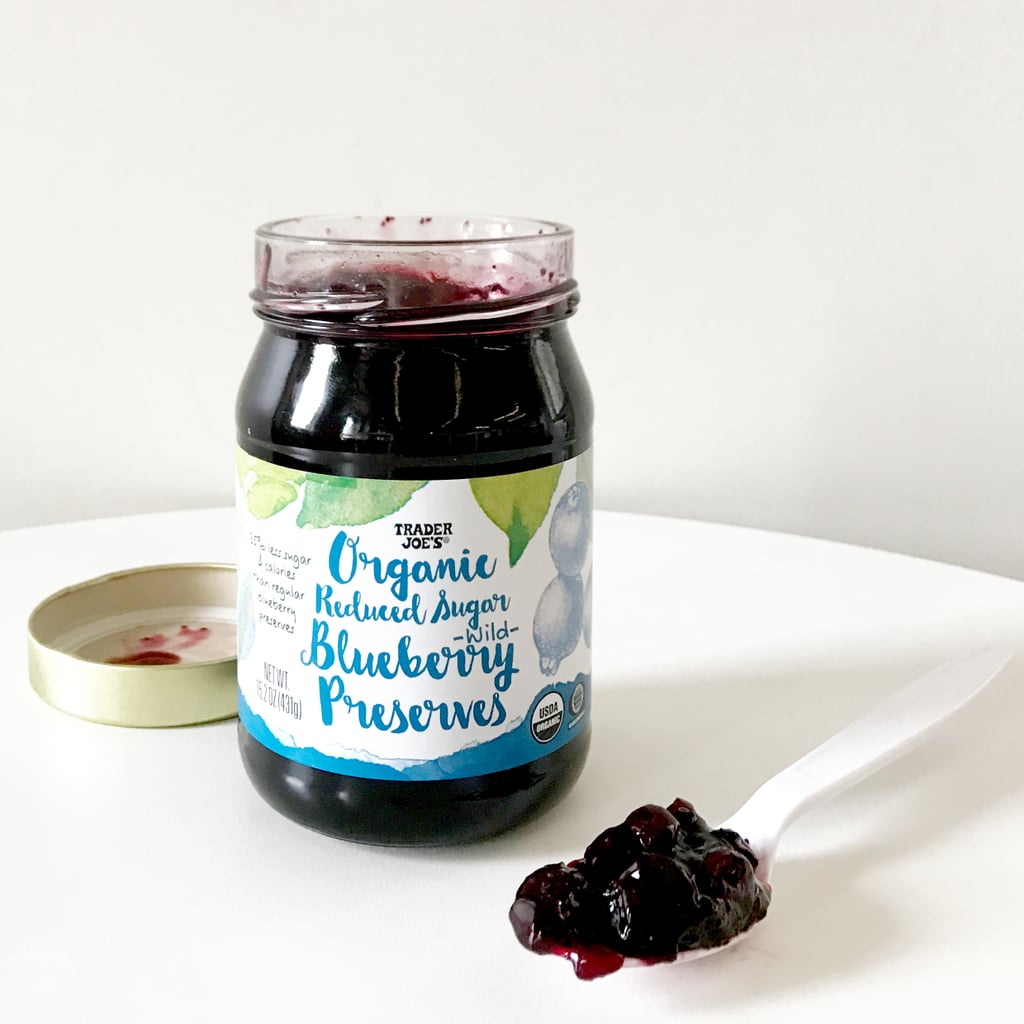 If you're not going to take the time to make your own blueberry jam (no judgment), the new Trader Joe's Organic Reduced Sugar Wild Blueberry Preserves is a solid alternative. It's full of juicy blueberry chunks, and — staying true to its name — it does have less sugar than many jarred preserves, measuring in at seven grams of sugar per serving. Spread this sweet jam on toast, or use it as a quick hack for a homemade cobbler.
Pick Up: Brownie Coffee Crisp Ice Cream Sandwiches ($4)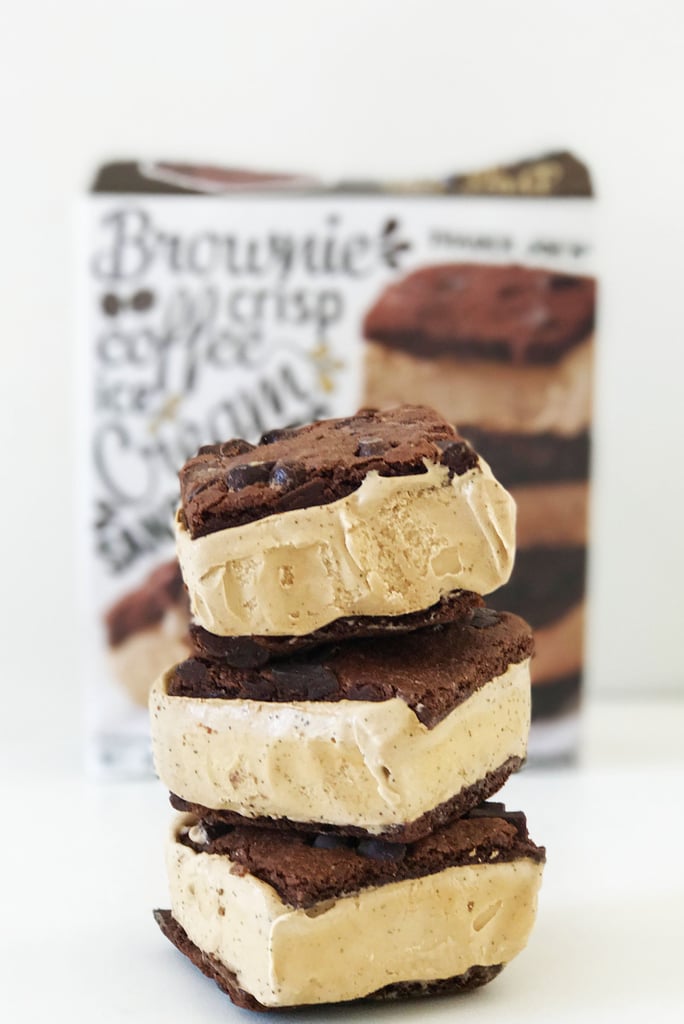 If there's one new thing you try from Trader Joe's this month, make it the Brownie Crisp Coffee Ice Cream Sandwiches [15]. The square-shaped ice cream sandwiches have coffee ice cream flecked with finely ground espresso beans sandwiched between two thin brownie crisps that are studded with chocolate chips and chocolate chunks. Just bitter enough from the espresso flavor and plenty sweet enough from the brownie and chocolate, each sandwich satisfies all your cravings for something cool and creamy (and it just might give you a caffeine boost, too).
Pick Up: Boatswain American IPA ($5)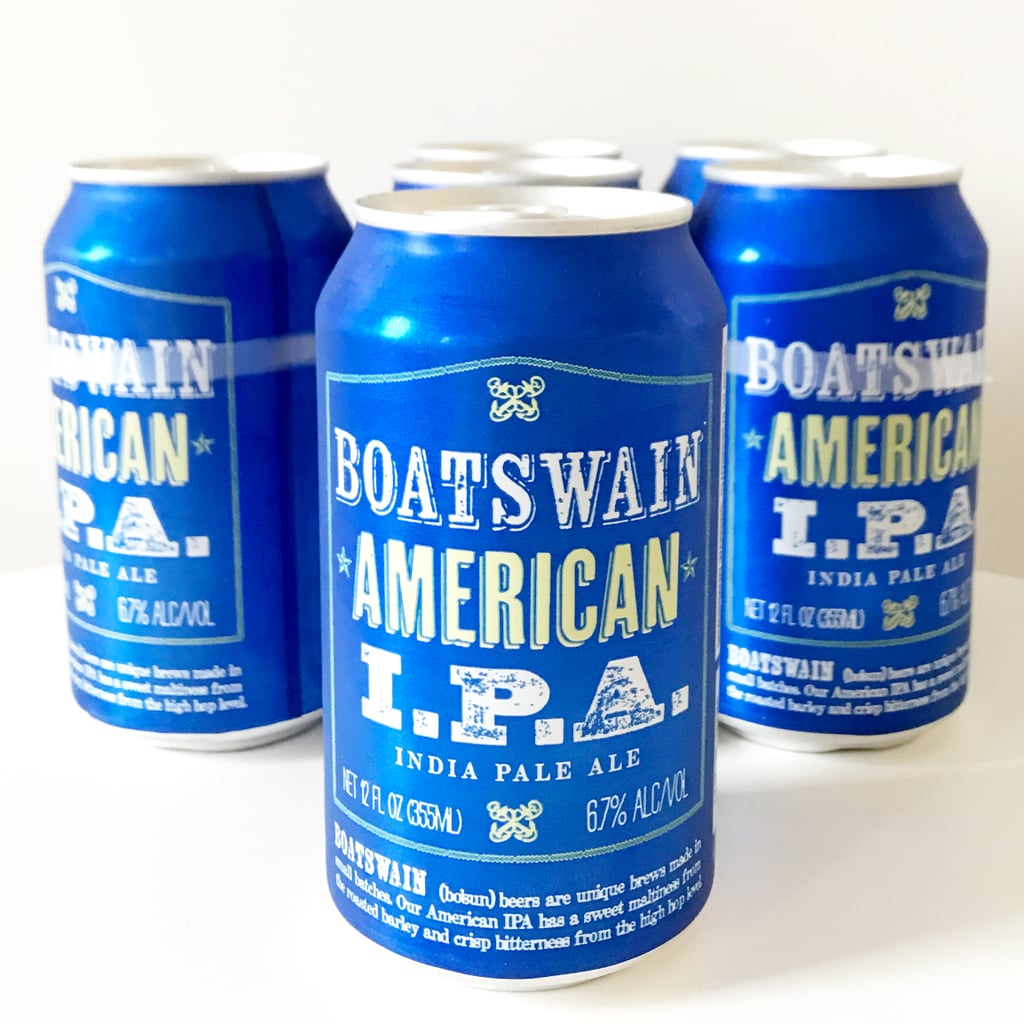 No, you didn't read that price tag incorrectly: the Trader Joe's Boatswain American IPA [16] is seriously $5 for a six-pack. And even frequent IPA drinkers agree that it's totally worth a buy. Hoppy, floral, and just citrusy enough, a can of this beer goes down easy — and at 6.7 percent alcohol by volume, you're definitely getting the most bang for your buck.
Pick Up: Ranch Seasoned Crispy Chickpeas ($3)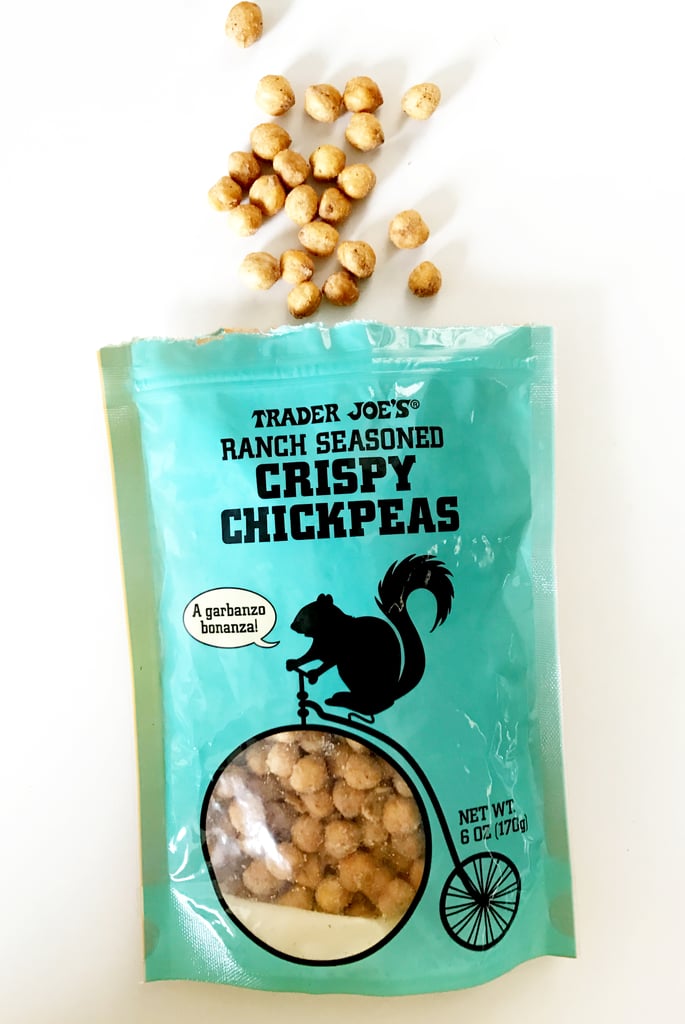 This snack might not be as healthy as homemade roasted chickpeas [17] (ahem, the chickpeas are fried in canola oil and coated in ranch seasoning), but is it delicious? Absolutely. Crunchy enough but not greasy whatsoever, these little garbanzo beans satisfy salty-snack cravings with one handful.
Pick Up: Nothing but Fruit & Nuts in Apricot Almond ($4)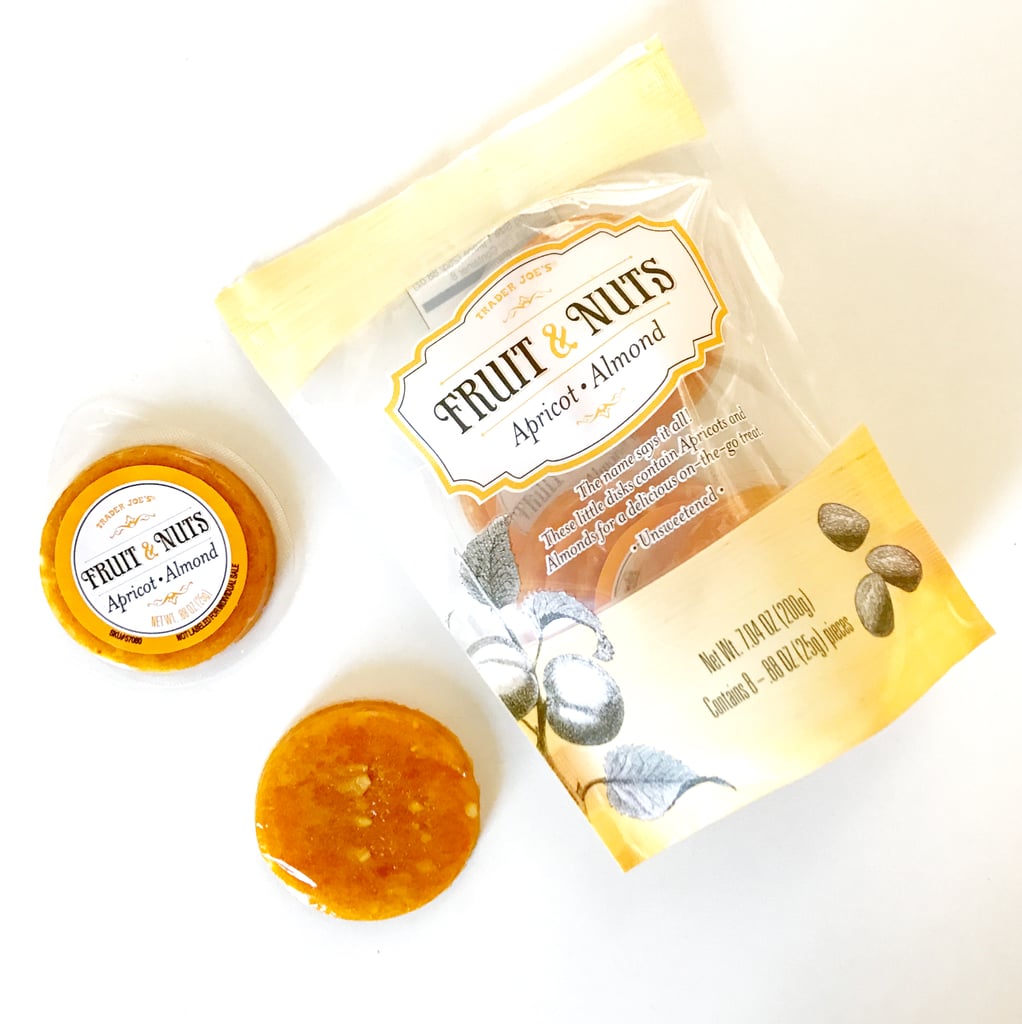 Spoiler alert: Trader Joe's has a lot of new Nothing But Fruit & Nuts snacks this month, and they're all really good. The name "Fruit & Nuts" says it all — that's really all that's in these small, individually wrapped discs that consist only of dried fruit and nuts. The apricot almond flavor is tart and naturally sweet, and it's an awesome on-the-go or post-workout snack.
Pick Up: Kitchen Sink Dunkers ($4)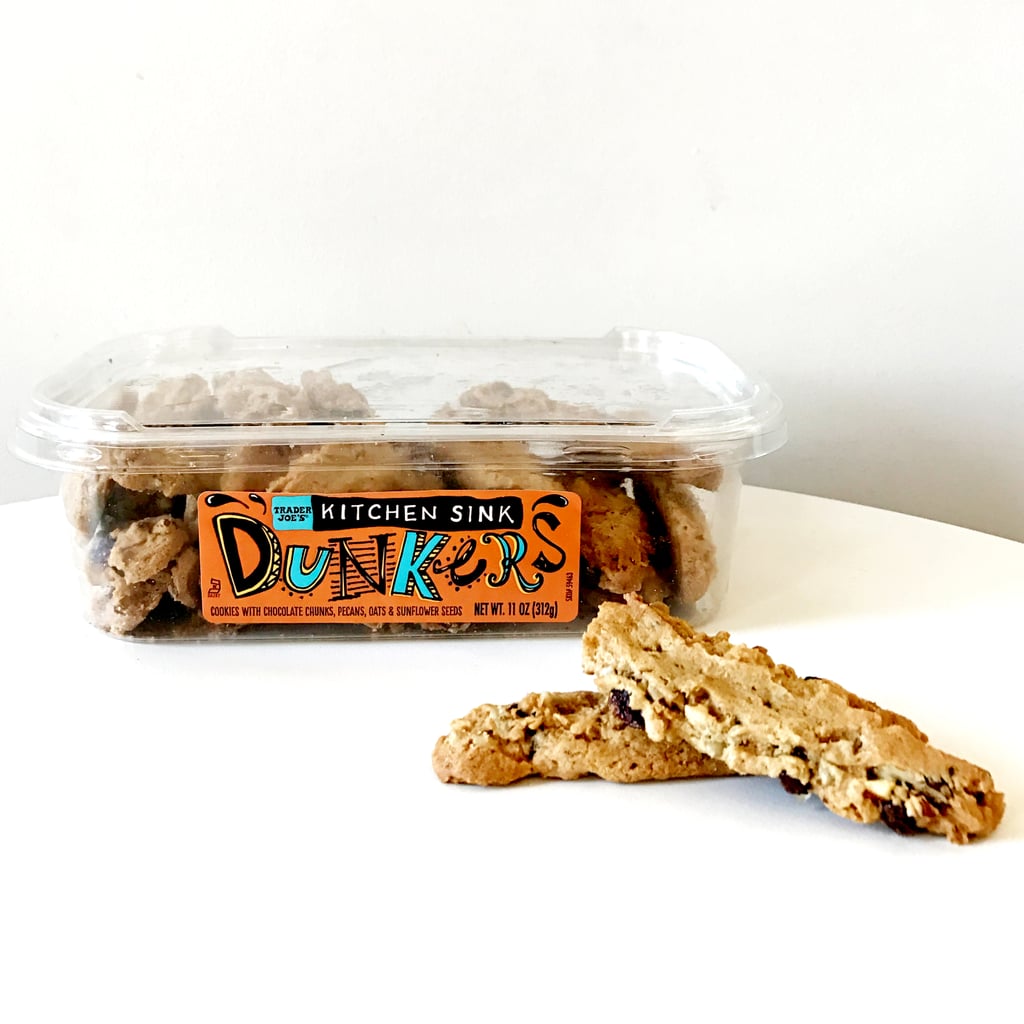 Trader Joe's has a few different kinds of "dunker" cookies in its chocolate-covered-item section [18], and there's a new one you'll want to add to your cart: Kitchen Sink Dunkers. The name suggests that the ingredients include "everything but the kitchen sink," including chocolate chunks, pecans, oats, sunflower seeds, and raisins. The buttery, brown sugary cookies taste homemade, and the plethora of crunchy additions makes them even better. These dip-friendly cookies are perfect for serving with a glass of milk.
Pick Up: Sweet & Salty Granola Bars ($3)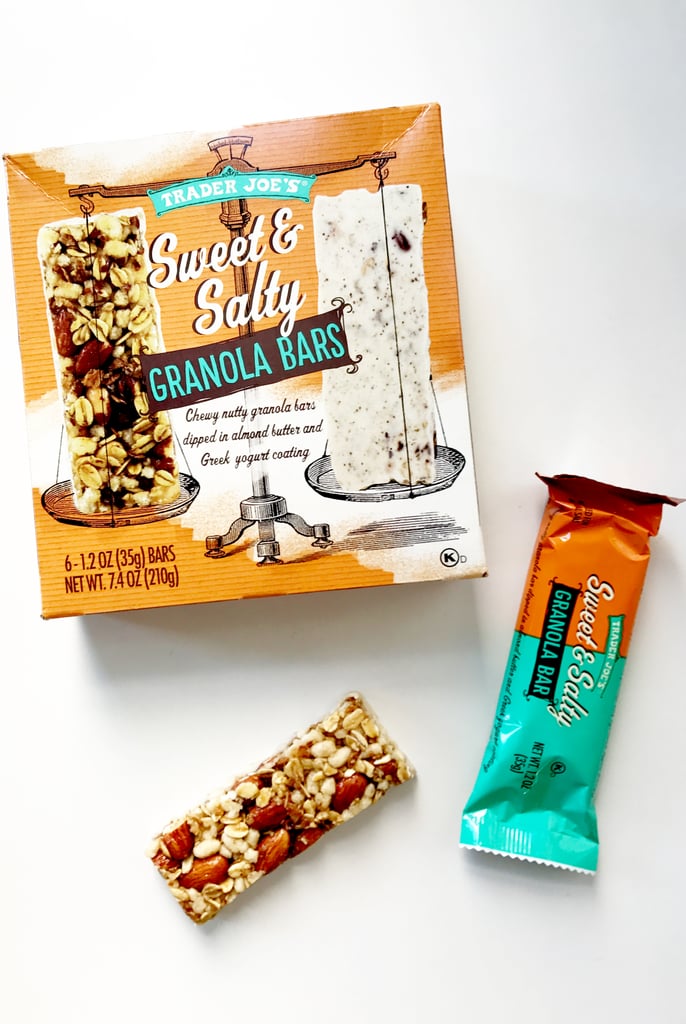 Granola bars tend to be hit or miss, and Trader Joe's new Sweet & Salty Granola Bars are some of the best we've had in a while. The saltiness of the nutty granola bars complements the slight sweetness of the Greek yogurt coating, and there's creamy almond butter to tie it all together.
Pick Up: Nothing but Fruit & Nuts in Date, Hazelnut, and Cacao ($4)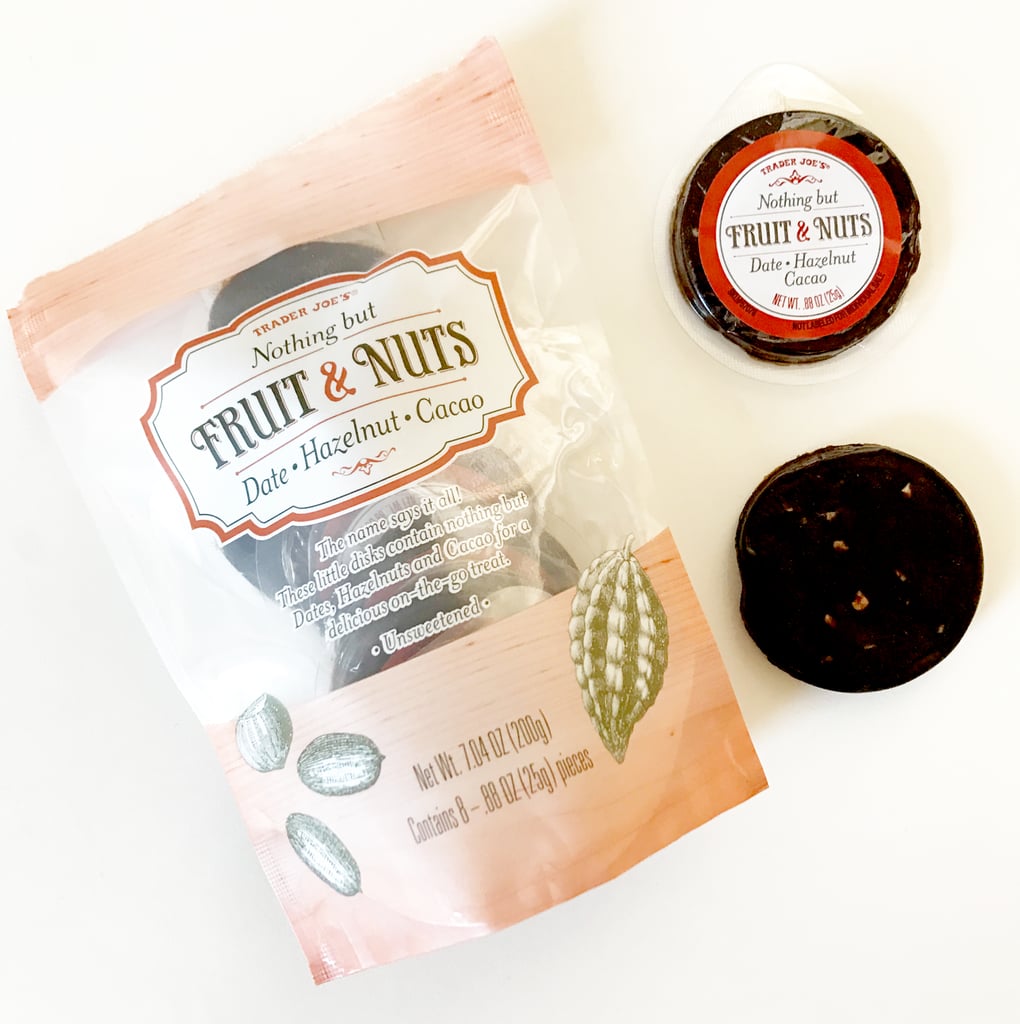 Next up on the list of fruit-and-nut discs from Trader Joe's this month is the date, hazelnut, and cacao flavor. And OMG, if this isn't the closest thing we'll get to healthy Nutella, we don't know what is. The chewy snack has nothing more than date paste, hazelnuts, and cacao, and it's rich, chocolaty, and satisfying. Pick this up if you need a sugar fix without any artificial ingredients.
Pick Up: Key Lime Tea Cookies ($4)
OK, so Trader Joe's Key Lime Tea Cookies [19] aren't exactly new: they were released in August 2015. But the cookies have a whole new look with updated packaging, and if you never picked up these cookies in the past, you're going to want to as soon as possible. The buttery shortbread cookies are just limey enough, and each is coated in the perfect amount of powdered sugar. We'd recommend grabbing these for a Trader Joe's picnic [20] this Summer.
Pick Up: Nothing but Fruit & Nuts in Fig Walnut ($4)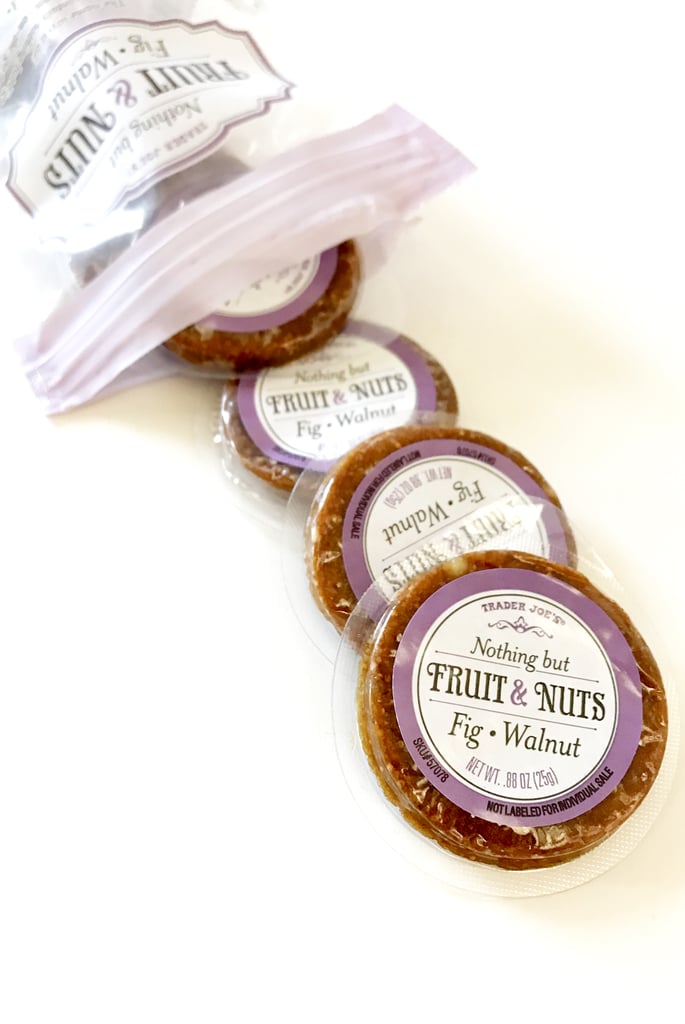 The third Nothing but Fruit & Nuts snack you'll want to try — we weren't kidding when we said there's a lot — is the fig walnut flavor. Fig paste and walnuts are smashed together to create a sweet, nutty paste that tastes wonderful on its own, and we know it would be the perfect addition to a cheese plate [21].
On the Fence: Peach Bellini Jam ($4)
When the first ingredient in a jam is sugar, you know it's going to be sweet. And this Peach Bellini Jam is almost too sweet for our liking, but if a peach bellini is your drink of choice, you might love slathering this on a piece of toast in the morning — there really is prosecco in it!
Pass: Greek Whole Milk Yogurt in Avocado Citrus ($1)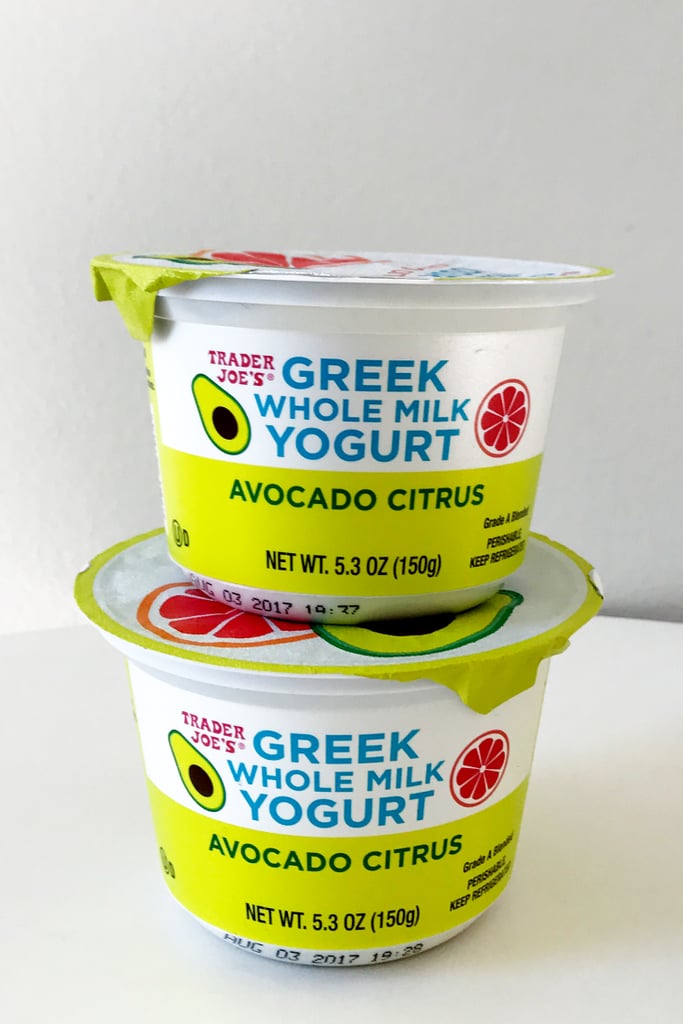 Trader Joe's new Avocado Citrus Greek Whole Milk Yogurt [22] sounded so promising! But the citrus flavor, which comes from blood orange concentrate, just doesn't work well with the fatty, creamy yogurt. Unfortunately, the scent is weirdly reminiscent of Play-Doh, which leaves an unpleasant aroma.