Natilla
From Vanessa Mota, POPSUGAR Latina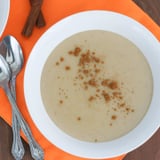 Ingredients
3 cups of milk, divided
3 cinnamon sticks
1/4 teaspoon ground cloves
Lime peel
1/2 cup sugar
2 tablespoons condensed milk
1/4 teaspoon of salt
3 tablespoons cornstarch
3 eggs
1 teaspoon vanilla
Directions
To a medium saucepan over medium heat, add 2 cups of milk, cinnamon, ground cloves, lime peel, sugar, condensed milk, and salt.
Separately, in a small bowl, dissolve the cornstarch in 1 cup of milk. Combine the milk and cornstarch mixture with the eggs and mix well.
When the milk in the saucepan begins to boil, lower the heat and remove the cinnamon sticks and lime peel. Then, add the milk, eggs, and cornstarch mixture.
Stir the mixture until it reaches a thick consistency, about 10-15 minutes. Add the vanilla and stir.
Turn off the heat and transfer to small serving bowls. Sprinkle cinnamon on top. Let cool at room temperature for about 1 hour. Refrigerate until ready to serve.
Information
Category

Desserts

Cuisine

South American

Yield

2 to 4 servings

Total Time

14 minutes, 59 seconds