Black Pepper Beer Bread
Adapted from Honest Fare [1]
Notes
Don't skip the step of brushing the unbaked bread with butter as it aids in achieving a crusty, golden-brown crust.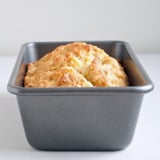 Ingredients
3 cups (15 ounces) all-purpose flour
1 tablespoon baking powder
1/2 tablespoon kosher salt
1/4 cup brown sugar
1/2 teaspoon freshly ground black pepper
12 ounces pilsner or lager beer
3 tablespoons melted unsalted butter
Directions
Preheat the oven to 375°F. Lightly grease a nine-inch loaf pan.
Whisk together the flour, baking powder, salt, sugar, and pepper.
Pour in the beer and mix gently until combined.
Dump the batter into the loaf pan, smooth out the top, and brush/drizzle on the melted butter.
Bake for approximately 35-40 minutes, or until golden brown and crusty in appearance.
Information
Category

Breads, Appetizers

Cuisine

North American

Yield

1 loaf of bread