Key Lime Pie No-Churn Ice Cream
From No-Churn Ice Cream [1] by Leslie Bilderback. Copyright © 2015 by the author and reprinted by permission of St. Martin's Griffin.
Notes
Editor's note: If you can't find key limes, substitute the zest of 1 standard (Persian) lime; to yield the required volume of juice you'll need 5-6 Persian limes.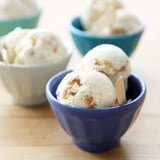 Ingredients
3/4 cup key lime juice, from about 1 1/2 pounds key limes
Finely grated zest of 2 key limes
Pinch of kosher salt
1 (13-ounce) can sweetened condensed milk
1 cup milk
2 cups heavy cream
1 graham cracker crust, storebought or homemade [2], crumbled
Directions
In a large bowl, combine the lime juice, zest, salt, and condensed milk. Slowly stir in the milk.
In a separate bowl, whip the heavy cream until it reaches soft peaks. Fold the cream into the lime base.
Put about an inch of ice cream in the bottom of a standard loaf pan. Sprinkle about 1/3 of the crumbled graham cracker crust evenly on top. Top with another inch of ice cream, then another layer of graham cracker crust, and repeat until you've added all the ice cream, ending with an ice cream layer. (You may have leftover crust.)
Cover with plastic wrap or waxed paper pressed directly on the surface of the ice cream. Then wrap the whole loaf pan in aluminum foil. Freeze for 6 hours or longer.
Scoop and serve with whipped cream (or unadorned).
Information
Category

Desserts, Ice cream

Cuisine

North American

Yield

About 1 quart ice cream